WANTED: Permaculturists + Natural Builders (Certified Instructors + Passionate Trainees For Both Disciplines)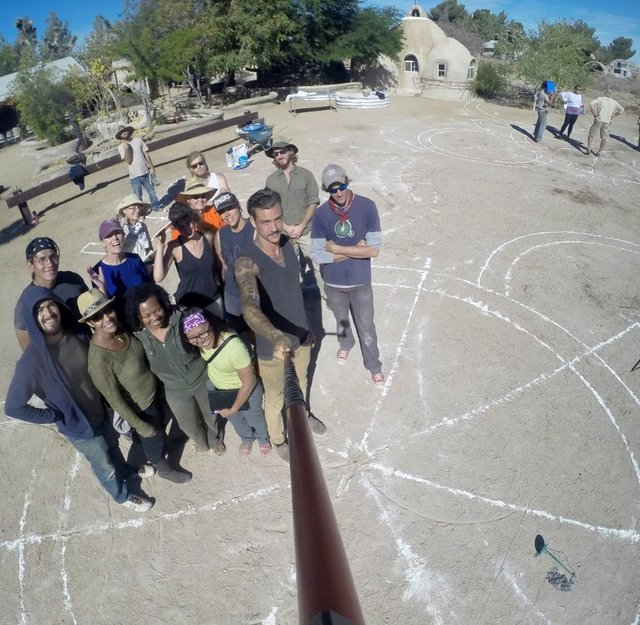 Cal-Earth, Hesperia, California. October 2014. Plans, compassed + chalked.
---
Three and a half years ago, when I was in the Mojave Desert getting trained in permaculture and SuperAdobe building, I had no idea I would end up sitting on those skills all this time! More than once, I have wondered how far off my path I swerved. Or if I was ever even on it?!
And then one day in November last year, I had a Zoom call that -- in hindsight, I now see -- would change everything. The purpose of the call was to learn about a hemp-centered project.
Gus shared his ideas with uncommon passion. So, his energy grabbed my immediate attention. But it is what he said that FLOORED ME.
It was the same dream that had been planted in my heart, but fully grown!
The simple, sovereign, earth-honoring life that I desired enough to skill-chase in a desert, to learn how to do it... that was (part of) the vision Gus described to me!
Have you ever had someone TELL YOU YOUR OWN DREAM?
It is trippy! To spend years thinking no one understands your preoccupation with a singular plant... and then hear someone describe to you building a purposeful, beautiful life that is entirely rooted in the fabulous bounty of that very same plant! On that first call, I knew that Belize would be my next home.

And this is where the call for you comes in!
Please know that a very clear, solid, and inspiring Whitepaper is being finalized as I write this. I don't know what the release date will be, but I just want you to know that any questions this post stirs in you, will soon find their answer in the Whitepaper :-)

EarthAngels is a lot of things, with many fruitful functions. One of those functions is our learning model. Each built eco-home will ALSO be a mini-school of permaculture and natural building. Each home will need certified instructors, and hard-working apprentices. That is why we are putting out this call to you.
A R E . . . Y O U . . .
a certified permaculturist or natural builder, looking for a change... in the tropics!
an activist who wants to sweat, and build, and learn life-affirming systems and methods?
an adventurous -- or frustrated! -- soul open to explore a new, earth-friendly career?
...then I encourage you to JOIN OUR MAILING LIST + identify yourself as a potential instructor or apprentice + we will follow-up with you!

A few pics from a very special time of learning and growing...
(With a loving shout-out to my instructors, Bill + Becky of Midwest Permaculture and Ian of Cal-Earth!)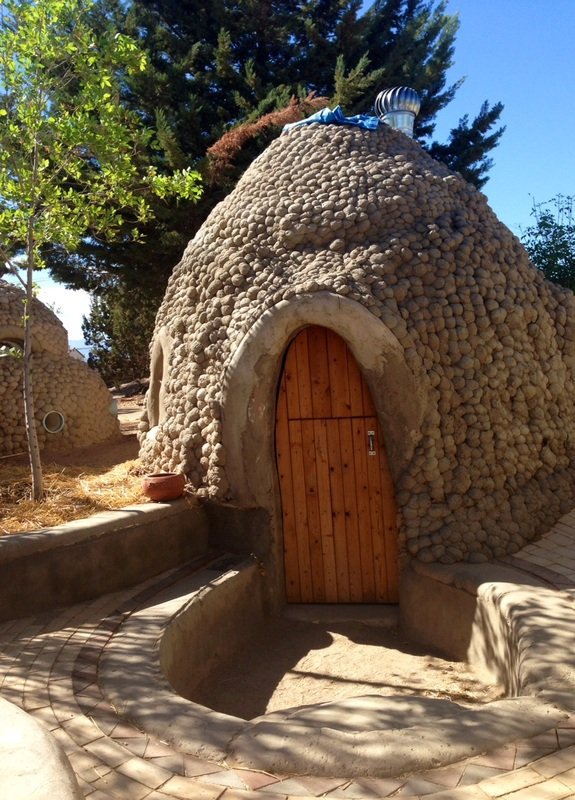 My adorable hobbit-home for two weeks.
---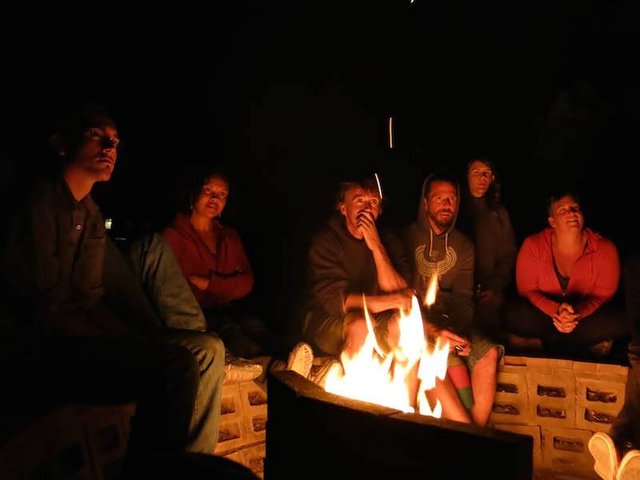 Captives. Of fire and stories.
---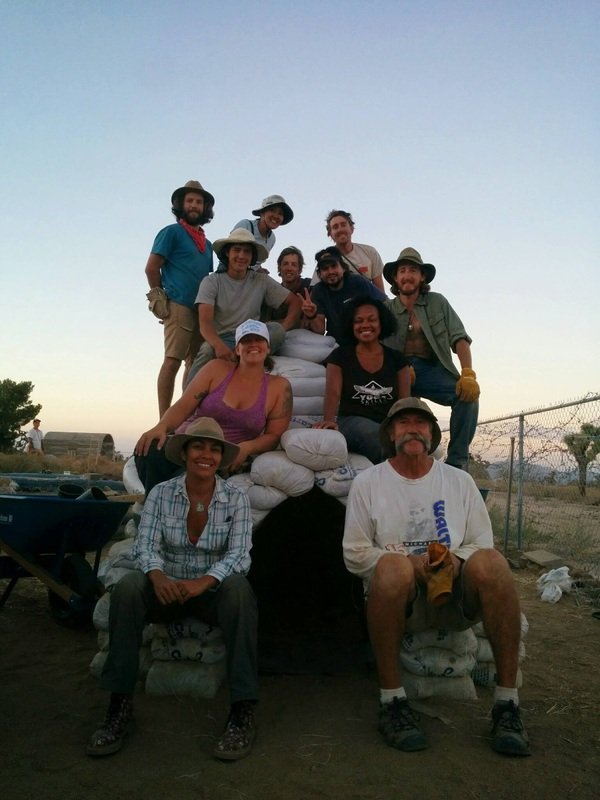 Piled up on a tiny practice-dome we built.
---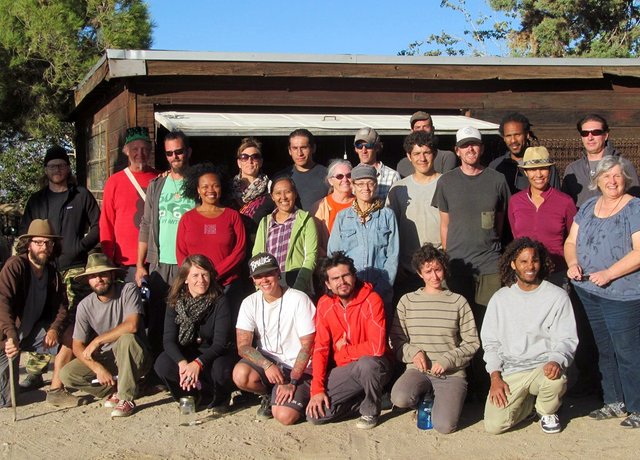 Connected by land-love.

Now, it is very possible that you have never heard of permaculture, or don't understand it. But you've come all this way, so you must be hungry to know! Well, eat up! 🍴
Permaculture is an ethical, regenerative design science that makes systems flourish. It fosters optimal states of air, water, land, plants, animals, insects, buildings, people, and communities. It enhances all of life, because it acknowledges and leverages the connections between all of life.
Permaculture combines three key aspects:
(1) An ethical framework;
(2) An understanding of how nature works; and
(3) A design approach.
---
The 12 Key Design Principles of Permaculture
Permaculture's 12 key design principles were conceived by David Holmgren:
(1) Observe and interact.
(2) Catch and store energy.
(3) Obtain a yield.
(4) Apply self-regulation and accept feedback.
(5) Use and value renewable resources and services.
(6) Produce no waste.
(7) Design from patterns to details.
(8) Integrate rather than segregate.
(9) Use small and slow solutions.
(10) Use and value diversity.
(11) Use edges and value the marginal.
(12) Creatively use and respond to change.
---
Life is not to be saved. It is to be spent. Well.
Like many sensitive, empathic people, I walk around with a strong felt sense of the many needs and pains in the world. And with that awareness also came a desire to respond... to use my life in a helpful, improving, relieving way.
All the approaches I have previously tried -- (such as environmental activism, spiritual caregiving, grant-writing for nonprofits and other attempts to "do good" in the world) -- these were one-dimensional solutions, for multi-dimensional problems.
---
Knowing better, leads to doing better.
To quote Geoff Lawton (in video below), permaculture "provides all the needs of humanity in a way that benefits the environment."
Design arranges physical form. Regenerative design does that in a way that leaves the earth better than we found it. I simply do not know of a worthier pursuit.
Permaculture gives evidence that flourishing life is possible for ALL. It is doable. Achievable. A desert has been turned into a garden oasis, for goodness sake! See the 2-minute video below for proof. This is not placebo. Or delusion. This is real, solution-rich science that we have had an embarrassingly underwhelming response to!
It is easy to implement better, smarter designs. Just decide it so. As long as we need shelter and true food for our survival, these wise ways should influence us more.

The trainings provided me hands-on skills I had been aching for. I learned things like:
How to install a linear food forest.

How to assess the building + growing qualities of a site's sub-soil.

How to get maximum gain (heat + sunlight) from solar passive energy in home design.

How to use the geometric strength of the arch and the circle in home construction.

How to decrease the cost, and toxicity, of a constructed home by building it with earth architecture.

How to make natural paint from powdered milk, and use magnetite as a natural shimmery additive to earthen plaster

How to hold fresh rainwater on the land, and how to re-direct greywater (which is used sink, shower or laundry water) to needful places, like gardens.

How to lessen work, and increase yields in all endeavors.

And, valued above all, I learned how to think in whole systems.
I felt so empowered from what I had been shown, that shortly after I returned home, I made -- and meant -- this heart-commitment:
I commit my hands to create edible, habitable Paradises, as often as possible. I commit my communication skills to share the solutions, methods, and techniques that put our lives -- our shelter, our food and our work -- back into our own hands, and in the most pleasing, fruitful, and harmless way!
The heart remembers promises made to it... 💚

Do you know about the utterly corrosive, yet completely accepted strategy of hyperconsumption that is eroding health and happiness all over the world? Here's a 3-minute video that shows how that horrid strategy is playing out:
Permaculture and natural building is THE OPPOSITE of this lunacy! You in??
---
Hey, did this post remind you of anyone??
Please share it with them! Thank you. 🌻

Check out: Masks are to be played with. Not lived in.