Pay it Forward Curation Contest- Week 9 - I Am Back On The Track
Hello Steemit Fellows!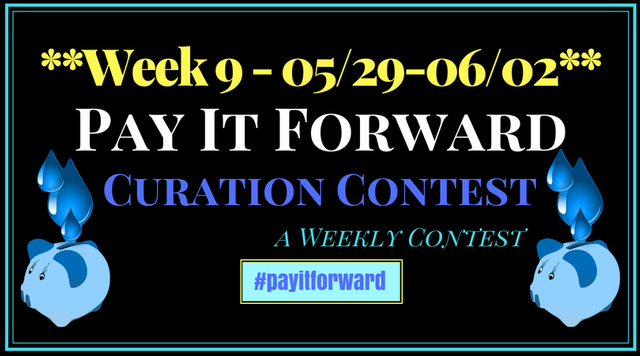 source
it's been 3 consecutive weeks from my latest entry to the contest and now I Am Back (i finally managed to post in steemit browser). I feel lucky because I can track some good bloggers through @asapers besides now that I only have to present 2 bloggers who create a high quality original content and I hope I can meet the rules.
There are new rules and it is a relieve for me, with my limited time to acces steemit now, I wish that I can find more qualified bloggers , here is the rules that I copy from @thedarkhorse post about Pay It Forward Contest
Curation Style Post of 2 Bloggers who are posting Quality Original Content
Link to 1 recent blog post per featured blogger. Keep in mind that many will follow this link and upvote so pick a post that isn't close to payout!
Include a link to this contest in your entry post
The 2 bloggers you curate Must Be Rank 50 or Lower!
You need to comment on this post with a link to your post, this is how I track everything!
Here is my first Blogger, He is Medical Student from Venezuella, I read his article about Schizophrenia and its effects last week, then I went through his blog and I found many interesting posts that weren't only about his life in the hospital and mere situation he encountered day by day. I don't read spanish but thanks to the browse translate tool so I can read his other posts too. Check His latest post (when I wrote this) about How to Write a Medical History Without Going to Jail. How to Write a medical history, for a commoner like me, his article quite interesting to read, different from other health or disease articles, he puts some funny comment on the article too.
I think this is a community blog bot, because they have a great program too. I've just read about it last sunday. it has a good program to support the newbie and minnows too, especially to help those who have a dust vote like me, in their introducing post it said that if a steemian sign up for the program by sending 1 Steem/SBD so it will make 71 votes before the balance runs out. I think this is a great way to give back to community, which mean that a plankton like me can also vote the comments and the bot will help to make it worth of value. of course I believe that this is a good way to maintain relationship with others too, we don't need to have bigger SP to upvote the comments. well, just check the contest they're conducting now contest: Refer A Friend and Nominate Newbie Game
Someone who I considered has a Pay It Forward mentality, this is an optional!
You are free to feature those who give back to their local communities, maybe a teacher or active service member, or those who give back to the steemit community here on steemit, but they need to have a recent blog post to be able to link to.
My Third Featured Blogger is :
for someone who is struggling for his own reputation, this guy also has time to support other, He write about My non-sponsorhip contest (but I am a bit lucky because of his post, someone already donate 0.5 SBD for the winner, willingly, if there's any) and last week he also promote someone who is an local artist through his post too. Here is the link to his post Pehtem is an interesting Idea, it is in Bahasa Indonesia, maybe because My Contest In Acehnese Language so He does not think about writing his post in English. I translated a paragraph of His post, He explained about what "Pehtem" or Beat The Can meaning.
Pèh t'ém, is a phrase to refer to "making noise," or cheering. Pèh t'ém could be to enliven something, like a team cheer on an event, or it could be as an event itself. When pèh t'ém is an independent event, it is intended as an attempt to make a scene, to be recognizable or aware of its existence, so that more people can be involved or at least become aware of something
The Steemians who have help me out to learn about Steemit, They are always kind and share important posts like @energyaddict22 and has beautiful heart like @lynncoyle1, @el-nailul who told me to check in the ocean of Steemit world and @fauzan11 who always smirks when I post something in English only, Thanks a lot everyone. Last but not least, @thedarkhorse who arrange this contest and introduce me to @steembasicincome , glad that I have a share and already share it with two other bloggers.
Hey, don't hesitate to join this contest, read the full overview on this link Pay It Forward Curation Contest week 9