Hello my little salad thunders :)
---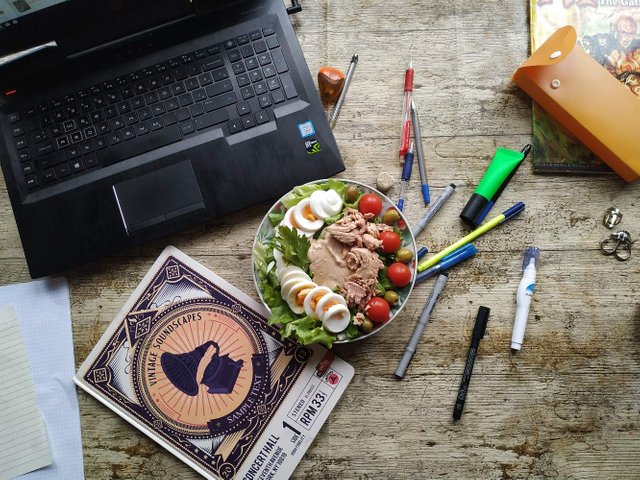 ---
Today I'll present you this beautiful tuna egg salad with lots of extras but first, let's talk a little.
I think I got preeeety good in making salads at least according to my taste. They can be so healthy and tasty and personally, I like them salty and sweet and savory and even a little bit bitter. If you ask me, put anything you like in the bowl but the only thing you got to be careful about is ratio.
The easiest way to describe it would be like if you put too much salt in the soup and you cannot eat it. Why? Because you use a lot of it. If you don't put enough of it, the soup will be "tasteless". I found that in the past, my salads often lack something and because of that I made only three or two simple types of salads. The taste was so boring. My ideas just "died".
---
Now I make more than 10 "complicated" salads, and maybe 7 easy ones. And it has only been a month of me experimenting, combining, and even buying some new groceries for the same cause. When I tried to type them into some of that nutrition calculating apps I found out that they are very rich in nutrients and sometimes maybe contain too many calories for me. If a day was horrible and I had to spend much time away from home, I would make myself a large portion of that caloric bomb salad and eat it one half in the morning, and the other in around 2 pm.
---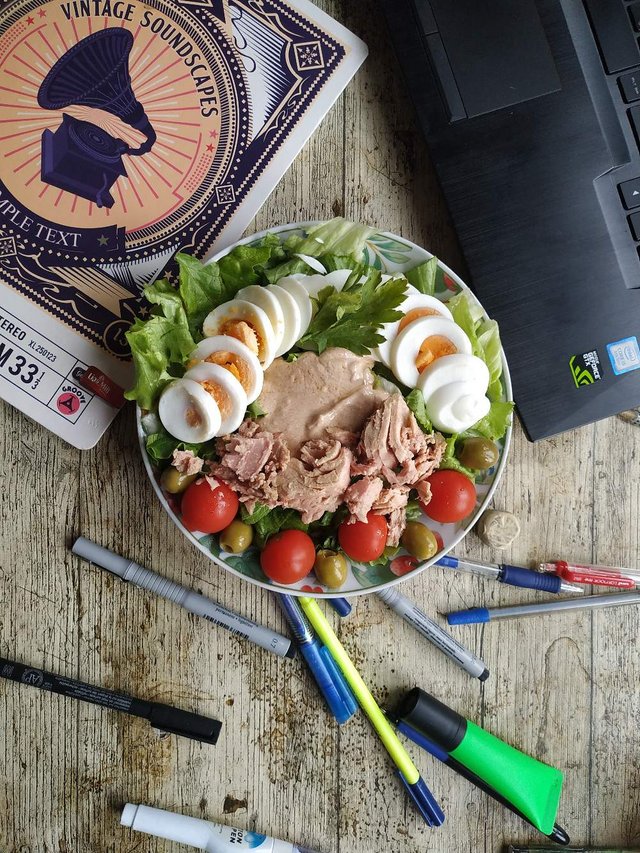 ---
Today I'll present you my tuna egg salad with plenty of extras :) :)
I remembered I can make some awesome dip from the groceries I bought in store and had in my fridge. I noticed my fridge is full of healthy ingredients such as olives, mozzarella, pickles, pickled paprikas, greek yogurt... and plenty of seeds, of course since I'm on an LCHF diet. I really love LCHF diet but in this case, I don't pay enough attention to ingredients ratio rules. I just want my meals to be full of healthy but very tasty ingredients. Believe me, before I didn't believe such stuff even existed.
Well, maybe we should start with some ingredient facts and then proceed with the recipe, instructions, and a question or two :)
---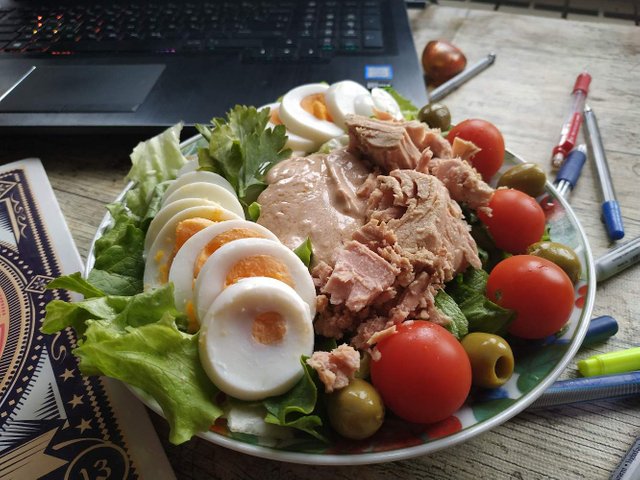 ---
INGREDIENTS FACTS -- portion of 100 g --
---
---
TUNA
Very tasty fish from which you can make all sorts of meals such as tortillas, all sorts of dips, bruschette, steaks, many sauces, and many more. For this meal I used tuna canned in its own juice bought in one of mine local stores. Day or two before I made some pretty awesome dip but ate it before I could take a picture of it. I grabbed it with a stick of fresh zucchini and enjoyed.
Contains around 130 calories, 0,6 g fats, 0 g carbs and lots of vitamins A and D, also 1 g of B6. Lot's of proteins and no fats are good for preventing heart diseases and also for those who train a lot.
---
EGGS
Cooked or uncooked, eggs are delicious and we can make a lot of meals with it. Most people eat them fried or hard boiled and others know that they are in almost every grocery we buy. I love to make sauces with them and for me, devil eggs don't get boring when you have plenty of inspiration on the internet. Also, homemade mayonnaise is delicious! You can make it just like you like it. For this meal I lay them on the pickle water and covered with salt and pepper.
Contains around 150 calories, 11 g of fats, 1.1 g carbs and also lots of vitamins A and D. Again, awesome for those who train a lot in the gym or in nature, doesn't matter.
---
TOMATOES
I am in love with fresh zucchini covered with hot tomatoes sauce and some parmigiano cheese. I get hungry when just thinking of it. Before I loved it with pasta but now I fond out you can mix it with probably everything in my mind. I want to know how to make tomatoes juice and this post actually gave me an idea to explore a juice area. Maybe it will be in some of my next posts. Who knows.
Contains around 18 calories, 0.2 g of fats, 3.9 g of carbs and vitamins C, K1, B9. Awesome. So, lovely for those who want to lose some weight and those who search for a good source of fiber.
---
OLIVES
Olive pate is something I adore and use very often, most on my oopsie bread. I love to try to make some bruschette with oopsie and olives and some anchovies maybe. For this salad, I used pickled because I love their texture and savory part of the taste. I love savory in general, especially with vegetables and soups. It can surprise you believe me. Hey... Can you make an olive soup? That would be interesting to balance.
Contains around 115 calories, 10.7 g of fats, 6.3 g of carbs, and has a lot of water in it so it can be perfect for dehydrating your body.
---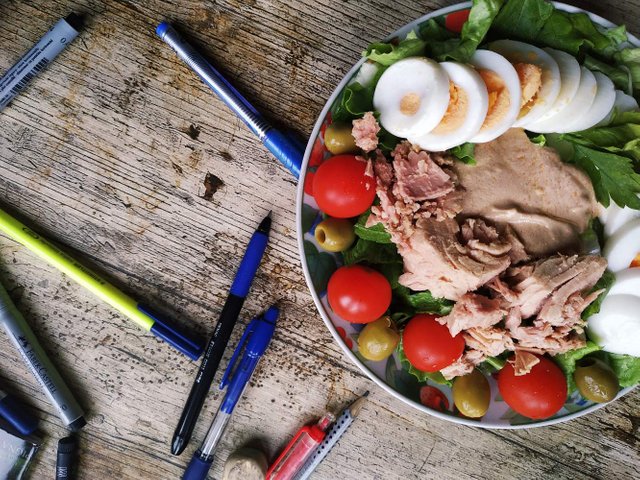 ---
Well, let us begin with the recipe of this healthy salad. First the ingredients and then very important, HOMEMADE DIP. I love it and even ate it with a spoon... piggy me.
---
RECIPE
Ingredients:
5 big leaves of salad
1/2 tuna can in its own juice
2 eggs
4 cherry tomatoes
10 olives
---
Homemade dip:
2 full spoons of greek yogurt
2 spoons of non-fat cheese
2 spoons of soya sauce
1 tbs of mustard
1/2 tbs of salt and pepper, each
1 tbs of garlic flakes
1 tbs of spicy smokey paprika
1 tbs of honey
---
Time of preparation:
10 minutes for ingredients preparation
5 minutes of the homemade dip
In total: 15 minutes
---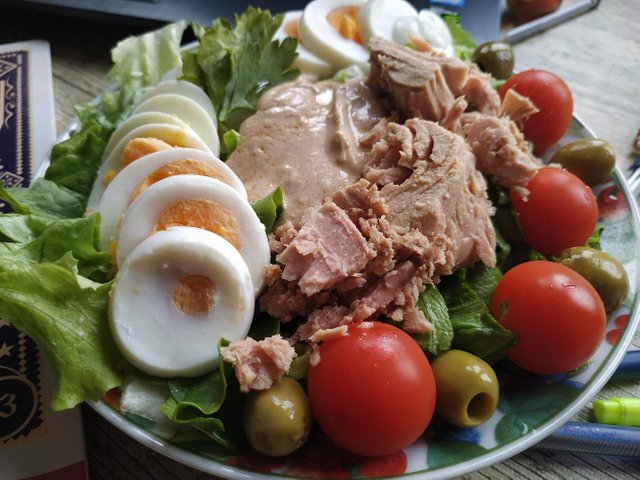 ---
INSTRUCTIONS
Cut the salad leaves, tomatoes, and eggs

Mix it with a tuna and olives in a big bowl

Take a medium bowl and mix everything that goes in your homemade dip

Season it a bit more to your taste and mix into your salad

Enjoy! Yum yum yum
---
And of course, as you know I like to ask you some things and have a conversation in my posts, share some ideas, maybe invent new ones. For the end, I've prepared 2 questions for you and you can answer either one, both or none. As you want my pumpkins :) So here it goes.
QUESTIONS
Can you make an olive soup?
What is the best diet for you?
---
I want to thank you all for reading this. I love to post here and it has been going even faster these past days. My exams are coming through and I will write more about alternative marketing methods and project managing. Maybe that olive soup will come after that. I want it so bad hehehe
Steem on my beautiful peaches! Cheers :)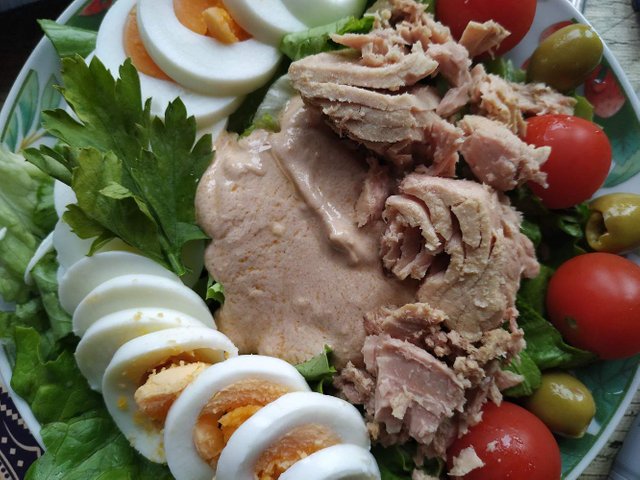 Posted using Partiko Android