To be fair, I actually liked this game (a lot) and have played many versions since the 90's. Even with all the issues, I kept playing.
I knew eventually they would leave STEEM (tho they are still somewhat connected) but that didn't bother me because the game puts a new twist on a classic past time.
Unfortunately, I too now understand why so many cry foul in this game. At first I would laugh at people who get upset at getting attacked— now, all of a sudden; I am one of them. Not because my army that took weeks to build was destroyed but because it made it clear why the game is unsustainable:
If a new player purchases in-game items (like units) only to have them dissappear overnight,, it's pointless. For the unlucky few who this happens to early on, I can see why it's a deterrent. Losing money without any chance just isn't fun. Time on the other hand is another issue.
This recent attack initiated by:
KOBUSI SAN
the supposed
BOSS OF SECOND [YAKUZA]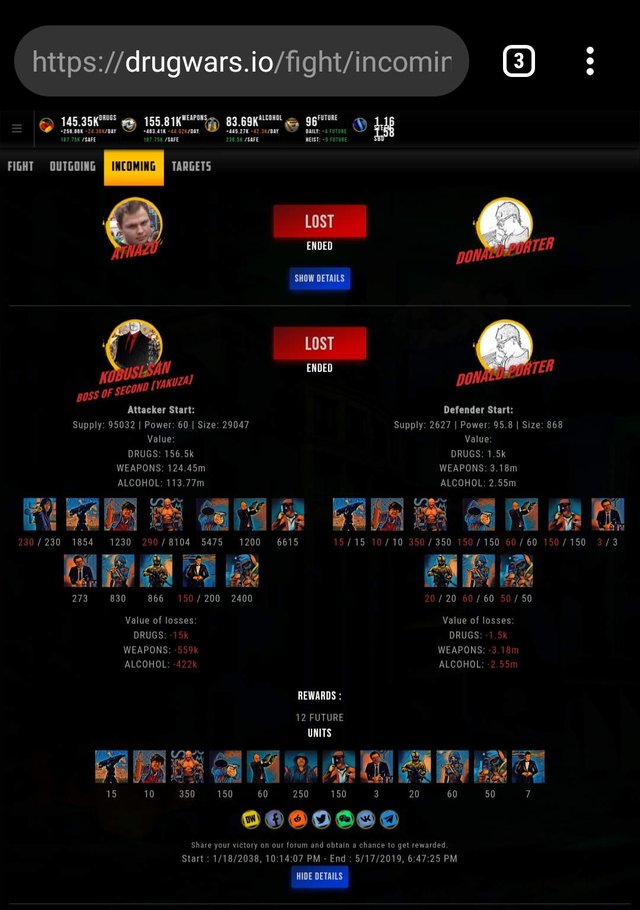 ...was obviously pointless. For the benefit of 12 FUTURE Tokens, mere f——n pennies... I lost everything. Well, for now.
If it was someone with a comparable force I could understand, but a gang boss? LMFAO
No I don't plan on retaliation, simply cannot afford it (have real responsibilities). Nor do I want to join a gang, definitely not a gang led by a wuss.
I simply will join the hordes that stopped playing because 'the game is flawed' for... reasons.
"Haste makes waste" — some wise person
Posted using Partiko Android