True #MomLife Moment: My 7 year old's Rude, Embarrassing Behavior + How I Dealt With It
So, my 7 year old has been having an attitude for a while now. Being my "mini me," I know exactly where he gets it from...but that is not the point! His behavior reached my boiling point earlier this week so we had a serious discussion about it...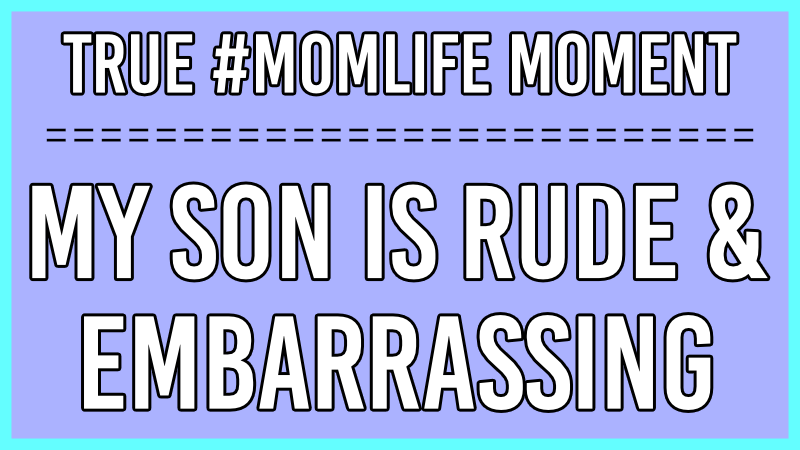 The Lead Up


A couple days ago, we took both boys to a local karate studio. The 4 year old has been excited to begin taking lessons for the last couple months, but the 7 year old was on the fence. The owner suggested we come by to watch a class to see how each boy likes it.
Before we made it there, my oldest decided he didn't want to do karate -- no way, no how, never, ever. That was the attitude he was going into the studio with that afternoon.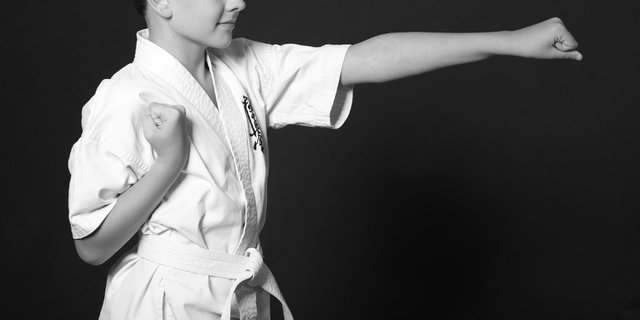 Source: Pixabay.com
My youngest, however, was ready to see what goes on inside a karate class. He was sitting on the floor watching all the students warm up and practice their form. When the 7 year old started distracting his younger brother rather than sitting and watching, I could feel my blood pressure rising.
At one point, both boys were over at the stacks of padded shields, hiding out in between them like they were a big fort. I called them both back over to us and the instructor who was explaining what typically happened in a "Ranger" class, as that's the one my 4 year old would start in.

The Explosion


That's when the first smart comment came out.
"Well, I'm bored!" my 7 year old shouted, crossing his arms. His attitude just got more negative from there.
"I don't want to do karate!"
"I want to leave!"
Source: DepositPhotos.com
Eventually, the instructor asked if they wanted to do some shadow fighting, which is basically pretending to fight with no contact. The boys put on boxing style gloves and had fun on the mats for about 15 minutes toward the end of the class.
As soon as it was time to put the gloves away, my 7 year old's bad mood had returned.
"I wasn't done!"
"Let's go now!"
Even though we still needed to chat with the secretary regarding pricing for both boys. By the time we left there, I was not feeling so hot myself. I was annoyed with both boys behavior, but really my oldest because he instigated most of it.

The Heart-to-Heart


When we got home, we had a huge heart-to-heart. I raised my voice, which I try NOT to do, but I was just so tired of his attitude. I tried to keep myself in check as I expressed my frustrations....but was probably was a little harsh at times.
I know my intelligent 7 year old gets it though, and knows he should not act the way he does. I guess knowing that he knows how to behave (his teacher swears he's an angel at school) is really what sets me off when we get out in public with him and he's rude and embarrassing.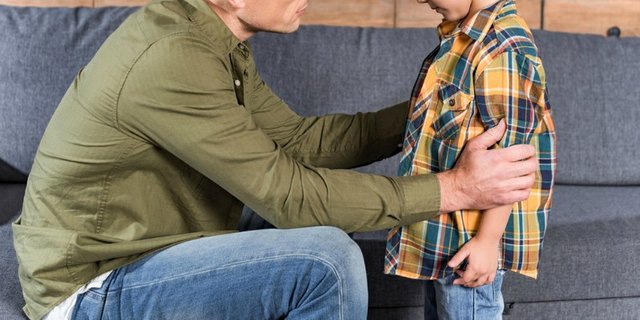 Source: DepositPhotos.com
Both of us shed some tears. We discussed different punishments, since being grounded or getting toys/privileges taken away were not working. He didn't want to lose access to electronics or sit in his room every day after school with nothing to play with.

The Outcome


In the end, he apologized for his behavior and promised to work on being happier. Being more open and giving things a chance before saying, "I can't do that!" or "No, I don't want to do that!" Working on his attitude and not shouting negative and/or rude things in public.
After all that negative talk and thinking, he's now says he's looking forward to doing karate too. I NEVER want to force either child to do it, or anything else they do not want to do, but I do like to see them trying new things. They will both be starting a 2-week intro to karate next week. If they don't like it after that, they are free to stop going after that.
Hopefully this talk really drove home how unhappy I was with his behavior and that he was going to start getting into REAL trouble for acting the way he does sometimes. He's a very smart and sweet boy, and I don't like to see him acting sour!








Animated Banner Created By @zord189