Cambridge Meetup - Sunday 15th September 1:00 PM is a Go Go Go!
Hello folks and welcome. This is to confirm that there has been a lot of interest in the Cambridge Meetup coming up on Sunday the 15th of September 2019.
If you have never been to a meet up and you can make it to this one. Please do come along and put a face to the username.
@molometer & @starkerz chatting about steem and taking a punt!
Cambridge Meet up time and date
Sunday 15th September 1:00 PM
Location: The Flying Pig near the Botanical gardens is just a short walk from the railway station. [//]:# (!steemitworldmap 52.194475 lat 0.131761 long Flying pig Cambridge uk d3scr)
I know that a lot of people can feel uneasy meeting new people but the interesting thing about steemians is that we all share a lot of common interests and experience for example the success of steem but so much more than that alone.
We are all interested in a variety of things including photography, film making, music making and writing plus a whole load of other stuff.
We are all involved in a potentially world changing way of interacting on the web amongst many other things. Whenever I have met steemians in the past the problem has never been a lack of conversation.
@starkerz the master of engagement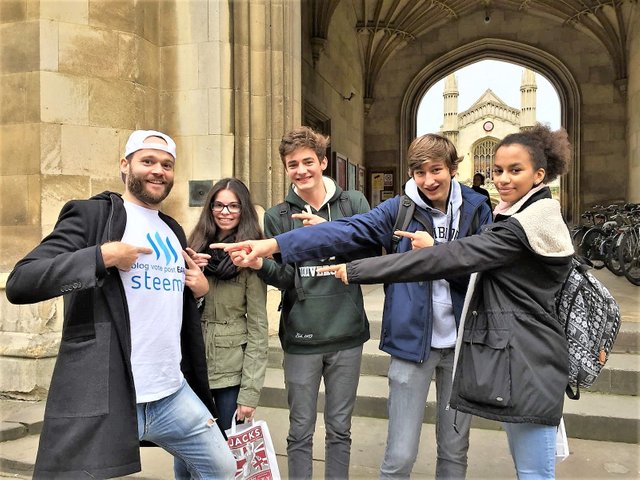 In fact you will quickly realise that we all need more time together to talk about the multitude of things steem related.
A lot has happened in the last two [+] years and we find ourselves in a very interesting position on #newsteem.
Hard forks 21 & 22 went fairly smoothly and the trending page is looking a lot more healthy with mostly organic and quite frankly interesting content rising to the top.
I haven't posted anything for about nine days myself while all the transitions were taking place and I have several steem related projects that I am spinning up and sorting out but I did continue my manual and semi automated curation projects.
Downvoting is liberating steem
I have also been doing a little down voting of some real doucebags that I had been putting off for a very long time. It was and is very liberating to make a start on cleaning up our blockchain.
The next step after we clean up the plagiarists and spammers is to tackle the outright scammers, money launderers and thieves. That for me is the next important step in cleaning up the steem platforms.
Only when we have a clean system can we then think seriously about the future. As it stands we still have a long way to go and I will be calling out those thieves and scammers. You and I know who they are and they will not go quietly so expect a fight or two.
When we have a clean scam and spam free system. Then and only then we will see confidence in mass adoption and institutional investors wanting to get involved. As it stands we still have a lot of work to do but we have made a good start and that is encouraging.
Onboarding is a lot easier now but do we want to onboard new people when we are still cleaning house?
Again many thanks to @pennsif for putting this list together of active UK steemians.
I have had contacts from a number of steemians who will attend the meet up. If you are in the UK don't forget to join us on @steemclub-uk
Active Steemians in England @ 25 August 2019 [111 + 4 expats]
London & the South East (39)
@adetorrent, @atomcollector, @basilmarples, @bleepcoin, @breadcentric, @chris-the-batman, @cryptogee, @donatello, @dronegraphica, @earthkind, @ezzy, @gillianpearce, @hockney, @hopehuggs, @justyy, @kabir88, @lloyddavis, @maneco64, @markangeltrueman, @mentalhealthguru, @molometer, @nakedverse, @nanzo-scoop, @nickyhavey, @pjau, @rea, @redrica, @rod.crisafulli, @scalextrix, @sergiomendes, @simonjay, @slayerkm, @stav, @steevc, @stimp1024, @teodora, @ultravioletmag, @veritanuda, @winkandwoo @kgakakillerg
The Midlands (16)
@abh12345, @article61, @cryptofunk, @dickturpin, @howardblott, @knightswood, @martaesperanza, @maxrwolfe, @neopch, @opheliafu, @revisesociology, @rimicane, @shanibeer, @skaarl, @starkerz, @ura-soul
The South West (4)
@jimbobbill, @perceptualflaws, @sunsethunter, @ukbitcoinmaster
The North (24)
@anarcotech, @artonmysleeve, @ashtv, @bingbabe, @calluna, @c0ff33a, @cryptocurator, @darrenclaxton, @ebookwriter, @father2b, @gaby-crb, @goblinknackers, @lastravage, @mckeever, @mikefromtheuk, @pcste, @radicalpears, @raj808, @slobberchops, @someguy123, @stephenkendal, @stevenwood, @teamhumble, @vibeof100monkeys @jamesgoddard, @the.pigeon.post
Scotland (8)
@barge, @camuel, @epicdave, @fiftysixnorth, @johnkingwriter, @meesterboom, @natubat, @screwballpsyche
Wales (13)
@cryptocariad, @elizabethharvey, @louisthomas, @pennsif, @pumpkinsandcats, @stevejhuggett, @stevelivingston, @theadmiral0, @theceltictraders, @theturtleproject, @timothyallen, @wales, @welshstacker
Northern Ireland (1)
@silverstackeruk
Somewhere in the UK... (6)
@britcoin, @jonathanyoung, @raymondspeaks, @surviveuk, @tremendospercy, @ukprepper
Expats (4)
@cryptoandcoffee (South Africa), @livinguktaiwan (Taiwan), @minismallholding (Australia), @seanreilly (Russia)
Cambridge is a beautiful, quaint and very photogenic town and be sure to bring a camera or two. It is also a rather small town so you can get around very easily on foot or take a punt boat out on the River Cam.
Train services from London Kings Cross are regular and fast. Just 48 minutes.
I am excited to meet you all in Cambridge and looking forward to hearing your views. I will be doing some video interviews for Dtube and YouTube if you would like to share your thoughts, questions and ideas.
I will to do a few vox pops with the public in the street just for a fun to spread the word.