There's much discussions on the subject of homelessness here in America, and truth be told, none of us know exactly how to fix it. We believe, naively so, that it's something that should not exist in a rich country like the USA, but it's obvious that any thought of that nature is nothing more than wishful thinking.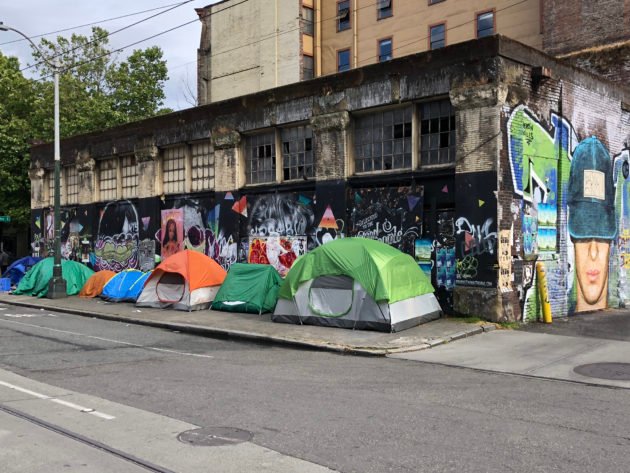 Circular Problem
Looking at the landscape and digging deep into the problem, we find ourselves completely perplexed and confused with the details. I do say we, because as far as I know, there's nobody out there who can truly explain
how this has happened
.
The usual finger pointing is never missing, and the political grandstanding gets out of hand almost always, but nonetheless there's no implemententable solution in sight. Seattle seems at times like a dystopian third world country, and it's not a city that lacks funds, but surely one who's funds are obviously mismanaged.
You would think that Seattle is not spending enough to fix the problem but you would be wrong. According to the Puget Sound Business Journal, the Seattle metro area spends more than $1 billion fighting homelessness every year. That's nearly $100,000 for every homeless man or woman. So it's not unreasonable to ask, who is making the money?
Follow the money
As you might guess, this whole discussion has become extremely political, and truthfully that is to be expected. But it's also in this realm that we find the biggest flaw.
You see, there are literally cabals that control where the money to "fight homelessness" goes, and as you might guess, the typical "you scratch my back, I scratch yours" business model is in full effect. In other words, many projects and "businesses" rely on the problem not fixing itself, therefore one must question the effectiveness of the intent behind them. Shelters, rehab centers, etc, keep on popping up, but the problem "mysteriously" just get's worse and worse.
If I was one to play the partisan hack game, I would probably fall behind the line of those who accuse liberal policies of creating these dystopias. But truth be told, the greed that keeps the problem alive is more aligned with the worse kind of corrupt capitalism, then anything else.
Grandstanding at it's worse
This to me is the most toxic element of it all. Simply said, there's a swath of people who focus more on
pointing fingers and attacking capitalists
, than finding sensible solutions if one is to be found. In my opinion discussions about affordable housing creation, and pushing for local governments to move in this direction, is a lot more productive than calling landlords greedy pigs, but maybe that's just me.
There's a concept here that might be new to most, but it's worth discussing: Pathological altruism - altruism in which attempts to promote the welfare of others instead result in unanticipated harm. We've reached a point where people with good intentions opt to ignore some of the key aspects of the current problems. Drug addiction and mental health is hardly a subject that gives anyone warm feelings, but if whatever solution leaves these two things off the table, then it's no solution at all.
I don't have the answer
And I strongly believe nobody truly does. I mean, it's extremely difficult to find the balance between compassion and order, between not having a system of corrupted incentives and not forsaking those who truly need help.
One could argue that what's needed is a strong hand, one that cleans up shop, so to speak. But those attempts, when they've been put forth, have always been met with political obstacles that seem impossible to overcome.
As I said, I don't know what the answer is, but I do know we are failing miserably.
MenO