Raise your hand if you love falafel🙋‍♀️🙋‍♀️
Making falafel at home can be tricky but this recipe is easy!
These falafel are crispy on the outside and the insides are tender,delicious and full of fresh herbs.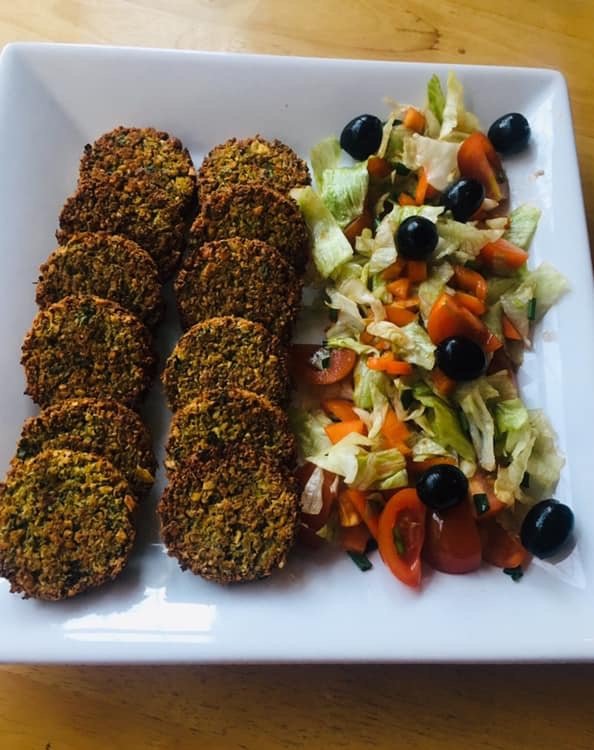 They are baked because i don't want any calories from cooking oil. I always save my fats for avocado, olives or nuts to eat with my salad.
They are gluten free and freeze well for up to few months.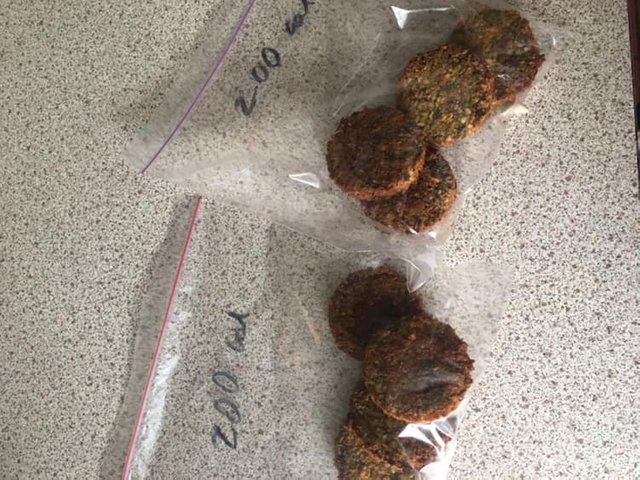 I made this several times using canned chickpeas but they are to soft after baking and not for my taste😉
Before you start cooking,soak your chickpeas in slightly salted water for at least 4h. I soaked mine overnight.
Ingredients for 16 small falafels
170 g dried chickpeas ( about a cup)
100g chopped onion ( very little onion)
1/2 cup fresh parsley leaves
1/2 cup fresh coriander leaves
4 cloves garlic, chopped
1tsp fine salt
1/2 tsp ground cumin
1/4tsp cinamon
1/2 tsp soda
10ml olive oil for falafel or small egg
10ml olive oil for baking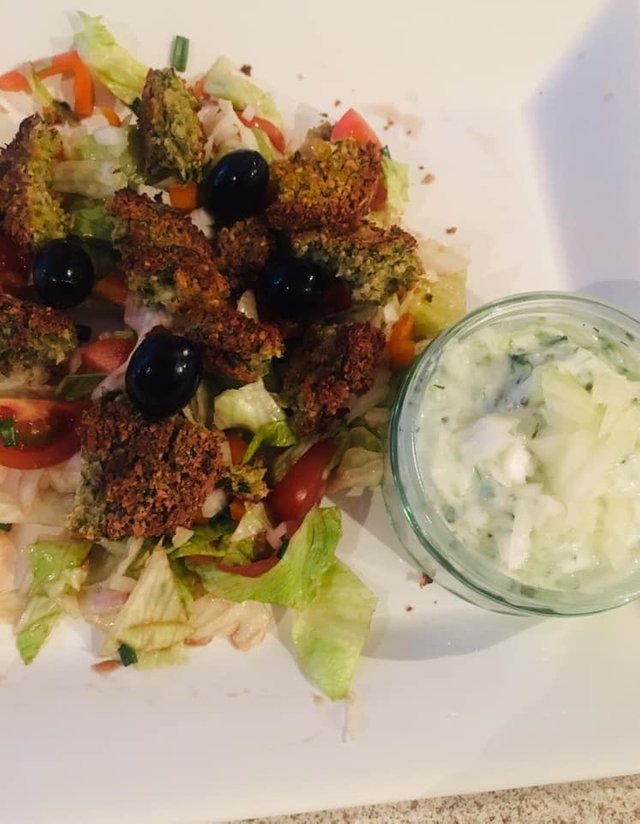 Instructions
1.Preheat oven to 180C and oil baking tray with 10ml oil.
2.In a food processor, combine the soaked and drained chickpeas and other ingredients including leftover 10ml oil or egg. Process until smooth,about 1 minute.
I like to do this step in batches because my food processor is to small for that amount of the chickpeas.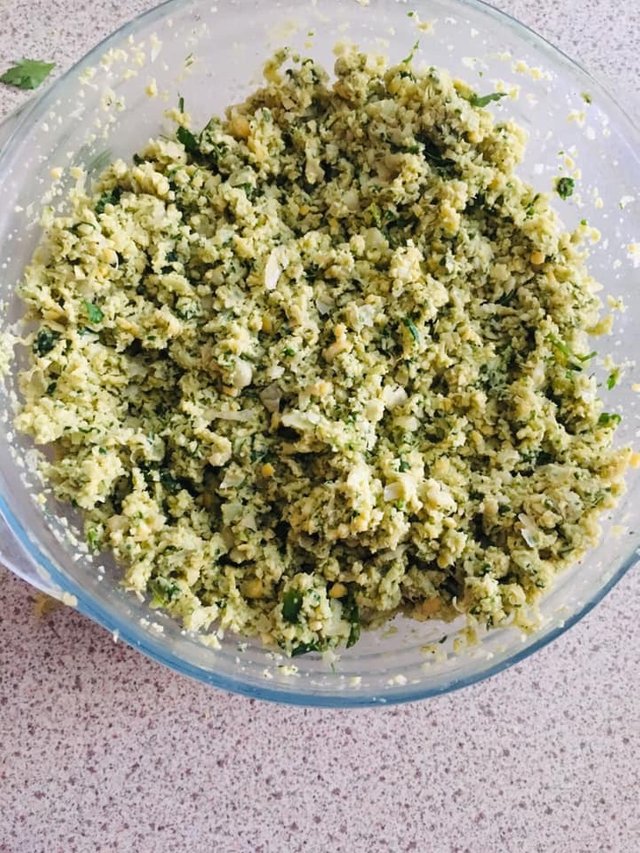 3.Using your hands,scoop out about 2 tabelspoon of the mixture at a time. Shape the falafel into small patties,about 1/2 inch thick and place falafels on your oiled tray.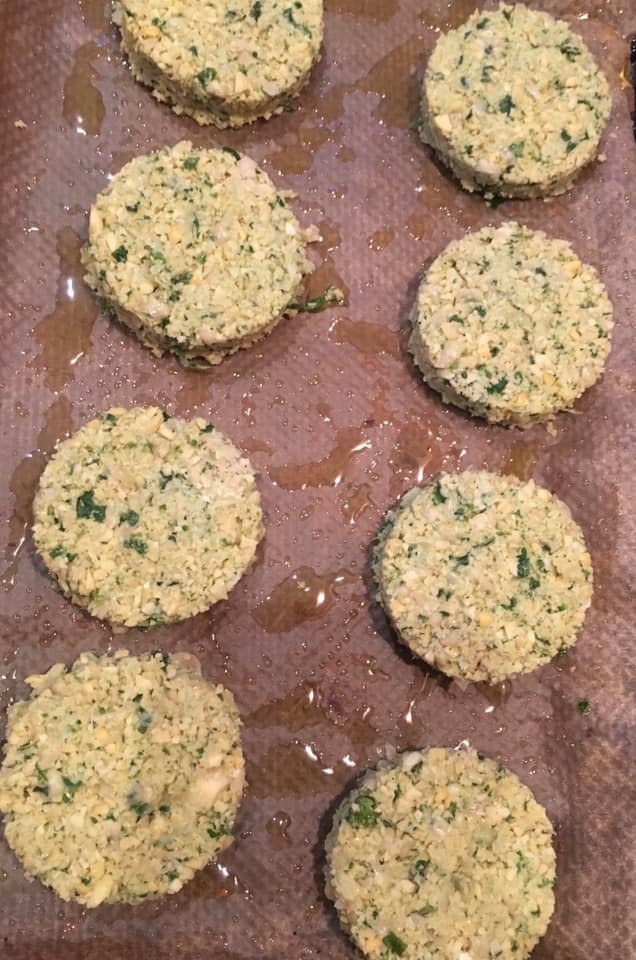 4.Bake for about 25min, carefully flipping the falafels half way through baking.Bake until they are golden brown on both sides.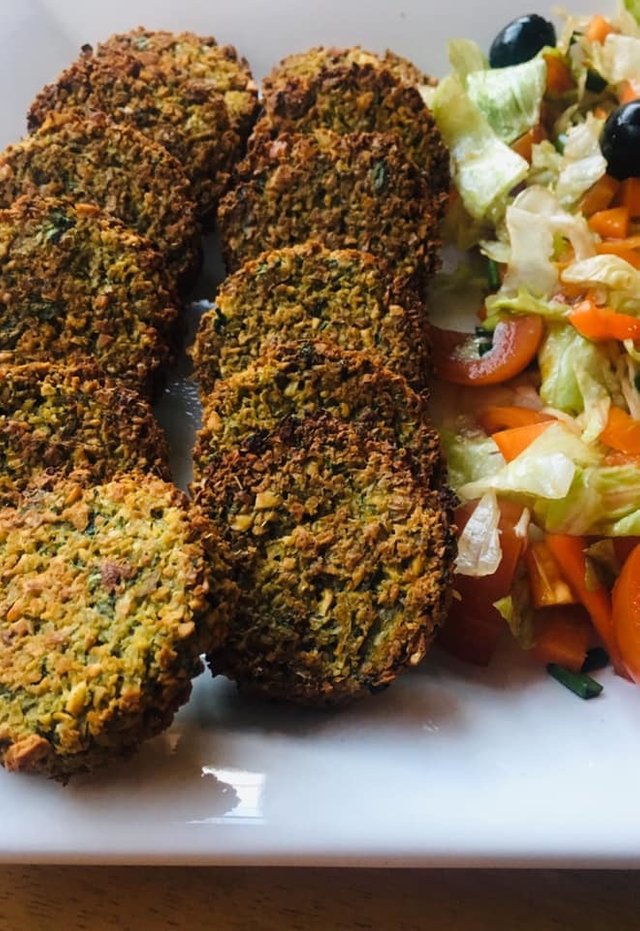 Serve with salad or pita bread with garlic yogurt dressing
These falafels keep well in the fridge for up to 3 days.
Macros for 1/4 recipe (4 small falafels)
Calories 207
Carbs 30g
Fat 6,5g
Protein 8g
Fibre 8g
.............Polish translation................
Reka w gore, kto lubi trelefele falafele?!🙋‍♀️🙋‍♀️😁😁
Wykonywanie falafeli w domu może być trudne, ale moj przepis jest prosty!
Te falafele są chrupiące na zewnątrz, a ich wnętrza są delikatne, pyszne i pełne świeżych
ziol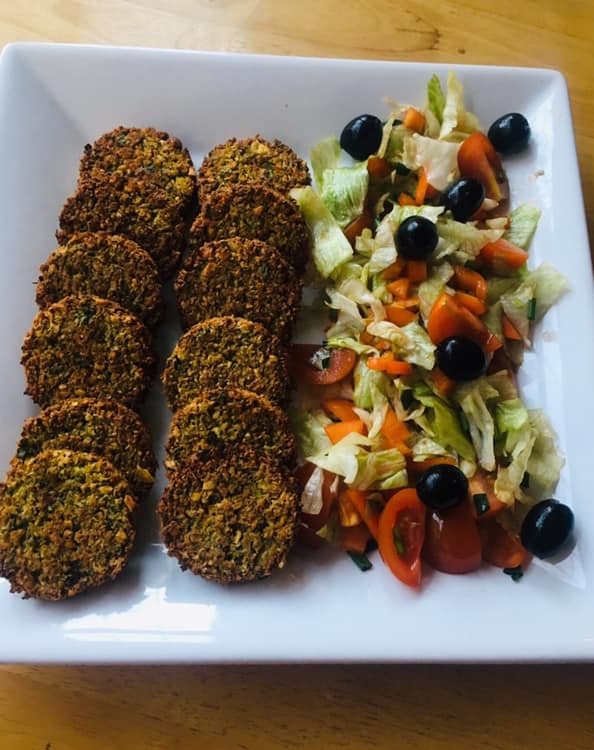 Moje sa pieczone, ponieważ nie chcę żadnych kalorii z oleju do smażenia. Zawsze oszczędzam tłuszcze na awokado, oliwki lub orzechy do jedzenia z sałatką.
Są bezglutenowe i dobrze sie je przechowuje w zamrazarce nawet przez kilka miesięcy.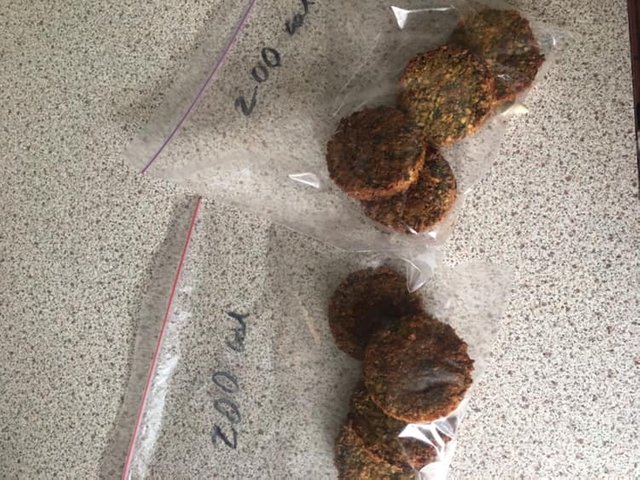 Kiedys używalam ciecierzycy w puszkach, ale po upieczeniu są miękkie i nie na mój gust😉
Przed rozpoczęciem gotowania zanurz ciecierzycę w lekko osolonej wodzie przez co najmniej 4 godziny. Ja zostawilam na cala noc.
Składniki na 16 małych falafeli
170 g surowej ciecierzycy (około szklanki)
100g posiekanej cebuli (bardzo mała cebula)
1/2 szklanki świeżych liści pietruszki
1/2 szklanki świeżych liści kolendry
4 ząbki czosnku, startego
1 łyżeczka drobnej soli
1/2 łyżeczki mielonego kminku rzymskiego
1/4 łyżeczki cynamonu
1/2 łyżeczki sody
10 ml oliwy z oliwek do kotletow lub małe jajko
10 ml oliwy z oliwek do pieczenia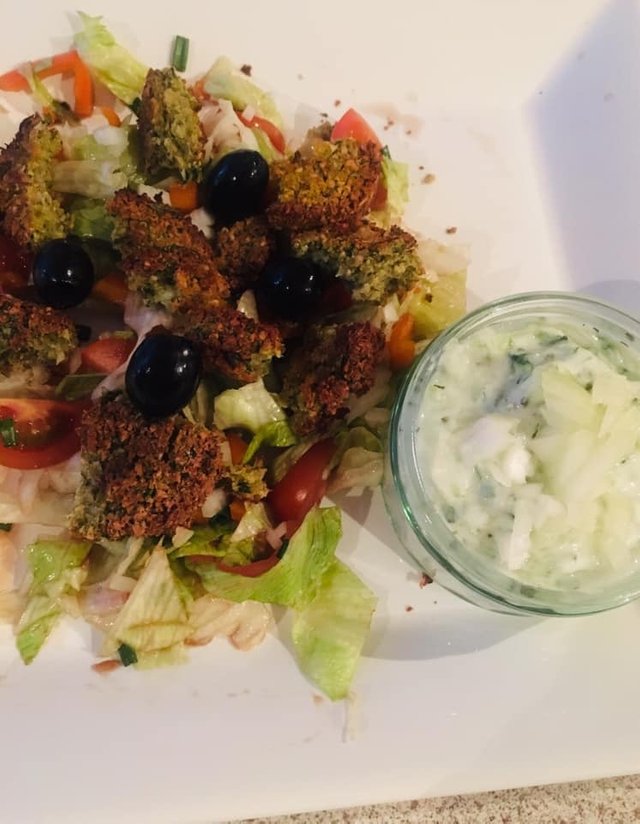 Instrukcje
Rozgrzej piekarnik do 180 ° C i wysmaruj blachę do pieczenia uzywajac 10 ml oleju.

W robocie kuchennym połączyć namoczoną i osuszoną ciecierzycę i inne składniki, w tym resztki 10 ml oleju lub jajka. Przetwarzaj do uzyskania gładkości, około 1 minuty.
Lubię robić ten krok partiami, ponieważ mój robot kuchenny jest za mały na taką ilość
3.Używając rąk, wyjmij około 2 łyżek stołowych mieszanki na raz. Uformuj falafel w małe placki o grubości około 1/2 cala i umieść falafele na naoliwiona blaszke do pieczenia.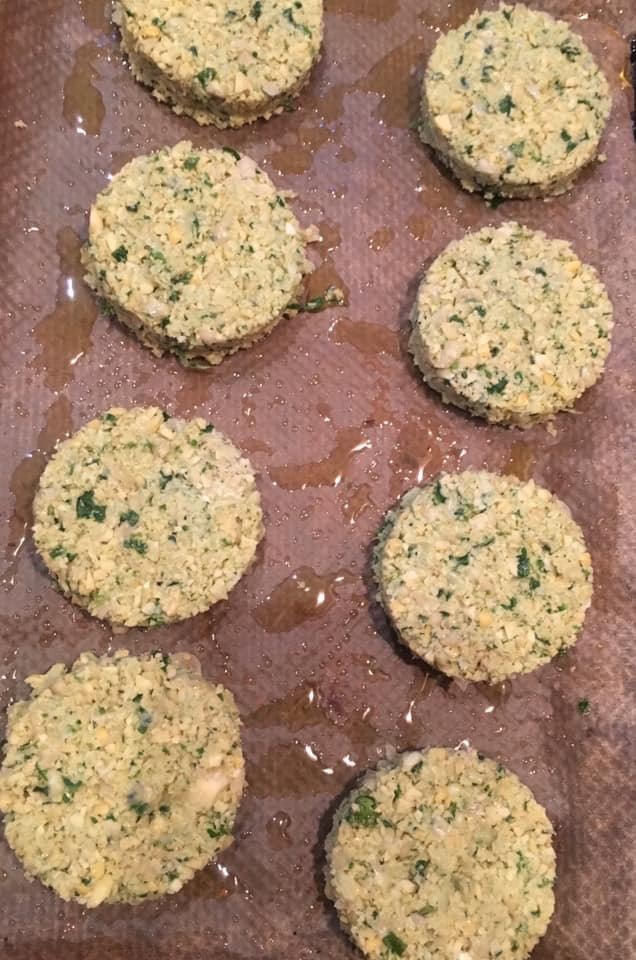 4.Piecz przez około 25 minut, ostrożnie przewracając falafele w połowie pieczenia. Piecz, aż po obu stronach będą złocistobrązowe.
Podawać z sałatką lub chlebem pita z sosem czosnkowo-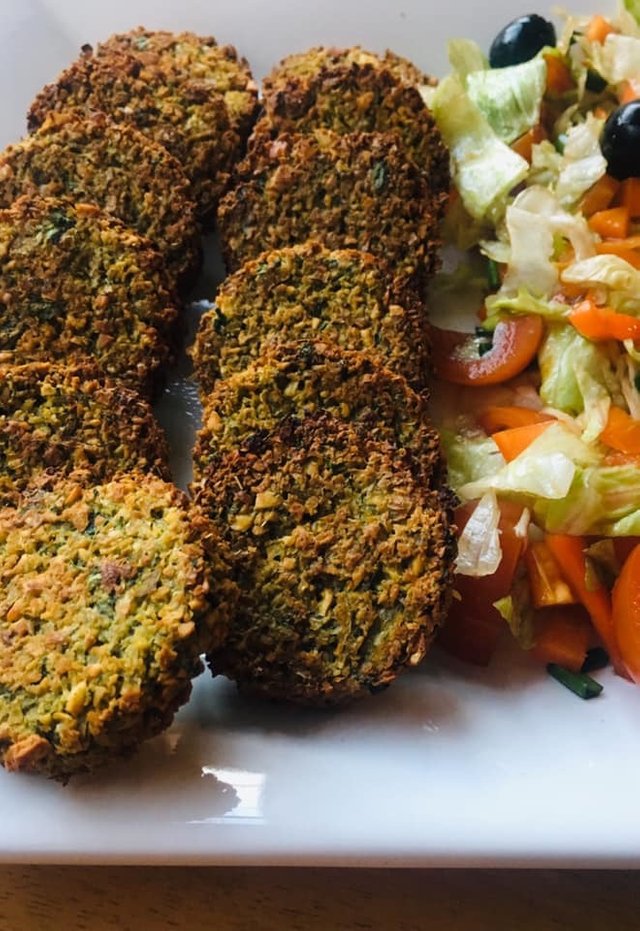 Te falafele trzymają się dobrze w lodówce do 3 dni.
Makra dla 1/4 przepisu (4 małe falafele)
Kalorie 207
Węglowodany 30g
Tłuszcz 6,5g
Białko 8g
Błonnik 8g