My Latest Still Life Painting ("Kettle & Petals #2") & its Development
My Latest Still Life Painting ("Kettle & Petals #2") & its Development
---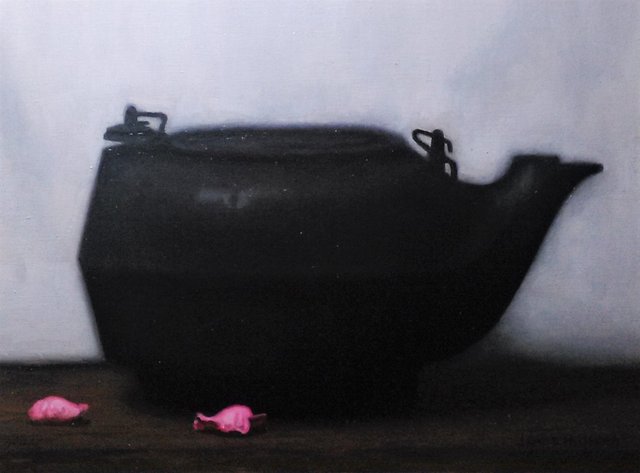 Kettle & Petals #2
9" x 12"
Oil on birch
---
Greetings Everybody,
There is just something about this kettle that compelled me to paint it again.
Besides for its shape and girth, I found a special quality that I can't quite put my finger on.
Perhaps it could have also been the deep subtle shifts in value as I rendered its form. Or the way its arabesques are shaped in relation to the high key background.
While I'm aware of the phrase "The whole is greater than the sum of its parts" and the truth that lies within it, I wasted no time in being indecisive and jumped right in on working on this painting.
---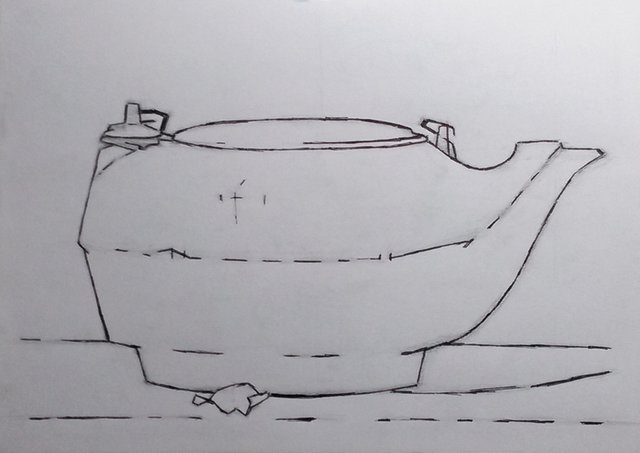 With this painting, rather than begin with a loose drawing in paint, I decided to take once again a more traditional and methodical approach.
As you can see here I started with a block in drawing in graphite, coated the back with charcoal, and retraced it with ink to transfer it onto the birch panel.
---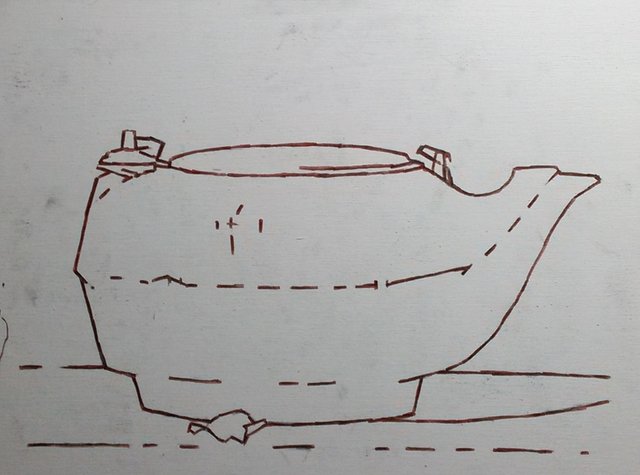 I then, with a Faber Castell Pitt pen, traced over the transfer to "seal" the drawing on my painting surface. I didn't have to wait too long for the ink to dry. That's one of the reasons why I love these pens for block in drawings for paintings.
---
With some burnt umber, a little medium to speed up the drying and a rag I then toned the surface of the painting to get rid of the stark white gesso primer. I let this dry overnight before working.
---
On the next day I began to mass in the three basic large shapes: the background, the kettle, and the ground plane.
I attempted to lay these in as accurately as I could in terms of value. This first pass I'd also like to add that while being thin, it was also thicker than what you would consider a wash to be. To be clear, it would be considered thick enough to cover opaquely, but thin enough to go over again while it still being wet.
Now that the whole surface is covered, it gave me enough comparative information that I could see the different shifts of value and form within the kettle. I then decided to loosely define the lights and forms within the kettle.
---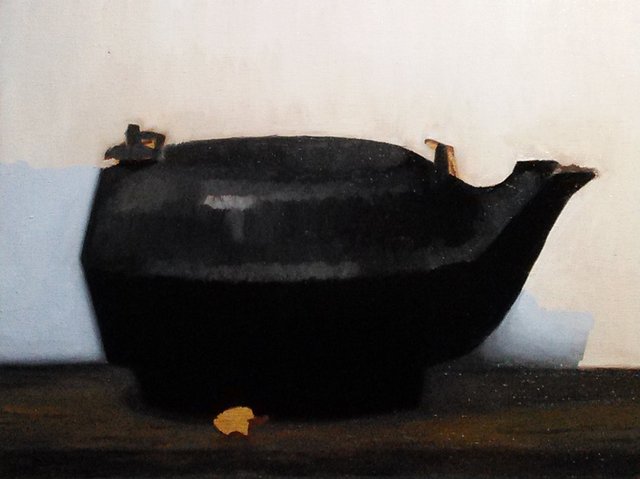 On the next day, keeping in mind to work from back to front, I then started to zero in on the wooden ground plane and the cloth backdrop. Working in this manner helps facilitate a better control towards edges. At this stage I wanted to keep the edges relatively soft as it is much easier to sharpen them if need be later on.
---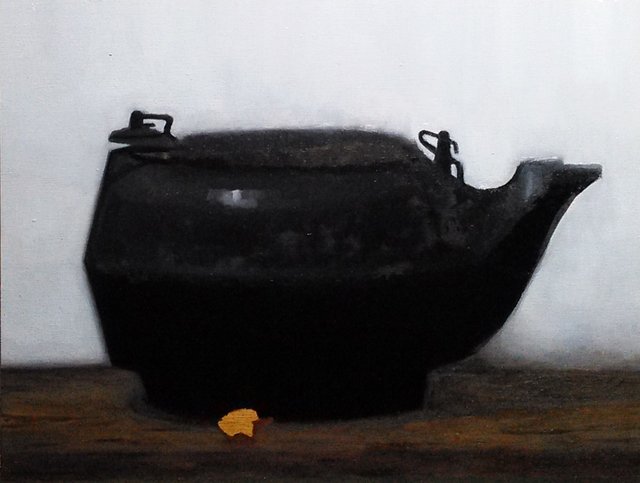 As the painting progressed, naturally I gained more information to work with. So at this point I realized the drawing needed to be adjusted and altered the height of the kettle as I was turning its form up into the light.
---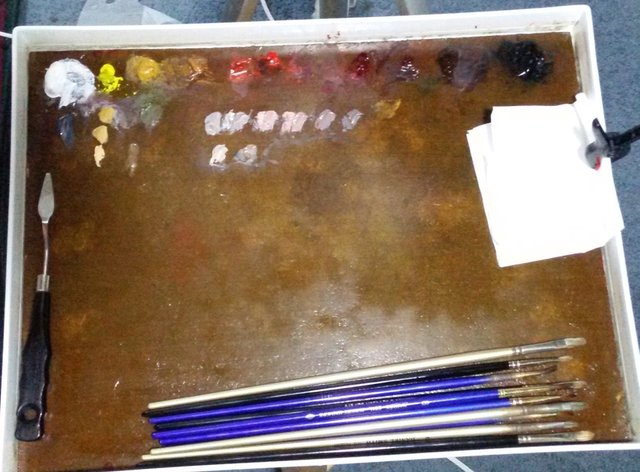 Here's a shot of what my palette has been looking like these days.
I had an old piece of MDF board lying around and it turns out that if fit perfectly into my Masterson palette box.
To prep it and cut down on its absorption, I brushed on a couple of thin coats of shellac, let it cure overnight and it was all set ready to be put into action!
This palette has been working out great in that I have ample room for mixing, and when I'm done for the day I can just scrape away all the mixed paint and throw it in the freezer until next time.
---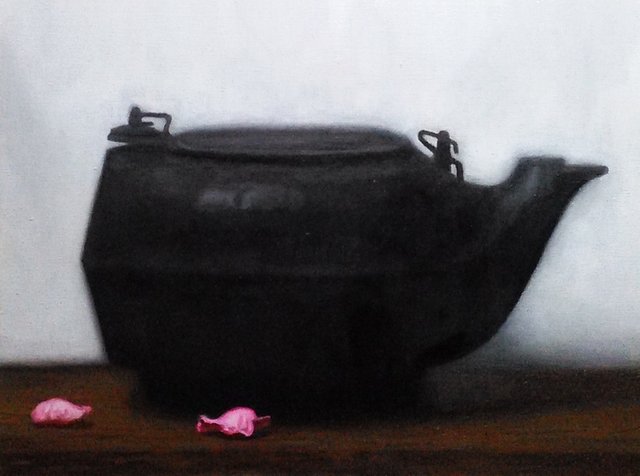 Closing in on the painting's finish I added a couple of rose petals to add some variety in the picture's composition.
---
..Aaaaannd it's finished!!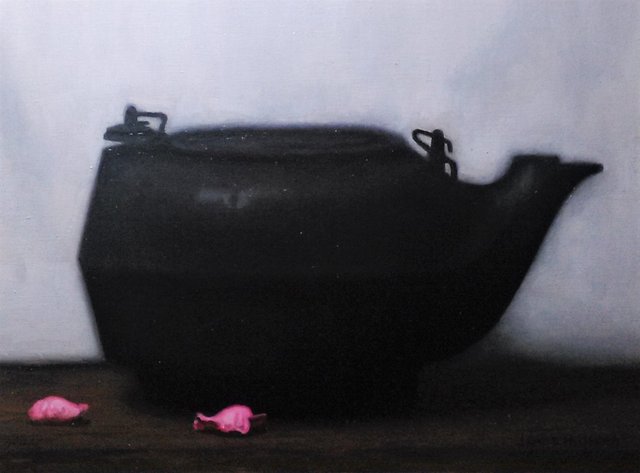 ---
Thanks for reading Everyone!
-James Hansen