"Suspended in Air" - A Tour Through Monk Occupied Monasteries in Meteora, Greece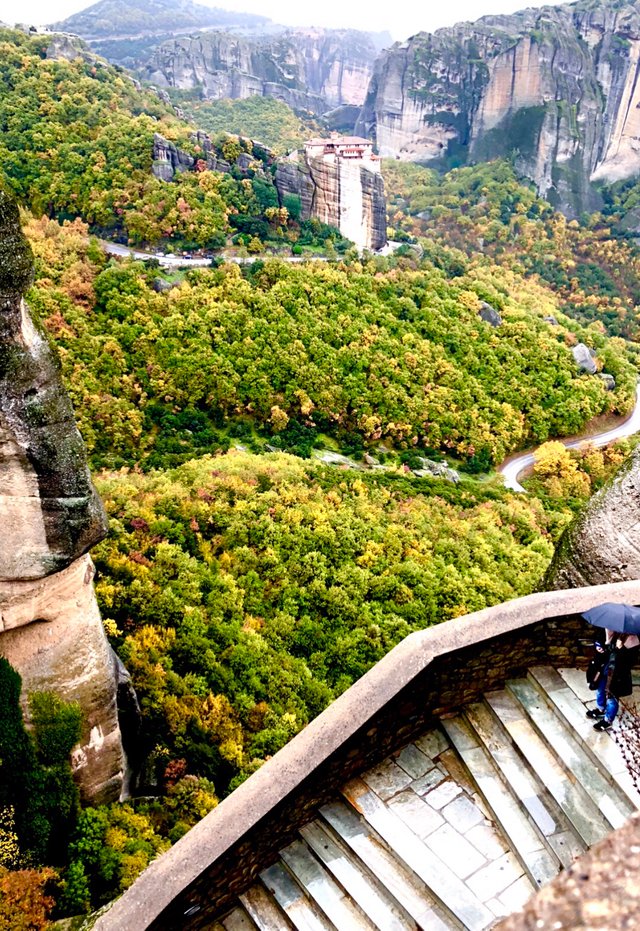 Directly in the center of Greece, 160 miles north of Athens and 90 miles south of the Albanian Border, is Meteora, a small town with less than 15 thousand occupants including the 17 monks currently residing in the monasteries pictured in this article. Meteora is Greek for "suspended in air," referring to the once 24 and now only six remaining Eastern Orthodox monasteries.
Nearly every local resident we've come in contact with, several tourists, and a handful of the volunteers at the Middle Eastern refugee camp @puravidaville and I volunteer at twice a week has insisted we visit Meteora before we leave Greece—"deal!" We looked into tickets and overnight accommodations and booked a two night stay in neighboring town, Kalabaka, a 10 minute bus ride from Meteora.
We began the three hour train journey from our current stay in Thessaloniki where the sky was blue with minimal cloud coverage, the promenade was occupied by individuals in short-sleeves and sunglasses, and the sun was shining. However, one thing we've learned since beginning our European experience is even our weather apps can't predict what's going to happen out there so each of them play it safe when making weather predictions. Regardless of the skies appearance overhead, it's always the same forecast, "partly cloudy with a 50% chance of rain."
We purchased a pair of tickets and made our way to the departing trains where each one was so unique, I took a picture of all seven of them. Although only one train is scheduled to take us to our destination, for the sake of this #adventure, pick your favorite one and imagine yourself boarding the next outbound rail to Kalabaka, Greece. Enjoy the ride where, depending on which side of the train you look, you're likely to catch snow packed mountain peaks in the distance, vineyards, green pastures, rivers, the Aegean Sea and peacefulness provided by Mother Nature. Next stop—Kalabaka.
All photos - iPhone 8+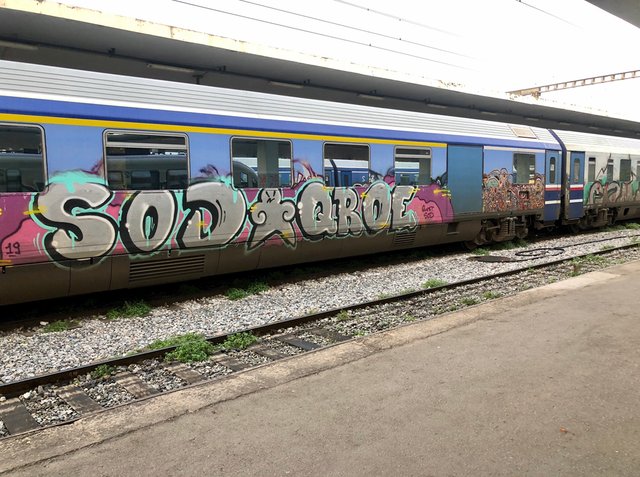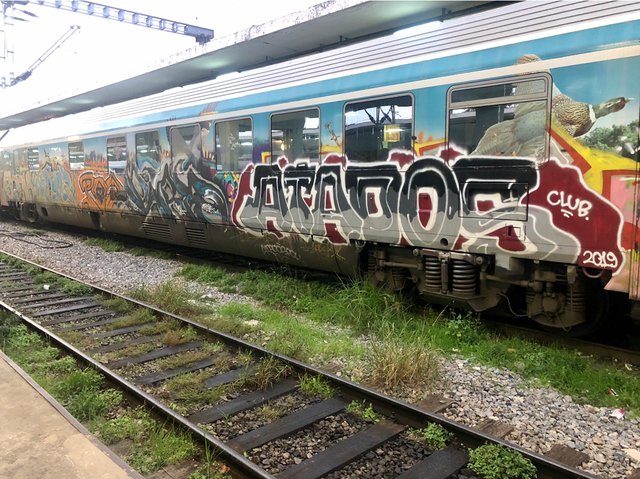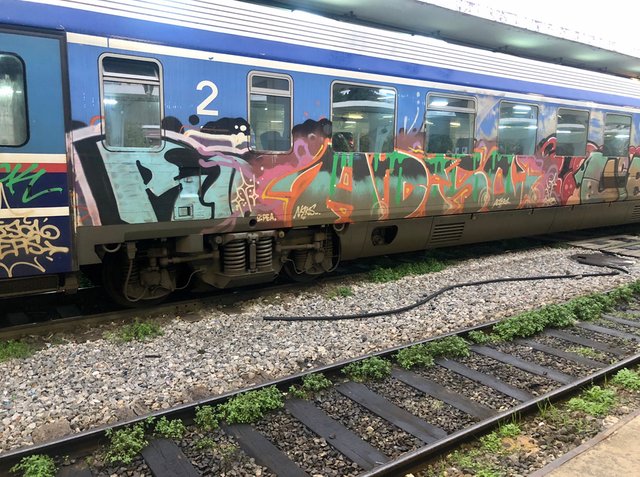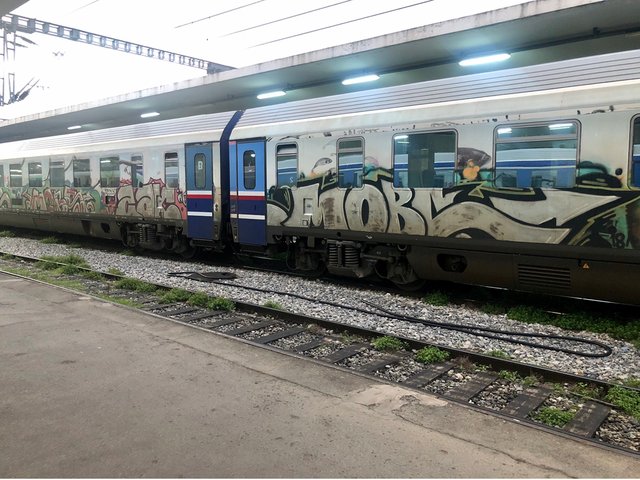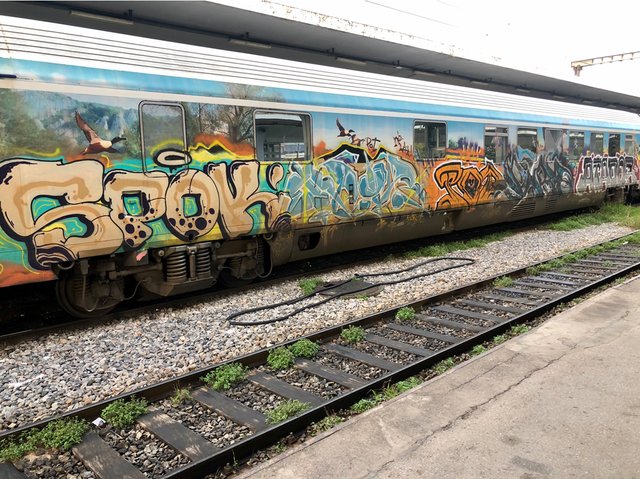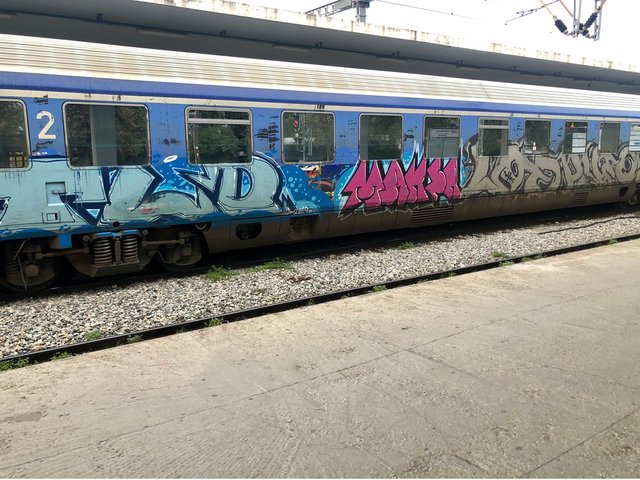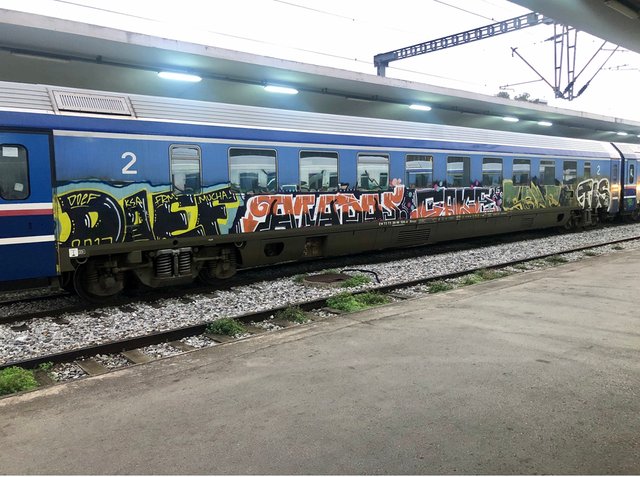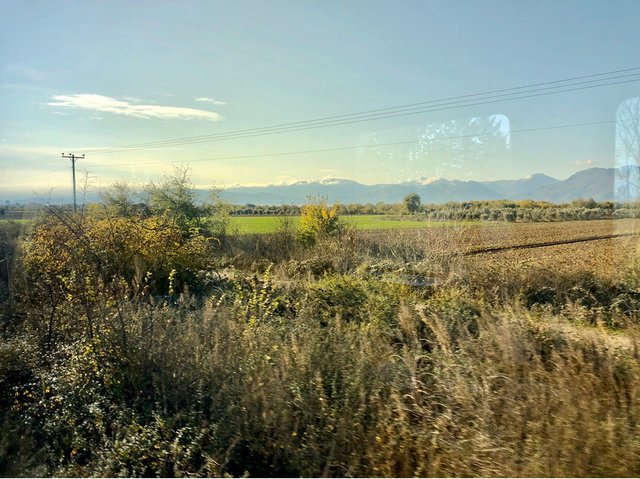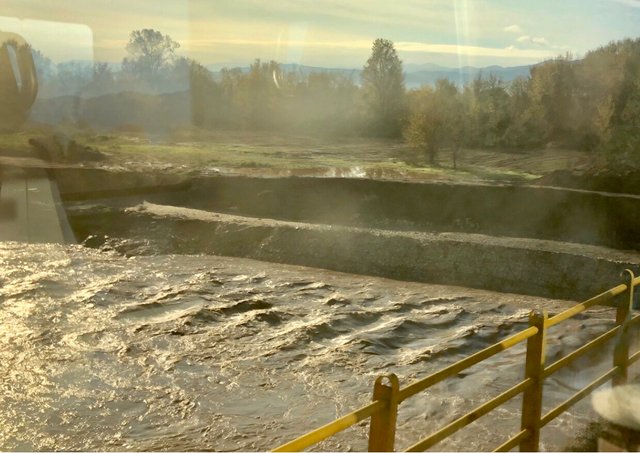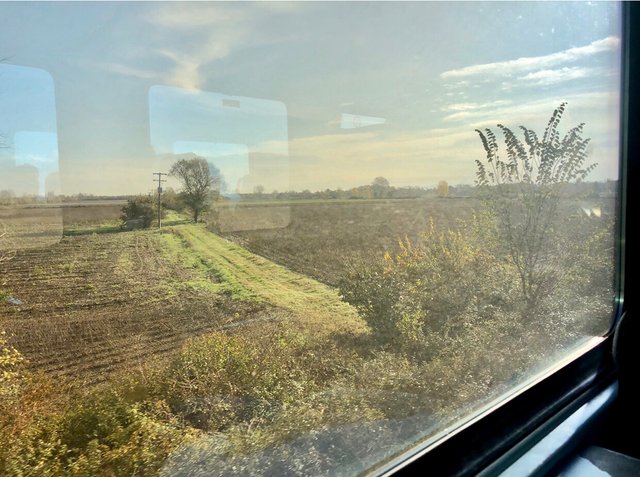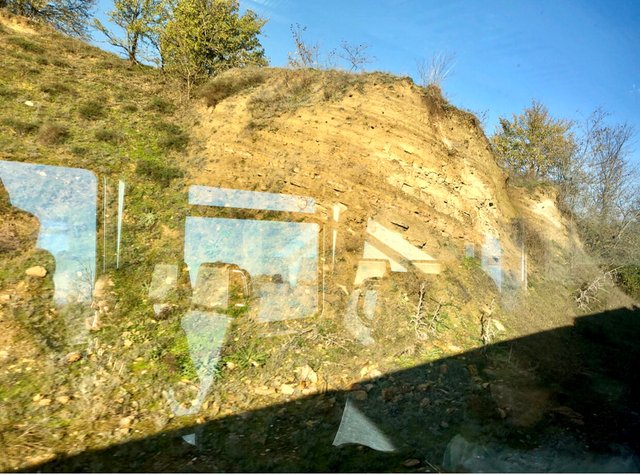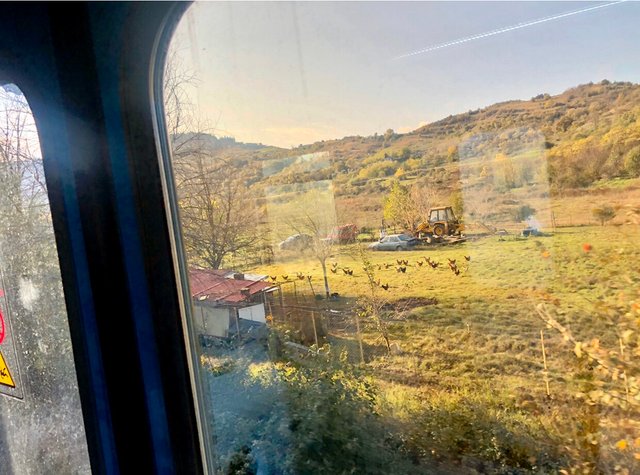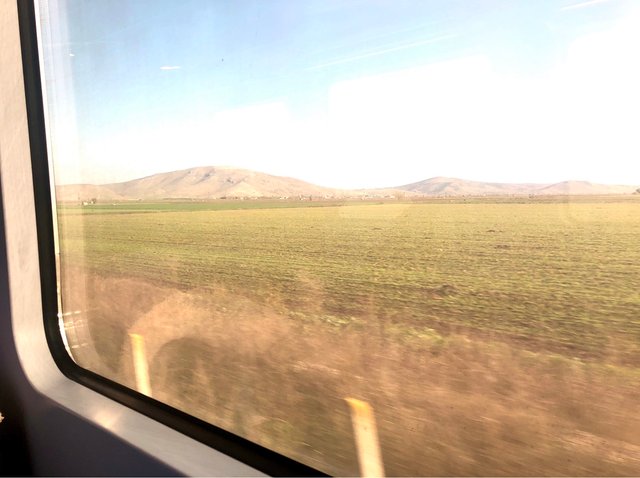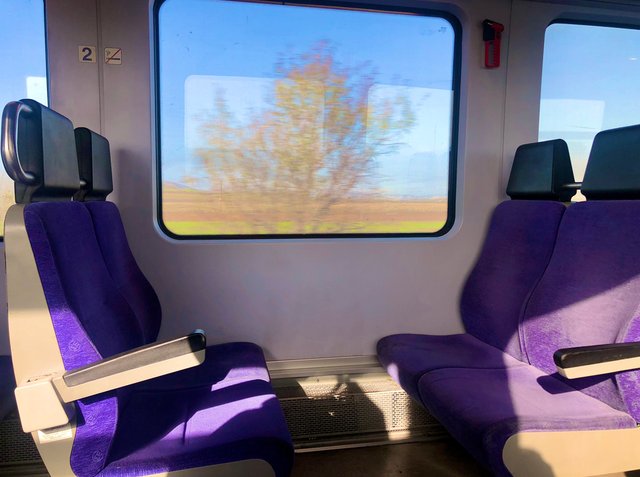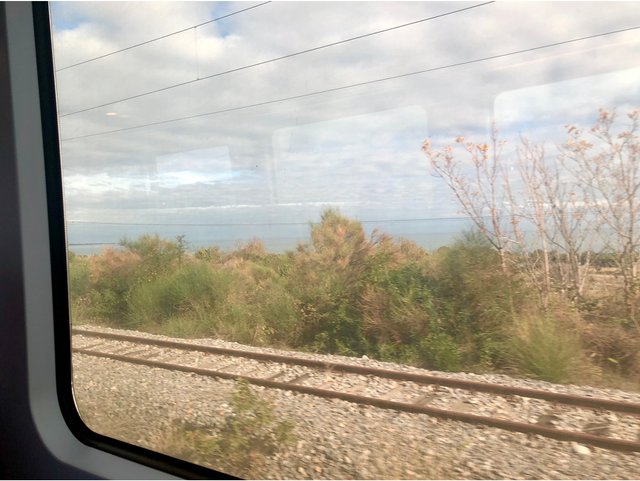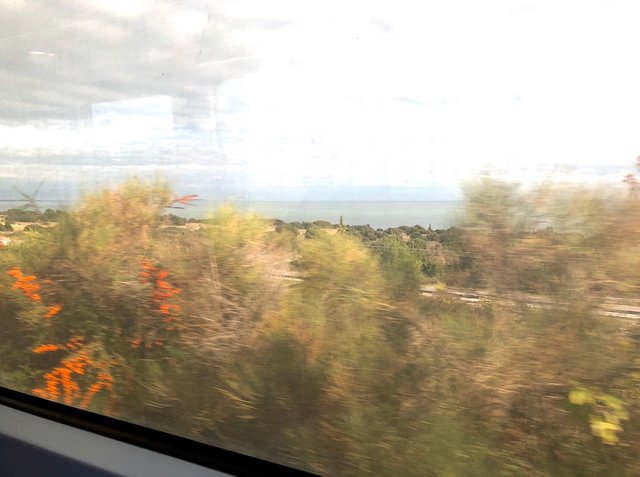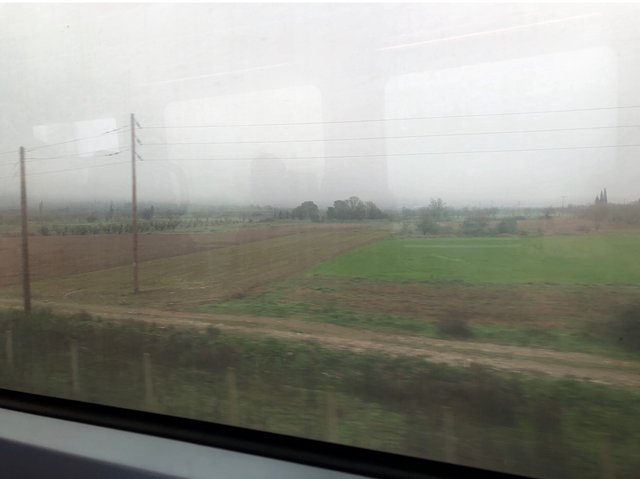 We arrived in Kalabaka where before we did anything, prior to eating, prior to checking into our Air B&B, etc, we got our umbrellas out of the backpack and they stayed out for the next two days. As soon as we arrived, we were greeted with rain, more rain, pouring rain, and an occasional downpour. In general, most people I've come in contact with, including those who accompanied us during our tour, consider pouring rain an inconvenience—I've always seen it as an added level of excitement.
We took a walk around town and scoped out our surroundings, grabbed a pair of falafel wraps for dinner, rolled up our pants and stayed as dry as we could. We found an abandoned mid-construction house before it got too dark and enjoyed the looks of it so much, I managed to mysteriously find myself atop the unfinished roof capturing a shot of the city below. Wait'll you see the view from our balcony! Pura's got picking Air B&B accommodations down to a science.
Tomorrow morning, rain or shine, it's time to check out these monasteries we keep hearing so much about. We reserved a four hour tour with Meteora Thrones who will be conveniently picking us up at our front door at 9 o'clock in the morning—welcome to Kalabaka.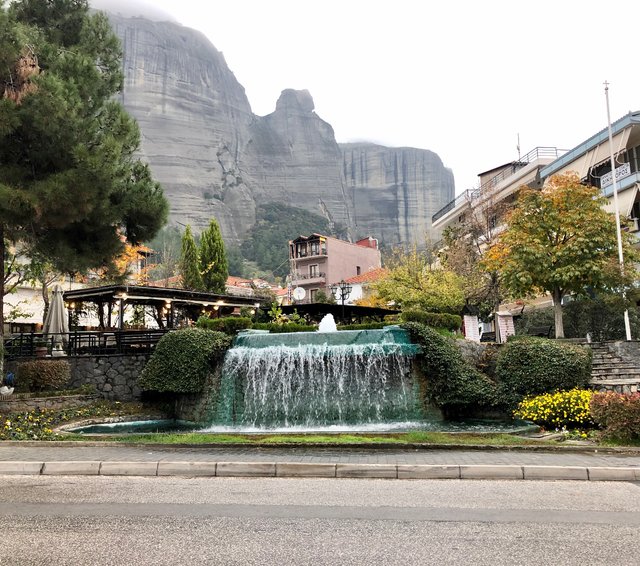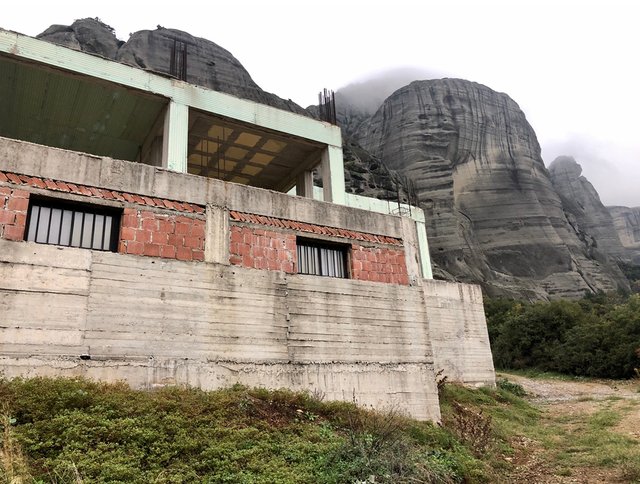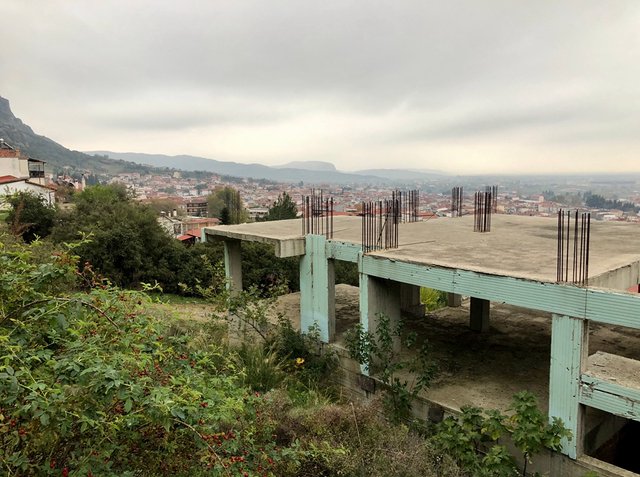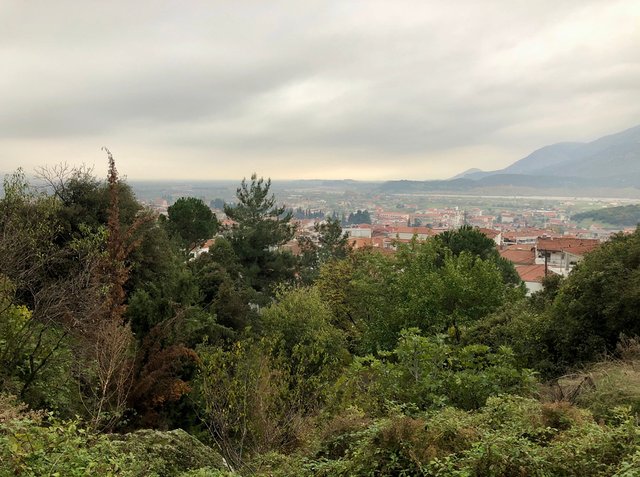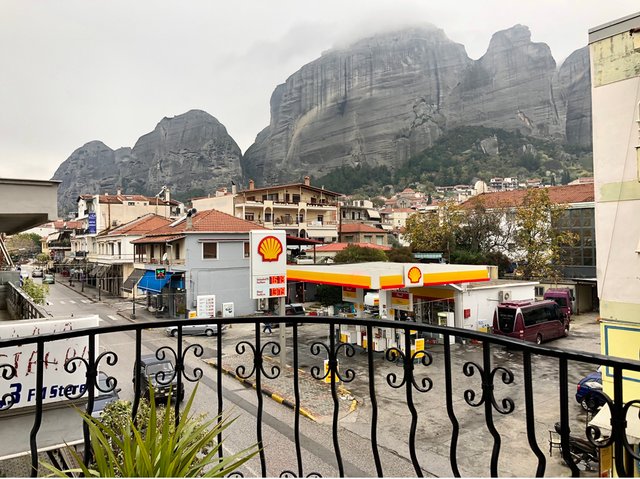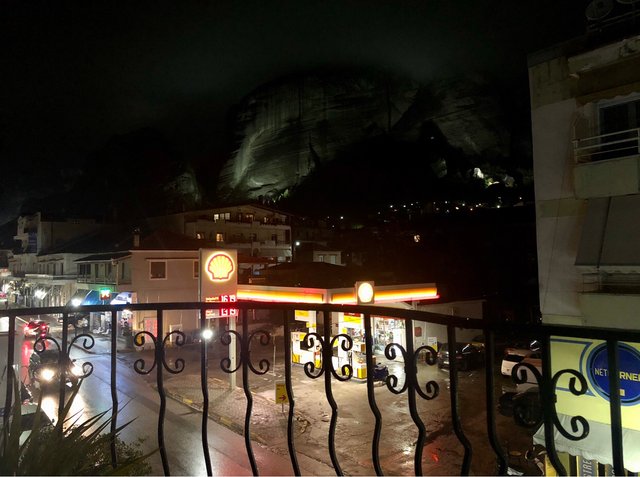 The van arrived at 9 o'clock sharp to pick us up. It rained all through the night and didn't let up during the day accompanied by layers of cloud coverage that continued rolling in and out during our tour.
We learned the six remaining monasteries, out of an original 24, four of which you're about to see, were built in the 14th century, all requiring approximately 60 years to complete their construction. There was a total of 350 monks, currently down to just 17, residing in Meteora around 900 AD who made their homes inside the caves of the rocks seeking shelter and safety. The higher they climbed, the safer they felt until eventually reaching the highest peaks of the rocks while carrying backpacks full of stones to build these monasteries one block at a time.
I'll add narration in between the pictures you're about to see as I learned quite a bit from our knowledgeable tour guides—I was that guy! "What? How long? Where? Will you say that again, please" while trying to keep up with the notepad in my waterlogged phone.
The first one was only about a 10 minute drive from the Air B&B. As you look at these monasteries from the inside, you'll see elaborate stairways and arch ways, intricate art work that's lasted over 700 years, windows (windows?), flat surfaced floors and ceilings, you're inside a rock—a massive boulder that's been standing an estimated 60 million years hallowed out to perfection 900 years ago and currently home to 17 Eastern Orthodox monks. Welcome to Meteora.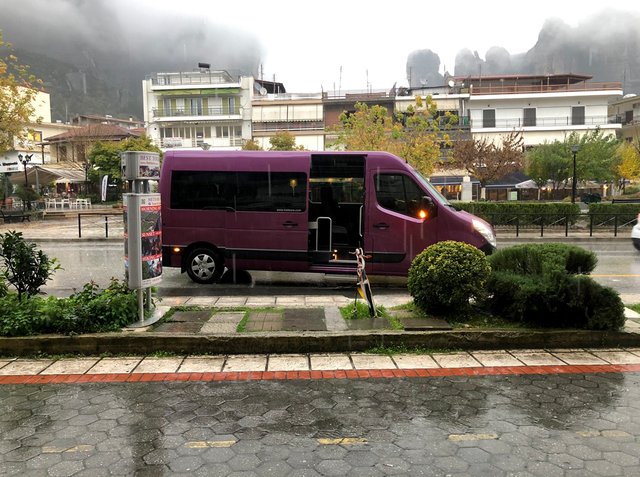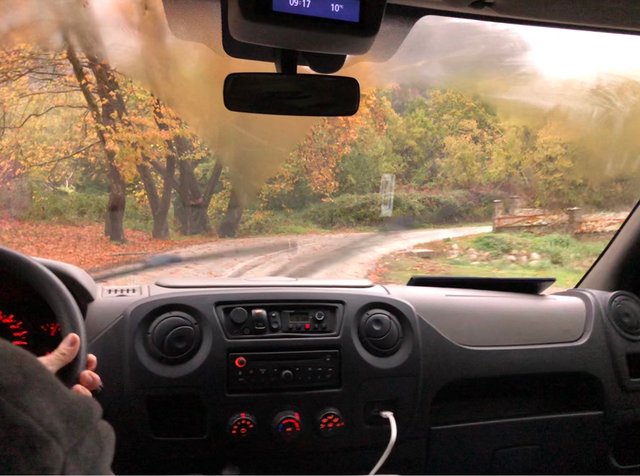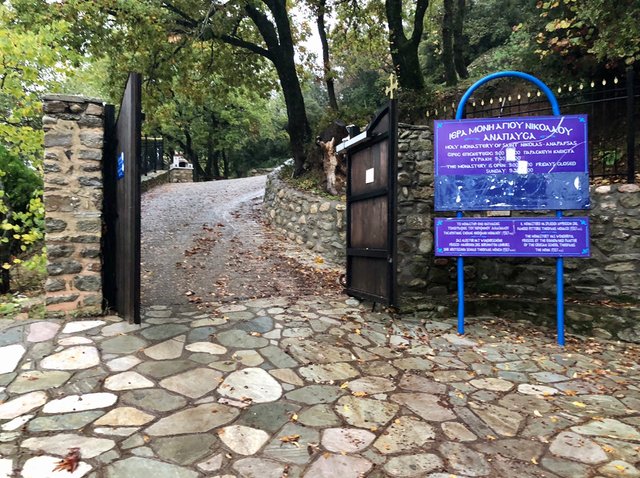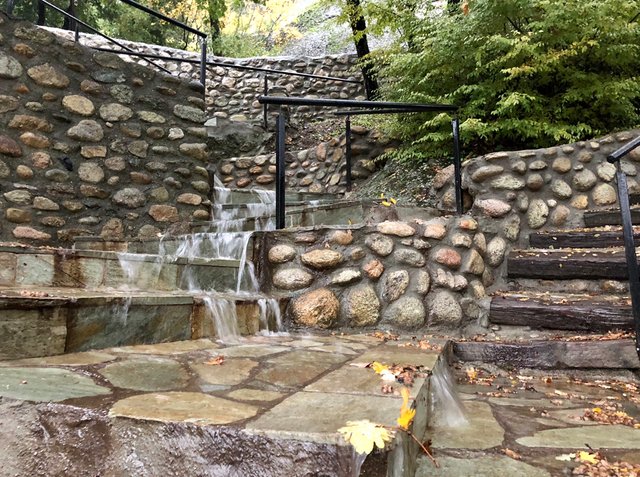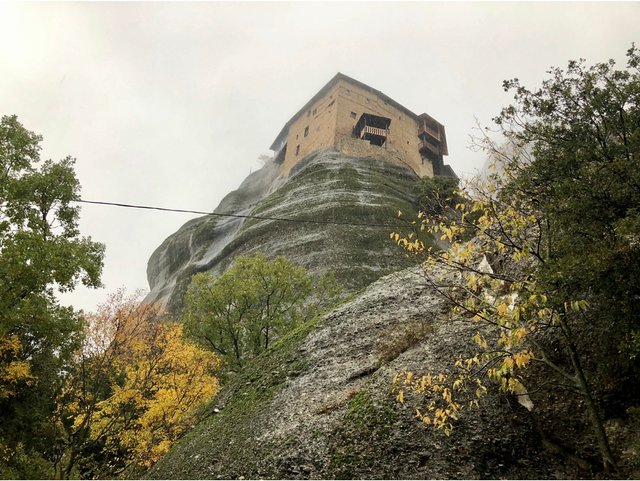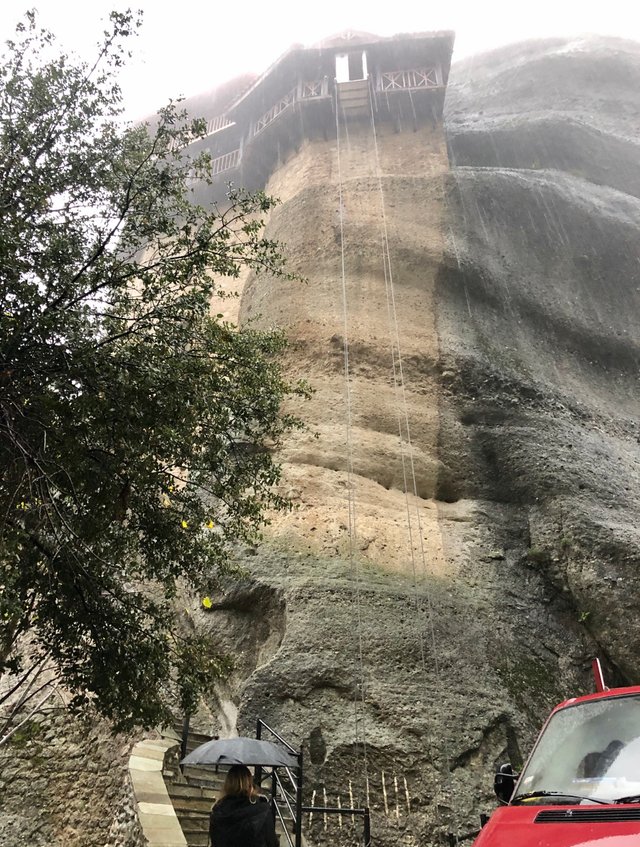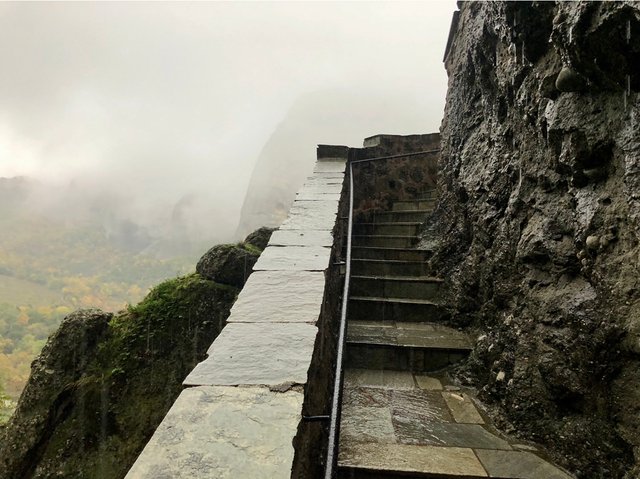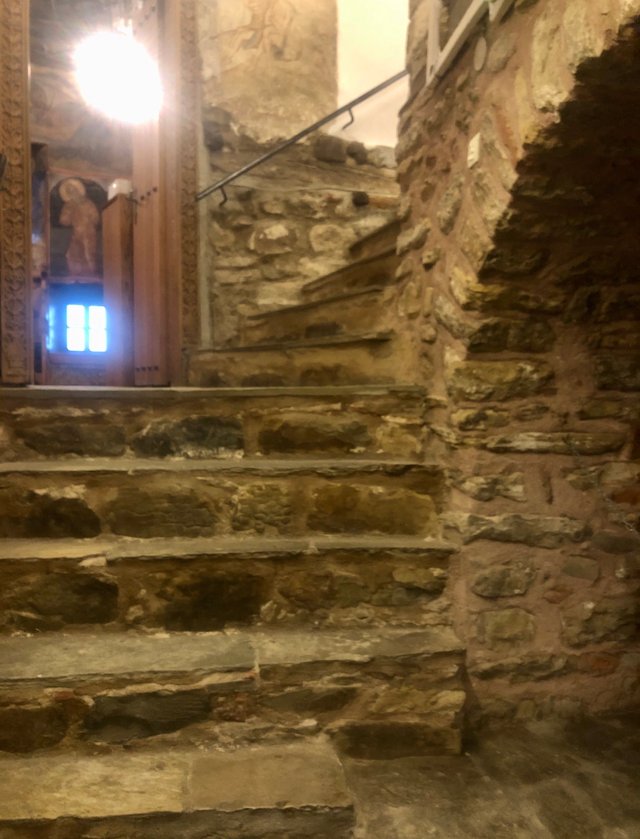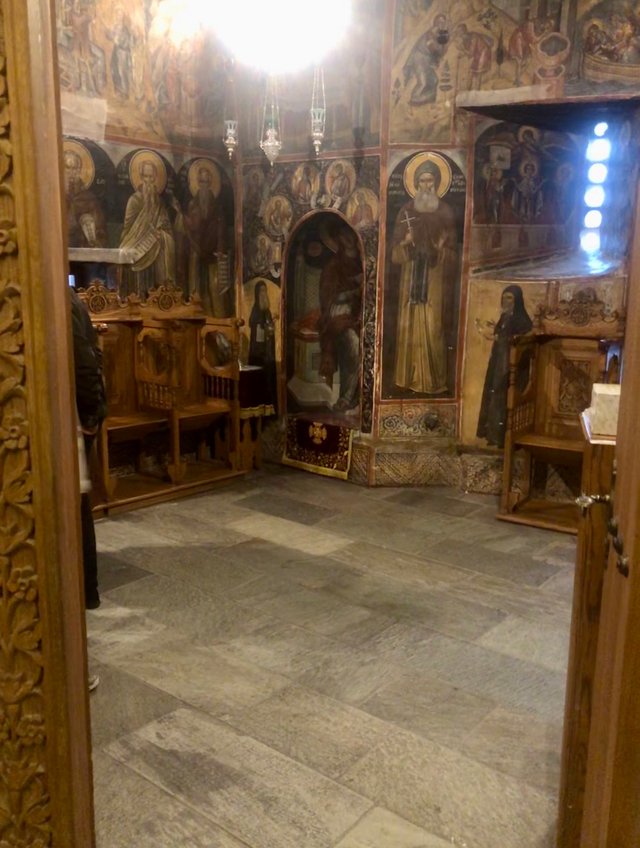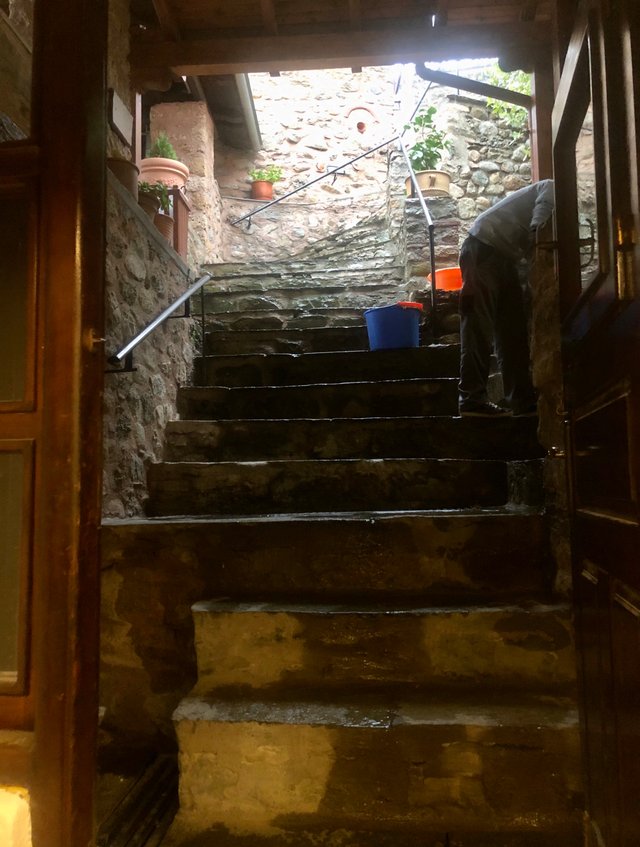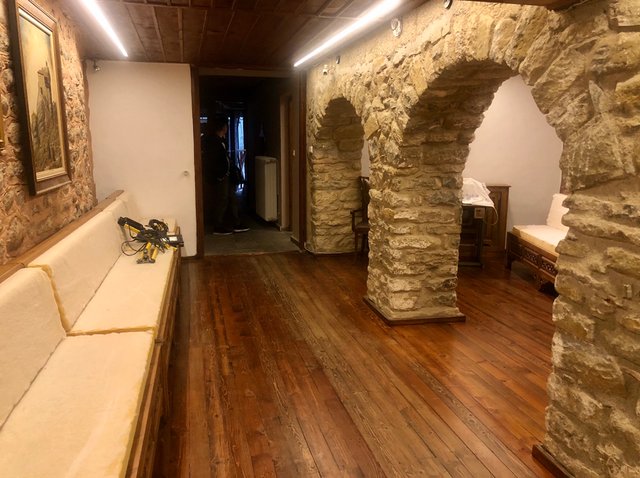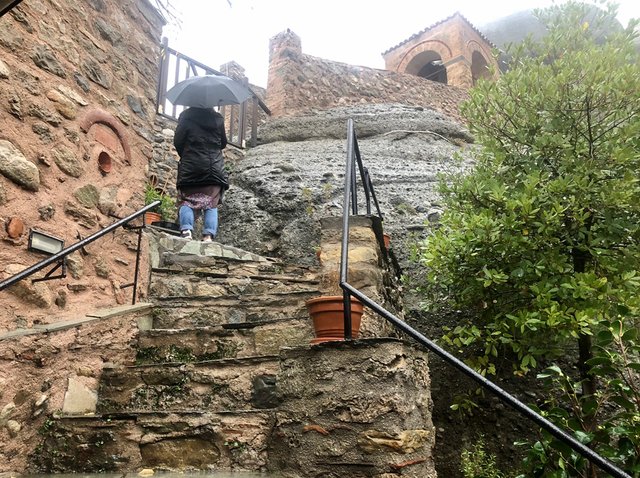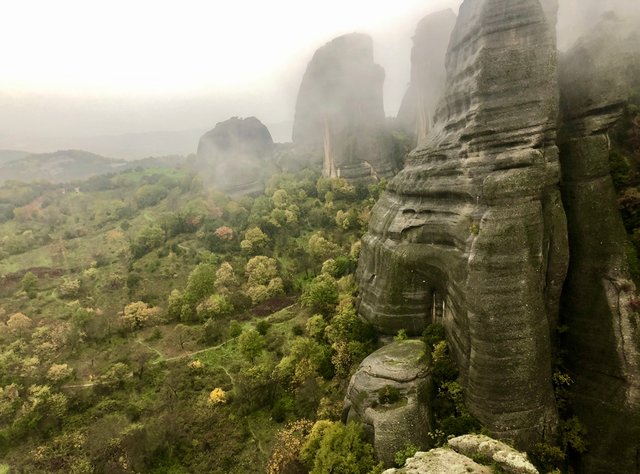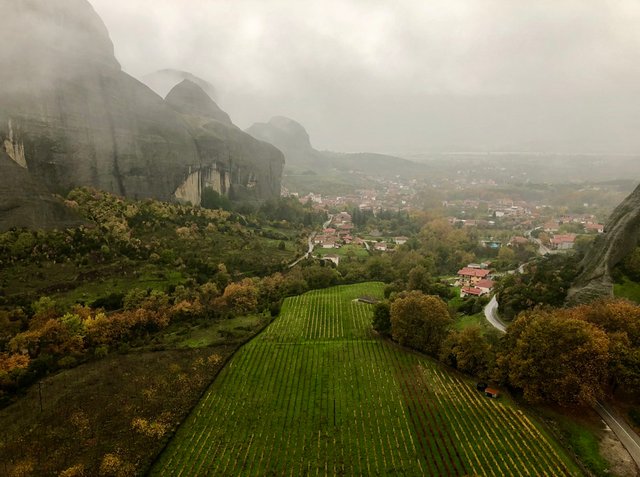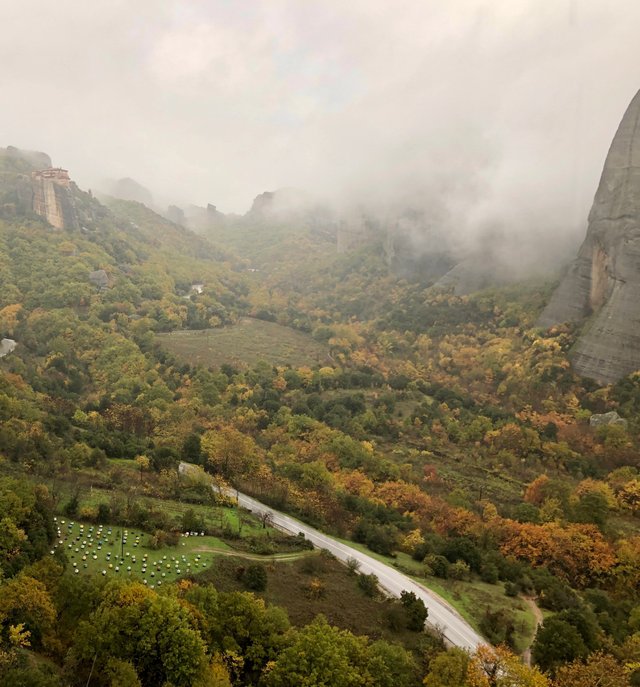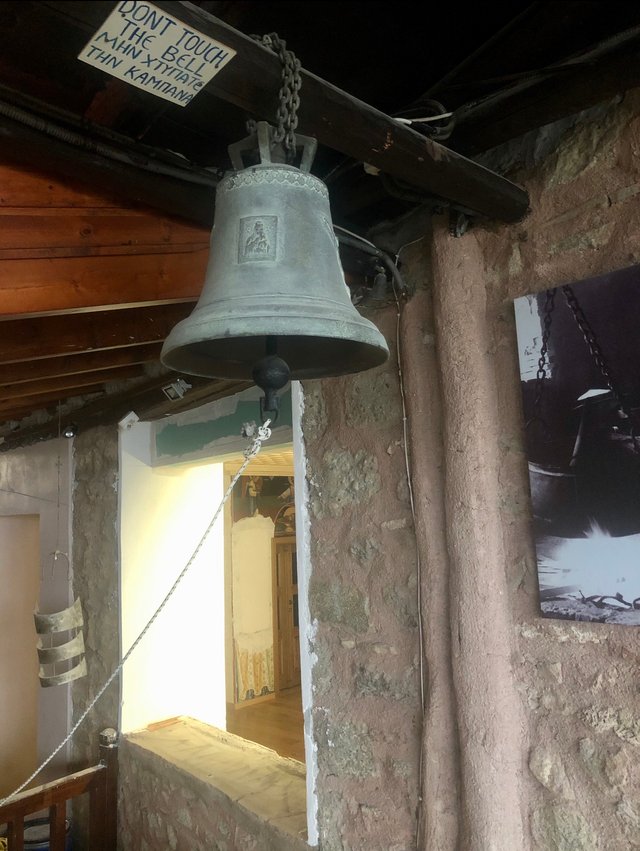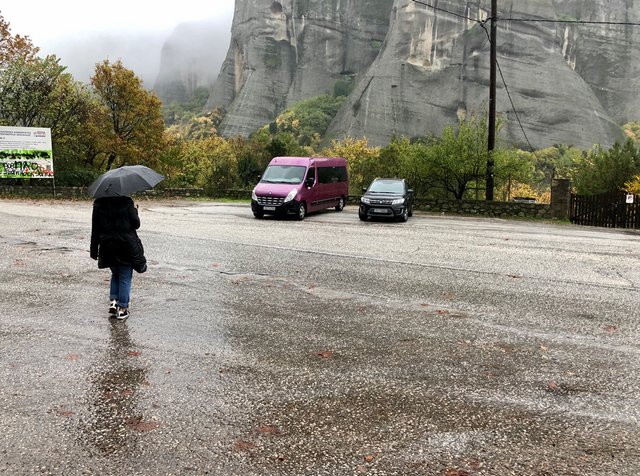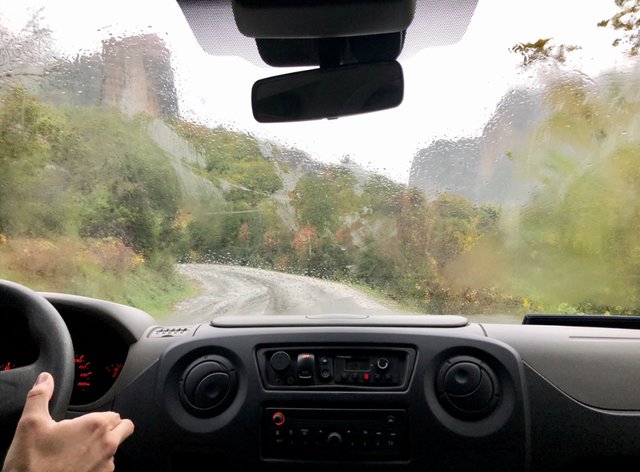 The dumbwaiter's and hoisting systems pictured, though now modernized, have been in place and part of the monasteries since their completion. Only a few were originally used to hoist monks up and down the rocks but all of them were used to hoist boulders to the top. Currently, they're used for new construction to transport tools and materials from the ground to the work being performed on the structure.
Only two of the four structures allowed access inside and the other two are only viewable from the exterior. Both monasteries we were allowed to enter adhere to strict dress codes respecting the monks' religious beliefs. Men are required to wear pants and shirts, shorts are permitted so long as they're cut below the knee, no shoulders are to be visible and no hats are allowed. Women are required to cover their shoulders and are only permitted to wear skirts or dresses. The two monasteries that allow access inside provide the women with skirts.
In this next one, I happened to catch a high ranking military official with a monk escort exiting the monastery. He, or a colleague of his, along with all freshmen soldiers visit the monasteries ceremonially on the 25th of each month commencing peace and, as a reminder to the monks, they're protected by Greek military.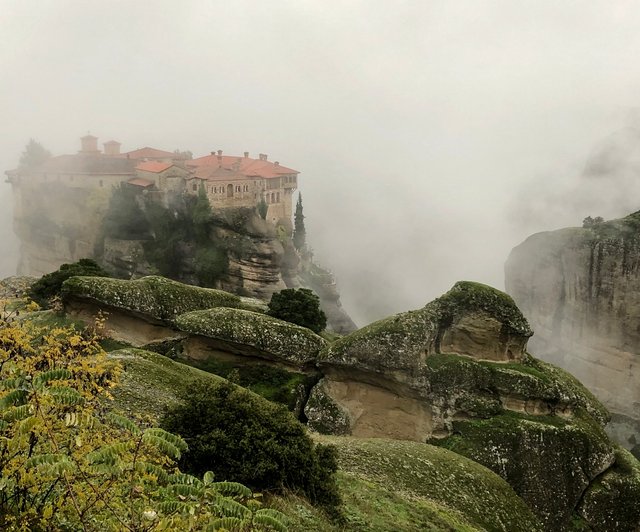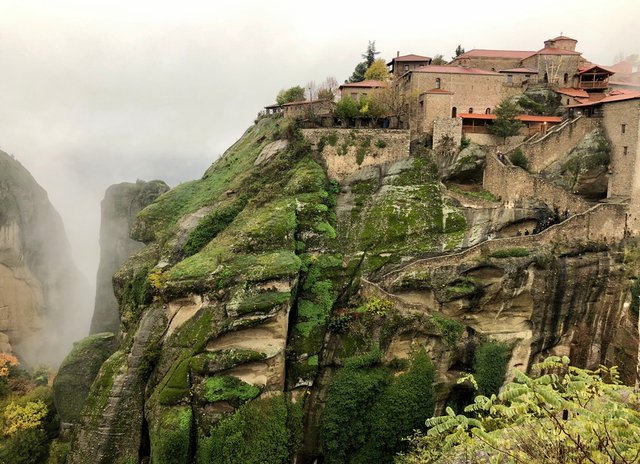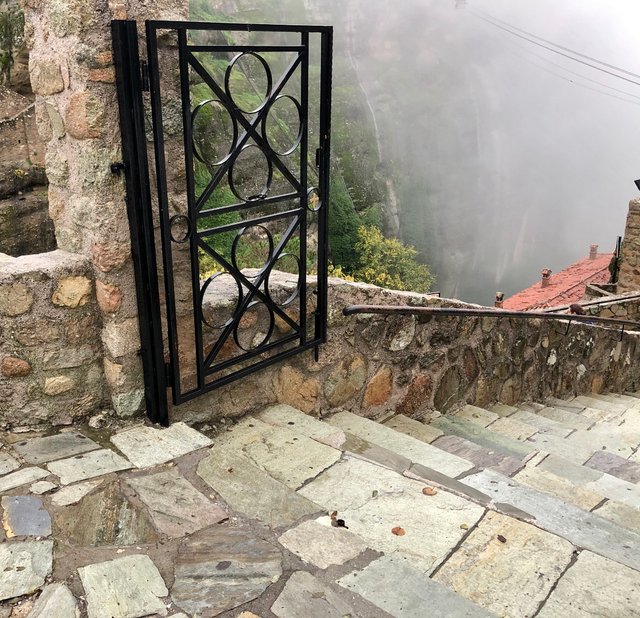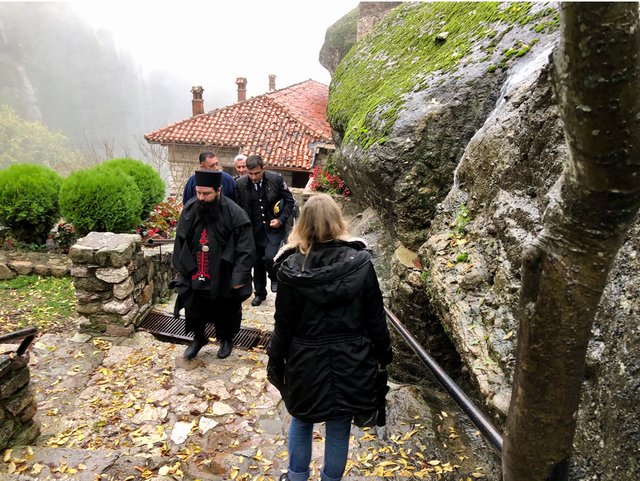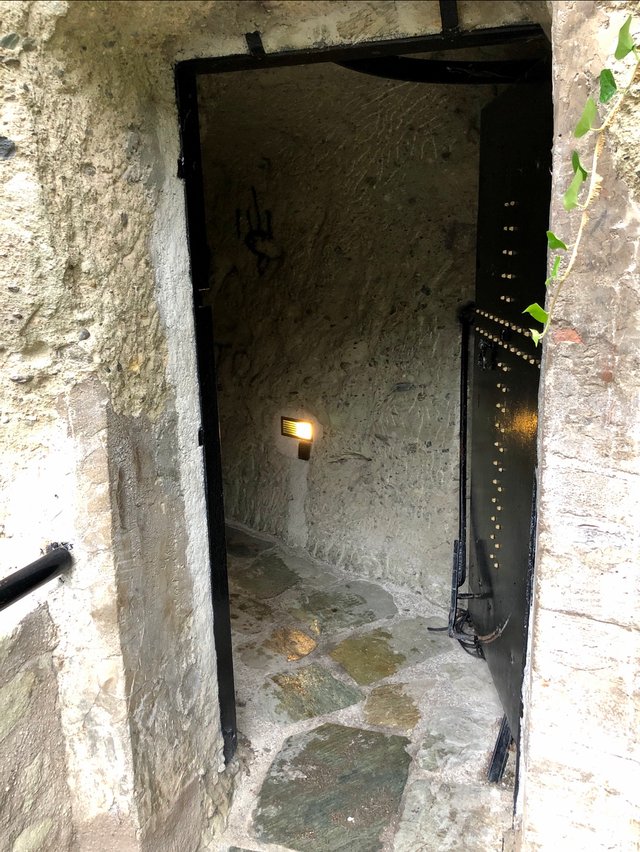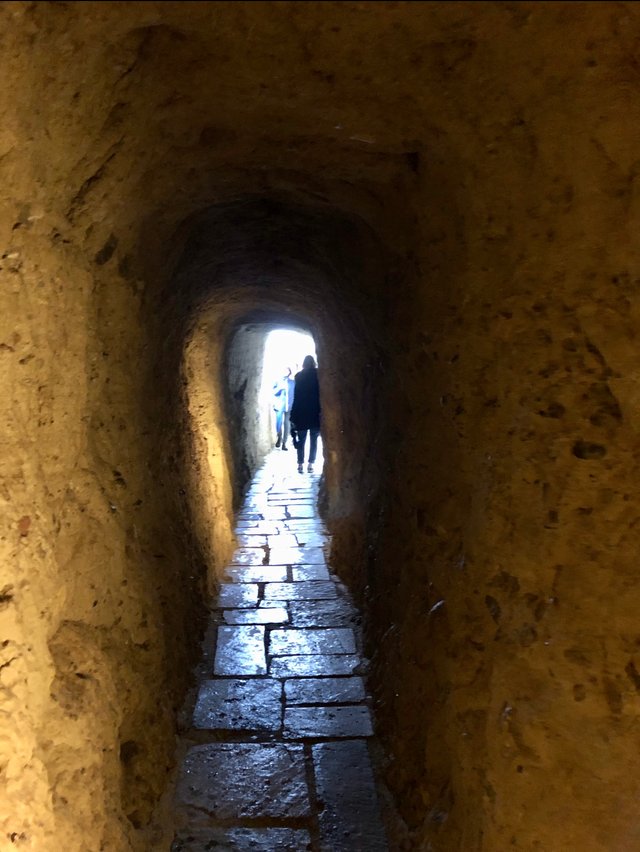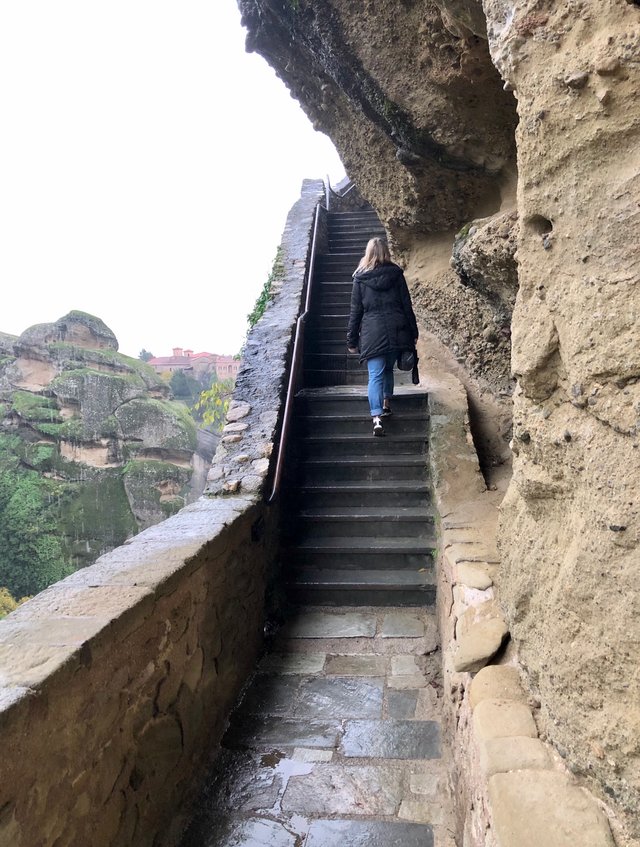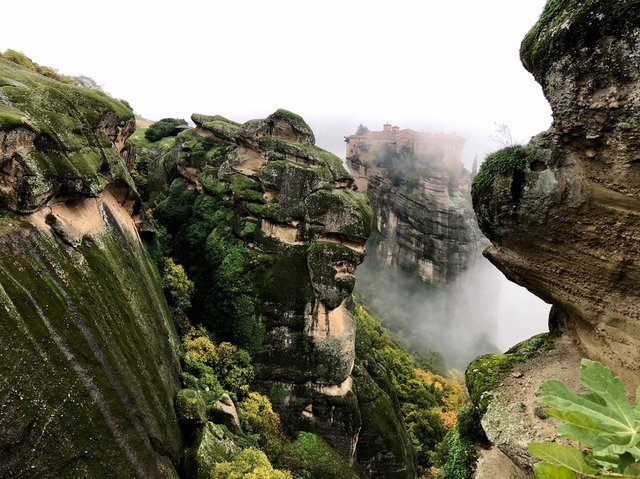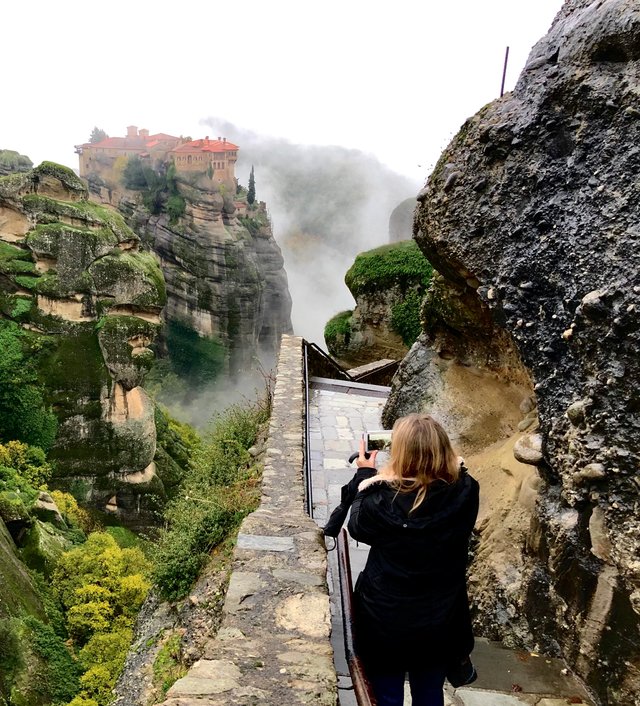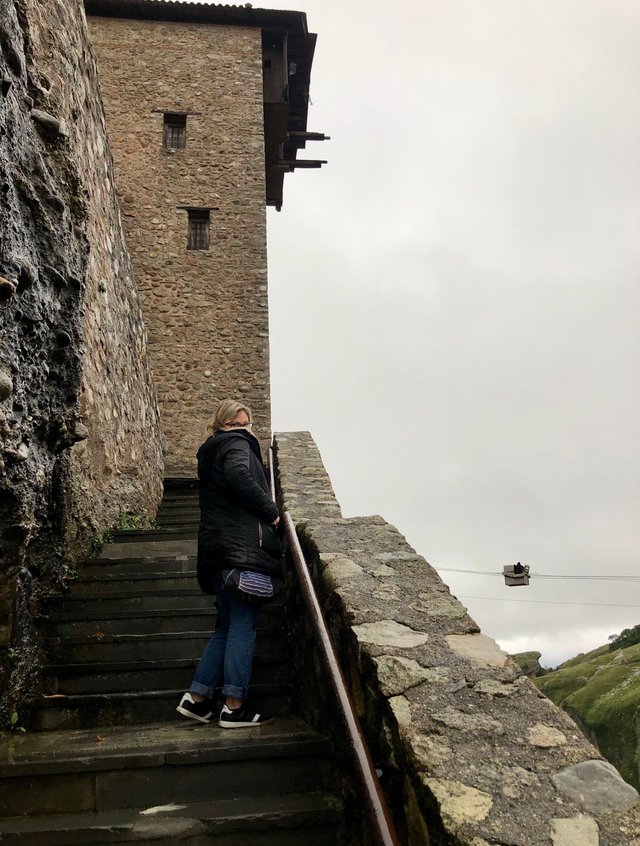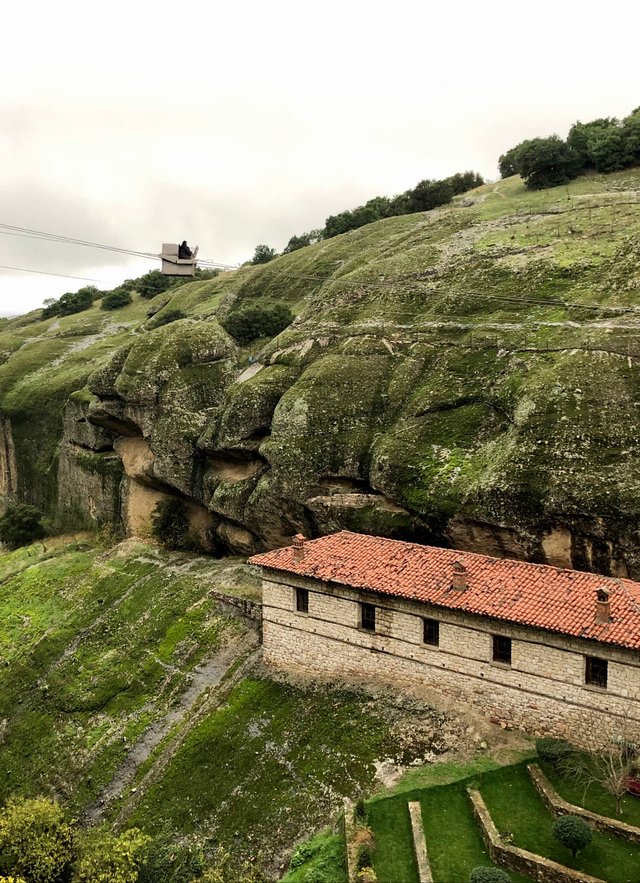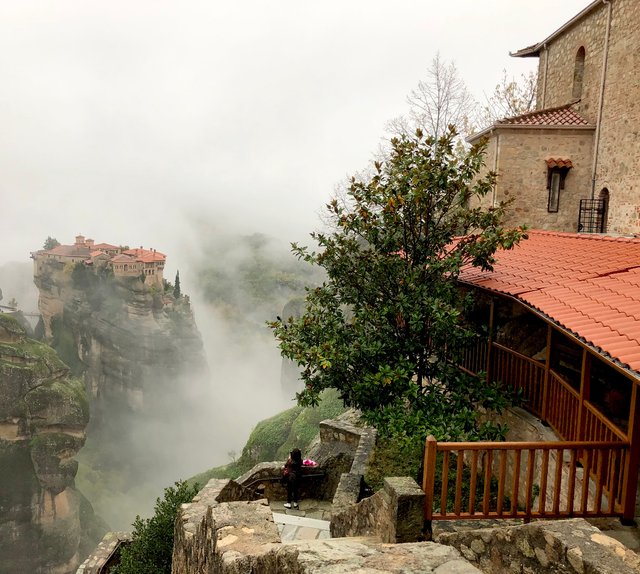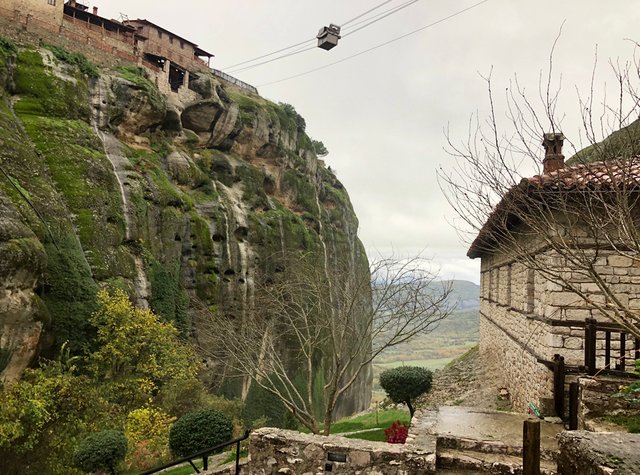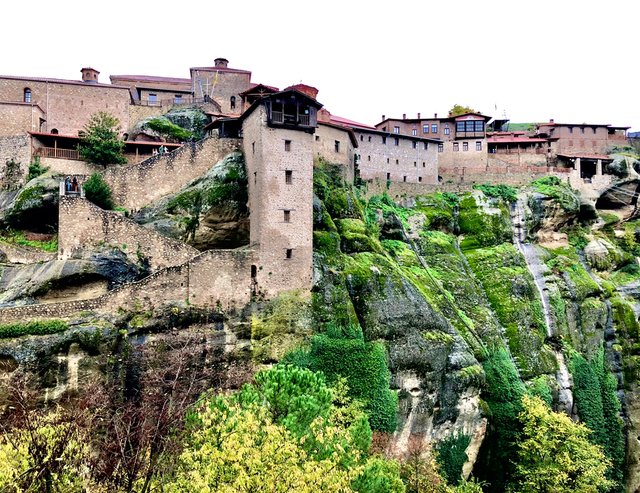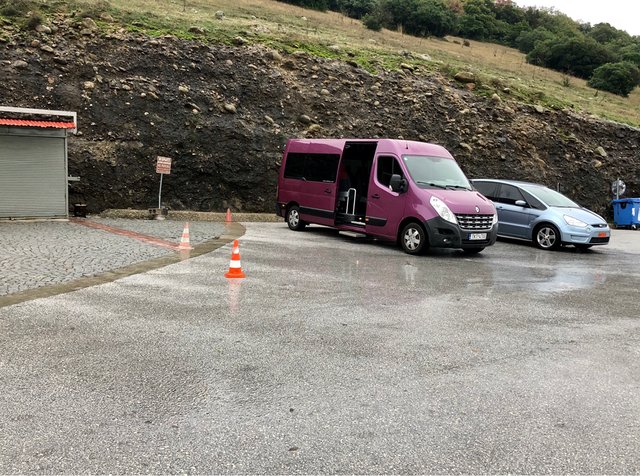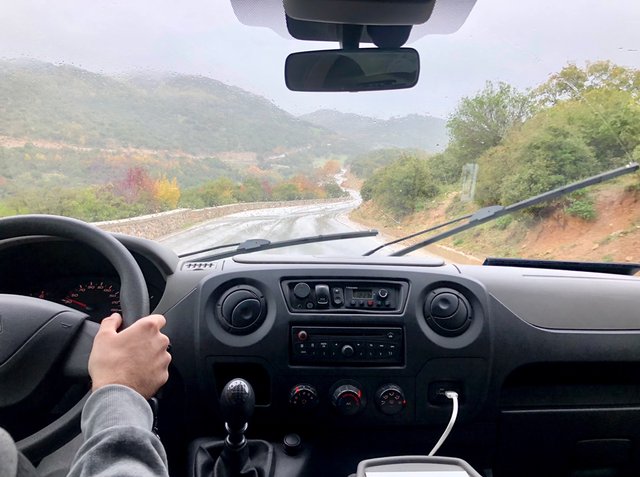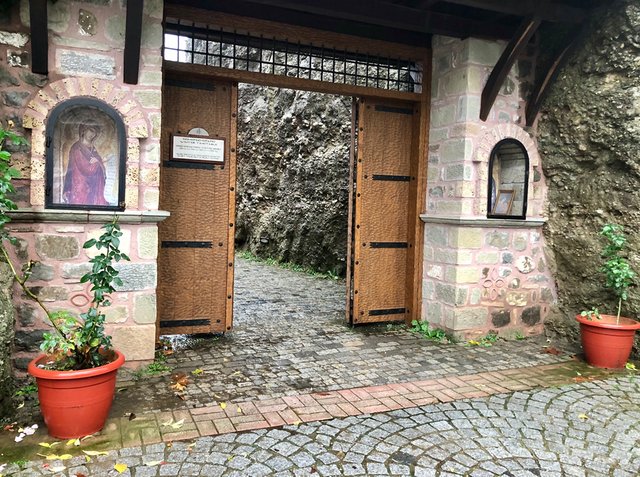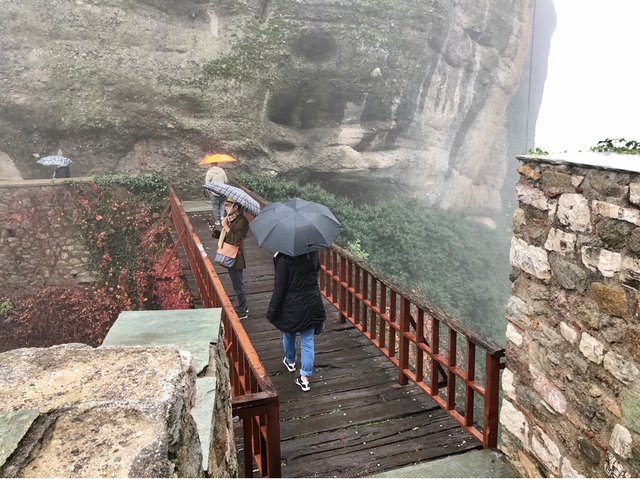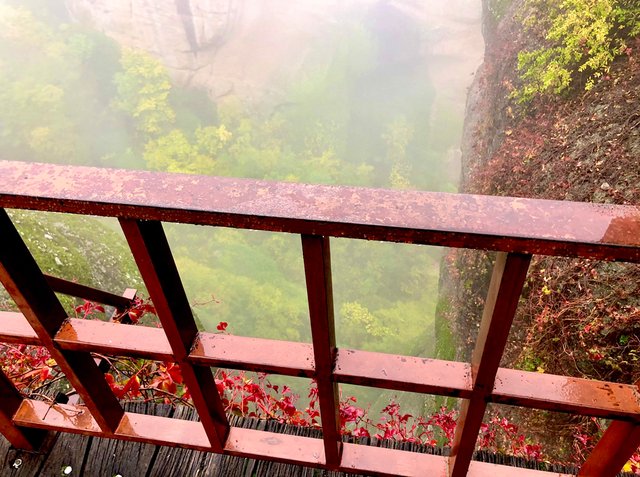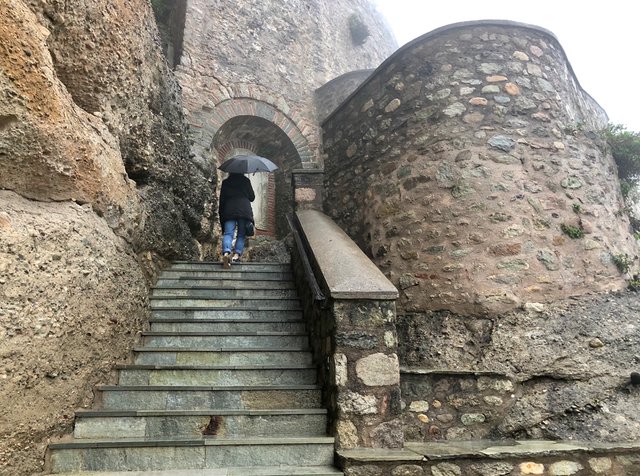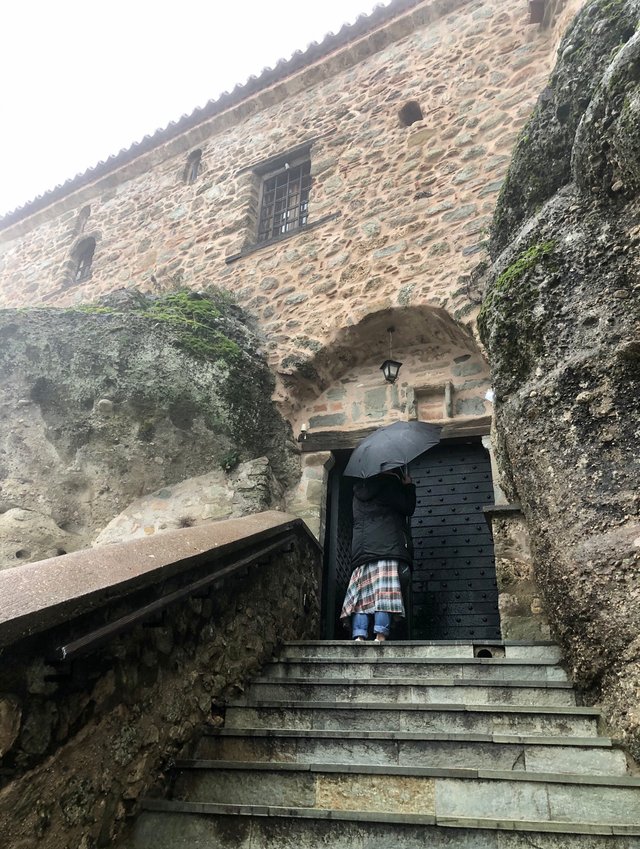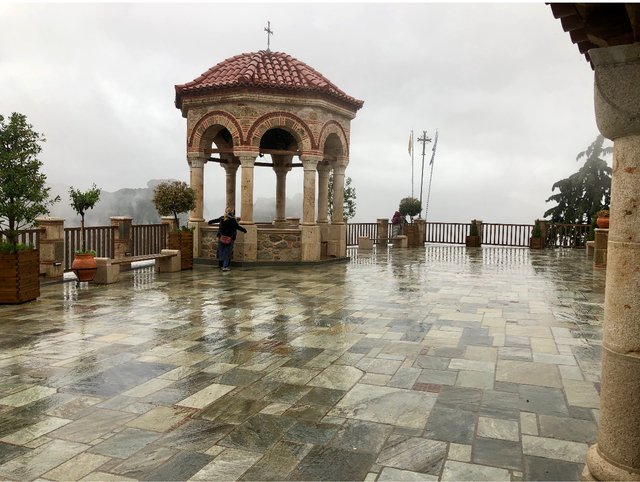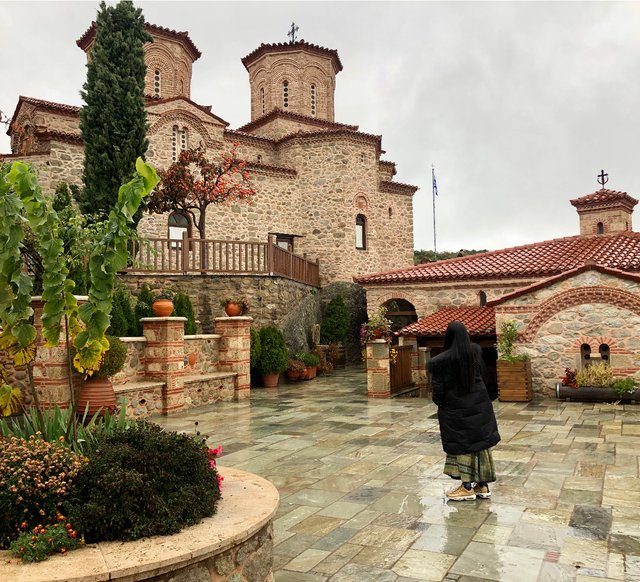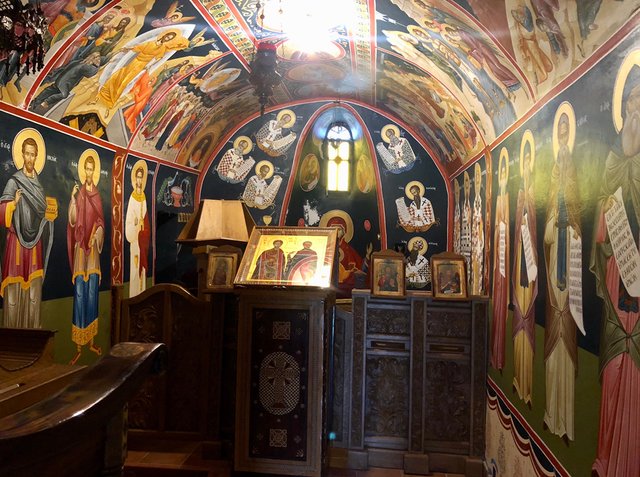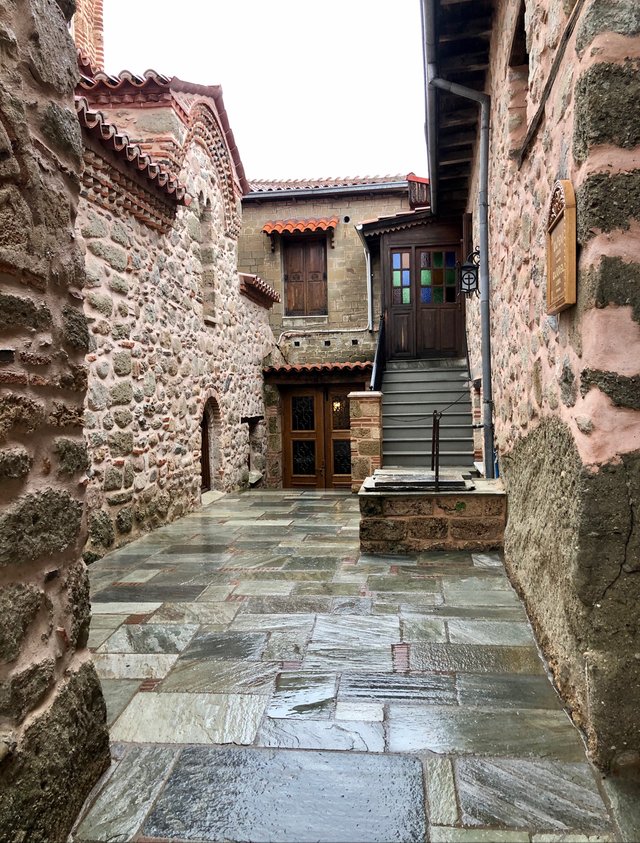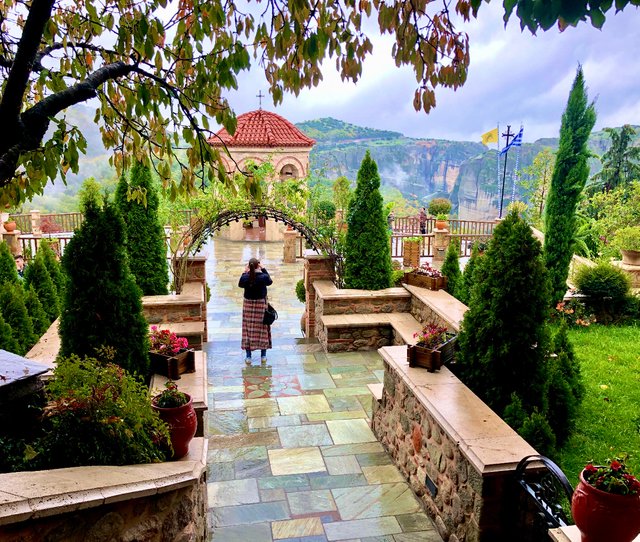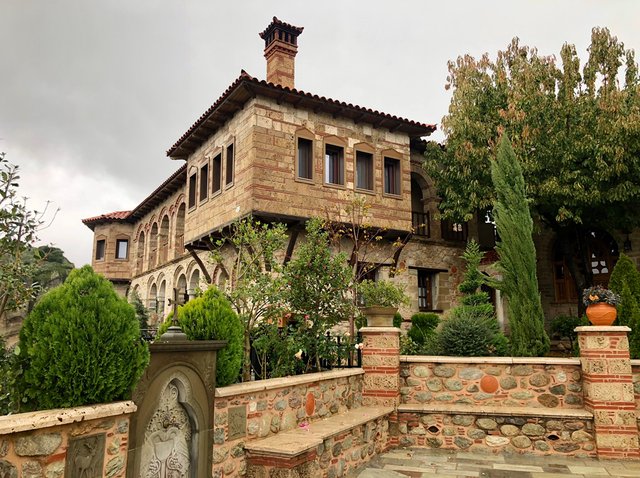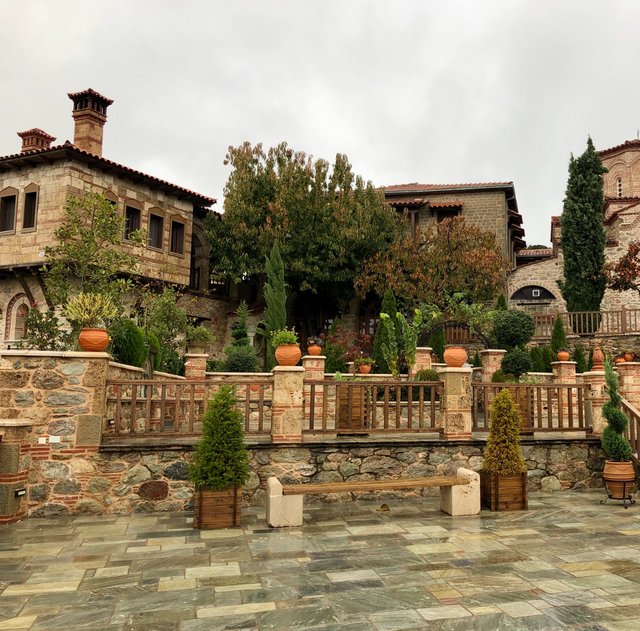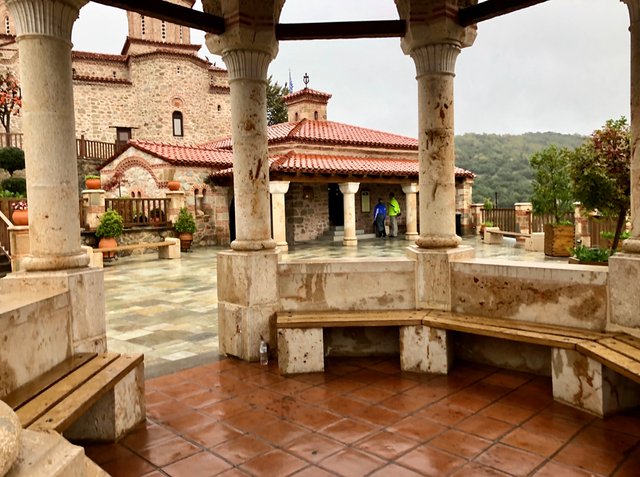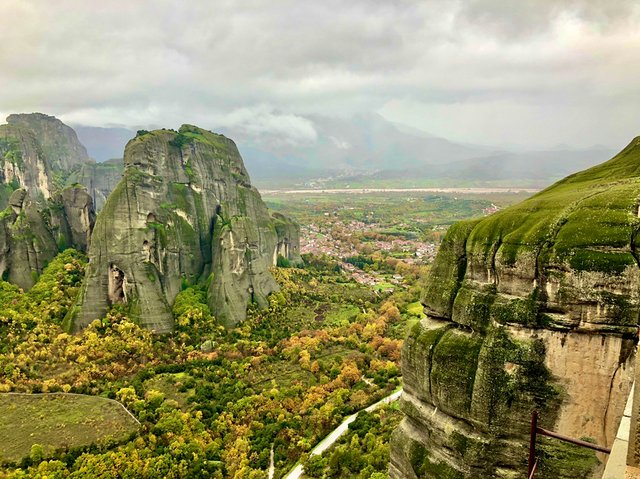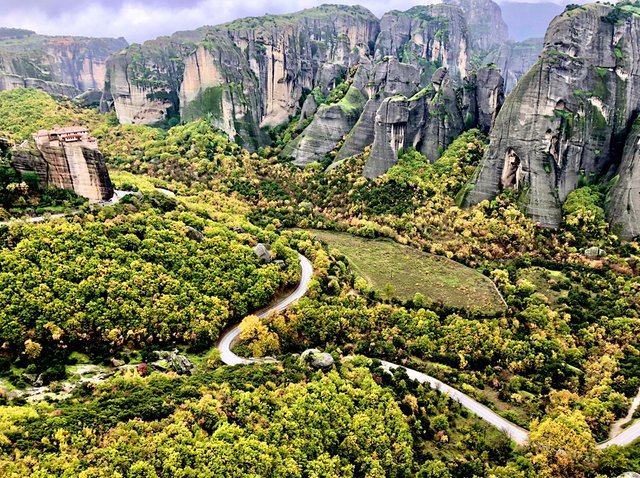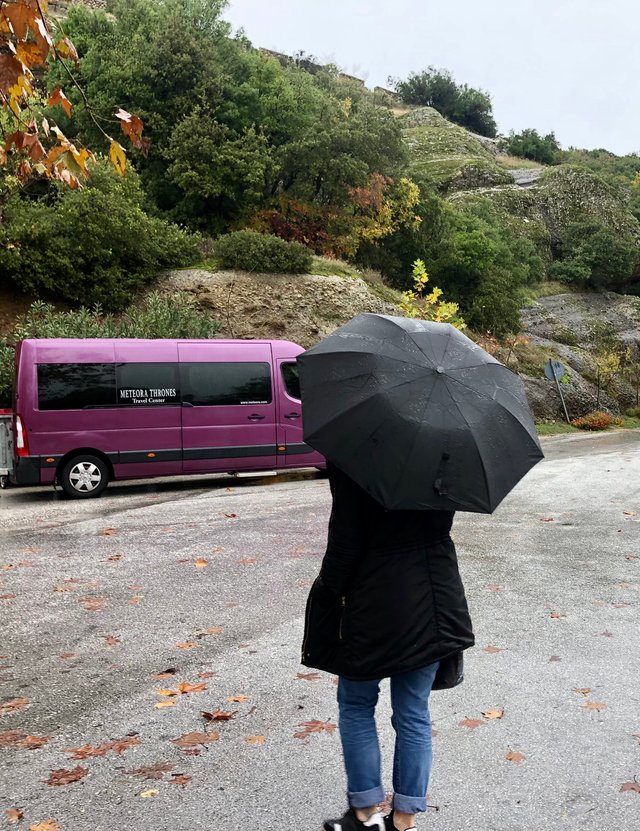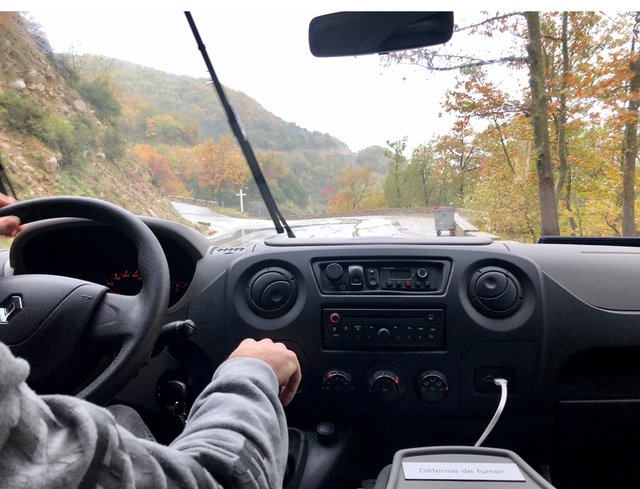 These next three pictures are from a distance of the two monasteries we were not allowed to visit—the guide pulled off the road so we could take pictures and explained their 21st century significance.
The first two are different views of the same monastery—it was used during the filming of a James Bond film though he couldn't recall which one. I've never seen any of them anyway but I know it's a popular movie series. Also, earlier this year, another popular television series called Game Of Thrones, though I've never seen that one, either, propositioned the monks for the use of this location to film their movie—they were denied.
The third picture is Holy Trinity Monastery and recently earned a cover page along with a detailed article in National Geographic magazine.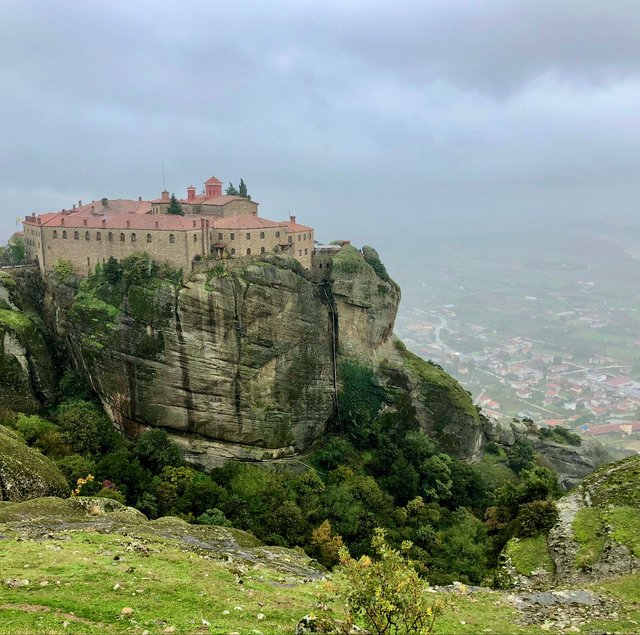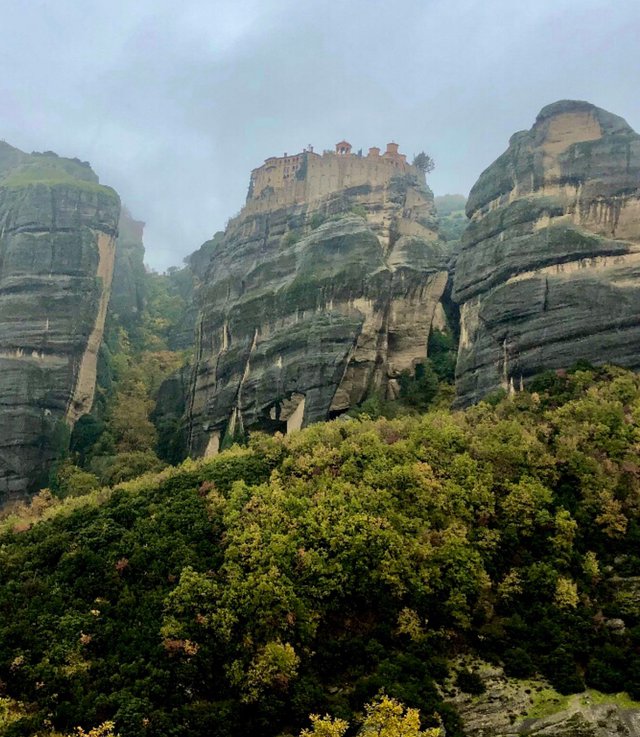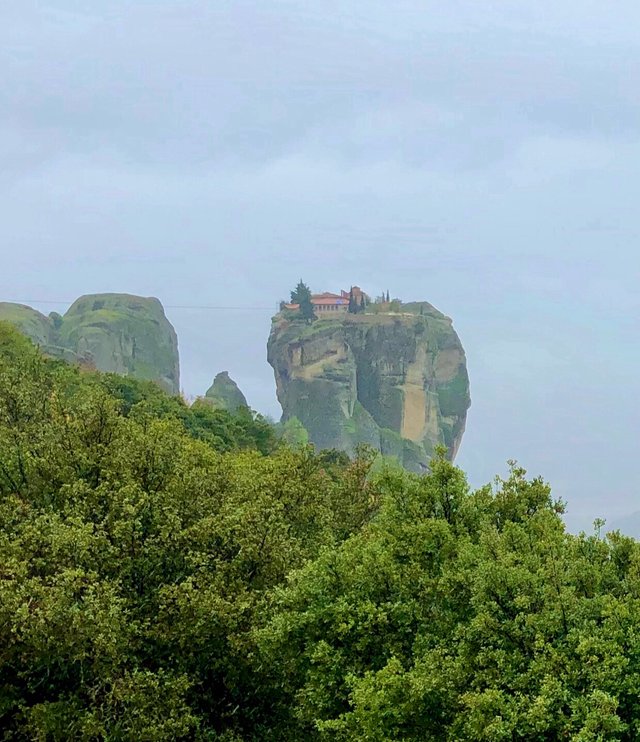 We're about to visit the final monastery on the tour—we weren't allowed to go inside. Each of the monasteries you just visited are self sufficient and supply more than enough vegetation assuring the monks won't go hungry—monks are vegetarian. They grow their own food, harvest their own honey, and each monastery is equipped with its own orchards that supply the wine for their ritual communion.
The word "monk" is derived from the Greek wOrd, "monos" which translates to "alone." Their conditioning and constant pursuance in religious practices are in favor of the spirit through body and mind. Their religion is the dedication to leave mainstream society and to live the remainder of their life in prayer and contemplation.