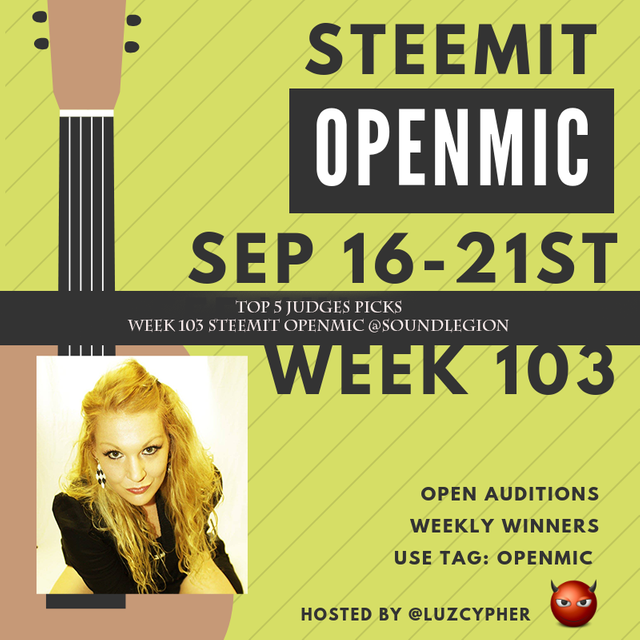 Hey everyone!! I have been away from judging openmic for the past month.  This was a little longer than I expected to be away and for that I apologize to the participants and also the other team members.   Its been a hectic month for me and I have had to take some time back to get things in a better position.   Its a new world these days and things are changing fast, its hard to keep up with all the crazy happenings this life has to throw at us.   With nothing but love its fantastic to be back listening to all your incredible entries.  I am always blessed by the talent here on Steemit and this week even though a little lighter on entries than previous weeks have been is still flooded with big talent.  Blessings to you all out there, grab this world by its passion strings and give it hell.  
Check out all who played Steemit OpenMic Week 103
Join us for OpenMic Week 104
https://steemit.com/openmic/@luzcypher/steemit-open-mic-week-104-2-year-anniversary-sponsored-by-pfunk-and-luzcypher
Top Picks List
 @jhosepdelgado  @josesanteliz   @zorajr  @tarotbyfergus  @rawvega  @cristmounicou  @juliolunar  @manuelmusic  @abelfernandez  @raymondelaparra  @wilins  @katrina-ariel  @paintingangels  @siomarasalmeron  @jpabloji17  @dearw  @paomota  @elisonr13  @alejandra23  @leomolina  @graceleon  @kayclarity  @carlosgu  @beeflomein  @dreamrafa @minuetoacademy  @edwardstobia  @josevallera  @exzorltg  @veganpetite 
Honorable Mentions
 - Clasico N° 2 - Creedence Clearwater Revival - Have You Ever Seen The Rain (COVER) --- by @juliolunar 
 Turning Modes Jam --- by @dreamrafa 
"@dreamrafa rocks the guitar so well it sooth my very soul. Fantastic to see you again this week performing so cozy on them electric strings.  huge love to you"
#2
 / Es la Historia de un Amor  --- by @dianakyv 
" I love the sound of your voice. This is just beautiful.  I remember you from past weeks and you really blow me away, I love the guitar company with your voice, just lovely."
#1
 @  - Original song "Revelation" --- by @paintingangels 
"@painting angels you touch me deeply with every single performance.   I need you to sing me to sleep every single night.  My dreams would come in sweet.   Just beautiful dear, lovely song, great voice as always, emotive and delicate, brings my emotions to the top of my skin.  I love you girl"
Thanks for checking out my picks this week for Steemit OpenMic.   Also be sure to check out top picks from OpenMic Judges @verbal-d @passion-ground @meno and @krystle.  Weekly openmic winners announced by head openmic man in charge @luzcypher.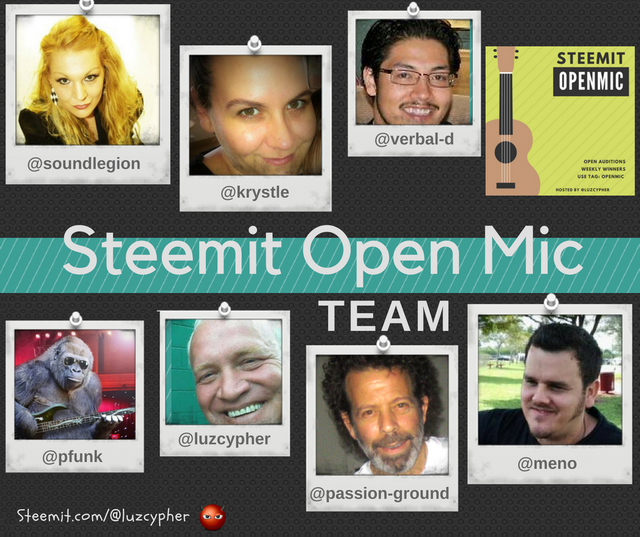 Open Mic is Sponsored by @luzcypher @pfunk @curie @ausbitbank @aggroed  Please vote for these guys as Witness Here!  
Much Love