Open Mic Winners From Week 19
Thanks to everyone who entered and supported Open Mic Week 19. Community support for Open Mic has been tremendous and is one of many projects bringing the music community together on Steemit.
I just want to remind everyone that votes are only part of the selection process. Entertainment value and performance is factored in too.
The coolest thing about Open Mic is it brings the Steemit community together and that is the whole point of this project.
Thanks to @pfunk for helping to sponsor Open Mic and he's even generously been giving Steem bonuses to participants posting original music.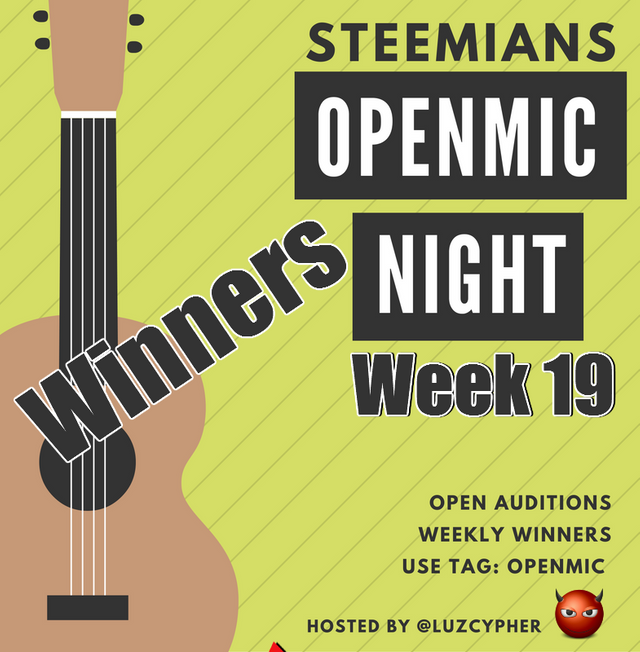 Open Mic is not about winning or losing, it's about building a connection on Steemit through music. Watching the collaboration happen online between musicians who played and met on Steemian Open Mic is very rewarding and many of the people who play and post earn some nice rewards for playing a song.
For many, it's easier to get some Steem in your tip jar by playing for Open Mic than it is to play music on the street.
300 in Steem Prizes

Thanks also to @curie for selecting some of this week's entries for Project Curie. Open Mic appreciates your support for our contestants and congratulations to the contestants that were selected by Curie.


Steemit Open Mic Promo Trailer
Here's a little promo video for Steemit Open Mic that you're welcome to share with friends to introduce them to Steemit and Open Mic.
You can copy the link here:
https://www.youtube.com/watch?v=nG5ywrqIAvE

WATCH THE PROMO TRAILER
---
Steemit Open Mic Contest
---
Open Mic 19 Votes And Comments
Here's the openmic thread showing all the entries and votes on the authors individual posts.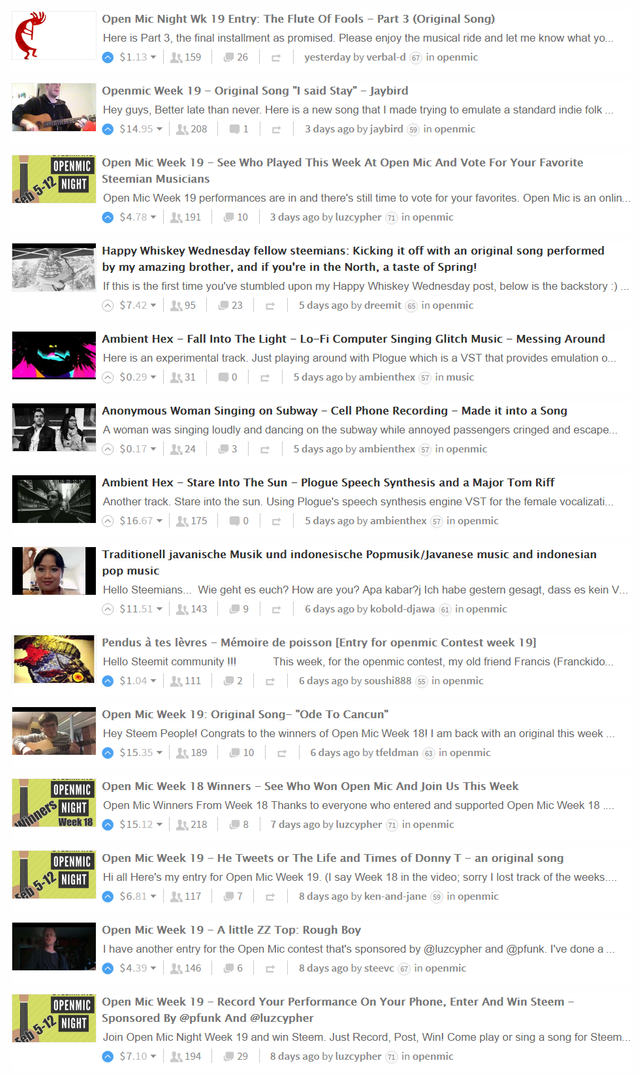 Here's the screen shot of the comments of the Open Mic 19 post at closing time showing all the upvotes.

Winners from Open Mic Week 19
---
1st Place
---
Pendus A Tes Levres Memoire De Poisson Entry For Openmic Contest Week 19 --- by @soushi888

---
Here's a screenshot of the prizes transferred to the winners this week.

Here are the performers this week
---
Openmic Week 19 Original Song I Said Stay Jaybird --- by @jaybird

---
Congratulations guys! Thanks again to everyone that entered. Thank you @pfunk for sponsoring Open Mic with 200 Steem donation for each week! Very generous of you.
Vote And Enter Open Mic Week 20 by Following This Link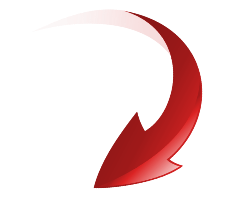 Special thanks to @kevinwong for guidance and sponsoring, @verbal-d for inspiration and @pfunk for sponsoring Open Mic and all the Steemians who voted for the musicians.