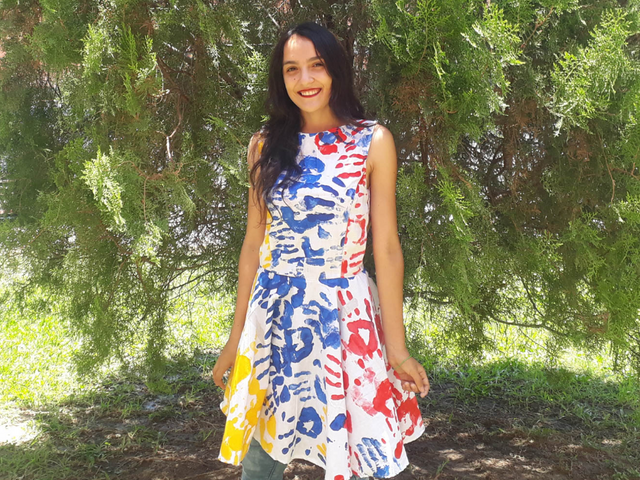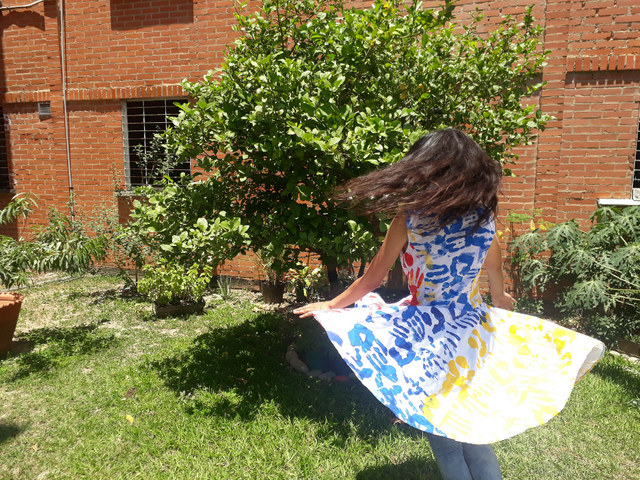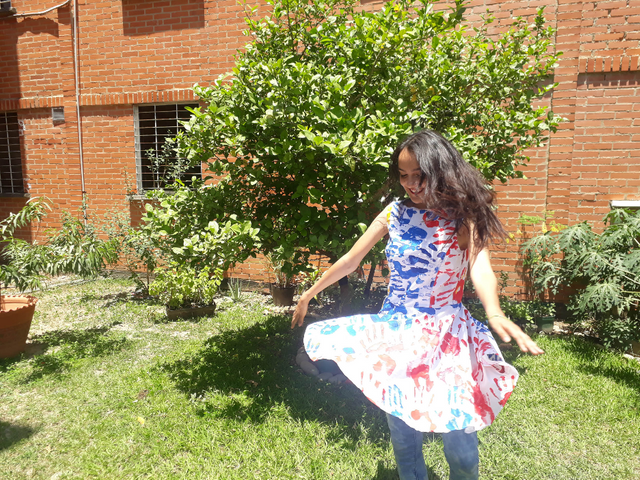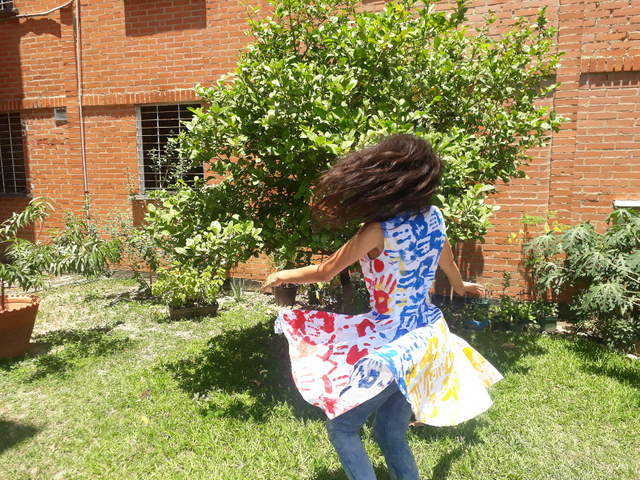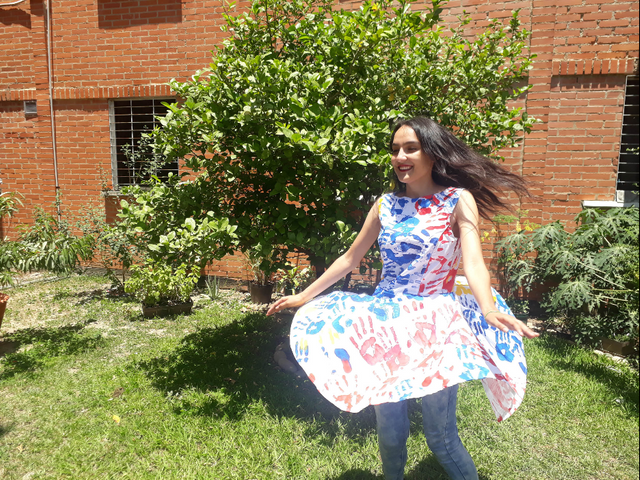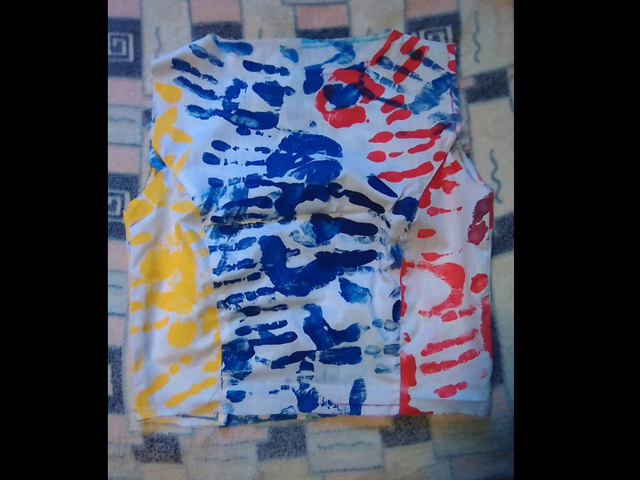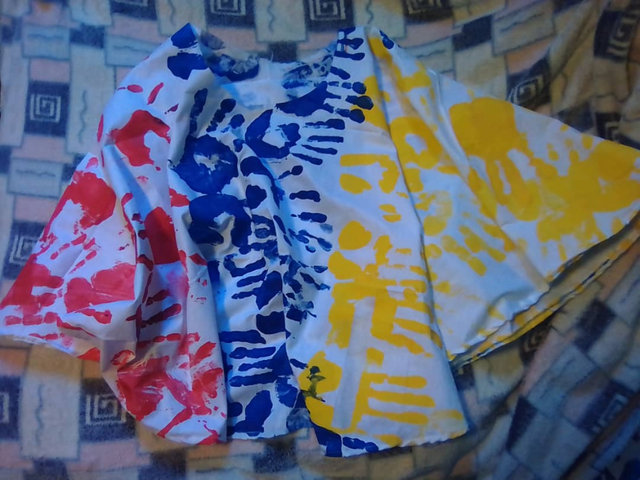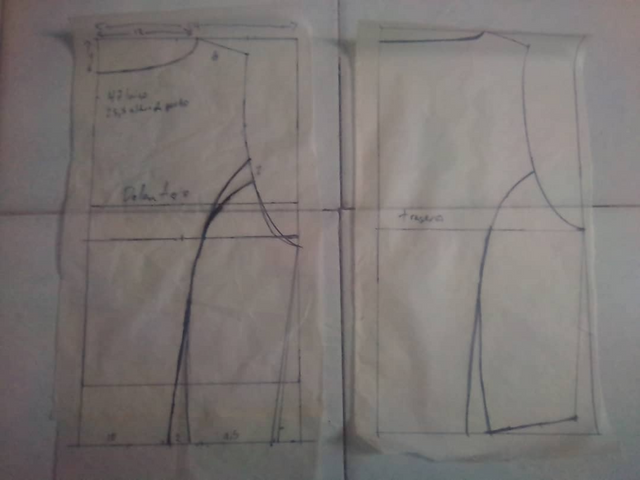 # Hello my fellow steemians lovers of art! :D
Yeah, well it was made by me, but the fabric! The fabric has the hand's marks of a lot of Venezuelan people! Some time ago, my family and I participated in an activity here in Venezuela where you had to put your hand mark with yellow, blue, or red on a long piece of white fabric to form the flag of Venezuela. A lot of people participated, we took pictures and everyone was smiling, and at the end of it, we keep it that fabric, we fold it and put it over my closet for a long time. Until I found it again the past month while I was doing a deep cleaning of the house. It was a happy surprise to see it again, I always thought it became b¿very cute, but my mom said that we don't use it, so it was hoarding space in the house. She wanted to throw it away because it was a few years since that activity happens, and everything that we need it to do with that we did it. But I'm the kind of person who never throws away something until I get from it all the usage that I could. I mean, we don't know how many effort and investment was made, how many people worked on that piece of fabric to get it to you, the people who did the threads, the painting, even the people who made the machine to do the fabric, and you'll just throw it aways just like that? Ok, maybe I exaggerate a little bit, I don't know, but when I thought that while I was seeing the fabric I knew I had to make a project with that. So, I started to think about what to do with it, and I thought a dress could be a pretty option. I like the design and make clothing too, even when I'm not an expert, it's something that I really enjoy. I just got a sewing machine for my birthday, and I had never made a dress ever in life. I had just made a few skirts, shirts, and clothing for my doggos but never a dress, and I don't know why I waited so long!!
In the pictures, you can see the design pattern I used for the upper part of the dress, the bodice. I didn't use a pattern for the skirt because I made a circle skirt, which it's one of the easiest ones because you just have to fold the fabric in half, fold it again, mark the ratio of your waist and then how long you want the skirt. In my case, I marked 11cm and 49cm for the length. After that just draw a curve in the fabric with those distance all around the folded fabric. Maybe one day I'll make a more detailed tutorial for it if you want. The tricky part for me was the bodice of the dress since I wanted to be tighter and the fabric didn't collaborate with me hahaha xD But with love and patience, and a copious amount of pins, eventually it looked good! And I felt so proud. I mean, I know it isn't the most beautiful bodice on earth, but hey! this was just my first attempt.
After finishing the bodice I attached it to the skirt, and the final result was the pictures up there! I felt so happy, I think you can see it through my face on the photos xD I loved so much do spins with the dress and see how the skirt opens! While I was sewing the dress I was making sure the design at the end show the Venezuelan flag too, which is yellow, blue and red with white from the stars. That's why you can see three colors is especific parts od the dress. What are you opinions about it? Do you liked? I don't know if here in steemit there is some comunity avocaded to sewing, but if you know one, please tell me about it! I'll keep showing my sewing attempts over here.
And with this I let another entry to the DIY contest promoted for @nTopaz, if you like to join, go to the ntopaz plataform and post a craft or desing you did :3
Thankyou so much for reading until here!!
Please Upvote, Comment ( I love reading what people thinks about my art), Resteem, Donate or Delegate to support my artwork!🎨 Thank you!