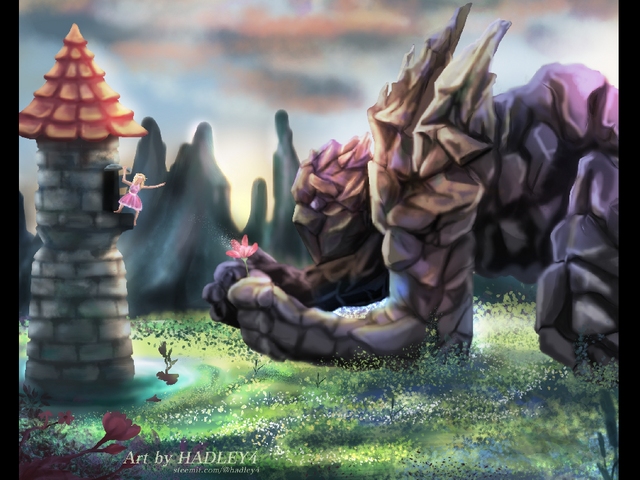 ---
Fantasy is here! Along with digital art!
It's been a long time since I've done any drawing through this medium, I've forgotten how much fun it can be to play with color without restrictions, but the reason for the new @ntopaz contest, where the theme is nothing more and nothing less than the wonderful "Fantasy", I decided to take up some ideas that I left unfinished a few months ago. So this time I bring you a powerful and romantic Golem conquering a fragile and abandoned princess.
This illustration I have made with Medibang Paint Pro. Previously I made the illustrations with my Smartphone, but unfortunately he suffered an accident and it is difficult for me to draw with him. For that reason, I inform you that this drawing is elaborated in its totality with the mouse of my pc, that's right, it has been an arduous work but I have liked the result, I hope that you also like it.

Tools

-Step 1:
As usual, I've started by capturing the main idea in a simple way (too simple) because I wasn't used to the mouse layout.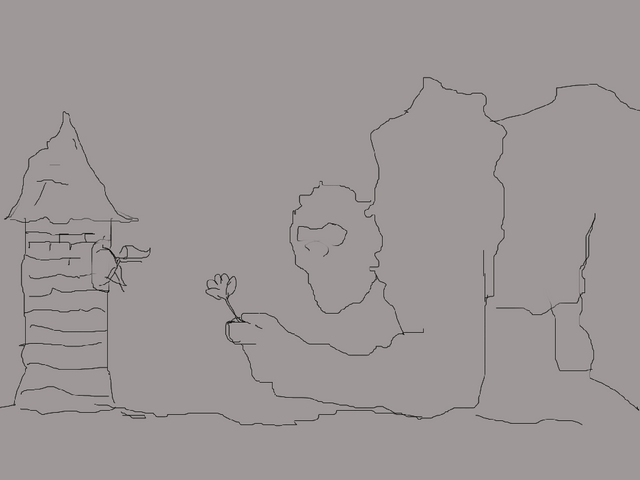 -Step 2:
Then I added a little color to the Golem, taking some brown tones of which I regretted, as I thought it would look made of earth, so I corrected the saturation to take it to the classic gray of the rocks. In addition, I corrected its shape a bit, I wanted a tough giant and a delicate princess.

-Step 3:
This is where the biggest change comes in, as I said before, I wanted a rough Golem and it took me a long time to get it, using watercolor brushes and the airbrush i've to fight to get a rocky texture, always based on the monochromatic spectrum; at the same time, I modified the tower as it was very close to the ground.

-Step 4:
Using the vegetable brushes and the overexpose tool, I made a magical and very lively floor. I have fallen in love with the flower in the corner, it is made with a watercolor brush, at this point you will notice that I have already practiced the mouse and still saw very low the tower, so I lengthen it even more and finally I have colored it, giving it a rustic texture.

-Step 5:
Did you think I had forgotten the princess? Well, it's not like that, I left it almost until the end, because due to its tiny size it was difficult for me to add details to her, so the coloring was based on simple shadows and lights. Finally I added a radical change, getting rid of the ugly forest that I had sketched and replacing it with a more illuminated sky, which crowns some rocky mountains to whom I gave a magical glow with the tool to overexpose.

I'll leave you a little gif with the whole process in it, so you can better observe the step by step.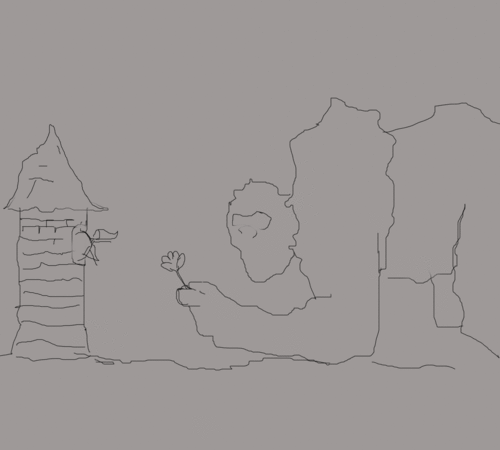 Copyright @hadley4
Thank you for your support