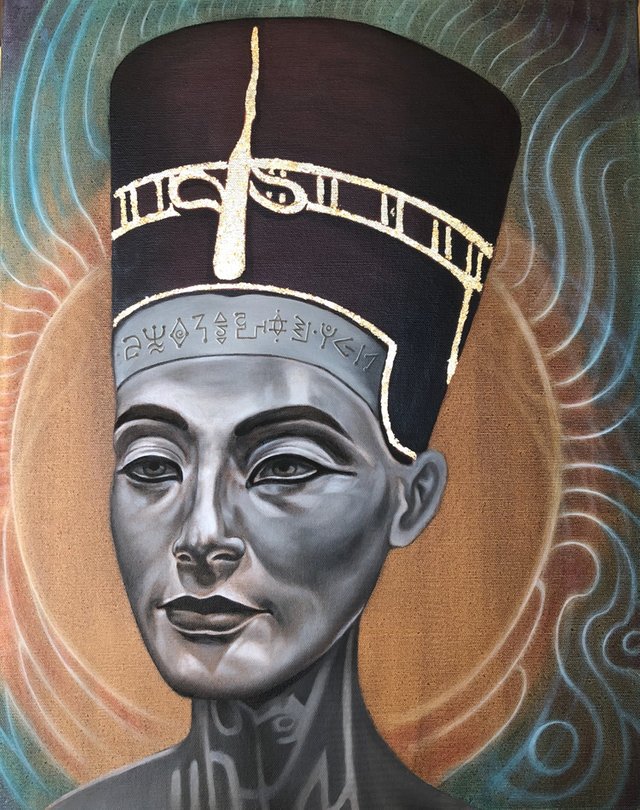 This oil painting on canvas was born during the very recent workshop with Philip Rubinov Jacobson & Mantra Cora. We were focusing this time on creating a portrait in the grisaille technique. Then we had a choice to work also with flesh tones, but in this case I decided to keep face in shades of grey because I liked this metallic look, and I added color in other areas. For the first time I got to work with gold leaf and I applied it to the headdress.
I worked with washes of color in the background, but it feels it's not completely finished. At the moment I have some other priorities to focus on and I will let for this piece to breathe, so the vision of how to complete it can clarify.



She is such a mysterious and powerful figure in the history. In my journey of awakening into the ancient remembering I would often connect to her family, I created before two artworks with one of her daughters. For me this is pointing us to our extra-terrestrial origins & the higher divine potentialities that we used to have. We are so much more than what we were taught, I believe we came from highly evolved civilizations.
I highly recommend delving into a book called "Initiation" by Elisabeth Haich, it will definitely expand your perspective on our journey. It is like an autobiography story, but going back many lifetimes, back into a very detailed memory of being initiated.