Redfish Power UP League and Wall of Fame Week #3
Welcome to the third weeks Redfish Power UP League and Wall of Fame.  This week we have 7 new accounts join in for some fun and growth. There are now 69 redfish tracking their road to minnowhood. 
I wish each and every one of you success in growing your account on Steemit.  The aim of this challenge is to grow your own SP to 500.  To learn more about this initiative please do have a read of the introduction post.
Do you want to join?
You can join, or leave at any stage, all you have to do is leave a comment below and let me know that you want in or out.
Redfish Power UP League
Every Wednesday I will be connecting to the SteemSQL database and gathering details on the Owned SP for each person in the league.
The current weekly owned SP will be compared to the SP held when the person joined the league and the average weekly % SP growth will be calculated.  The person with the highest % weeky SP growth will be on top of the league.  When a person reaches owned SP of 500, they will be removed from the league and added to the Wall of Fame.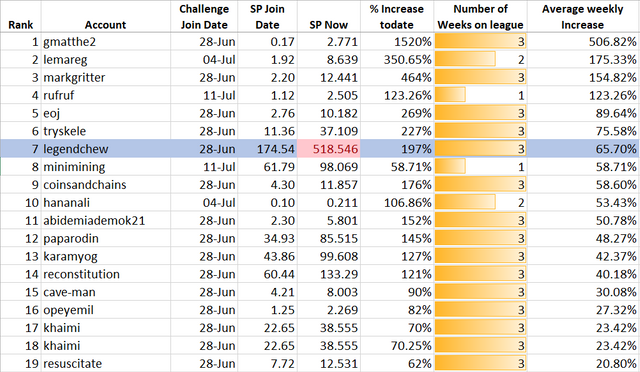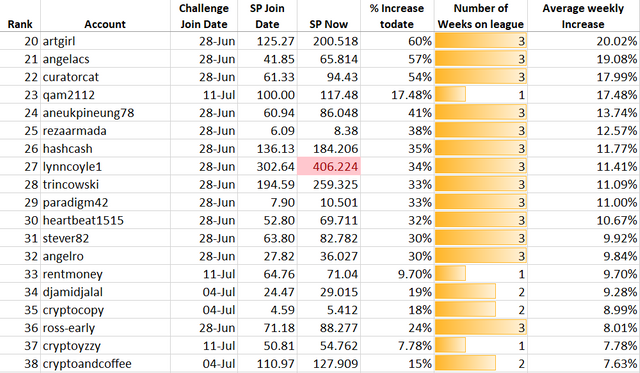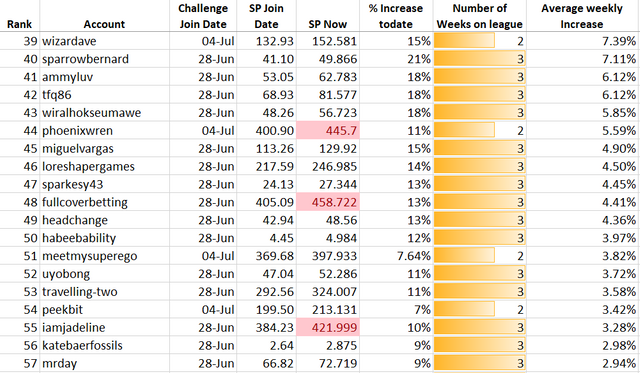 Congratulations to @gmatthe2 achieving an average weekly growth of 506.82% in SP putting you on top of this week's league knocking @lemareg into second place.  You will be send 1 SBI unit courtesy of this weeks sponsor @simplymike. Goes to show, even those with very low SP can grow just as much, if not more than others.
Spot Prizes
Lucky number 15 @cave-man you will be sent 1 SBI unit 
Lucky number 20 @artgirl you will be sent 1 @dustsweeper basic membership ( I was meant to contact you on chat and forgot, will contact you this week)
Congratualtions also to @lemareg  (knocked from number 1 last week) @markgritter @rufruf, @eoj @tryskele @legendchew @minimining, @coinsandchains and @hananali, as you all are in the top 10 and have an average weekly power up 50% or more
Wall of Fame
Congratulations to @legendchew as you have graduated from Redfish to Minnowhood.  With a total increase of 197% since you joined the league 3 weeks ago and an average weekly increase of 66%.  You enter the wall of fame joining (and knocking from first place) @wolfhart

This week's prize of 3 SBI units is on its way to you @legendchew
We also have 3 accounts with 400+ SP and we could see them graduating any time soon.  @lynncoyle1 @phoenixwren, @fullcoverbetting and @iamjadeline I am cheering you on
Help me thank our sponsor
A big shout out to @simplymike.  for sponsoring this week's Redfish Power Up League winner.  Thank you very much for your generosity.
Would you like to sponsor a prize?  Contact me on discord paulag#0515
Opportunities for Redfish
There are many opportunities for Redfish to earn STEEM and SBD to use to Power UP.  One such project is Pay it Forward and the contests they run.  Do have a look at @pifc which will be the home of all Pay It Forward Contests so you can try and win some STEEM or SBD
@dustsweeper is also an awesome way for Redfish to ensure they start earning.  On Steemit, posts and comments with a payout value of <.02 are not actually paid out.  @dustsweeper will sweep all your comments on the 5th/6th day and upvote it above the $0.02 threshold. So you don't lose out.  Every cent counts right.  So head over and get your self and dustsweeper membership and collect every penny you can.
If you know of any initiatives ran for redfish, please do pop a comment below with the details.
What are you going to do this week to grow your SP?  Please do comment below and let us know.
 Shameless Promotion
@steemcommunity is a witness project from myself and @abh12345.  There are many good witnesses out there and doing your research is important. I hope you will take the time to read our witness introduction post and consider us as one of your steemit witnesses