Wikileaks Deepdives: The Extraterrestrial Issue, Interest By World Leaders And Influential People In An Unknown Presence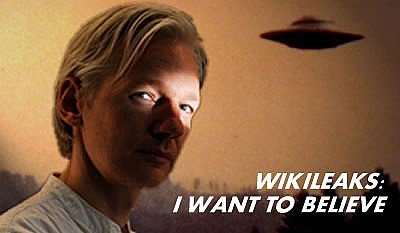 This article is written to document the files found within Wikileaks' archive on the biggest issue humankind has to face in its lifetime the reality that we are not alone in the universe, for @v4vapid's Deepdives contest.
During the 2016 election, Wikileaks released the Podesta Emails, that talk about everything from Goldman Sach's speeches to X-Files conversations between John Podesta, Edgar Mitchell, and former Blink 182 guitarist Tom DeLonge, talking about Alien life and sources within the government who hold this information.
Tom DeLonge has since begun his "disclosure initiative" with To The Stars and proven that he does indeed have high ranking sources in the military. Even having an affiliation with a whistle-blower Luis Elizondo who recently came out last December admitting the U.S. still has a TOP-SECRET UFO tracking program under the Pentagon called the Advanced Aerospace Threat Identification Program (AATIP), which he ran investigating flying saucers. 
Elizondo even went as far as to say "We might not be alone" in a headlined CNN interview.
Interest in the UFO topic was said to end with Project Bluebook and Allan J. Hynek who later came out admitting that the government's investigation of the UFO topic was a complete and utter sham and started The Center for UFO Studies (CUFOS.) Hynek died in 1986 of a malignant brain tumor at Memorial Hospital in Scottsdale, Ariz. at the age of 75 years old, NY Times reported.
Hynek is mentioned in a Wikileaks document presenting a presentation for the  INTER-AMERICAN CONGRESS ON UFO STUDIES in 1975. Which consisted of two sessions one public and one closed session for military officers. The latter session was reportedly organized by General RET Moacyr de Mendonca Uchoa and UFO division of BAF/Fourth Air Zone.
Project Blue Book wasn't the only investigation into UFOs—there was also Project Grudge, Project Sign, the Cometa Report, Majestic 12, Robertson Panel and others. 
John Podesta and Edgar Mitchell are both prominent, credentialed  individuals of the disclosure movement that advocate the public  disclosure of the Extraterrestrial presence that has been visiting this  planet for centuries, a well kept secret by many presidents and  international world leaders alike. It has now spread to include hundreds  of whistle-blowers from military to intelligence agencies worldwide,  ready to blow the lid off the greatest cover up mankind has ever seen,  that we are indeed not alone in this vast universe and our governments have conspired to keep it secret under "National Security."
Astronaut Edgar Mitchell is caught talking to John Podesta in a leaked email  in which the both of them were worried about a war breaking out in space and apparently they planned to have a conversation via Skype about  the ramifications of it.
"Because the War in Space  race is heating up, I felt you should be aware of several factors as you  and I schedule our Skype talk. Remember, our nonviolent ETI from the  contiguous universe are helping us bring zero point energy to Earth.  They will not tolerate any forms of military violence on Earth or in  space," Edgar Mitchell, wrote.
In another leaked email Edgar Mitchell also talks about the Vatican knowing about the Extraterrestrial presence Mitchell writes.
"My Catholic colleague Terri Mansfield will be there too, to bring us up to date on the Vatican's awareness of ETI."
Mitchell has previously claimed in 2015, that Aliens helped prevent nuclear war, John Podesta tweeted before leaving the Obama administration "My biggest failure was not securing the #disclosure of the UFO files." Are we  getting to see the under belly of secrecy that was Podesta's biggest failure? Additionally, in another email exchange with Tom Delonge  in 2015, Tom Delonge wrote John Podesta about sources he claimed were  "both in charge of a most fragile division that relates to classified  science and DOD topics" adding they were "worth our time."
"I  think you will find them very interesting, as they were principal  leadership relating to our sensitive topic. Both were in charge of most  fragile divisions, as it relates to Classified Science and DOD topics.  Other words, these are A-Level officials. Worth our time, and as well  the investment to bring all the way out to you,"~Tom DeLonge
In a further leaked email from 2016, DeLonge writes he has "been working with another former military official.""He  just has to say that out loud, but he is very, very aware- as he was in  charge of all of the stuff. When Roswell crashed, they shipped it to  the laboratory at Wright Patterson Air Force Base. General McCasland was  in charge of that exact laboratory up to a couple years ago," DeLonge wrote. 
Delonge referred to the Roswell Incident that was first reported as a saucer  first with dead Alien Bodies then that was retracted and it was then a weather balloon with crash dummies, yes crash dummies, absolutely unbelievable. Delonge wrote in an e-mail entitled "General McCasland" that the affirmed military official worked "where the remains of the Roswell UFO crash" were taken and stored until very recently and was about to turn whistleblower. 
Former  CIA Director Admiral Roscoe Hillenkoetter said to the NY Times, the Inspectors General Called "UFOs serious business"  in the 1960's.  That PDF in which the Inspectors General said UFO's were serious business can be viewed here. 
Another high-ranking official Major Donald Keyhoe   alleged in an earlier 1958 interview (below) that the Air Force was   deliberately dismissing and covering up UFOs, confirming Hillenkoetter  and Hynek's claims made years later. Major Keyhoe also exposes the  lie  of the CIA that all the UFO sightings were the agency, when he says that  "one pilot was killed in 48 chasing one." He also said that if they   don't exist "why do they rush to these crash sites?" Not to mention   there is a report that the Air Force was ordered to shoot down flying  saucers.
Wikileaks has additionally previously leaked cables in which world leaders have talked about Extraterrestrial life. 
In 2010, Wikileaks founder and Editor in Chief Julian Assange (who is currently imprisoned) stated, "It is worth noting that in yet-to-be-published parts of the 'Cable Gate' archive there are indeed references to UFOs." 
A prominent Lithuanian politician Albinas Januska stated in Wikileaks PlusD Cable release that there are a "group of UFOs, who are making influence from the Cosmos." He added "there exists a decreasing group of persons, who are trying to rationally analyze the situation and objectively evaluate what is happening."
The cable comes from the year 2006 from the American Embassy in Vilnius, Lithuania. The statement was made by Albinas Januska, who at the time was appointed adviser to the Lithuanian Prime Minister.
However, the cable is cryptic jumping from a scandal of conflicts of interest to cucumbers and sausages from Kedainiai then finally to UFOs.   
 "Januska testified before the parliamentary committee  twice.  He breezily dismissed claims that he has  inappropriate ties to the Gazprom-connected gas company  Dujotekana, saying, "I am not dependent on gas, because I  warm up (at home) with wood and electricity."  He warned  Committee members that Lithuania suffers from "the influence  of cucumbers and sausages from Kedainiai," an open reference  to former Labor Party leader Viktor Uspackich, who once  traded in these commodities and is currently in self-imposed  exile in Moscow, avoiding charges of fraud in his party's  financing.  Reflecting his self-image as a patriot fighting  off Russian influence, he also warned of the existence of "a  group of people, who are directed from the East, a group of  UFOs, who are making influence from the Cosmos" adding  elliptically that "there also exists a decreasing group of  persons, who are trying to rationally analyze the situation  and to objectively evaluate what is happening," the Wikileaks cable reads.
Another Wikileaks cable also in the PlusD library from Japan shows how the Chief Cabinet Secretary was unhappy with the governments official view rejecting the existence of UFOs. The document goes on to describe how he stated in a press conference that "I am sure that unidentified flying objects exist, otherwise it is impossible to explain the Nazca Lines (In Peru), isn't it?"
He also stated that " the government has offered only a boilerplate response in its formal statement" regarding UFOs. 
The email was addressed to the following curious email list: 
"Central Intelligence Agency | China Beijing | Commander US Naval Forces Japan | Commander US Pacific Fleet | Commander United States Forces Japan Fuchu | Department of Commerce | Department of Justice | Department of Transportation | Japan Fukuoka | Japan Nagoya | Japan Naha | Japan Osaka-Kobe| Japan Sapporo | Joint Chiefs of Staff | Pacific Air Forces | RUAYJAA CTF | Secretary of Defense | Secretary of State | South Korea Seoul | United Nations (New York) | United States Pacific Command | White House."
If that's not enough, the former Tajik Mayor unequivocally stated there is life on other planets, and that peace and unity on Earth is necessary in a Wikileaks PlusD cable titled: "MAYOR MEETS AMBASSADOR, CONFIRMS EXTRATERRESTRIAL LIFE."
 "On January 13 Ambassador called on Dushanbe Mayor and  Chairman of the upper house of Parliament Mahmadsaid Ubaidulloev  at his parliamentary office.  The Mayor began the meeting with a  lengthy discourse on Afghanistan, thanking the United States for  its contributions and sacrifices there, and saying that U.S.  activities there were very important "as we enter the third  millennium and the 21st century."  Ubaidulloev thought the main  task there was to build a sense of national identity among  ethnically disparate groups, and said the United States was an  example for this.  He noted that "war is very dangerous", and  said "we know there is life on other planets, but we must make  peace here first," the Wikileaks cable reads.
WikiLeaks' UFO-related material, Assange previously said, largely deals with the UFO cult group known as the Raelians, whose beliefs mix religion, sex, pseudo-science and alien mythology similar to Scientology. State Department officials in Canada have expressed concern over the group's influence there, citing a 2002 incident when the group falsely claimed to have cloned humans, Forbes reported.
"I have said in passing there is information about UFOs in Cablegate. And that is true, but these are only small passing references. Most of the material concerns UFO cults, and their behavior in recruiting people. For instance, there is quite a large cable, which we'll try and release in the next few days, concerning the Raelians, a UFO cult which has a strong presence in Canada and was of concern to the U.S. ambassador in Canada. At that time, the Raelians claimed to have cloned an individual, and fantastically, the press all around the world ate this up and turned it into front page stories."
The Raelians believe humanity was created by extraterrestrials as a lab experiment, according to the documents.
They targeted high schools in the province of Quebec to persuade Roman Catholics to renounce their faith. The Raelians even had a plan to give students crosses to burn, according to the cables. 
One of the documents cites local news analysis coming to the conclusion that: 
"The ultimate goal of Raelians is to create life in a laboratory which would make human beings immortal and enable them to create another civilization on another planet. In the meantime … [they] want to build an embassy in Israel to welcome the Elohim when they come back in 2035. The group has also been criticized for advocating the use of genetics for eugenic attempts at improving the human race."  
While much of the Wikileaks archive on UFOs is uninteresting there are several cables that are informative, that shed a light on how the governments of the world and UN view the UFO topic.
The first document, from Nov. 18, 1978, reveals Grenada Prime Minister Eric Gairy's efforts to organize a United Nations-based committee to research and investigate global UFO reports.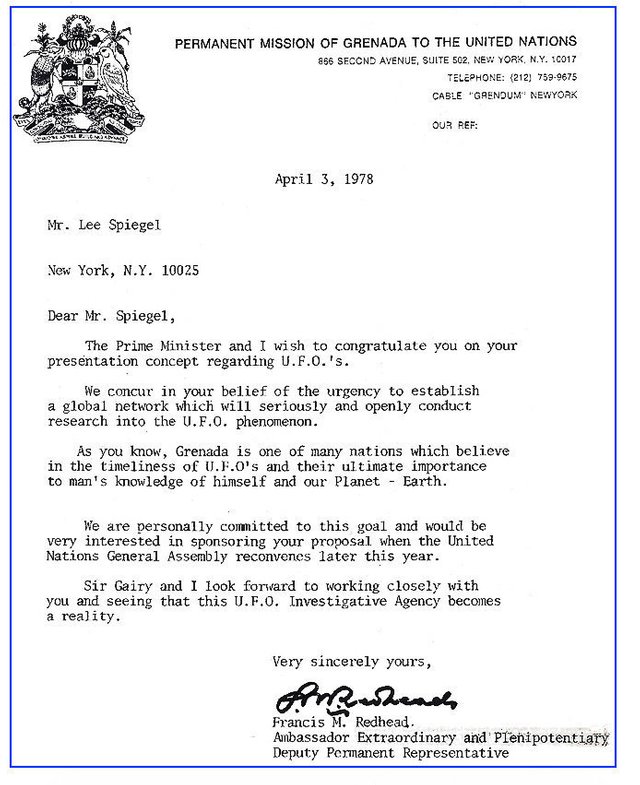 Grenadian PM Sir Eric Gairy said that he had come before the UN because of a 'deep personal conviction' that UFOs were of 'worldwide importance and significance.' He said that the UN needed to 'come alive to its responsibilities and take a serious look at the UFO phenomenon to which planet Earth has been conspicuously exposed'. The leaked cable said, 'As anticipated, Grenadian PM Sir Eric Gairy addressed the special political committee on Agenda Item 126, and introduced a resolution (datafaxed), which would establish an expert group to set guidelines for a UN study of UFOS.
The speakers were supplemented by a short film which consisted of still and motion pictures spliced together to depict actual sightings of UFOs.  
According to a Wikileaks document in the PlusD cables Gairy stated that THE "UN ESTABLISHED AN AGENCY FOR PSYCHIC RESEARCH. HE ALSO URGED THAT THE ARCHIVAL SECRETS OF CERTAIN COUNTRIES PERTAINING TO UFO'S SHOULD BE RELEASED."
Another Wikileaks document mentions Gairy being handed materials on unidentified flying objects and a book by TEILHARD DE CHARDIN in October of 1977. This resulted from a meeting with President Carter and Gairy a month before in September 1977.
Another cable posted on WikiLeaks, from Nov. 24, 1978, refers to Ambassador Richard Petree's meeting with Grenada representatives "to discuss their UFO resolution."
Ambassador Petree acknowledged, high level of interest in UFOs among elements of the private sector and scientific community and pointed to the budget impact as a major concern of the U.S. and other countries.
On Nov. 28, 1978, the day after the presentation at the UN, this document was sent through official channels, detailing the actual UFO event, describing what each of the scientific and military speakers had to say to member nations about the UFO phenomenon.
A few days after that, on Dec. 2, 1978, a follow-up cable was transmitted, including the following:
Subsequent to the introduction of the Grenadian UFO resolution, Misoff [Mission Officer] has engaged in two separate informal negotiating sessions, which included representation from Austria, USSR and Grenada, in an attempt to arrive at a mutually acceptable compromise solution to the problem.A draft decision to be taken by the Special Political Committee (SPC) has been agreed upon by the participants in the informal negotiations, subject to concurrence of their respective capitals. We think referral of the [UFO] matter to the Outer Space Committee (OSC) without a preordained mandate as to what action is to be taken, provides the flexibility the OSC needs to take whatever action it deems appropriate.It will also obviate the need to vote on a resolution (and gamble on the results).
The following week  another document, on Dec. 8, 1978, stated:
"The General Assembly invites interested member states to take appropriate steps to coordinate on a national level scientific research and investigation into extraterrestrial life, including unidentified flying objects, and to inform the secretary-general of the observations, research and evaluation of such activities." 
The other separate cable references a sighting titled, "Unidentified Flying Objects Over Algeria," and it provides details regarding the Secretary General of  The Ministry of Defense, Colonel Abdelhamid Latrech, and his interest in "strange machines which had been maneuvering over Alergian airspace in recent weeks."The document outlines how these strange objects had "been seen near military installations by responsible people." 
The "responsible people" list is blocked out and states "Limited Official Use," because the people in question are military personnel. The cable goes on to explain that the object was both seen and tracked on radar, and reveals that the Colonel said "the object had been seen five times" and "on one occasion it had remained visible for over two hours."It further outlines how the object "had been seen twice near Oran, once in center of country, once near Bechar and, most recently, off the coast last night." 
The interesting thing to note is that this object had multiple visual confirmations. It is described as having a "very bright light which obscures its shape." It was also noted that it  "maneuvers and has been seen to land and take off" and changes altitude continually. 
There is also a cable that mentions UFOs and comments by Yuriy Zhadobin, chairman of the intelligence service of the former Soviet Republic of Belarus. In the cable prepared by the U.S. Embassy in Minsk, Zhadobin is reported to have said that during the time of the Soviet Union, there were almost unlimited funds for investigating the UFO phenomenon. 
He states that after the Soviet Union broke up, Belarus no longer has the funds to investigate UFOs to the extent it once had. 
This is what Zhadobin said in the cable which was released by the Norwegian newspaper, Aftenposten:
"Unlike during the USSR, the department is not engaged in studying paranormal phenomena. [Back then,] we had greater means and opportunities which we could spend on anything and everything. Today the situation is different. Then, when society was excited by something, it entered our sphere of interest. But when it comes to healers, UFOs and such, we just can´t deal with them any more."
Even the Japanese are aware that the UFO phenomenon exists "JAPANESE MORNING PRESS HIGHLIGHTS 12/19/07."
"14) Chief Cabinet Secretary Machimura: UFOs definitely exist, unhappy with government's formal response. SANKEI (Page 5) (Full) December 19, 2007 
Chief Cabinet Secretary Nobutaka Machimura stated in a press conference yesterday: "I am sure that unidentified flying objects exist." He elaborated: "Otherwise, it is impossible to explain the Nazca Lines (in Peru, which some believe were created by aliens), isn't it?"  The government yesterday adopted in a cabinet meeting an official response to a question by Ryuji Yamada, a Democratic Party of Japan member. The statement says that the government has not confirmed the existence of UFOs. It was the first time for the government to deny the existence of UFOs. Machimura, while stressing that it was his personal view that UFOs exist, said: "The government has offered only a boilerplate response in its formal statement," the Wikileaks documents read.
 
There is an interesting email between Morocco Rabat and the U.S. department of state discussing an event where multiple UFOs were sighted in Morocco.
 "YESTERDAY, THE 23RD OF SEPTEMBER, COL HOUSNI BENSLIMANE, COMMANDER OF THE ROYAL GENDARMERIE, REQUESTED TO SEE ME AT 1000 HOURS THE SAME DAY.  WHEN HE ARRIVED, COL BENSLIMANE SAID THAT THE KING HAD SENT HIM TO DISUCSS THE SIGHTINGS OF UNIDENTIFIED FLYING OBJECTS (UFO'S) OVER MOROCCO ON THE NIGHT OF 18-19 SEPTEMBER.  ACCORDING TO COL BENSLIMANE, THE GENDARMERIE HAD RECEIVED CALLS FROG AGADIR, THE MARRAKECH AREA, CASABLANCA, RABAT, KENITRA AND OTHER AREAS REPORTING THE SIGHTING OF UFO'S BETWEEN THE HOURS OF 0100 AND 0130, THE NIGHT OF 18-19 SEPTEMBER.  REPORTS FROM THESE WIDELY SEPARATE LOCATIONS WERE REMARKABLY SIMILAR, I.E., THAT THE OBJECT WAS ON A GENERALLY SOUTHWEST TO NORTHEAST COURSE, IT WAS A SILVERY LUMINOUS CIRCULAR SHAPE AND GAVE OFF INTERMITTENT TRAILS OF BRIGHT SPARKS AND FRAGMENTS, AND MADE NO NOISE.  HE PROMISED TO PROVIDE FURTHER DETAILS TODAY, THE 24TH OF SEPTEMBER AND ASKED THAT WE FURNISH ANY INFORMATION THAT WE MIGHT HAVE ON THESE SIGHTINGS.  COL BENSLIMANE SAID THE KING WAS PERSONALLY INTERESTED.  I PROMISED THAT WE WOULD DO WHAT WE COULD," the email read.
Worthy to mention there is even an telegram in which the South African government states they have sent a "space object to the U.S. for examination." 
"SOUTH AFRICAN BUREAUCRACY IS STILL IN PROCESS OF OBTAINING RELEASE OF SPACE OBJECT TO US FOR EXAMINATION.  EMBASSY ADVISED ON 30 OCT THAT IT WILL BE ANOTHER ONE OR TWO WEEKS BEFORE EVERYTHING SORTED OUT.  WILL ADVISE SOONEST. BOWDLER   LIMITED OFFICIAL USE," the email said.
That object in another message was revealed to be a "13 KG BALL, 67 CM IN DIAMETER WITH GAPING HOLE AT ONE END AND PIPE-LIKE PROTRUSION AT OTHER." 
In the Wikileaks GiFiles (also known as the Stratfor intelligence firm documents), employees of the organization share an article written by Timothy S. Cooper on UFO Evidence entitled: "The CIA, UFOs, MJ-12, JFK & James Jesus Angleton."
The email was sent with the curious headline "[Fwd: [TACTICAL] James Jesus Angleton (training assignment - pls read)]."
There are at least 21 UFO documents in the The Kissinger Cables and  Cablegate series of Wikileaks which highlight the UFO concern expressed by several ex NASA astronauts and Military, Intelligence officials and pilots who have tried to come forward with the Disclosure project ran by Dr. Steven Greer. At least two cables on the  Wikileaks website are unavailable due to not being electronic documents ( FOI REQ: FOI 820257 F780003-1568 UFO INCIDENT IN IRAN 9-20-76; NEGATIVE SEARCH RESULTS) and (FOI REQ: FOI 840004 F800002-1579 COPY OF STATE A-6343 DATED 7/26/73 RE: UFO.)
Perhaps one of the most bizarre cables, that in my opinion is the "smoking gun" of extraterrestrial life is an exchange between Kuwaitt and the state department the cable titled: "UFO" SIGHTINGS CAUSE SECURITY CONCERN IN KUWAIT."
The cable reads:
"A SERIES OF "UFO"SIGHTINGS ON NOVEMBER 9 CAUSED THE GOK TO APPOINT AN INVESTIGATORY COMMITTEE OF EXPERTS FROM THE KUWAIT INSTITUTE FOR SCIENTIFIC RESEARCH (KISR). THE COMMITTEE'S REPORT WHICH WAS RELEASED JANUARY 20 DESCRIBED EIGHT SIGHTINGS FROM NOVEMBER TO DECEMBER 14. A NUMBER OF THE EARLY SIGHTINGS TOOK PLACE NEAR A KUWAIT OIL COMPANY GATHERING CENTER NORTH OF KUWAIT CITY. RELEASE OF THE COMMITTEE'S REPORT WAS SOMETHING OF A MEDIA EVENT AS IT COINCIDED WITH JAN 21 FRONT PAGE STORIES OF YET ANOTHER "UFO" SIGHTING OVER KUWAIT CITY, WHICH INCLUDED PHOTOGRAPHS IN LOCAL NEWSPAPERS.
  2. THE KISR COMMITTEE REJECTED THE NOTION THAT THE "UFO'S" WERE ESPIONAGE DEVICES BUT REMAINED EQUIVOCAL ABOUT WHETHER THEY WERE OF EXTRATERRESTRIAL ORIGIN. THE KISR COMMITTEE REPRESENTATIVE, RATIB ABU ID, TOLD EMBOFF THAT THE SCIENTISTS DID NOT KNOW ENOUGH ABOUT THE PHENOMENA TO SAY WITH CERTAINTY THAT THEY WEREN'T."
"THE REPORT WENT ON TO RECOMMEND THAT THE GOVERNMENT TAKE ALL POSSIBLE MEASURES TO PROTECT KUWAIT'S AIR SPACE AND TERRITORY AS WELL AS THE COUNTRY'S OIL RESOURCES. 3. SOME LOCAL WAGS HAVE MADE LIGHT OF THE FIRST UFO SIGHTINGS WHICH CAME NEAR THE END OF THE LONG AND TRADITIONALLY EXUBERANT HOLIDAY CELEBRATIONS OF ID-ALADHA. HOWEVER WE HAVE LEARNED RECENTLY OF AN EVENT COINCIDENT WITH ONE OF THE UFO SIGHTINGS WHICH HAS CONFOUNDED SOME OF OUR MOST LEVEL-HEADED KUWAITI FRIENDS, AND MAY HAVE BEEN WHAT PERSUADED THE GOK TO MAKE A SERIOUS INVESTIGATION OF THE MATTER. A SENIOR KUWAIT OIL COMPANY (KOC) OFFICIAL TOLD US THE THE "UFO" WHICH FIRST APPEARED OVER THE NORTHERN OIL FIELDS SEEMINGLY DID STRANGE THINGS TO KOC'S AUTOMATIC PUMPING EQUIPMENT. THIS EQUIPMENT IS DESIGNED TO SHUT ITSELF DOWN WHEN THERE IS SOME FAILURE WHICH MAY SERIOUSLY DAMAGE THE PETROLEUM GATHERING AND TRANSMISSION SYSTEM AND IT CAN ONLY BERESTARTED MANUALLY. AT THE TIME OF THE "UFO'S" APPEARANCE THE PUMPING SYSTEM AUTOMATICALLY SHUT ITSELF DOWN AND WHEN THE "UFO" VANISHED THE SYSTEM STARTED ITSELF UP AGAIN. THIS EVENT WAS NOT ADDRESSED BY THE KISR COMMITTEE REPORT. 4. EVEN THOSE WHO ARE NOT INCLINED TO BELIEVE IN UNCLASSIFIED UNCLASSIFIED PAGE 03  KUWAIT 00486 290820Z  VISITORS FROM OUTER SPACE DO TEND TO THINK SOMETHING STRANGE HAS BEEN GOING ON IN KUWAITI AIRSPACE. THERE HAS BEEN SPECULATION, FOR EXAMPLE, ABOUT HELICOPTERS OR HOVERCRAFT BRINGING REFUGEES OR MONEY OUT OF BELEAGUERED IRAN. AT THE LEAST, THE PHENOMENA HAVE STIMULATED A NEW DEGREE OF INTEREST AMONG TOP KUWAITI OFFICIALS IN THE COUNTRY'S AIR DEFENSE SYSTEM, WHICH DID NOT REACT IN ANY WAY TO THE "EVENTS" IN THE KOC NORTH FIELD BECAUSE IT WAS CLOSED DOWN FOR THE NIGHT (SEPTEL)."
From this cable we learn that Kuwait had 8 sightings between approximately, November 9th and December 14th, 1979, a number of these sightings took place around a Kuwait oil plant, and the object affected equipment. When the UFO showed up it caused KOC Kuwait Oil Company's automatic pump to shutdown and when it vanished the pump was operational again and back on.  The GOK was concerned about the mass UFO sighting calling it a "serious matter."
Experts at the THE KUWAIT INSTITUTE FOR SCIENTIFIC RESEARCH (KISR) investigated some of the sightings but covered up the event at the plant and didn't mention it in their report.
In a follow up cable titled: " (C) U.S. DEMONSTRATION PROVES EFFECTIVENESS OF KUWAIT'S I-HAWK MISSILE AND RADAR SYSTEMS."
We learn that something may have affected Kuwait's U.S. based defense missile and radar system as Kuwait military expresses dissatisfaction with the system and a representative for the U.S. military responds the equipment works fine.
The cable reads:
" SUMMARY (C) BECAUSE OF THE FAILURE TO OPERATE ITS AMERICAN-SUPPLIED AIR DEFENSE SYSTEM CORRECTLY, SENIOR KUWAITI OFFICIALS GAINED THE FALSE IMPRESSION THAT THIS EQUIPMENT DID NOT WORK PROPERLY. AT THE AMBASSADOR'S SUGGESTION, DEMONSTRATIONS WERE CONDUCTED BY A U.S. MILITARY TEAM WHICH PROVED CONCLUSIVELY THAT KUWAIT I-HAWK AND RADAR SYSTEMS WORK WELL. NEVERTHELESS, KUWAIT IS A LONG WAY FROM HAVING AN OPERATIONAL AIR DEFENSE SYSTEM. PERSONNEL PROBLEMS MAY GET MORE ATTENTION AS KUWAIT SCRUTINIZES ITS AIR DEFENSE IN THE LIGHT OF EVENTS IN IRAN. END SUMMARY. 2. (C) IN NOV 1978 USLOK (EMBASSY MAAG EQUIVALENT) OFFICERS BEGAN HEARING COMPLAINTS FROM THE WORKING LEVEL OF THE KUWAITI MILITARY ABOUT THE UNSATISFACTORY CONFIDENTIAL CONFIDENTIALKUWAIT 00508 01 OF 02 300909Z  PERFORMANCE OF ITS U.S.-ORIGIN AIR DEFENSE EQUIPMENT (I-HAWK MISSILE SYSTEM WITH TSQ-73 CONTROL CENTER AND TPS-32 RADARS). DISSATISFACTION WITH THE EQUIPMENT SHARPENED FOLLOWING A NUMBER OF NIGHT "UFO" SIGHTINGS IN NOVEMBER AND DECEMBER, WIDELY REPORTED IN THE LOCAL PRESS AS UNDETECTED BY KUWAIT'S AIR DEFENSE RADARS. ACCORDING TO OUR INFORMATION."
In our final cable on the situation Kuwait's oil minister Shiek Ali Khalifa Al Sabah made a snark comment on the UFO sighting during a press conference in Venezuela denying knowledge of the UFO landing in the Kuwait oil field.
UFOs affecting electronics and weapons is consistent with what air force pilots testified about in 2010 in Washington DC during a National Press Club briefing. about UFOs disabling nuclear facilities and equipment.
 UFO researcher Robert Hastings  of Albuquerque, N.M., who organized the National Press Club briefing,  said more than 120 former service members had told him they'd seen  unidentified flying objects near nuclear weapon storage and testing  grounds. 
Star & Stripes  quoted former Air Force Capt. Robert Salas, who was at Malmstrom Air  Force Base in Montana in 1967 when 10 ICMs he was overseeing suddenly  became inoperative - at the same time base security informed him of a  mysterious red glowing object in the sky.  
The men further testified that all nuclear missiles around the world have been tampered with and the effort has been active since the cold war (1948), the men said. All the men accused their own respective governments of trying to keep the information secret.
It's quite apparent that we are not alone in the universe, if that is not obvious by now to you then you need to study history of UFO sightings specifically the following cases - "Rendlesham Forest Colonel Charles Halt Tapes", "Roswell", "The Battle Of Los Angeles", "Phoneix Lights", "Jerusalem UFO", "Whitehouse fly over."
Another previously unknown sighting we garner from Wikileaks is depiction of several UFOs seen above the grounds of a proposed U.S. naval observatory in  NEW ZEALAND TRANSIT CIRCLE (PROJECT P-022) 1979, which the media carried televised filmed reports of according to the cable.
 "THE PROPOSED TRANSIT CIRCLE FACILITY WAS THE REPORTED SIGHTING THIS PAST WEEK OF SEVERAL UFO'S IN THE BLENHEIM/BLACK BIRCH/CLARENCE RIVER VICINITY. (WE UNDERSTAND TELEVISION FILM FOOTAGE OF SOME OF THESE SIGHTINGS HAS BEEN CARRIED ON U.S. NETWORK TELEVISION.) INEVITABLY SOME OF THE MEDIA HAVE NOW ENDEAVORED TO DRAW CONNECTIONS BETWEEN THE PROPOSED NAVAL OBSERVATORY FACILITY AND THE UFO'S. WHILE THE EMBASSY HAS POINTED OUT THAT NOT A STICK IS YET OUT OF THE GROUND FOR THE TRANSIT CIRCLE FACILITY, ADDRESSEES SHOULD BE PREPARED FOR MEDIA COMMENTS AT SOME FUTURE DATE TO THE EFFECT THAT THE U.S. NAVY BUILT A FACILITY RIGHT WHERE ALL THOSE UFO'S WERE SIGHTED. HEALY," the cable reads.
[READ: Shocking UFO Footage Released By Chilean Navy Matches Several Other Well Known Sightings]
We know definitively that the U.S. wants to down play UFOs, something that could have been guessed since NSA whistle-blower Edward Snowden  released  slides on UFOs that suggested a Co-intel-pro disinformation operation.
There  is a reason the NSA and other agencies want to down play these UFO  sighting incidents. They have absolutely no idea what these craft are or where they come from or what the beings intentions are. As the first  former  CIA Director Admiral Roscoe Hillenkoetter said to the NYTimes, stating the Inspectors General Called "UFOs serious business."
The NSA has also acknowledged UFO's in another document called  "'Key To The Extraterrestrial Messages",  as has the FBI who began declassifying some very pointed documents. One of these documents is blunt in saying extraterrestrials exist and are extra-dimenensional in nature and inter-penetrating Earth.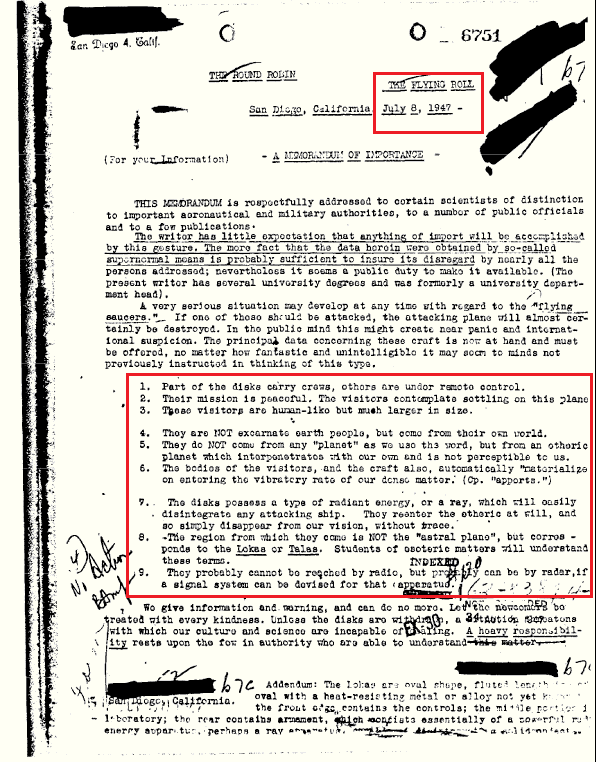 Finally, check out the Brookings DoD Report sent to NASA in the 1960's during the height of the cold war "Proposed Studies on the Implications of Peaceful Space Activities for Human Affairs." The United States Air Force also has a space agency separate from NASA. Its called the USAF Space Command.  
[READ:  The Origins And 50 Years Of Evidence Of A Secret Space Program]
It's time all this information comes out, the dots are connected and we end the secrecy and social stigma surrounding UFO's and an investigation  is opened up into what these objects are, where they are from, and we  meet these beings publicly with first contact and advance our knowledge  of the mysterious cosmos. 
Are you paying attention now? Ill end with some quotes.
Space program manager Wayne Hale has previously admitted that NASA "has been chasing these objects for many many years, rarely able to pinpoint where they came  from and always finding out that they didn't pose us any hazard."
 "There is abundant evidence that we are being contacted, that civilizations have been visiting us for a very long time, that their appearance is bizarre from any kind of traditional materialistic western point of view, that these visitors use the technologies of consciousness, they use toroids, they use co-rotating magnetic disks for their propulsion systems, that seems to be a common denominator of the UFO phenomenon."– Dr Brian O'Leary, former NASA Astronaut and Princeton Physics Professor (source)
"Yes there have been crashed craft, and bodies recovered. We are not alone in the universe, they have been coming here for a long time" – Apollo 14 Astronaut (source # 1) (source # 2 
Socials:
Twitter: An0nkn0wledge
onG.Social: An0nkn0wledge
Gab: An0nkn0wledge
Minds: An0nkn0wledge
SUPPORTING MY WORK:
If you want to support my work and make a difference to journalism/investigation, you can subscribe to my Patreon and become a THOUGHT CRIMINAL or make a one time payment in Cryptocurrency below. I even accept pre-paid gift cards!
Steemit (leave a memo with your name and message then i'll give you a shout out on Steemit, Resteem your work and post some of your Steemit work on my Twitter account depending on the content as a thank you.)
Patreon: https://www.patreon.com/AKswriting
BCH: 16CxxRLFJTvUmVCzdFXzVLjpTXvUW1Te3X
LTC: LQQC8i4p9ph4MppnGY7eRQLg2T2SbhPneB
ETH: 0xd7E20e359Da35E8f71110eE67a7ddbD912f6b98e