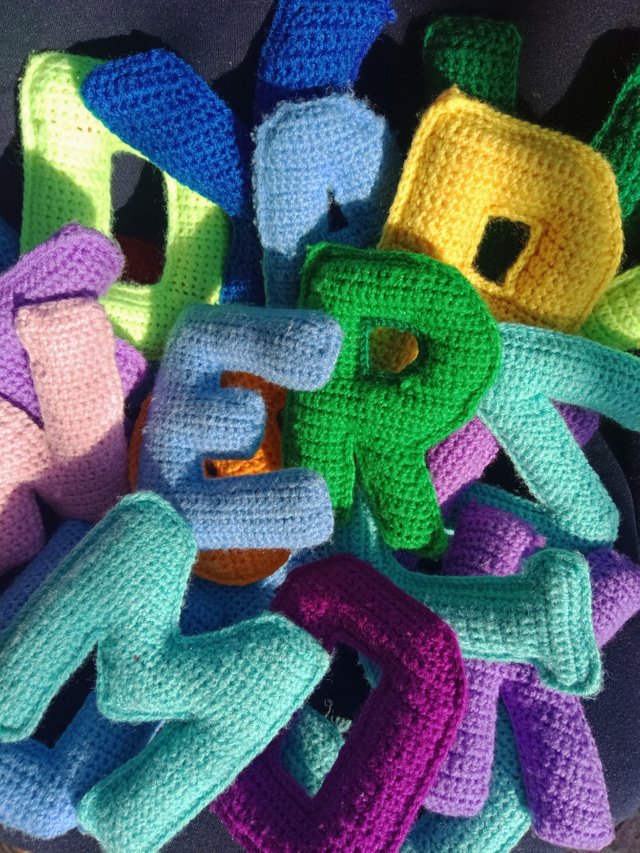 Last August, I started my alphabet amigurumi project. This is one of my efforts in making DIY learning aids for my toddler. I am just posting bout this now but I was able to complete all the letters of the alphabet in a month and a half. This is actually a milestone for me because my usual project completion time is at least two months. But this was done with a lot of side projects and distractions.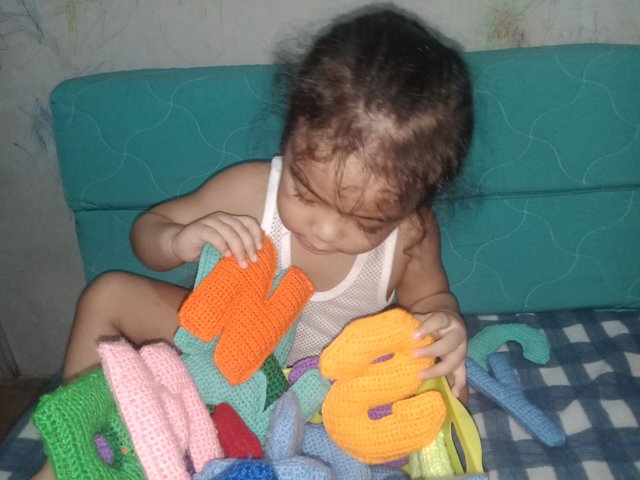 I shared thia project when I started it so now that I'm done, I want to share the journey I went through.
It was my first time reading patterns using symbols. And this is also my first time doing an amigurumi. To say that this is an ambitious project for me is an understatement. As proof, the first three letters are like guinea pigs.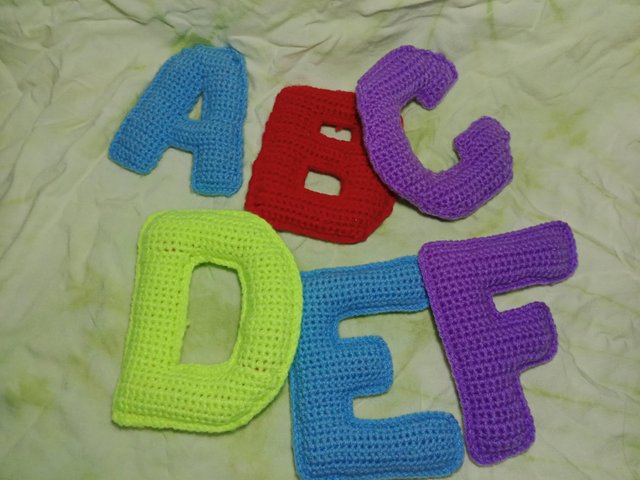 Evidently, I was only able to figure out how to properly stitch the front and back of the letters properly when I was working the letter D. Althougj, it is still evident that I still need to work on the curves.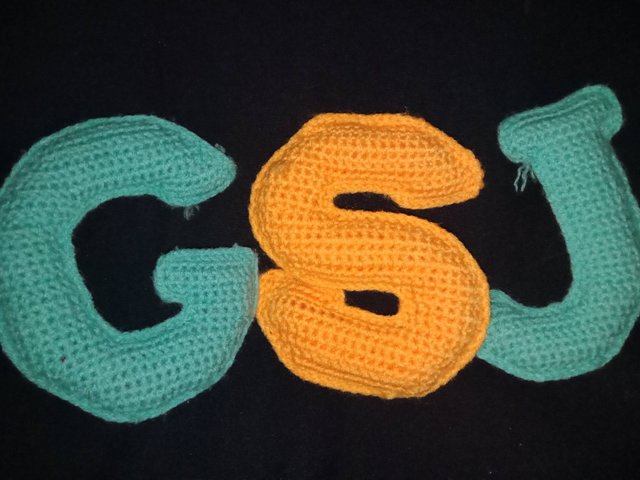 Letters G, J, and S proved to be challenging since they're all full of curves. But I love how I worked the letter O. I was able to somehow master the stitches or at least hide the imperfections when working with curved lines.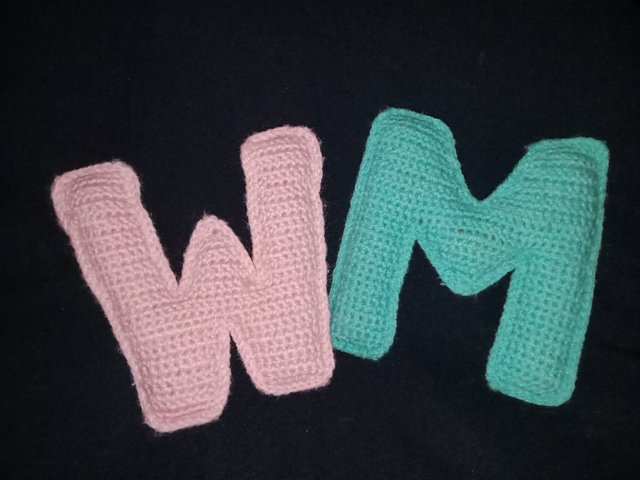 Letter M and letter W were both complicated letters. It took me a couple of hours to finish each letters. Letter T on the other hand was the easiest. Why? Because no curves whatsoever! The stitches are pretty straightforward. 7 rows of 24 sc's vertical, 24 rows 8 sc's vertical. And that's it!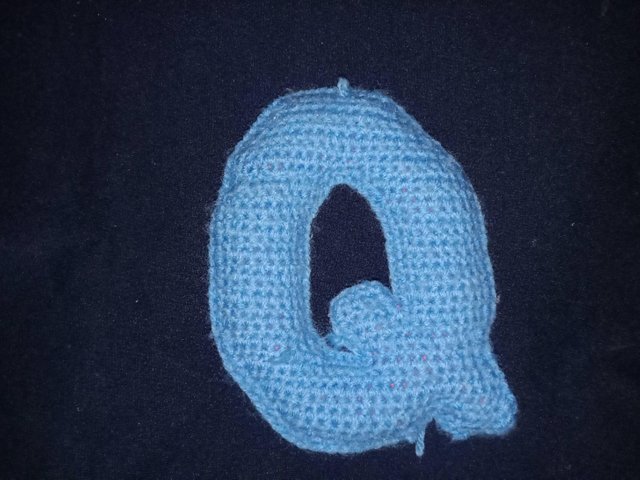 Letter Q I must say is one that really got to my nerves. I actually had to skip this letter, work my way down to letter Z before I could muster the patience I needed for the letter Q. It still ended up not as pleasing as I hoped it would be. But meh! I got too impatient, tired, and practically frustrated so I just settled. It's serving its purpose so I'm still good with it.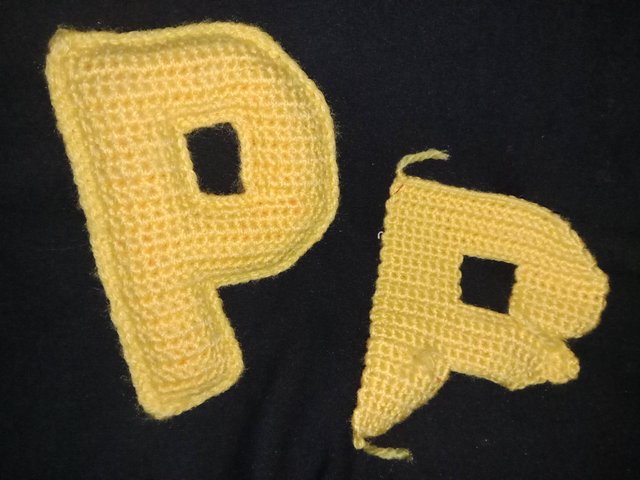 I also hit a bit of a bump while working on letter P. I used different sized yarns for the front amd the back part, I ended up having two letter P pieces that does not match. And I only found out when I was trying to stitch the pieces together. I had to make another letter P with the right sized yarn. That's what happens when one has too much yarn in the box. Which is why my next project is targetting this problem: getting rid of my excess yarns.
The best part, aside from having the satisfaction of learning something new, is that I was able to put all my wornout clothes to good use - err, better use. Usually those old clothes will just end up as rags since they're too holey and torn apart to be donated. I used them as fillings for the amigurumi alphabet. I still have some more leftovers. I'm gonna use them for my next ami.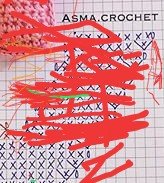 And the fun part, well, aside from my daughter enjoying learning how to read, she also had a bit of participation in the process. She drew lines on the patterns I was using. She thought we were drawing stuff on my phone. Oh well, kids will be kids.
Simultaneously, while I was working on this one, I also finished abother project for my husband. And right now, my next ambitious project is on the works. It's a bit big so I am thinking this will still be a WIP until early next year but as I said earlier, it's going to address the issue of my yarn leftovers. Will let you in on the project maybe when I've done at least 1/8th of it.
The pattern I used is from Asma.crochet