Sometimes you gotta mend...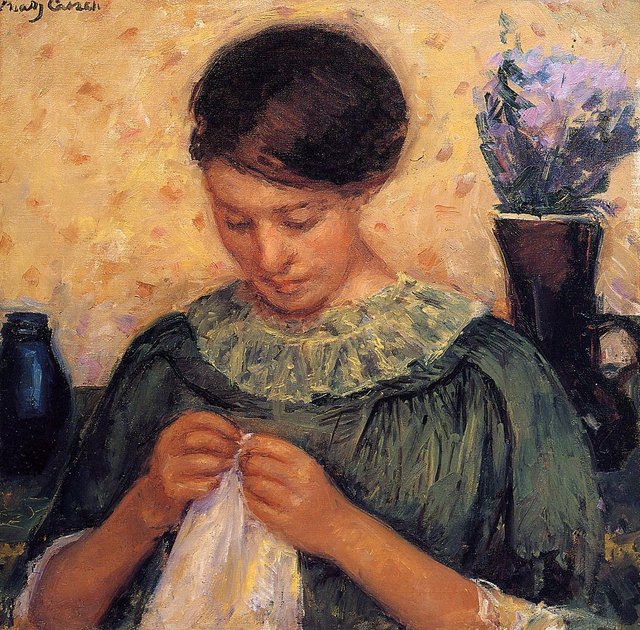 Looking at a button I need to replace on a sweater, I pondered the humble art of mending. While my country, the US, is probably largely a "throw away" culture, mending clothing and other items is an art that is still practiced or learned anew by those who want to reduce waste, get full wear out of an item, or just can't let go of a favorite article of clothing.
As one would expect, information on the history of mending clothing suggests that during periods and in places when people make their own cloth and clothing by hand, or when resources are scarce, people are more apt to mend their clothes. Reading novels from the 18th or 19th century, women always had a mending basket, with items ready for repair during their few spare minutes.
A StudentSewing/WordPress.com article titled "History of Clothing Repair" describes how soldiers during the American Civil War carried a kit called a "housewife" that included needle, thread, scissors and other sewing supplies so the could repair their uniforms. The article tells how Great Britain, during World War II, rationed clothing and began a "Make Do and Mend" campaign, making available booklets with mending instructions.
Many people my age had grandparents who lived through the Great Depression and continued to save, make do, and mend for the rest of their lives. I also remember popular movements during my lifetime, like in the 70s, when people wanted to simplify their lives and consume less, and mending clothes was part of that. I meet many folks now who are of the same mindset.
There is something satisfying to me about mending an article of clothing. It makes me feel independent, and nicely frugal. I also don't enjoy shopping, so it saves me that stress. I remember my husband's delight when he learned I could patch jeans, repair a pocket or sew on buttons. Very simple of course, but helpful to him. I really should teach him to do it himself, but I think he feels a little cared for when I sew on a button. And we all like to feel a little cared for!