Beach Cleaning Day
Hey Steemit community,
I would like to share something with you that is close to my heart, and I believe as a community here, you are in a place to also take action to change things.
Ok so here we go, I took an early morning walk on the beach here in Puerto Morelos Mexico! What a pleasant walk, the seaweed that is currently washing up on the shore does not stink because the sun has not baked it enough yet :)
I was walking to this cool chill spot I found (pic below) and as I was walking I spotted some plastic in the seaweed, I picked it up and at that moment on the collection began. I have no freaking idea how this started but by the time I was at my chill spot I had a lot of plastic and I still wanted to clean up more.... it was a weird competitive thing with myself to see how much I can collect.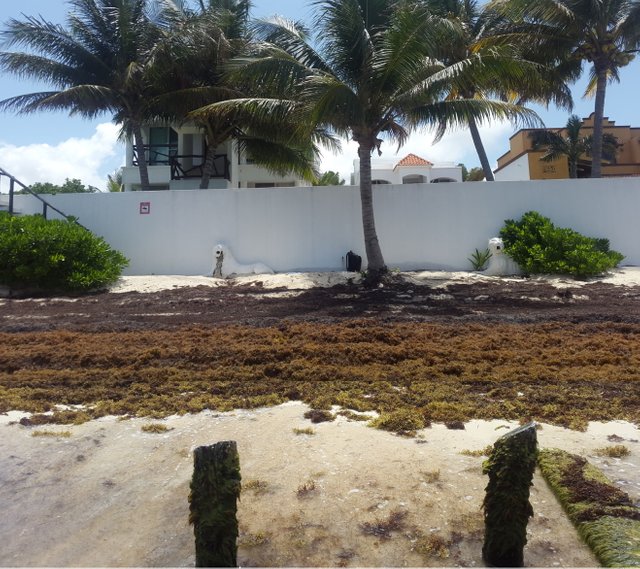 Anyway sitting at my chill spot I forgot about the plastic for a while drifted into my meditation and when I opened my eyes I saw BIG clouds in front of me, they seemed far enough, I continued writing in my Journal, then I saw a bird starting to peck between the seaweed, more birds joined shortly after. It was almost as if I was being thanked for my contribution. As I was reading my book I had this sudden burst of "move now momentum", grabbed my stuff and all the plastic that I could now put in my newly collected bag.
I got to shelter just in time, I would have looked like I have been swimming with everything I was carrying in 2 minutes. The rain came down hard, as I stood under this grass umbrella trying to make conversation in broken Spanish (with Suzanna, also caught in the downpour) I heard someone inviting me at the resort behind us to take shelter on their veranda!! What a blessing, just as it calmed enough I went over to take shelter there. Bill helped me to connect to the Wi-Fi and I could message Naomi to say I am safe during the storm.
As the storm was raging, there was some lightning and thunder with no less than 3-5 seconds between flash and sound. It was a bit scary but at the same time exhilarating! Then it started to clear, Suzanna said goodbye, I thanked my hosts Bill and Deb, then continued home bag of plastic in hand for a project :)
Everyone must have thought me crazy for carrying the rubbish I collected past every empty bin :)
Here is the picture of the art project and the cleanup afterward :)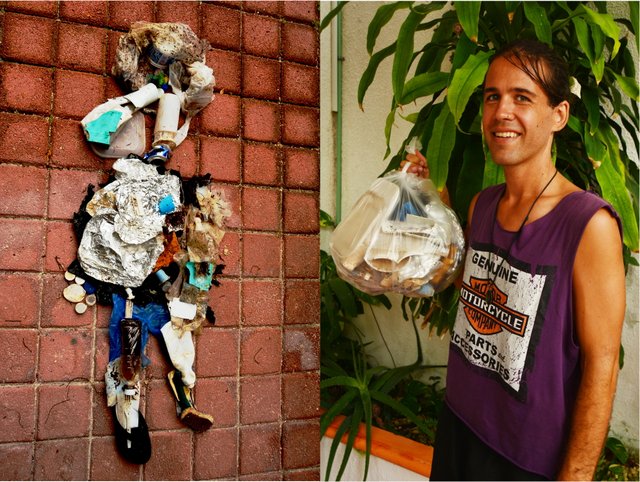 I walked away with many plastic bottle caps, probably more than 15, a fork, toothpaste container, aluminum foil, Polystyrene cups and plates, a can and a battery and much more between all the plastic!
I challenge you do something similar, collect and make art, your art, no matter if people think its good or not. Express yourself!!
If you wish to accept this challenge, Post in the comments below: "CHALLENGE ACCEPTED!!" Then post your short description with your photos.
Oh before I forget, as I was walking back 7 pelicans flew overhead in formation! It was something awesome to behold!
I love living the life I intended,
Follow our travels on instagram
See how Blossom #1 on the dream-blossoms tree is growing.