I can't get enough of dandelions with eggs.
In my opinion they go so well together. You might notice a trend of me enjoying dandelion with my eggs in the past: dandelion quiche and dandelion omelette.
I am sooo appreciative of Dandelions because they have blessed me many times in many ways. For example now in late fall when most or all of my annual vegetables are done producing.
Dandelion keeps producing green leaves and flowers ALL season long!!
Right into late fall and year round in many climates. Dandelion is one of the first fresh greens of the year and also the last.
Another amazing thing about Dandelion is that while it continues to flower all year round, the root does not get hard and woody when it goes to seed like some other roots such as daikon or carrot. Dandelions roots stay soft and supple and ready for you to harvest and enjoy.
Dandelion is a hardy Perennial - perfectly suited for any temperate Permaculture garden
I usually leave many dandelions in my garden right where they choose to grow so that I can enjoy the roots later. Digging dandelions out of garden soil is so much more enjoyable than someplace compacted or without tilth. But now I took that one step further and am purposefully planting dandelion seeds where I want them to be for the best of both worlds: wild foods in a cultivated setting.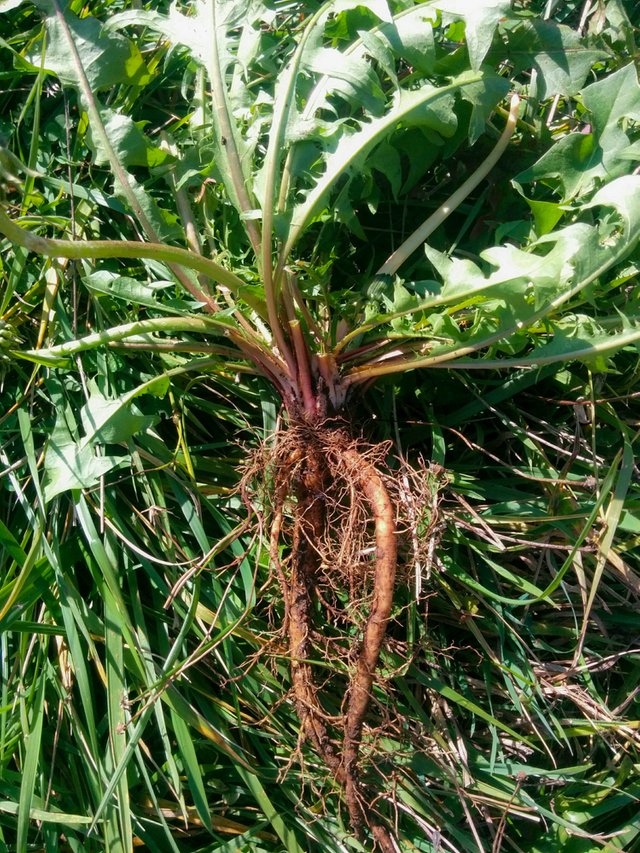 I dug up this beauty as I was harvesting my peanuts. It happened to be entwined around the peanut plants roots and so it came up at the same time. Perfect timing because I am hungry!


I walked around a bit and also scrounged up some tomatoes an onion and a cayenne pepper. Now this is going to be my kind of omelette :)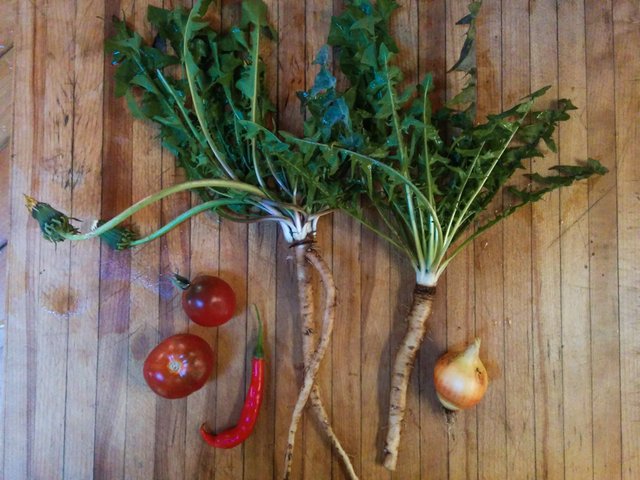 Dandelion is amazing in so many ways!! You can pick and eat the greens all year round and it will keep going on making more and more greens for your to enjoy!

You can't really over do it. Even if you whacked off all of the leaves it would grow more greens for you!
Dandelion is so good at being a weed that it just keeps trooping along and producing food no matter how much or how little you harvest. I try to be respectful in the manner that I harvest even especially the weeds, but I smile knowing that the dandelions have got my back any time of year and in any soil condition.
How great is it that I got both greens AND roots from these two dandelions?! :)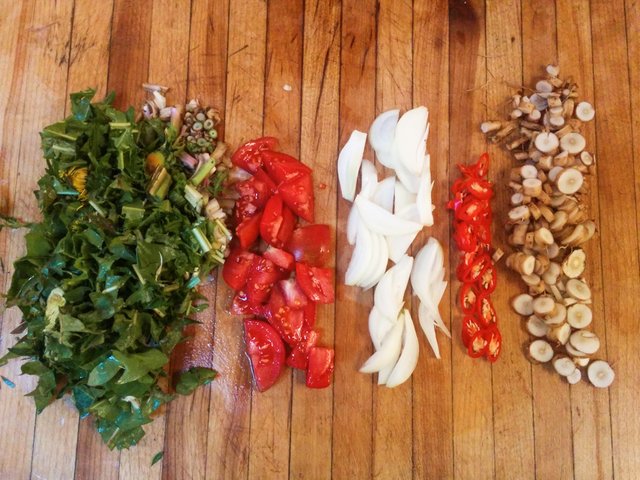 Dandelion is a local superfood
A superfood that I can harvest right outside my door with so little effort and planning. The dandelion is always ready to nourish me!
The dandelion's long tap root can harvest nutrients from deep in the soil and store them both in its roots and its leaves. Like many roots dandelion root is known for improving your liver function and helping it do what it is supposed to do and purify your blood. Therefore dandelion is known as a liver herb and a blood purifying herb.
I know the dandelion as food.
I choose to look at my food as it is medicine or my medicine as food. I know that the leaves are rich in minerals that my body needs for healthy function, just like many other greens. But the dandelion works better under pressure than Kale.
Dandelion can do more with less. Less water, less soil life, less soil nutrients.
So just imagine taking such a well adapted WEED and putting it into a cultivated environment with lots of rich organic matter and soil biology. The dandelion is going to respond in kind and grow bigger, more leaves, be healthier and soak up and store even more nutrients.
That's the kind of food I want in my diet.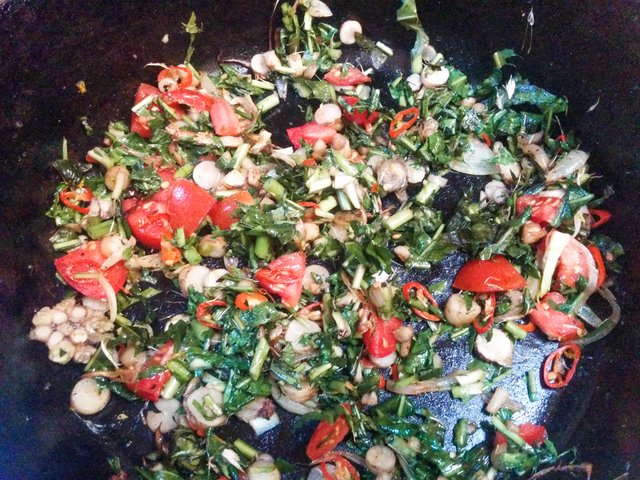 I chose to pair my dandelions and garden veggies with local pasture raised eggs and organic feta cheese. Only the best for my dandelions :)
I just really love the way dandelions go along with eggs. The eggs, cheese and other veggies make it so well rounded and I don't even notice any bitterness.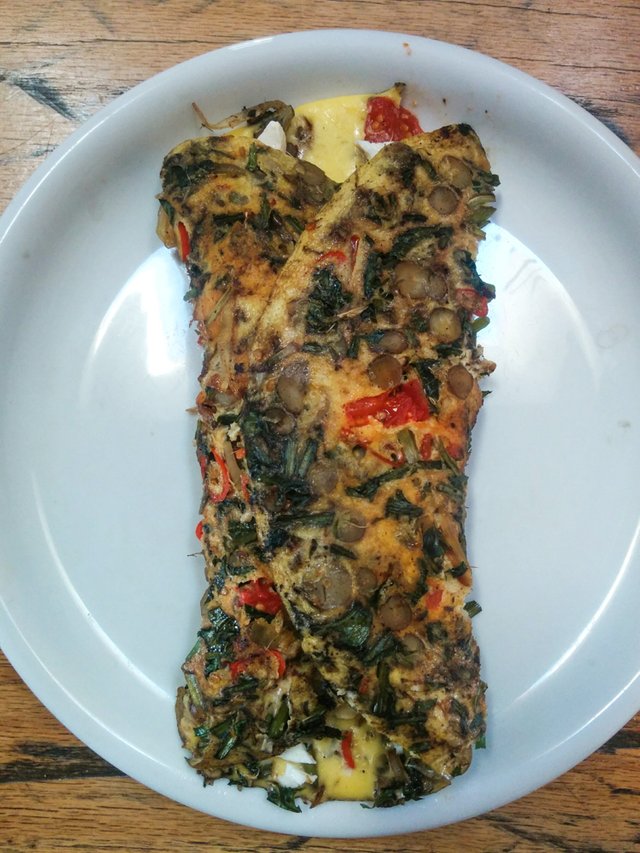 Wishing you abundance in your garden and on your plate!
---
Proudly Contributing To: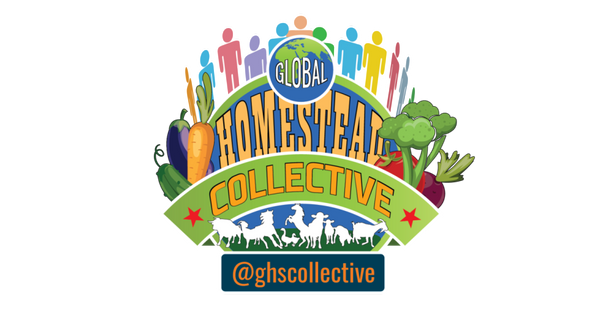 #ghsc | Introducing @ghscollective | Discord Community

#naturalmedicine | Introducing @naturalmedicine | Discord Community