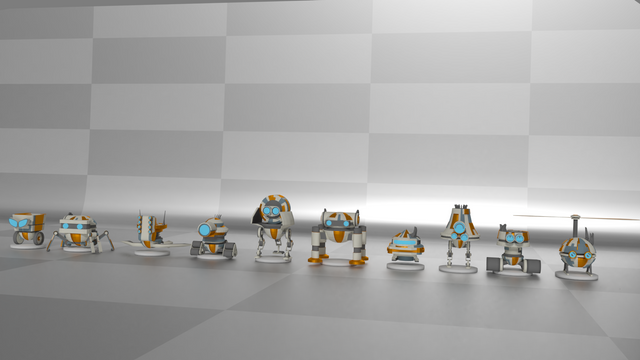 After two months of work, albeit only when time allowed, SteemBots is starting to show signs of life. From the completion of the first generation of parts to the first 3D printed models we are well on our way to something in the coming months. However, in our excitement to create we neglected some very serious issues with our Fundition campaign (here). Now that we have fixed the issue we wanted to take the moment to lay out the rewards and possible plans for the future of @v-entertainment and its many projects.
---
Current Rewards
All rewards are cumulative unless otherwise stated
$1.00 a month: We add you to the list of backers in the credits of the game.

$5.00 a month: We will be adding special badges and paint jobs for those that back us for 5 or more dollars a month.

$15.00 a month: We will send each person that opts in at 15 a month a 3D printed version of one of the bots these will be unpainted and fresh from the printer. Exact size of the prints has yet to be determined given shipping costs and other criteria. There will be a month lead time on any 3D prints

$20.00 a month: This will opt you in to all the closed alphas and betas for the program.
---
The Future
These rewards are subject to funding. Due to the monthly nature of the campaign various goals will need to be met before these rewards are possible
Raffles
After reaching our goal of $1000 a month we plan on offering a raffle for game related items on a regular basis to anyone giving 5 dollars or more a month. These raffles will be funded by the overages based on the first funding goal and after expenses are taken into consideration.
Example:
Say the raffle is for a 3D printer valued at 500 USD. Assuming we get 1050 dollars a month via Fundition. $1050 - $500 (first goal) - ~500 (living expenses) = $50 / 500 = 10 months. So every 10th month a name would be drawn and we would either ship them the product, or if the person so chooses have the money value deposited into their STEEM account (assuming you have one).
These raffles will be on a sliding scale so as the funding increases the amount put away for the raffles will increase and the time between raffles will decrease. Of course the above is just an example and should only be considered as such.
Consolidation
Currently the developer behind Steembots is also working various other projects including, but not limited too:
As such we would like to consolidate all these projects into one Fundition campaign under the" Vague Entertainment" banner. In doing this funding one project is to fund all of them and it creates an central place to get all the news about our projects.