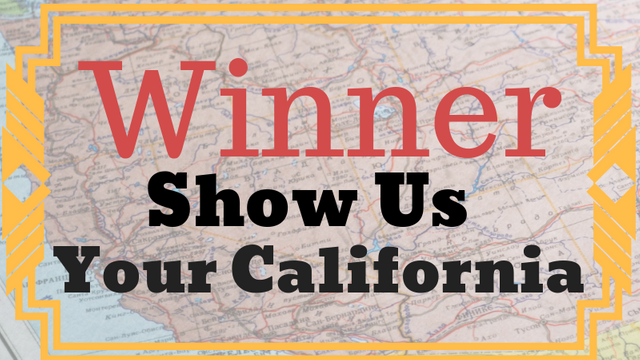 The Contest
Every Thursday, we are asking you to Show Us Your California. We love to see your contributions so much, that we are awarding prizes!! Steem Basic Income shares are up for grabs every week!!
You can show us what Your California looks like in many ways - from photos to poetry, videos to artwork or whatever represents California to you.
This Week's Entries
Click on the pictures to view the posts






The Winners

Thank you so much for being part of the SoCalSteemit Community!
Remember to come back on Thursday for the next "Show us Your California" Contest.

Your Support
If you like this contest to grow - please, tell all your SoCal friends about it. Also, any donations and sponsorships for this contest are welcome.

SoCal Steemit Weekly Voice Chat
Hey SoCal Steemit members, tuesdays at 8pm we will be having our 'SoCal Weekly Chat' in the voice chat channel in our Discord server. So come say hi and have some fun chatting with your fellow SoCal Steemians!

?New Mystery Photo Clue?
The lake was named after it's developer who was a citrus farmer.
make your guess here

Would you like to help us support the SoCal Steemit community?
Consider giving a delegation
5SP
10SP
20SP
50SP
100SP
200SP
500SP
1000SP

#SoCalSteemit is building and supporting the Steemit community of Southern California. If you are from SoCal and are into creating quality content here on Steemit, we'd love for you to follow us @SoCalSteemit and join our group on Discord