The complete camping and festival survival checklist
The complete camping and festival survival checklist
---
Having a good time at festivals or while camping becomes easy with this ultimate checkliste for camping and festival survial.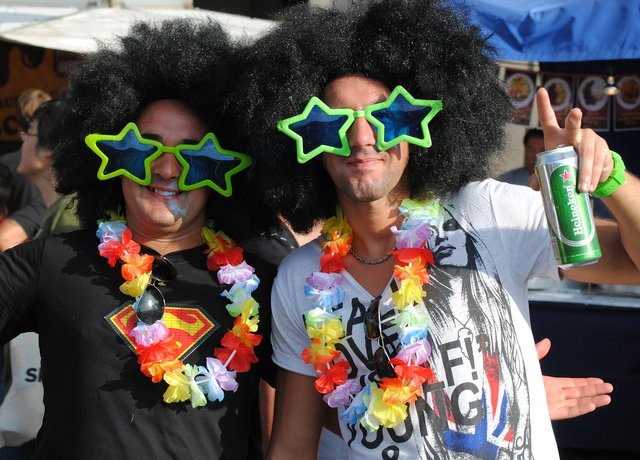 Hi Steemit,
as you may know I like to visit some festivals every year. Through all these years I build up experience about what you'll need on such an event. I like to be prepared so nothing can dampen the party mood :)
Apart from that my group an I like our camp tidy and clean. We like to cook and eat together and everyone does his part. We don't want to live in a dumping ground for these days neither do we like to eat only bratwurst and beer.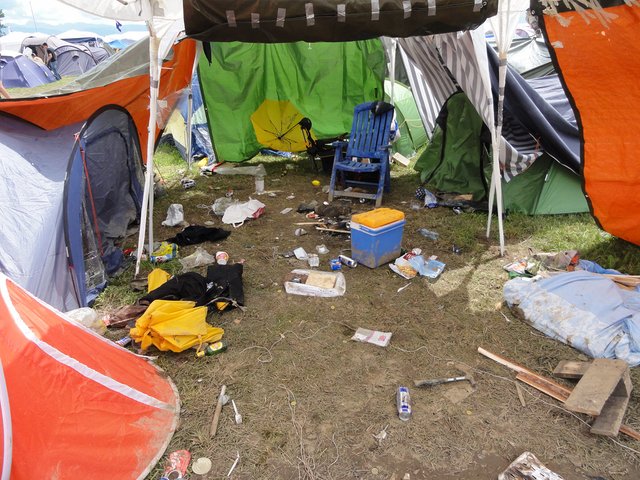 Not very comfortable...
To ensure a nice and chill event we stick to the following checklist so nothing is missing. I use and improve this list for several years now and I think it's the time to publish it. Maybe you don't need to bring every item on this list (especially if space is an issue), but it could be a nice inspiration for your next festival or camping event.

General stuff
Festival Tickets
Wallet (with a chain to clip it to your trousers)
Money
Phone + (car-)charger
Powerbank
Portable speaker for music
Notepad / paper + pen
Bin bag
Sunglasses
Games (funny card & board games, a ball, beach tennis or Kubb)
Meds and drugs
Painkillers
Anti allergy tablets
Birth control / condoms
Anti sickness tablets
Anti diarrhoea tablets
Baking soda (Sodium bicarbonate (NaHCO3)) - good against feeling of abdominal fullness or when drinking too much
Vitamins (to strengthen the body's defence)
Magnesium
Maybe further food supplements
Handkerchiefs
Patches / small first aid kit
Hygiene / wash bag
Towels (There are special hiking towels which are very light and compact)
Soap (I recommend curd soap)
Shampoo (or just use soap...)
Deodorant
Cleaning wipes for a quick wash (I recommend washcloths for babies)
Toothbrush + toothpaste
Dental floss
Chewing gum
Toilet paper
Sheewee (If you're a girl. It's a device for urinating standing)
Disinfectant spray
Disinfectant gel for disinfecting your hands on the go
Hand-wash detergent ("Rei in der Tube")
Small mirror
Sunscreen
Clothes
Normal clothes which are matching the weather
Long johns and a warm sweater. It can be pretty cold at night and if you are outside 24/7
Swimwear if there is water nearby
Sturdy waterproof shoes
Gum boots
sandals or "house shoes" for your camp. It's a nice addition to feel at home in your camp. You can walk barefoot as well of course.
Warm socks (nice for sleeping as well)
enough underwear to feel fresh everyday :)
Portable rain cape
Empty bags for used clothes. This way it's tidy in your camp.
Camping
Sleep mask
earplugs for sleeping
earplugs for concerts
Tent (with extra space for luggage. Buy one for one or two persons more.)
Pavilion (one per group is enough. If you are only one or two persons you don't need one if your tent has enough room)
Sleeping bag (fitting the temperatures)
(Air/Selfinflating) Matress / camp bed
Sheets if you want to increase your sleeping comfort
Pillows
Table
Camping chairs (comfortable! It's a pain in the ass to live 3+ days without a seat back)
Picnic blanket
Oil lamp + oil (you can hang it up in your pavilion)
Candles
Lamp with batteries (for light in your tent)
Flashlight
Lighter + lighter fluid
Matches
Extra batteries
Letherman
Pocketknife
Carabiner
Cord
Rope
Duck tape
Streamer
Brush and dustpan to keep your tent clean
Water canister
Camping shower
Fire basket (if it is allowed) + firewood
Wax torches for a nice atmosphere
"Tent toilet": Large bucket with a bin bag of some cat litter inside. It's convinient If you have to pee a night. Of course you need a large or family tent for this.
Kitchen
Pot + lid
Pan
Camping stove + gas
Grill + coal + charcoal lighter
Plates (metal or plastic). You can use one-way plates but it's better to clean and reuse a real plate.
Cutlery (don't forget a spatula, a stirring spoon and a good knife)
Potato peeler (carrots are an excellent snack)
Jars
Mugs
Thermos flask
Potholders
Funnel
Tinfoil
Lunchbox
Freezer bags
Dishpan
Dish sponge
Dish detergent
Kitchen roll
Catering
Beer, booze, wine, etc. whatever your poison is
Soft drinks, Energy drink (like self-made Mate-lemonade: https://steemit.com/recipes/@thecoach/self-made-mate-lemonade-fast-and-easy-better-than-club-mate)
Enough water (especially if there is no fresh , drinkable water at your campsite)
Fruits
Vegetables (to cook and to snack) or salad
Oil and vinegar
Salt and pepper
Tea or coffee
Bread (for breakfast and packed lunch)
Cheese, jam, etc.
Food to be grilled
Canned food
Toast (it's a compact and perfect bread for grilling)
Ketchup, mustard
Snacks (I like fruit but some sweets maybe nice as well. Nuts and raisins for example will give you a quick and healthy energy boost)
Chewing gum

The information above are supplied without liability regarding completeness ;-) It depends on the event what else you may need. Perhaps you'll need a funny costume, party accessorises, body paint or a bubble gun. Water pistols can be fun too as well as nice decorations to make everything a bit more homey :)
Since some years I use prepacked boxes to ensure that everything is organised well. Here are two photos of my camping boxes, which are containing many basic items.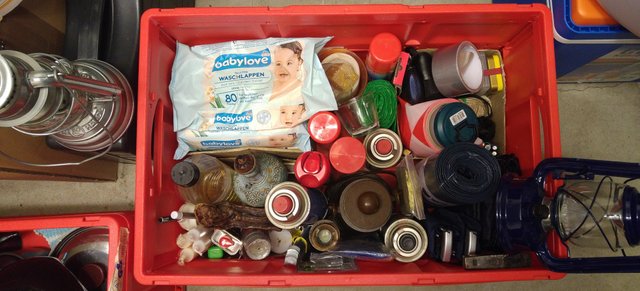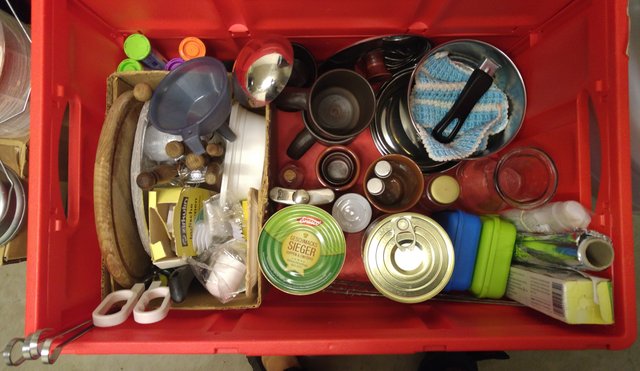 Surprise your fellow party people with a self-made cake, a thrilling puppet theatre show or some magic tricks. Festivals are crazy places, be creative!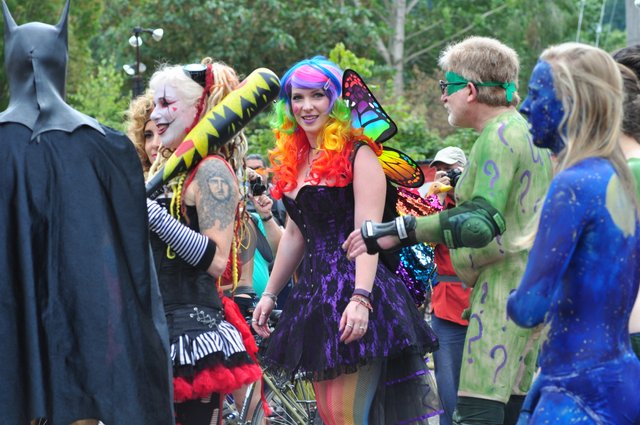 Do you have some further silly or funny ideas? What are your most important items to bring to a camping trip? Please share your thoughts in the comments. I'm happy for every suggestion to improve this list.
If you think this list can be useful please resteem this post. Thanks!