Self-made Mate-lemonade (fast & easy) - better than Club Mate!
Do you like Club-Mate or other Mate-based lemonades? They're fresh, not too sweet and stimulating. With my simple recipe you can make your own delicious, thirst-quenching and healthy energy drink in 10 minutes.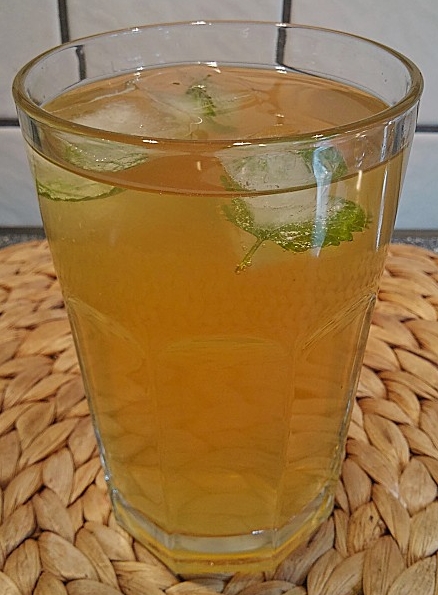 Why do you want to make your own Mate soda?
Mate-lemonades are very popular in Germany these days. Not everyone likes the sugary and with caffeine overstuffed energy drinks like Red Bull. The first popular Mate-drink was "Club-Mate", favored especially by hipsters. Nowadays a lot more people drink such sodas and there are more brands with different tastes, caffeine contents and sugar amounts. They all are relatively expensive - maybe because it still is a very trendy beverage.
I tried a lot of brands. Some are too sweet, too expensive and some have way too much caffeine. 32mg / 100ml is the maximal allowed amount of caffeine for soft drinks in Germany. That is too much for me because of my low caffeine tolerance. Moreover the supermarkets in my area don't have the brands I like. The solution to this unbearable situation was clear: Do it yourself! It's very fast an easy and even a "kitchen noob" like myself can do it. Okay, okay the 10 minutes preparation time I mentioned in the spoiler text was partly a lie. You'll need some additional hours too let everything get cold.

Recipe
To make your own Mate lemonade is very easy! You'll need:
6 tablespoons of Mate tea (should be 12g)
1 liter of water
1 1/2 lemons (medium size)
125g of cane sugar
ca. 1 1/2 liters of cold mineral water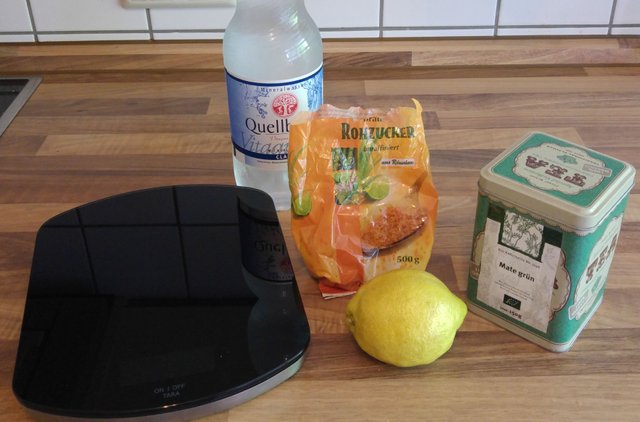 Transform these ingredients into something wonderful!

With these amounts you will get around 2,4 liters of Mate lemonade. Lets do the magic:
First brew up your mate tea with one liter of 80-95°C hot water. Let it steep for 5 minutes (or longer if you like a stronger mate taste).

Add the juice of one and a half lemon and stir. If you have small lemons, use two :)

Now add 125g of cane sugar and stir as well. Of course you could use artificial sweeteners but I don't recommend it in an organic drink. Stevia may be a good idea - the recommendation is 1 tablespoon of Stevia powder. I didn't tried it myself but it is said to work well.

Allow it too cool off and put it in the fridge until its cold.

Fill up your glasses with 100ml of your cold Mate-brew and 150ml of mineral water. You can use still water instead if you don't like sparkling drinks :)

Optional: Add some ice cubes, mint leafs and a slice of lime.

Enjoy!!!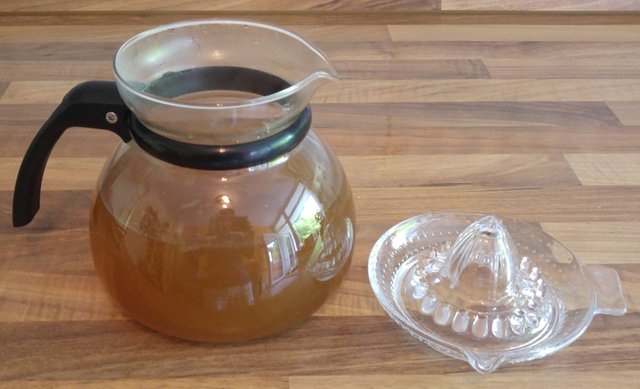 One liter of brown mud... um I meant delicious Mate brew :)
With this method it is easy to adjust the taste according to your preference. Simply add more or less water until you find your personal sweet spot. For me 100ml of Mate and 150ml of water works perfect.
If you like you can mix everything in a large bottle, bowl or carafe. That comes in handy if you want to drink it on the go. At home I prefer the method I described because your guests can adjust the amount of Mate and water as they like.

I hope you'll now are interested in trying to make your won ice tea - Mate. My guests and I were very surprised how delicious it is especially considering that the preparation is very easy and cheap!
Please share your questions and experiences with this or your own recipes in the comments. If you liked this post please consider upvoting, resteeming and telling your grandma about it! And always remember: