||| Man versus Machine ||| the 1978 Musical View |||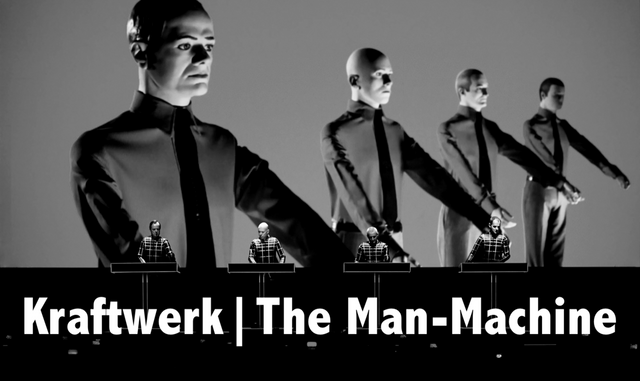 Spotify has this cool feature; A daily refreshed carousel of albums. Today Kraftwerk's "The Man-Machine" 2009 remastered edition is in rotation in the Electronic/Dance section; The inspiration for this post! Such a great album!
From an earlier post (here):
Kraftwerk is one of the bands hat had major influence on electronic music and still is an important inspiration for many artist of today. Some of their productions (like "Autobahn", "Computerworld", "Trans Europa Express" and "Tour de France") are very known by those who know electronic music, but also by those who may not know too much of this genre.
and
After being quiet for years, they started more than 10 years ago with heavy touring, again. And with great success! Multiple shows in a week with sometimes even two shows per evening. Early this millennium I had the chance to join a concert in our big Heineken Music Hall venue and had a blast of an evening! I loved their show and their music, although they focussed on their more know work only.
Artist: Kraftwerk
Album: The Man-Machine
Year: 1978 (original) - 2009 (remastered)
NJOY

Kraftwerk - The Man Machine (1978/2009)


more Music
Spotify: click here
YouTube: click here
Soundcloud: click here
Mixcloud: click here
Discography
Discogs: click here
Gigs
Artist Website: click here
Resident Advisor: click here
Website
Artist Website: click here

sources [1]