Play me, I'm yours. | 月旦评
Touring internationally since 2008, Play Me, I'm Yours is an artwork by British artist Luke Jerram. Reaching over 10 million people worldwide, more than 1,900 street pianos have been installed as part of 75 presentations that took place in 60 cities across the globe, from London to New York, bearing the simple instruction to 'Play Me, I'm Yours'.
Located on streets, in public parks, markets and train stations the pianos are available for everyone to play and enjoy. Play Me, I'm Yours invites the public to engage with, activate and take ownership of their urban environment, and to share their love of music and the visual arts. Decorated by local artists and community groups, our street pianos create a place for exchange and an opportunity for people to connect.
(above is from http://www.streetpianos.com/)
I like this idea so much. It is a wonderful way to let people access and enjoy music. Music is alive not the luxury antiques displaying in the museum, especially the classic music.
On last Friday the Pinao, Push and Play had the kickoff concert in courtyard of the Portland Art Museum. I brought kids there. Both of them were learning piano from a very strict piano teacher. He is very traditional and loyal to classic music. Some times I think kids might need a few other elements of music to keep their enthusiasm in practicing piano. That's why I brought them to this concert to feel the magic of music. Music could be so easy to access and not only a highbrow.
This is the sixth year that Portland organized this activity and Portland is the only city in northwest coast of America to hold this event. I am so thankful those organizers and those who donated pianos. Without them we couldn't have this wonderful music party.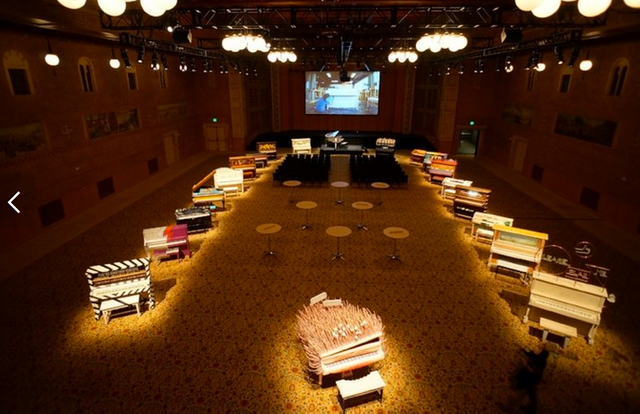 I saw this picture from the street music official website of Portland.
波特兰某年这个活动中的钢琴,非常漂亮。
http://www.pianopushplay.com/home/
I don't know in which year this picture was shot. All the pianos are amazing! It is a wonderful combination of Visual arts and music.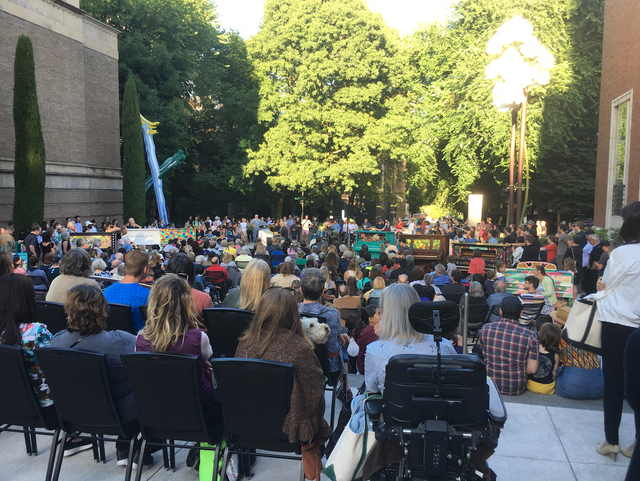 2018 kickoff concert
今年活动开幕音乐会现场
Those are 10 pianos which would be put in the city for public playing. We don't know where they will be. But I got last year piano distribution map in Portland. Maybe we can find some of them in the same places or maybe not.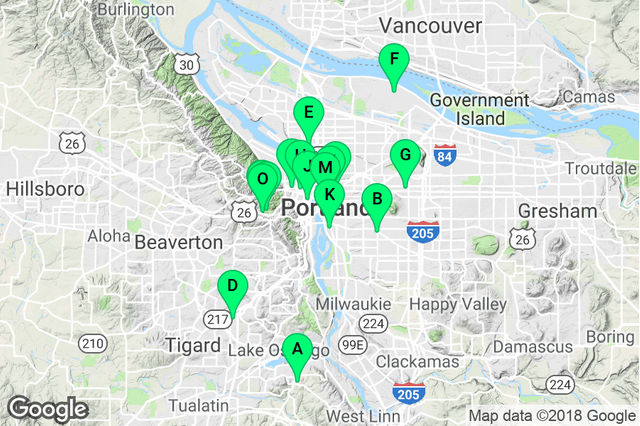 去年钢琴在城市分布图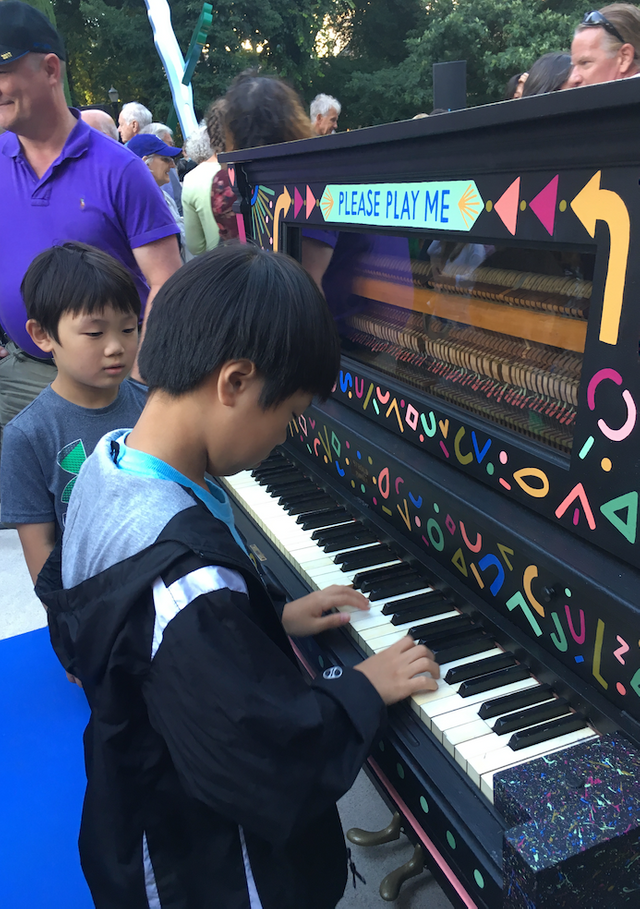 My younger one tried the piano. 弟弟在钢琴上试手,我没想到录一段😅
His brother tried another one. 哥哥弹的时候,我录了一段,可惜没录完。
Just for fun!
---
"Play Me, I'm Yours"是英国艺术家Luke Jerram从2008年开始发起的一项艺术运动,该项运动结合了视觉艺术与音乐,让艺术走上街头,成为大众可以参与的活动。如今活动已经遍布世界60个城市,从伦敦到纽约,都可以看见她的身影。
波特兰已经连续六年举办这个活动,也是美国西北海岸唯一的一个举办该活动的城市。每年六月份,活动开场音乐会上,陈列了今年会放置的钢琴,这些钢琴都来自民众的捐赠,活动组办者邀请艺术团体对钢琴进行视觉装饰,同时寻找调音师把老旧的钢琴调好。音乐会结束后,这些钢琴会放到城市的一些角落,供公众免费弹奏。今年的琴会放在哪里,我还不知道,也许运气好我们会碰到。
我找到了去年的钢琴分布图,今年应该会避开这些地方吧。
我很喜欢这个理念,音乐并不是仅是阳春白雪,音乐属于全人类。古典音乐也不应该像博物馆里展览的奢侈古董,而应该是有生命力的。这次带儿子来看音乐会,也是想让他们体验一下各种音乐元素,看看那些真正热爱音乐的人是如何玩音乐的,给他们每日的练习注入一些激情与活力。