My favorite rock bands - Foo Fighter - if you're a rocker like me ... enjoy this list from soft to heavy metal.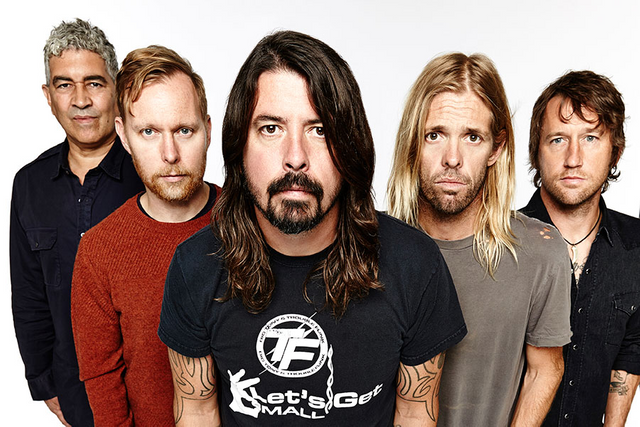 Hello musician steemians! For who likes rock. This is not a top 10, 20, or anything so trite, this is which bands I like and why. I will post one band at a time and I will be a bit of an analizer. Here you will find all kinds of singers of soft rock, country, heavy metal, rap-rock, rock-pop and more.
   I have always been attracted to the idea of this list because of this genre. I hear it in a very critical way since my childhood. It is a very free and rebellious style that with only 4 instruments well applied in harmony give the perfect conditions to exercise, to clean, to do homework, to fall in love, to vent, to inspire and despite what many people say about how satanic it can be, there are bands that have the most powerful messages in the world and they predominate... making music! as well as other styles too, but here I will focus on rock.
Today, I bring you a legend, a star that has rised from having experiences with several bands, and who's singer was a MEMBER OF THE LEGENDARY BAND NIRVANA. Everytime you hear about this band, you'll listen about revelry, passion for several kinds of rock, incredible success on stage, good screaming and strong lyrics thrown towards you.
4) Foo Fighters:
This American band was created in 1994 and until now they're a symbol of dedication to rock creating memorable albums, cooperating with other bands and not resting a single year to produce something for busyness. They control alternative rock, post-grunge and hard rock, opening doors to vary their instruments and they have a very special feature: rythmic guitars. They have talent for using them in a wild and strategic way, mixing the rythms between them and giving a cool sensation to jump or dance while we enjoy of their music.
Personally, I think that this band deals with dreaming and utopian lyrics and they do it for good because they're motivational, energetic and full of desire to move on. The singer Dave Grohl has dedicated several years to make this band one of the most reminded american rock symbols by reaching different weaknesses in people that tend to feel like they have no freedom on their lives, bullied by society and deeply hurt hearts.
How successful are them? Check this out
The only fact of beeing a former member of Nirvana is a great honor, beeing with Queens of the Stone Age, Garbage, Tenacious D, Killing Joke and Juliette and the Licks gives him necessary expierience to become a greatly experienced musician. In 2012 estimated as one of the richest drummers with 260 million dollars in his pockets.
 Since the year of 2000, they have recived 16 grammy awards for the best rock videos, best rock album and best rock songs interpretation for songs like The pretender, All my life, Walk and Learn to fly.
In 2012, they were nominated to 6 grammy awards and they won 5 out of six, because Adele took the last one.
Curious fact: he made satans voice in the Tenacious D movie.
Selected songs for you to enjoy:
Resolve (dedicated to Kurt Cobain, full of strong feelings, useful to remember those who are gone)
The Pretender (wild song to crush stuff and jump while your heart's beating to excersice)
My Hero (sweet song, recognise a great success and also motivational to a celebration)
Learn to Fly (cool, relaxing and thoughtful with you to look for an answer to something)
Bridge Burning (revelry, pure style, protest and is one that'll make you run pretty fast)
All my Life (celebrate and dance with your success and motivate you to fulfill a great need)
The Neverending Sight (FIGHTING, JUMPING AND RUNNING WITH A WHOLE TOWN AFTER YOU)
Long Road to Ruin (feeling down? RISE BECAUSE LIFE IS ONE)
DOA (amazing style, great rythm to clean, doing your chores or studying)
Run (Imagine a heart attack... very close to it hahahaha)
Do you like this band? comment and give me more bands to analize
Dou you like to sing? Would you like to improve on steemit?
 Join to steem schools so you can improve your posting skill with our awesome professors and be part of our karaoke family with this link, you're invited:https://discord.gg/rmD9EuU
with @dobartim we win together!
Another bands to read about:
Audioslave: https://steemit.com/music/@johntkd/my-favorite-rock-bands-if-you-re-a-rocker-like-me-enjoy-this-list-from-soft-to-heavy-metal 
Coldplay: https://steemit.com/music/@johntkd/my-favorite-rock-bands-coldplay-if-you-re-a-rocker-like-me-enjoy-this-list-from-soft-to-heavy-metal 
korn:https: https://steemit.com/music/@johntkd/my-favorite-rock-bands-korn-if-you-re-a-rocker-like-me-enjoy-this-list-from-soft-to-heavy-metal
Image source:https://wdhafm.com/event/foo-fighters-7/