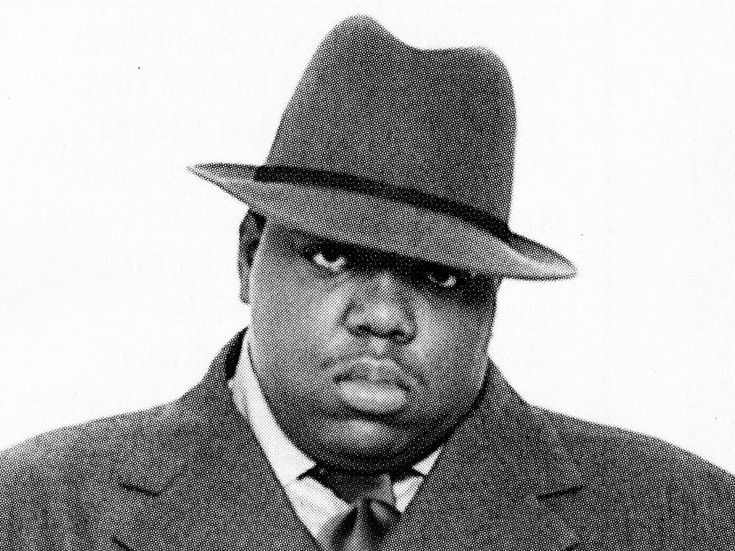 ARTIST: The Notorious B.I.G.
REAL NAME: Christopher George Latore Wallace
BORN: May 21, 1972 in New York City, New York
DIED: March 9, 1997 at age 24 in Los Angeles, California
GENRE: HipHop/Rap/GangstaRap
LABEL(s): Uptown & Bad Boy Records
On May 21, 1972, Christopher George Latore Wallace was born at the St. Mary's Hospital in Brooklyn, New York as the only child of Voletta Wallace and Selwyn George Latore. When BIG was only 2 years old, his father left him and his mother to survive on there own in Bedford-Stuyvesant, Brookyln. While attending middle school, BIG excelled in English and was a promising student in the beginning. But, it wasn't until he was around the age of 12 when all that started to change and BIG began selling drugs. At the age of 17, BIG made the decision to drop out of high school and dedicate his time to a life of crime. He had a few brush ups with law here and there, getting caught with weapons and violating his parole. He wound up heading to prison for 9 months after being arrested for selling crack cocaine until he could make bail. After being released from jail, BIG recorded a demo tape under the name, Biggie Smalls. Apparently the tape wasn't made with any intentions of getting a record deal, it was just something to fuck around with and bump with the homies. But, it was being promoted by DJ Mister Cee who had previously worked with Big Daddy Kane, and he was capable of getting it to The Source, where BIG eventually became "unsigned hype".
The demo tape that BIG had created had gotten into the hands of Uptown Records' A&R at the time, Sean "Diddy" Combs, who arranged to meet with BIG after hearing his music. Not long after signing his contract, Diddy was fired from Uptown Records and decided to make his own label. In mid-1992, BIG followed Diddy away from Uptown Records and was Diddy's main artist on his new label, Bad Boy Records. Even though he was signed and working to create a buzz with Diddy, life was still happening around him, he had a kid to take care of, so, he didn't completely stay off the street like you might think. He actually was still dealing drugs at the time, running around in the street. Of course when Diddy found out, he made him stop. Later on in the year, BIG gained exposure by being featured on a remix for Mary J. Blige's song "Real Love". After this, he continued to pop up on plenty of featured spots here and there, while working on his first album, "Ready To Die" which was released in September of 1994.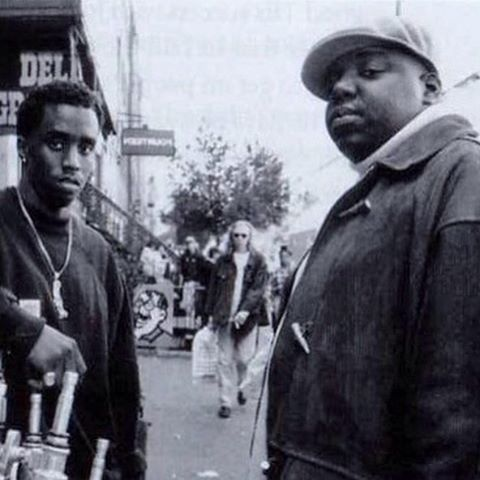 The album was released at a time when West Coast Hip Hop seemed to be dominating the industry. In an article written by The Rolling Stone, they claimed that BIG's album almost single handedly shifted the focus back to East Coast Hip Hop. With singles like "Juicy", "Big Poppa" and "One More Chance", BIG was climbing the charts and soon enough every one knew just exactly who he was. At the time of this albums release, BIG and Tupac were still getting along, and for the moment, BIG was sitting on top of the world. Almost a year after the release of "Ready To Die", that crazy night at a recording studio in New York. Tupac was robbed and shot while BIG and his crew were upstairs. After this incident, Tupac felt a betrayal from BIG, blaming him and Diddy for him being robbed and shot. Tensions rose causing the notorious East Coast VS. West Coast beef. Tupac began throwing shots at damn near every rapper in New York with a hard focus on BIG. Despite all of the controversy, BIG kept at with his second studio album, which would unfortunately be the last album he ever recorded.
On March 25, 1997, BIG's second studio album "Life After Death" was released. Unfortunately, it was released 16 days after he was murdered in Los Angeles, California. Unlike his first album, "Life After Death" had a number of features from a list of different artists, like Diddy, Too $hort, The Lox, Mase, Bone Thugs N' Harmony and Jay-Z. His death shocked and shook the Hip Hop community, not just because of his major influence, but because his "opponent" Tupac Shakur, had been murdered not even a year before, in Las Vegas, Nevada. The death of 2 of Hip Hop's most influential and powerful voices in the history of the culture. After his death, 3 posthumous albums under his name were released as well as a Greatest Hits album. Many documentaries were filmed about his life, but much more were filmed about his and Tupac's murders, and why even today, they are not solved. Years and years after his death, BIG remains a big influence on some of the most popular names in the industry. His impact hit he world hard, and is one that will never be forgotten.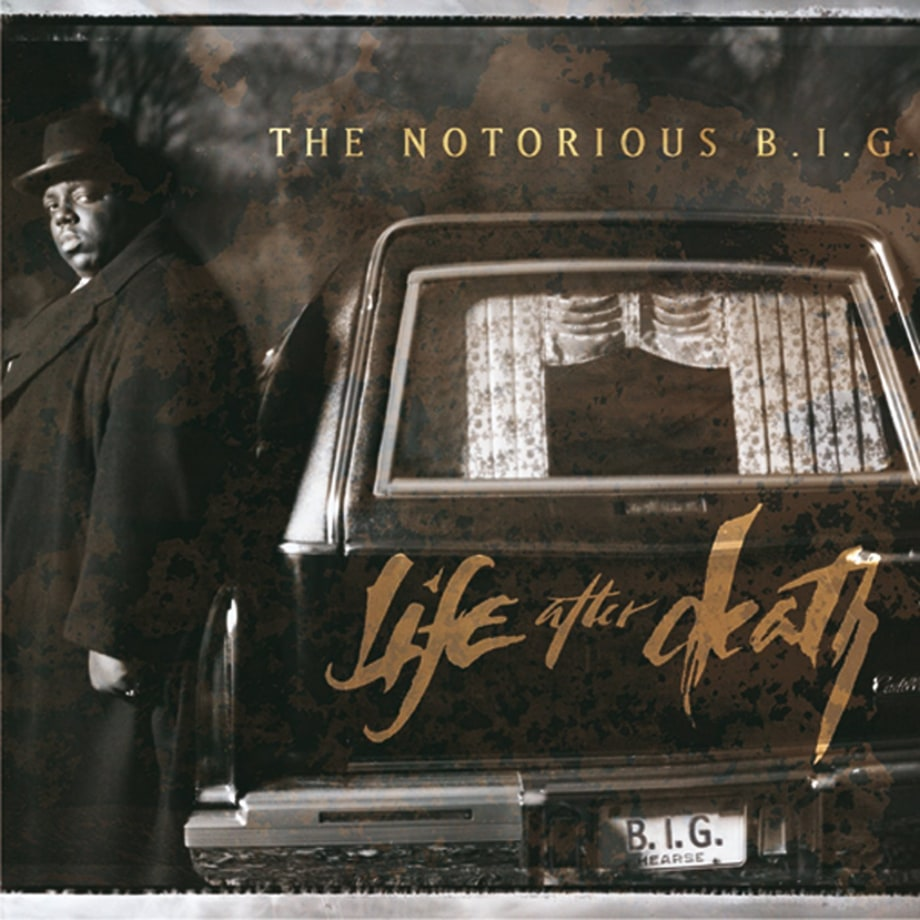 DISCOGRAPHY:
Studio Albums:
Ready To Die (1994)
Life After Death (1997)
Posthumous Albums:
Born Again (1999)
Duets: The Final Chapter (2005)
The King & I (w/ Faith Evans)(2017)
Compilation Albums:
Greatest Hits (2007)
Soundtracks:
Notorious (2009)
DOCUMENTARIES ABOUT OR INCLUDING:
Biggie And Tupac (2002)
Notorious B.I.G. Bigger Than Life (2007)
Murder Rap: Inside The Biggie And Tupac Murders (2015)
Biggie: The Life Of Notorious B.I.G. (2017)
WHY IS The Notorious B.I.G. ONE OF MY FAVORITE ARTISTS?
When I was young and very impressionable, about 8 or 9, my dad was playing BIG's first album, Ready To Die in the car as we were driving. The song "The What" featuring Method Man was playing and my dad said to me, "these are the two greatest rappers in the whole world". That stuck with me, and from that point on, The Notorious B.I.G. was my favorite rapper of all time, and always will be. I caught a lot of flack for it, being from the West Coast. Sometimes I'd tell people who my favorite rapper was and they'd immediately spurt out "Tupac's Better!" Which really doesn't matter to. I love Tupac. But Biggie is my favorite rapper of all time. Being an emcee myself, Biggie is definitely the biggest influence I've had since the beginning of my career at 9 years old. I own every CD, I know every word to every song, and that won't ever change.
MY FAVORITE SONG:
Juicy
Produced by Poke & Sean Combs
Ready To Die
1994