Ulog 23: Not-so-serious Bagging! Two lovely Corbetts in the Orchy hills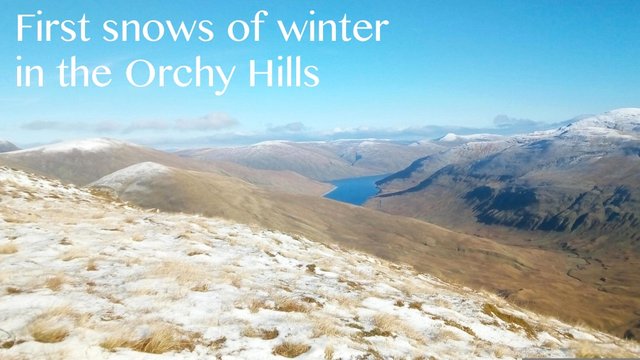 I've been bagging Munros (mountains with an altitude of at least 3,000 feet), and with 99 in the bag, I'm hoping that Ben Nevis will be my 100th. Last Sunday looked like the perfect weather conditions for this, but with a three-day training course due to start the following day, I decided to do something a bit less demanding, as I didn't want to turn up for my course totally exhausted!
I decided to climb two "Corbetts" near Bridge of Orchy: Beinn a'Chaisteil (Hill of the Castle) and Beinn nam Fuaran (Hill of the Well or Spring). I posted it as an event on my Meetup group.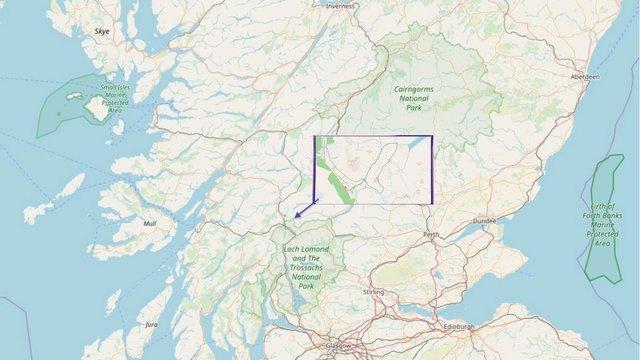 What's a Corbett?
Corbetts are hills with an altitude of at least 2,500 feet. Due to the popularity of "Munro-bagging", Munros often have excellent paths which see a lot of foot traffic. Corbetts tend to be wilder and more remote than Munros, often with quite challenging routes to the summit. For me, this adds to their allure.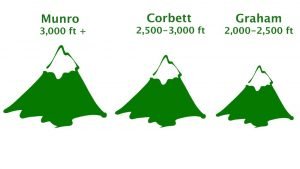 I climbed three of the Corbetts in the Orchy hills on a windy, rainy day in October 2017, and I'd been looking forward to climbing their two neighbours – but this time I wanted to be able to see the views.
We set off early, as daylight is limited at this time of year. Beinn Dorain, a Munro which I climbed way back in 2004, looked majestic against the deep blue autumn sky. I'd like to climb that mountain again some time.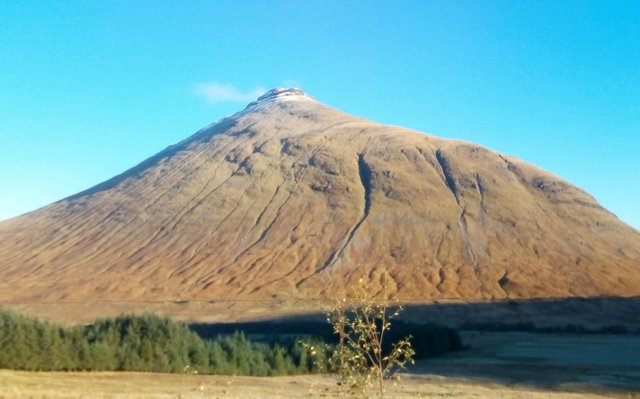 Beinn Dorain
Beinn a' Chaisteil was glowing in the early morning sun as we walked towards it.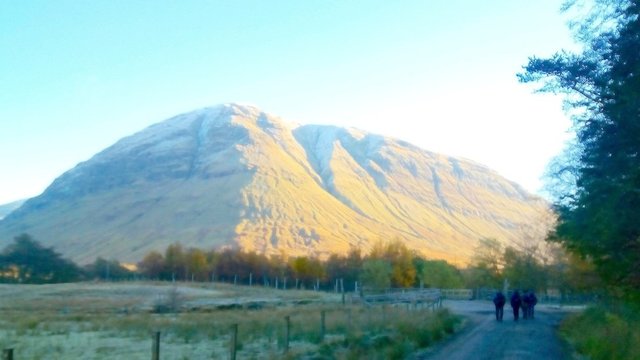 Beinn a'Chaisteil
We passed some friendly faces along the way.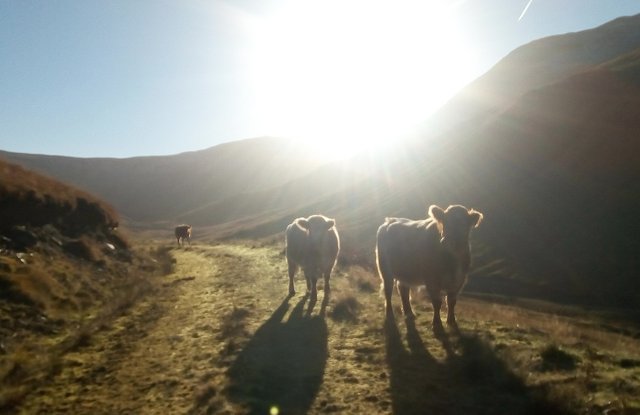 These hills are steep! My friend Karen was full of energy and raced up the hill, disappearing from view. Army veteran George was not far behind.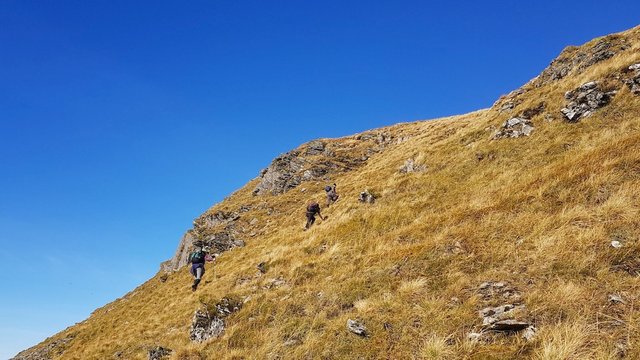 My friend Nicky took this photo, showing me with the green backpack, Dimitri and George out in front, with Karen already up on the ridge and out of view!
Beinn Odhar is one of the Corbetts I climbed last year. It's enormous – at 901m, just 14 metres short of a Munro, and it towers up dramatically over the A82 road. This was the view of Beinn Odhar from the other side.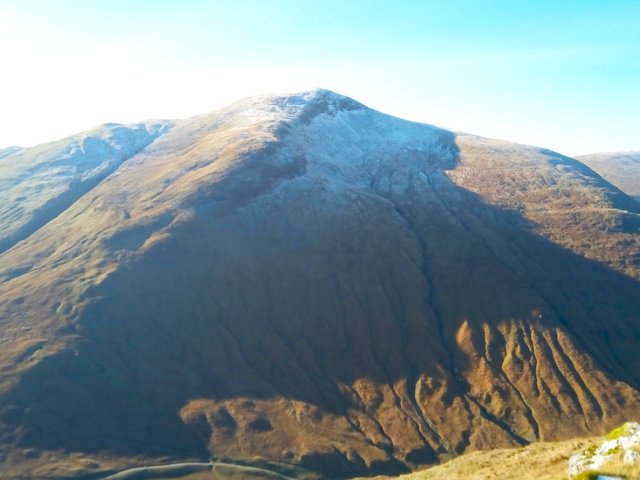 Beinn Odhar
As we climbed up to the ridge we got our first view of the beautiful, remote Loch Lyon. Loch Lyon lies at the western end of Glen Lyon, the longest enclosed glen in Scotland.
We also reached the snowline, as a very cold night had brought some early snowfall to levels of about 800m.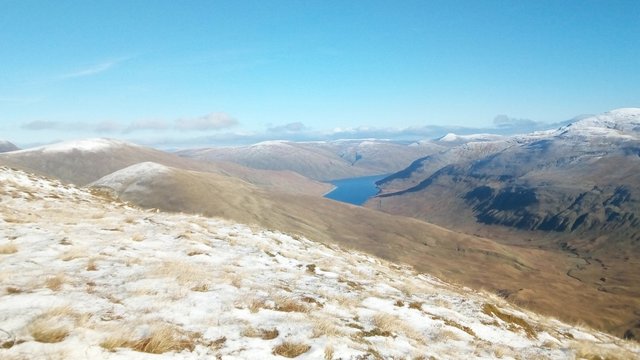 Loch Lyon
Almost all of our route from an altitude of 650m up followed the boundary between two local authorities: Argyll & Bute and Perth & Kinross. For some reason, local government boundaries seem to run across mountain summits.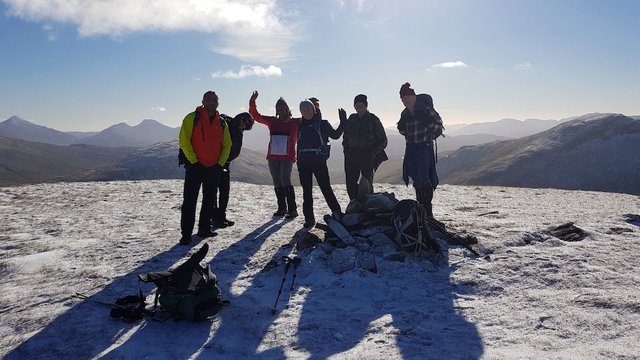 Group on the summit of Beinn a' Chaisteil. I'm the one with the map round my neck!

We didn't hang about too long, as it was very cold, so after admiring the views, we headed down the other side of the hill. The crunchy snow made it soft underfoot, which made the steep terrain a bit more comfortable.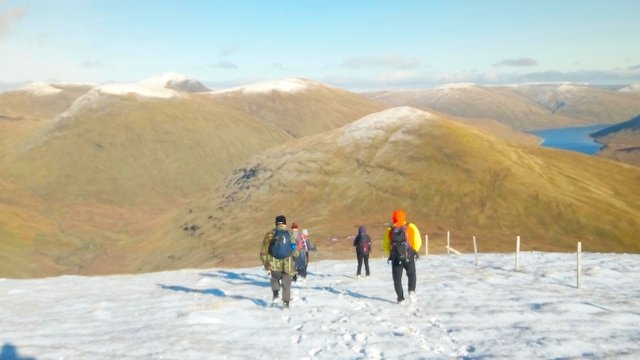 The lower we got, the higher our next hill, Beinn nam Fuaran looked. It's smaller than Beinn a'Chaisteil, at 806m, but it's a wee steepie!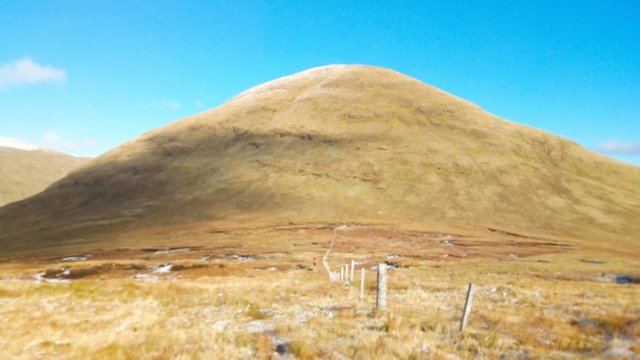 Beinn nam Fuaran.
I was in no hurry. I just wanted to admire the rich autumn colours.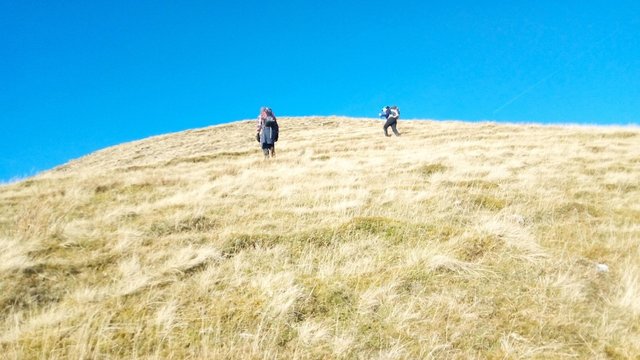 Almost at the summit of Beinn nam Fuaran.
The views from the top were beautiful. I admired the enormous flank of Creag Mhor, with its neighbour Beinn Heasgarnaich to the left. I climbed both of these Munros earlier this year.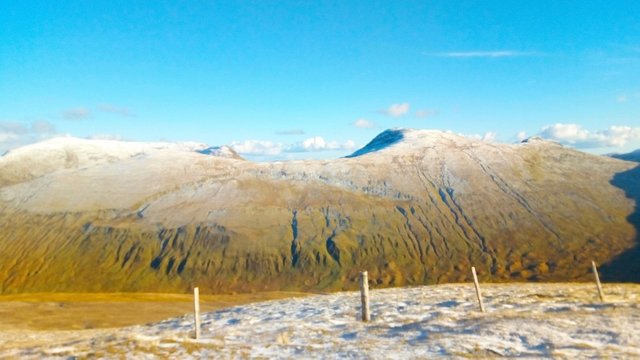 Beinn Heasgarnaich at the left, with Creag Mhor on the right.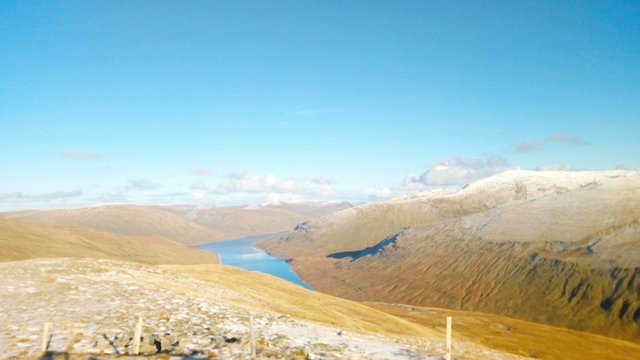 Loch Lyon from the summit of Beinn nam Fuaran.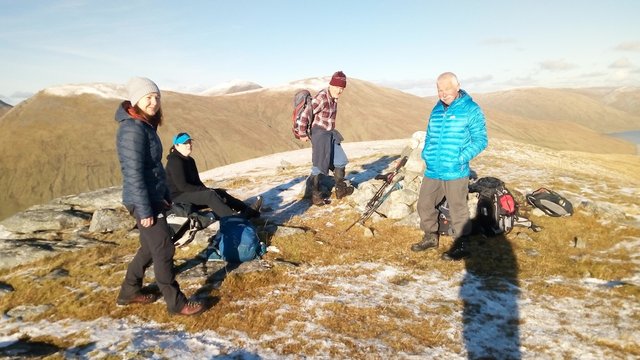 There was just a light dusting of snow on the top of Beinn nam Fuaran. We were all happy to have reached the second summit of the day, and the weather was much milder than forecast.
It was only about 2pm when we made our way back down the hill, but with sunset at 4.46pm that day, there was already a "late afternoon" glow.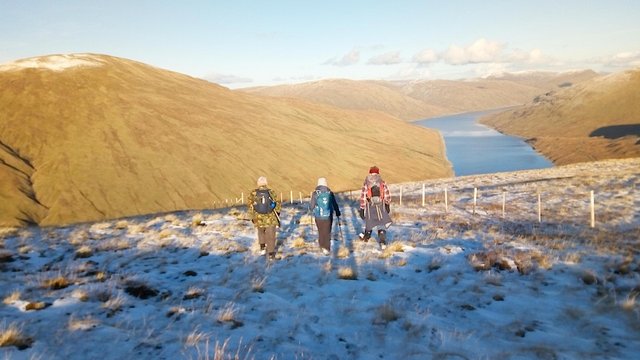 Ahead of us towered another Munro, Beinn Mhanach, with its neighbour Beinn a'Chuirn. At 953m, Beinn Mhanach is just 30m higher than Beinn a'Chuirn (923m), but there isn't enough height difference between them for Beinn a'Chuirn to qualify as a Munro, so it would be described as a "Munro top".
I climbed Beinn Mhanach with Karen on a very hot day last summer. When we reached the summit we were too worn out to even think about climbing the extra 30m up to Beinn a'Chuirn! Maybe another day.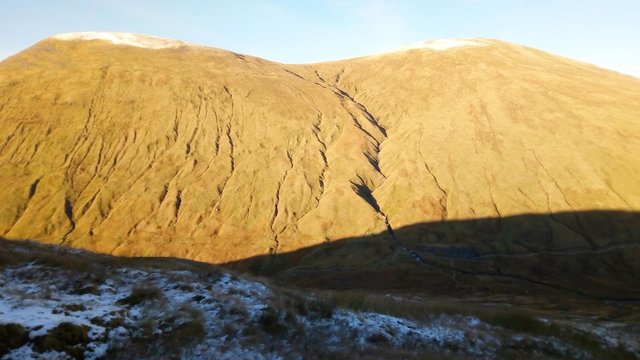 Beinn Mhanach is on the right, with Beinn a'Chuirn on the left.
Once we reached the flat wide path at the bottom of the hill, we set off at quite a fast pace to walk the 6km back through the Auch Glen to our cars in the layby. We arrived just as the sun was setting.
I really felt that I deserved my Chocolate Pumpkin cake at the Real Food Café that day.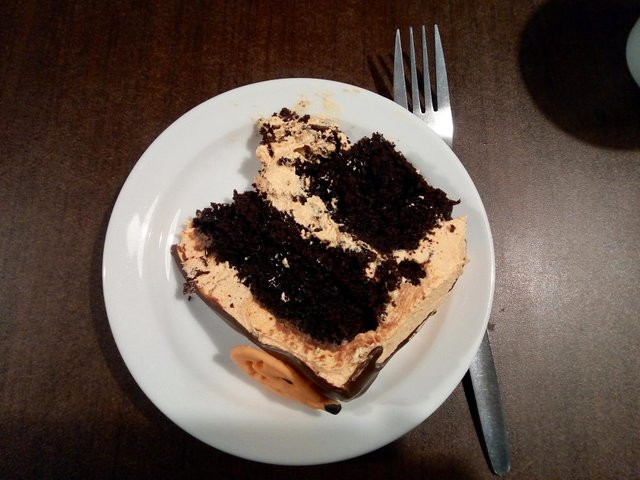 It was delicious!
Mountain Leader training
I haven't been on Steemit much this week, as I've been away in quite a remote part of Scotland, Ardgour, on a course. I'm training to be a Mountain Leader. This will give me an officially recognised qualification to lead people and groups in the hills. I currently organise hillwalks for my Meetup group, but I always describe myself as an organiser, and I never charge, as it could involve some tricky insurance issues if anything went wrong.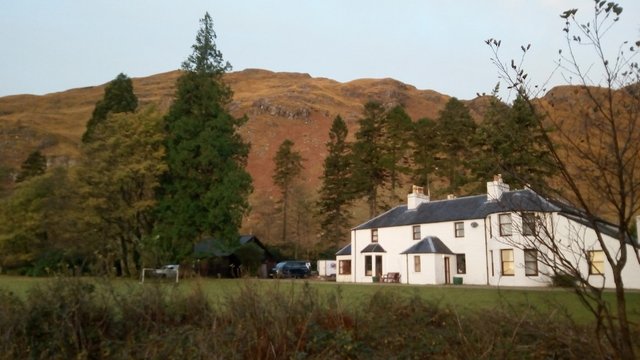 The Abernethy Centre, Ardgour, where my training course is taking place.
I've been organising Meetups for three years now, and I'll continue to do that, but I'm hoping to move into doing this in a more professional capacity in the future. I'll be heading up to Ardgour again this Sunday evening, to do another three days' training.
In order to qualify, I'll need to do an assessment. I'm hoping to do this next spring. It has to be done in summer conditions, as this is a Summer Mountain Leader award. I'll also need to do quite a bit of practice in areas like ropework, weather forecasting and first aid before I do my assessment.
The training has been great fun so far, and I can't wait for the next three days!
---
Posted from my blog with SteemPress : http://ramblingandscrambling.co.uk/mountains/ulog-23-not-so-serious-bagging-two-lovely-corbetts-in-the-orchy-hills/
---