Since I have changed my surroundings lately, I have noticed that I was slowly but surely becoming the people I surrounded myself with, I used to be surrounded by a series of people "who enjoyed life" (This was simply their excuse, they were a lazy bunch of stoners/drinkers who had no ambition or drive and simply wanted to waste each and every day). - Each to their own Im not judging anyone here.
It doesn't matter if we like it or not we are always influenced by those closest to us. It changes the way we think, how confident we are and undoubtably our decisions. You may think, "I'm my own person" and "No one can influence me" Studies show that we are a lot more influenced by our environments than we think!
I remember my millionaire mentor always telling me to listen to Jim Rohn, I mean I did this for a while but it was only today I heard him say , "we are the average of the five people we spend the most time with." This got me thinking, "Dam this guy truly is a genius and he cannot be more right!
The reason we were given mentors whilst working on our last venture was simply to pick up their characteristics and habits. This would be the same if we spent time with the "wrong" people.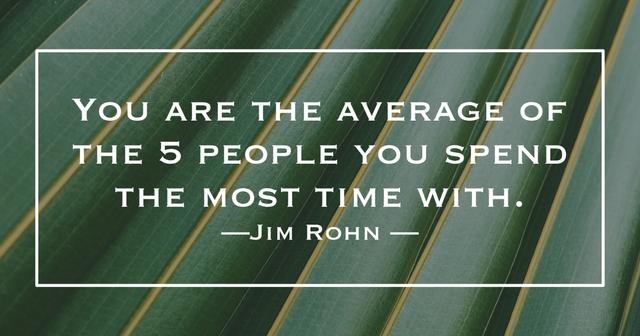 Knowing this makes life so much easier not so? Think about it for a second!
If you are not succeeding, surround yourself with successful people!
If you are unhappy, find a group of very happy people to spend time with!
If you ever stuck in a bad habit or two, have a look at who you surround yourself with. Do your friends have the same habit? Did they have it before you? If so, consider who you are truly friends with. A true friend will want you to succeed and will not tie you down.
Check out my last post on how to get more up votes!
Follow me and join my team of minnows who are soon to become dolphins! Together we can make it happen!