My entry for @brumest's #monomad challenge, hosted and curated at the @monochromes account. Check it out if you like mono photography.
---
....red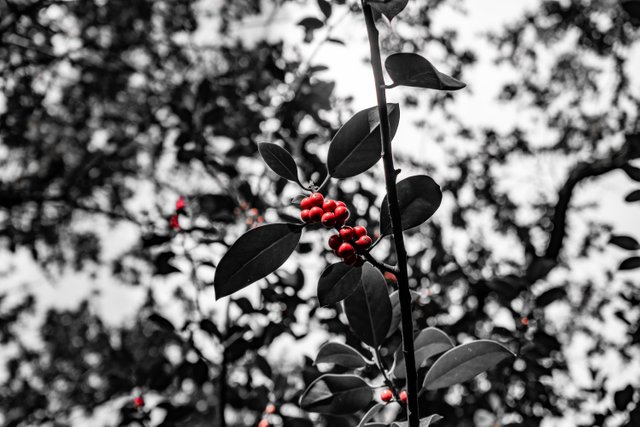 ---
I took this shot on my lunch break bike ride and short forest walk, something I try to do when working from home. My main goal for this trip today was getting some more mushroom shots for you guys. In this I failed completely as I haven't found a single mushroom in this forest I went to today. Will try out another one tomorrow if the weather stays this great as it was today, yes another day working from home tomorrow.
I took this shot with in mind turning it into a color splash shot and I must say I like the result of this edit. Took this shot straight up above me with the focus on the first berries, I also did one with the focus higher in the tree but they came out not so good. Besides a very nice walk today I also took some great scenery shots in the woods today, no mushrooms does not equal no photo's , that I will try and edit later this evening for a nice post later this week.
Have an amazing day!
---
Camera: Nikon D5500
Lenses: Nikkon 18-55mm f/3.5-5.6 VR
Edit: Lightroom
---
Unless stated otherwise all photos used in my posts are taken and owned by myself, if you wish to use any of my images please contact me
A comment or upvote is highly appreciated.
---
I'm with QURATOR... Are you?

Proud to be