Another cat entry for the #monomad challenge initiated by @brumest and curated at the @monochromes account. Have a look at these accounts for some great monomad photography.
I saw a bird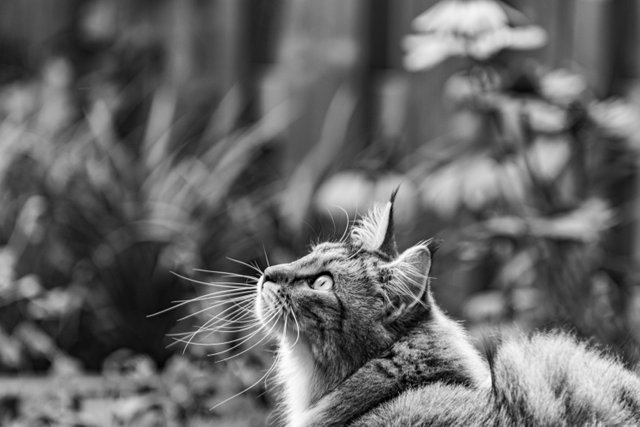 Chouffe was relaxing in the garden when she saw a bird landing on the roof of our porch she did a complete freeze, staying in this position for quite some time and looking at the bird almost within reach. She even kept looking like this, with those big eyes, for a bit after the bird flew away in combination with some cat mumbling. That they can hunt a bird is a proven technology as both our ladies have brought us a blackbird inside the house, both still living and strong so we let them loose after complementing the cat. It's their nature...
Have an awesome day!


Gear: Nikon D5500
Nikon AF-S VR 70-300 f/4.5-5.6 IF ED
Edit: Lightroom


Unless stated otherwise all photos used in my posts are taken and owned by myself, if you wish to use any of my images please contact me
A comment or upvote is highly appreciated.
I'm with QURATOR... Are you?

Posted using

Proud to be