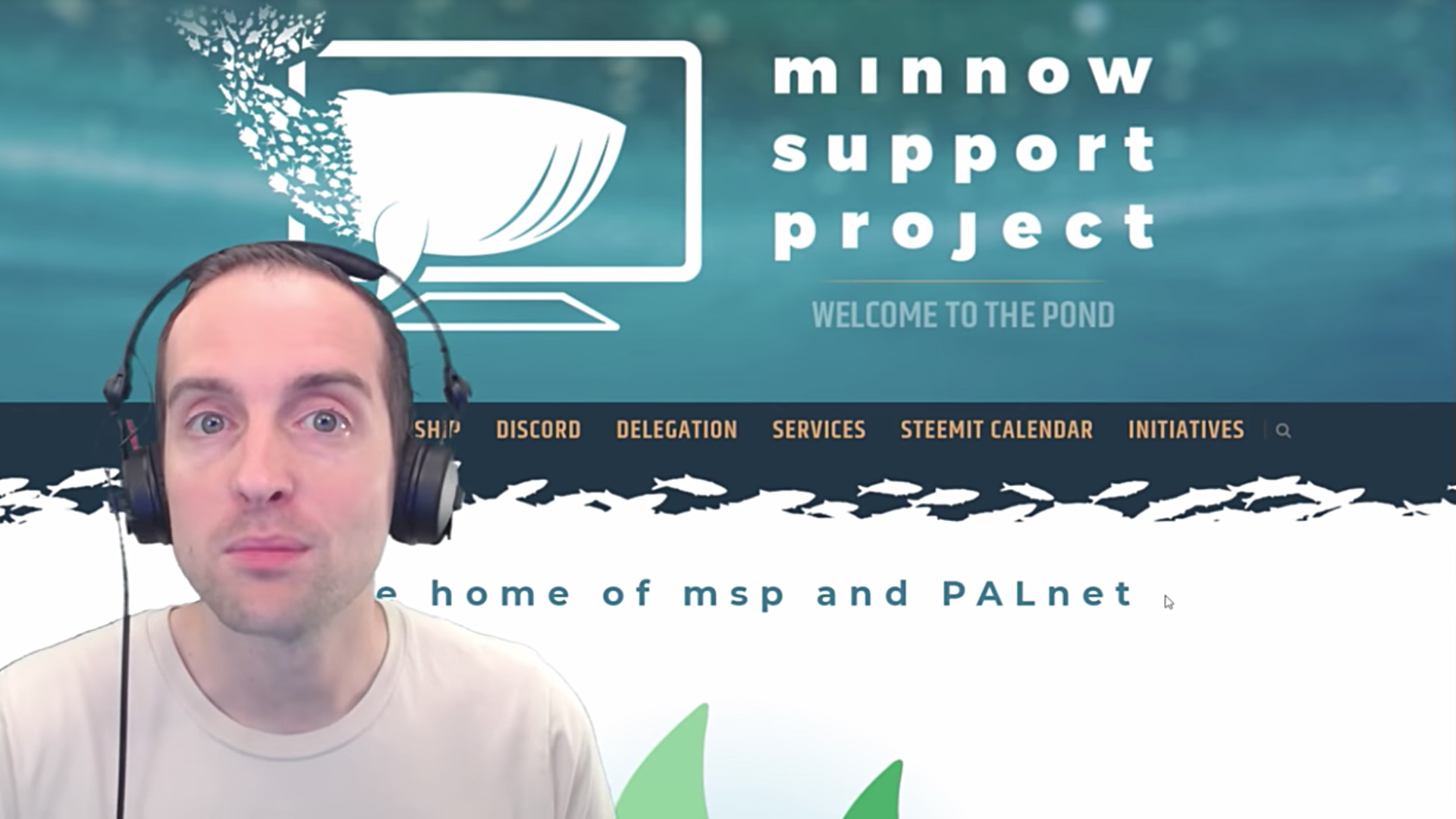 How does the Minnow Support Project help us learn be successful on Steem? What are we most excited about on Steem today?
Would you read this blog post or watch the video at the end if you'd like to learn more about Steem and @minnowsupport and how we got here together on Steem because that's exactly what we will talk about here?
Discover The Minnow Support Project on Steem!

The Minnow Support Project with @minnowsupport is designed to help new Steemit users have a community where we can collaborate and grow together. Our Minnow Support Project's main place of connection is on the Peace, Abundance, and Liberty Network Discord server available at http://minnowsupportproject.org/discord/ where 500+ of us are online 24/7 here to help each other succeed on Steem.
We recorded the interview seen in this post together to help more of us discover the Minnow Support Project through the @msp-waves radio show with @ma1neEvent as one of the hosts, and then @poeticsnake as the other host. This post is part 1 of the edited transcript from the interview posted originally here.
In part 1 of the interview here, we talk about how I got started on Steem, what projects I am most passionate about, and what converted me from being interested in Steem to going all in? In the next post which will be part 2 of this interview, we discuss getting through "The Dip" on Steem where we fail to make money, see lower rewards than before, get big downvotes, stop posting, and generally struggle to stick with Steem through the challenges.
Thank you for reading this post with us and we hope you enjoy it!
Jake:
Welcome Jerry to the MSP Waves Show, the @ma1neEvent Interview Show.
It airs every Wednesday night from 10:00 to midnight UTC time, which is 5:00 to 7:00 Eastern Time.
Again, that's on MSP Waves, which is the radio station that was created as part of the Minnow Support Project. You can find out more about that at mspwaves.com.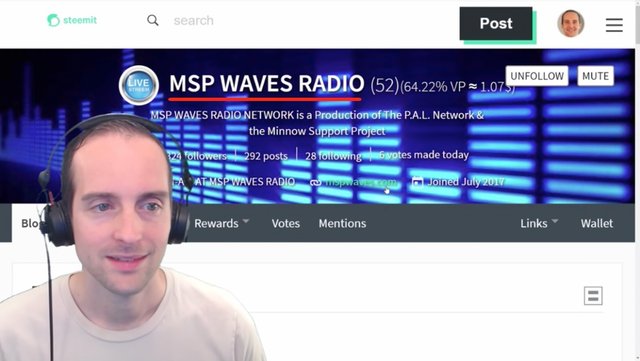 Jerry:
Thank you for having us today, and @poeticsnake, would you like to introduce yourself with us here too?
Bianca:
Of course, it's a wonderful pleasure to meet you, Jerry.
My name is @poeticsnake on Steemit and I'm the co-host of the @ma1neEvent radio show.
Jerry:
It's a pleasure to be here with you guys. I do easier with real names. I will do Jake for @ma1neEvent, and then @poeticsnake, do you want I call you that or something else?
Bianca:
My real name is Bianca.
Jake:
Jerry, what we do in this show is, we like to bring people on the show to talk about their Steemit story.
What brought them to the platform?
What they are using it for?
What do they think of it?
We just want to learn more about the members of the Steemit community and put a voice to the profile, so we can get to know them better.
Jerry:
I'm excited to get started.
Jake:
Now Jerry, how long have you been on Steemit and what brought you here?
Do you remember how you found out about Steemit and what brought you to the platform?
Jerry:
Yes.
The very first experience I had with Steem was a little over a year ago. I was just trading on Poloniex, I saw Steem and bought some Steem, and then the next time I checked it went down 90%.
I was like, "This is stupid it has to go up more after going down so much!" I bought some more and then it went down almost the same amount again. I sold it and I said, "Steem sucks all it does is lose value." Then I didn't think about it again for a few months. I never even went to Steemit.com.
My friend Robert Genito sent me a text message. He's the one who got me into Bitcoin and got me into Dash. He sent me a text message in April 2017 saying, "Join Steem. You'll thank me later."
I went to his profile and he was making two or three dollars a post, and again, my first reaction was, "That's stupid."
"Why do we need one more blogging platform? Who cares it's on a cryptocurrency?"
Then I sold my Dash masternode the next month for $87,000. It would be worth $900,000 today, and I was looking for somewhere to put the Bitcoin I had, and I remembered Robert's text message.
I said, "Let me take a look at Steem," and then I went back and actually browsed Steem on the computer instead of just using my mobile device, and then I saw the trending page and I said, "Wow. People are making hundreds of dollars to make a blog post? If other people can make hundreds of dollars to make a blog post, I definitely can do that too."
That's what got me really excited because before Steem I was lucky to earn $100 a month from over 500 posts on http://jerrybanfield.com/blog/ despite hundreds of readers coming in for free from Google and social media every day. As I realized Steem's blogging platform with built in monetization using a cryptocurrency was better than anything else available, I wanted to then know everything. The more I researched about it, before I bought in, the more I looked everything up, the more I just got really excited, and I'm still pretty excited seven months later.
Jake:
You had been a blogger before Steemit. How long have you been blogging?
Jerry:
The first thing I did almost seven years ago now is making YouTube videos. The videos are just trashy and terrible, and I kept making better and better videos. Some would argue better and better, others might not.
I started blogging a little while after that in October 2011 when I started my business. It's been a really frustrating journey as a blogger up until I found Steem, because most recently I have over 500 blog posts on jerrybanfield.com and these blog posts bring in tens of thousands of readers from Google search every single month and social media sharing, and I'm lucky to get 20, 30, maybe 50 dollars a month on Google Adsense in revenue.
It's really hard to monetize a blog right now even if we have got a lot of readers unless we post on Steem and that's why I got excited because Steem is the easiest way I know of to monetize a blog.
I'm looking through your posts here and you are doing great. You are getting $36 in this one, $20 on this one, and that's more than I got on any blog post I made for five years online.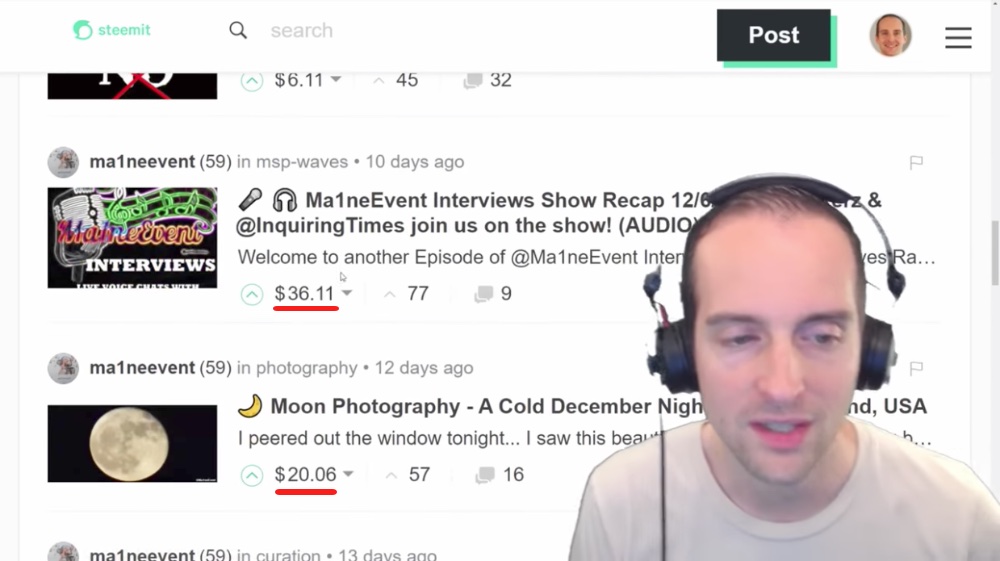 Jake:
Yes, I've tried to be very outgoing in the community. The Minnow Support Project was a great thing for me to find early on in my Steemit career. I've tried to be very active in the chat networks like Discord.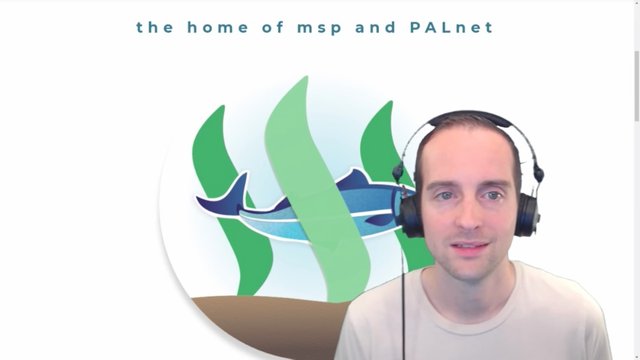 A lot of people have communities on Discord now for Steemit and so I've tried to join those to chat and network with different people, and I think that's a great thing for newer users to do when they join Steemit, to try to be out in the community, and networking with people outside of just the comments and things like that on the platform.
Jerry:
We are actually making this call on Discord now and if you want to get to the Minnow Support Project, it's http://minnowsupportproject.org/discord/.
I agree that Discord channels are great on Steem because while our blogs on Steem have these awesome comment features, it's pretty depressing if you don't have any followers and you make a post and not one person comments, which now, I haven't had that experience.
That's the average experience on Steem, and then the Discord service provides an instant way to interact and get answers to questions after we have made those first posts.
I'm very grateful that the Minnow Support Project is one of the leaders in helping new users actually get connected in the community.
Jake:
Yes, absolutely.
I know when I first joined I didn't know anything about either Steemit.chat or Discord or any of these other outside chat platforms, and it took me a couple of months really to get going and to have people finally start following my page and things like that, but then once I found the Discord servers that's when it all changed and it seemed like a lot more doors opened up for me.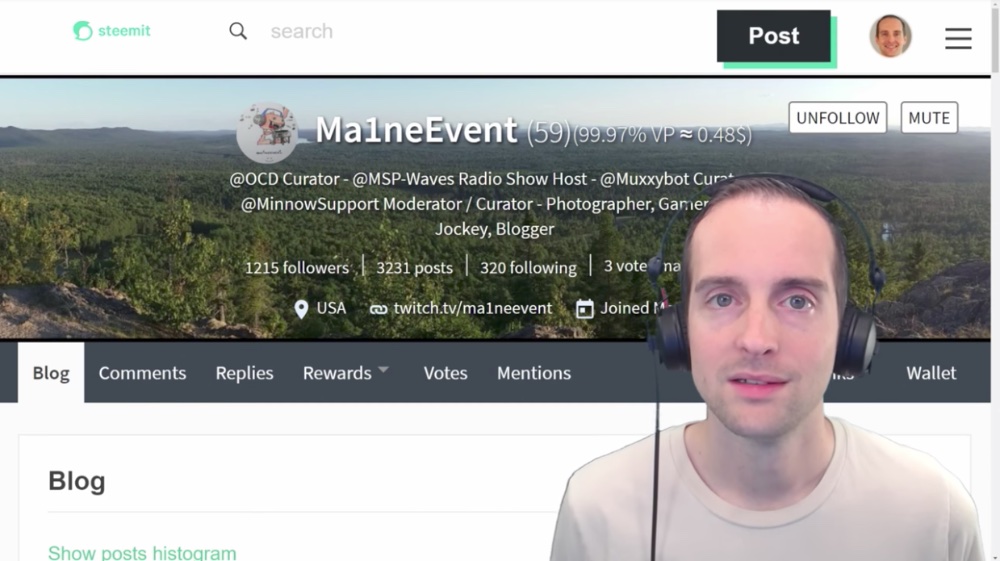 I actually was talking to more people, I started doing this radio show and things like that, and trying to do what I can to not only promote my blog, but to help other people in the community as well, and that's one of the great things about Steem and Steemit, it's very community oriented, it seems like or at least that's my opinion on it.
Bianca:
Yes, that was the same for me as well when I joined 19 months ago. The first year, I didn't connect outside the Steemit Channel and the moment I started to join Discord and Minnow Support is when everything changed and took a trip for the better.
Jake:
Now Jerry, outside of your blogging on Steem, and I know you have become very active on Steemit as far as promoting the platform and other projects like that, do you want to talk about some of the different projects that you have worked on or are working on?
Jerry:
Yes, that's my favorite subject. I'd love to talk more about that.
Jake:
Go right ahead.
Jerry:
The most recent project I'm excited about, because it has the opportunity to add massive value to existing projects in terms of funding and in terms of just knowing there is a funding mechanism, in terms of giving investors a consistent return back and in terms of getting posts promoted, what I'm really excited about is the Steem Budget Proposal System that we have just launched within the last few days.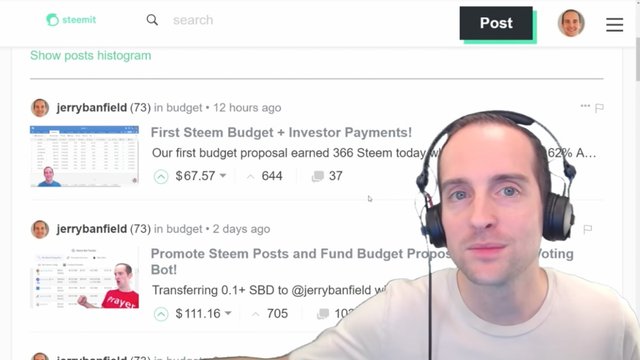 I say, "We" because while I've posted it and thought about it, and kind of taken a lead on it, this is a collaborative effort that requires all of us to participate in.
If we have heard of Dash as a cryptocurrency, it has a decentralized Budget Proposal System. That's what got me to invest in it and it essentially funds projects that add value to Dash. Now, it has a beautiful built-in decentralized system where anyone can submit a proposal in the Blockchain itself, based on the votes Dash decides what gets funded.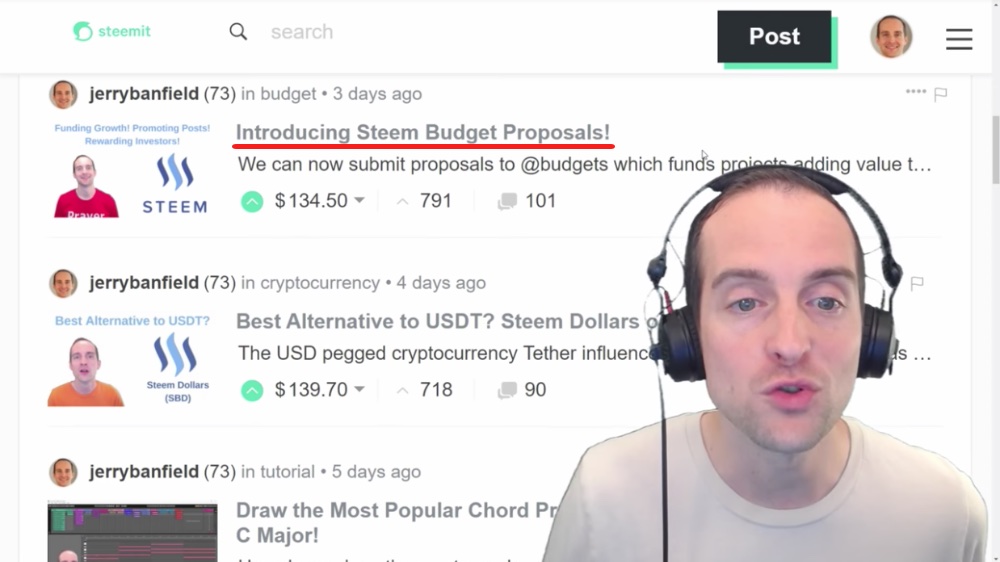 I suggested building the same thing on Steem, and while there's huge popular support the people who could actually implement it said it's not the right implementation, which I've come to agree with because we now have an implementation where anyone can essentially participate.
I have a voting bot now on my account. This is a several part system. I will explain all of it so it makes sense as quickly as possible.
I've got a voting bot on my account now. My account only votes when receiving Steem Dollar transfers to my wallet with a URL for a post to promote. That currently is about $2,000 equivalent a day in voting power.
In other words, that's the number of US dollars worth of bids that can be accepted a day and that's what would be paid back out in votes.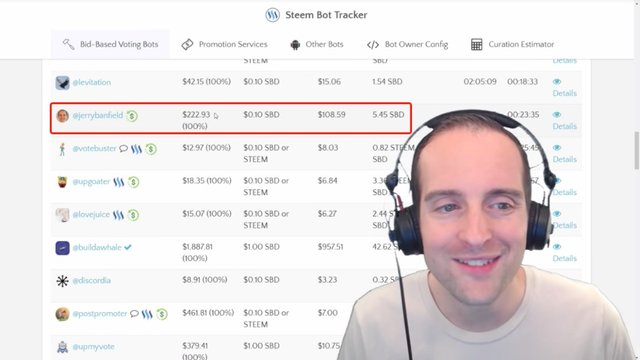 Realistically users wouldn't want to send more than a thousand or so to get a good return on the investment.
There's a bunch of voting bots on Steem.
The Jerry Banfield one pays those users delegating to it 50% back because that's how we have $222 in vote value, that's from the amount of Steem that's powered up and delegated. That's where that comes from and that enables us to get more funding. The more investors we have who delegate Steem Power, the more total funding and voting power there is, which is better for those voting.
Half of the rewards go back to delegators and the other half of all the bids received for the voting bots, then go to fund projects on Steem. Now, this is really cool because right now it's very difficult to get funding above just making a post and getting upvotes. It's very difficult to get funding to do projects that promote the growth of Steem.
Yesterday, we just sent 366 Steem, which is about $700 to Steempunk.net. It's the Massively Multiplayer Online Role-Playing Game (MMORPG) on the Steem blockchain.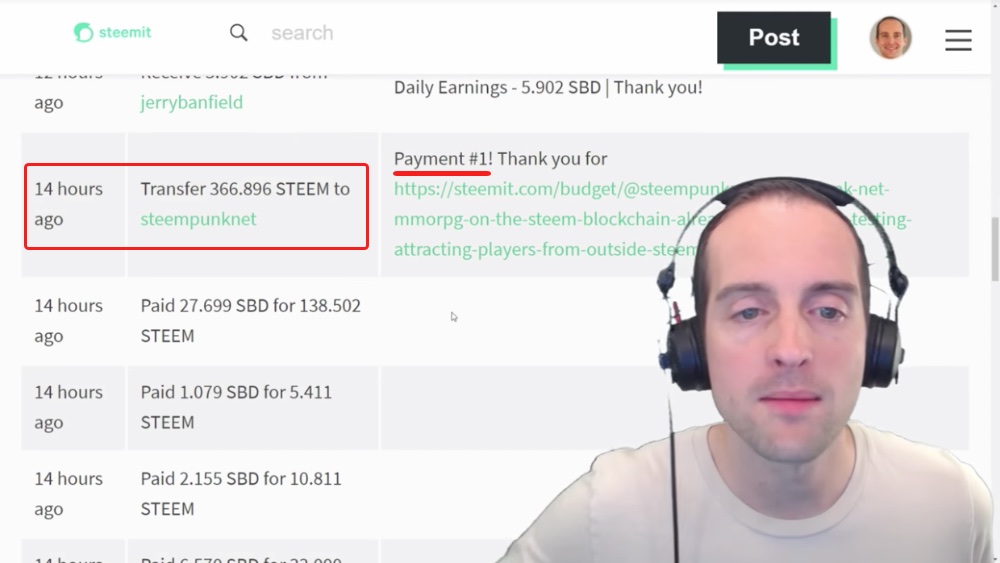 This is an app that has been in development for months, that is active in beta right now, that people are using and enjoying, and up until now it's been difficult to get funding for something like this without going through a rigorous process to try to ask Steemit Inc for funding, or without trying to just beg for upvotes essentially over and over again.
Within just 36 hours of starting this project, we have already sent $700 out worth of funding to fund the first project.
The main thing I've done on Steem in terms of promoting Steem, I've made a lot of videos about Steem, which including this, will go out as a video about Steem. I made tons of posts and I've done a lot of ads for Steem as well. About 20 million people or so around the world have seen ads on Facebook, Google through the Display Network in YouTube for Steem.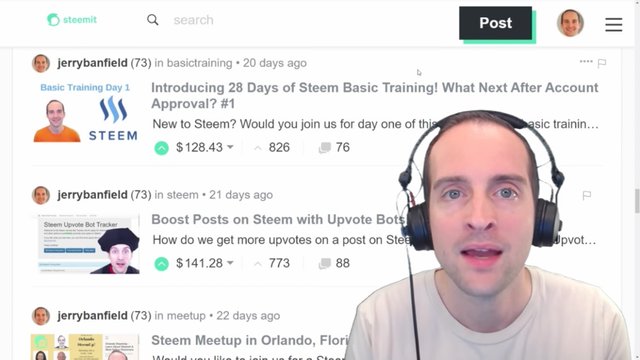 I've gone through every single funding mechanism that is available for this, anything from witness rewards to going through the Steemit Inc's budget or whatever they call that, "The Crowdfund and Marketing Protocol."
I've just done a bunch of begging for upvotes to fund what is an incredibly valuable activity for us in showing ads to promote Steem.
What I'm planning to do then, is to submit my own budget proposals and part of the funding through the budgets will go to fund advertising payments to Google and Facebook to advertise Steem. Basically, the more people we have on Steem, the more value we have as a platform. In my opinion, the cryptocurrency that's number one is the one that has the most wallets.
Bringing more people to Steem equals more wallets, equals more users, equals a bigger community, equals more interest and excitement, more investments and I believe someday the number one cryptocurrency will be Steem.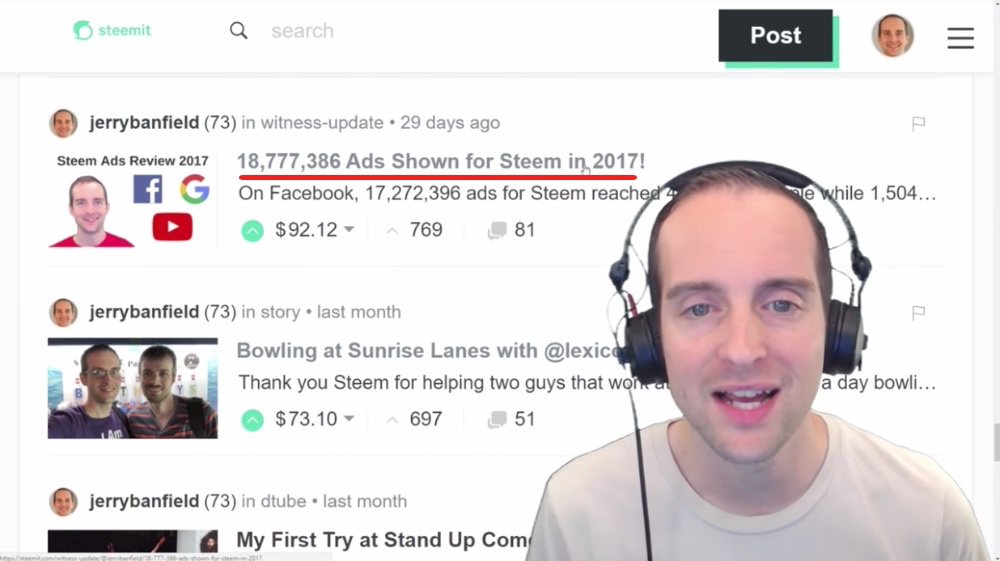 These are two of the projects I'm most excited about, just advertising Steem and funding ads for Steem, as well as hopefully over time thousands of other projects designed to grow the value of the Steem blockchain through this new Steem Budget Proposals system.
Jake:
Yes, and I find this really interesting that you are doing all of those things, and it's really amazing actually. If you are going to promote Steem like that, what is the thing you would tell someone on the street as to why they should join Steemit?
What would you say to them if somebody came up to you and you had a Steemit T-shirt on or something, and they said, "Well, what is that?"
How would you get those people to be interested in Steemit?
Jerry:
Jake, that's an outstanding question because the answer is relevant to what each of us specifically wants to both contribute and is looking to get out of it in return.
Therefore, we really need to get to know each other before we can provide the best answer.
For someone who is active on Facebook, making posts every day, having great conversations in Facebook groups, for that person I say that Steem is 10 times better than Facebook because all that time and energy we spend pouring our hearts out into Facebook posts, making pictures of our lives on Facebook or Instagram, we don't get any return out of that, not in terms of money, but we are helping someone else make money.
All of the time we spend on Facebook making these posts, we are helping Facebook to grow its net worth as a company. Some people will say, "Well, social media shouldn't be about money."
Social media is all about money. It's just all about money for the company hosting it. It's all about money for Facebook, and Steem gives each of us the chance to earn at least in some ratio of what we contribute.
Now, you can argue whether should certain people get certain amounts on each Steemit post, the fact is that the biggest difference is 0 to 1. You get nothing on Facebook for posting unless you often work out awkward arrangements. You know, you post this and I will give you money. It's possible, but Facebook itself gives nothing.
The Steem blockchain consistently rewards authors making a valuable contribution with at least something, even if it's just one cent. Mentally that's a huge difference between zero.
I've gotten incredibly generous rewards.
The rewards I've got on Steem in seven months of posting and doing just hours and hours of Steem are probably worth a hundred thousand dollars today.
In order to make that much money on Facebook or any other method of blogging would have required essentially a lot of compromising, promoting a bunch of other brands that I may or may not have cared about.
Steem allows us to connect more honestly without having to then spend the rest of our energy trying to make money. We can just make a little bit for our contribution, and that's really good for the entire world.
What I love about Steem is that we have the chance to just join and help each other earn a little bit of money for sharing, and that's way better than what's going on with the other social media networks.
Now, then, there are more specific things like for an investor, I'd say that Steem is the one cryptocurrency that has, in everything, in the seeds, the foundation, the opportunity to grow into one that's bigger than Bitcoin.
I don't see, and maybe it's from ignorance, these other currencies have a chance for mass adoption. Steem does because of what we have just talked about. Anyone whether we are in New York, Nigeria, India, Pakistan, Bangladesh, Australia, Japan or Korea, wherever we are at, we can join in on Steem and have a chance to earn rewards immediately with no investment needed.
Meanwhile 99% of the other cryptocurrencies, it's fairly pointless to do anything without having money, and that excludes 99% of the world from being able to participate.
I've set this Budget Proposal System up to be one of the best deals for an investor on Steem. You say you want to put in a hundred thousand Steem and just have it be totally passive income, so buy the Steem, delegate it to the budget proposals, know your funding growth projects, get your consistent return every day.
That's a very simple system there, and then finally for those of us that are interested in developing apps and innovation, blogging, YouTubing, etcetera, Steem provides an outstanding place for a community to be centered, and that's what I've found on Steem.
I'm grateful and amazed to have 18,000 followers on Steem. I'm honored that this is a place where I can finally just keep contributing and directly get something for it without allowing advertisers to put ads on my videos, that then disturb my audience right when they are about to watch my videos, without having to compromise my integrity like taking offers from ICOs and to promote things.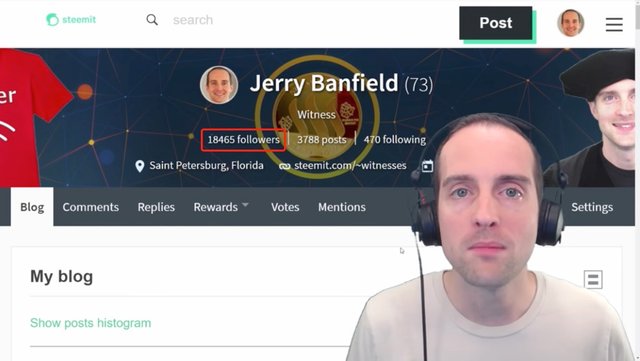 On Steem, I can just do whatever will be most helpful each day and build a community here. I think Steem is the ideal place for those of us that already have a community, to center our community in Steem, and then to have other things like YouTube or Facebook pages or whatever, but Steem is the foundation of my community online now and it's been very frustrating in years of working full-time online to find a center for my community because every other center, we face the centralized regulation.
I can get my Facebook page taken down arbitrarily for no reason. My channel on YouTube can be de-monetized arbitrarily for no reason. Videos can be taken down for no valid reason, as well as valid reasons.
On Udemy I had hundreds of thousands of students, they banned me for a reason that according to their own Terms and Conditions was incorrect, and I keep having these centers in my community that then run into centralized regulation either directly like a Udemy ban or indirectly with YouTube demonetizing videos who are just bothering my audience with ads.
Facebook then is full of distractions, it's full of ads. Steem is one place I can say, "Look, follow me on Steem and we can have a pure interaction on Steem, and you might even profit from being in on Steem."
Whereas following me on YouTube or Facebook requires seeing ads = paid spam or Udemy, you had to pay to get in, but on Steem, it's just way better than anything else I've seen.
Jake:
I must agree and, of course, this is all just our opinion. Always do your own research, that sort of thing, but we both have had positive experiences with using Steem and Steemit, and I know my co-host @poeticsnake would also agree. She's had a positive experience with it and it's just different from the other social media.
The way I say it to people, it's just different, it's not the same, it's a different culture, it's more community-based. It seems like people are more open to helping each other on Steem. That sort of thing, at least from my experience and in my opinion.
So, yes, it's great to see people going out there and trying to show this to people out into the real world through the things you are doing like the advertising, and then I've seen other people on Steemit who are actually going out and holding events, promotional events in public and at universities, and places like that.
That's really cool to see people doing that.
It would be great to see more people experiencing this because we are all really enjoying it.
@poeticsnake, are you still there with me?
Bianca:
Yes, I'm here and I've been listening with my ears wide open.
Jake:
We are going to ask you a few more questions here, Jerry.
What are some things you have planned for the future coming up here?
Other projects you are working on or that you have in mind maybe?
Jerry:
What I'd really like to see for Steem is a direct user to user exchange system setup on Steem in US dollars, or other fiat currencies like euros, pounds, etcetera.
I've been mentioning to investors, "Hey, look, Steem is really good. It's awesome," and I had a guy in a local meet-up the other day who said, "Okay, Jerry. I've been following you online. I really want to buy into Steem. I got $75,000 ready to buy in. How do I do that?"
Then, I'm sitting with them, "Well, okay. You need to sign up for a Coinbase account and connect your bank account, then you need to buy Bitcoin, Litecoin or Ethereum, and then you need to exchange through something like Bittrex, Changelly or BlockTrades. Then you need to sign up for your Steem account, you got to exchange the Bitcoin, Litecoin, Ethereum for Steem, and then you need to get the Steem over there into your account and then power it up."
Why can't you just take your $75,000 and go to one place and change that straight for Steem?
That's what we really need, and now Steem will have this built in by some of the largest exchanges going forward.
Coinbase will certainly add Steem in the future. Bitstamp.net and/or some of these other websites, I don't know which in particular, but one will certainly add that US dollars to Steem direct.
But for now, I think it'd be relatively easy to build a US dollar Steem exchange that's directly between users because on Steem we have got higher trust profiles. If you got one Bitcoin wallet, you have a user with another Bitcoin wallet, it's not very easy to differentiate who's trustworthy versus who's not.
I've recently sold thousands of dollars of Steem to one of my partners in my Partners Discord chat. He sent me the money on PayPal and I sent him the Steem, and that's really easy.
That's great because I've got some I want to sell and he wants to buy some. This is a really easy system. What I'd really like to see is that made available for everyone.
Now, of course, we can just do that with our existing community. I can reach out, I can make a post and say, "Hey, I got $500 of Steem to sell every day. Here's how to send it to me on PayPal."
But what about someone just joining who is new and found it on Google search that wants to buy in?
What I'd like to see is something that will look like an exchange, but the functionality will be more like a messaging service. We could build something where we don't need any licenses or regulations because that'd be up to individual users to deal with. We could have a place where someone says, "Okay, I got 75,000 US dollars. I want to turn that into Steem."
You could say, "Good. Just go to Steemj.com," for example, it's not up yet, but that's the idea, to build something where you just go there, then make some smaller transactions, and then just consistently buy-in more and more, use one place to just change US dollars directly to Steem without having to sign up for a Coinbase account, and then use another exchange to make it.
One of the things that motivated me to do my Budget Proposal System is that we need a decentralized method of funding where we can just make proposals and build things without having to get approval from existing investors or from Steemit Inc.
We need a system where we can just work together and fund projects like this, because some of these projects like to build a decentralized exchange might only cost $10,000, and yet it might add massive value to the Steem blockchain.
Right now, there's no easy way up until this Steem Budget Proposals system. There's no easy way to get that $10,000, but with this Budget Proposals system, now we can fund any kind of projects like that.
That's all of my projects right there: the budget proposals, the ads, and then as the Budget Proposals system develops, working on building that decentralized exchange.
Bianca:
Can you hear me now?
Jake:
Yes, go right ahead and ask your question.
Bianca:
I was wondering if the budget proposal would be interesting for the little investors as well?
Like the new members here, if they don't have a lot of Steem Power to delegate, would it still be interesting for them to get involved?
Jerry:
Absolutely, assuming you have got at least 500 Steem Power, which is about $1,000 worth today.
For example, @dehenne has delegated 600 Steem Power and in the first 36 hours, he got a payout of 1.54 Steem, which is equivalent to about $3.21. That's about $2 in a day and I think that's a pretty sweet payout to essentially, if you have got a thousand dollars' worth of Steem, to get pretty much $2 a day in passive income by delegating it.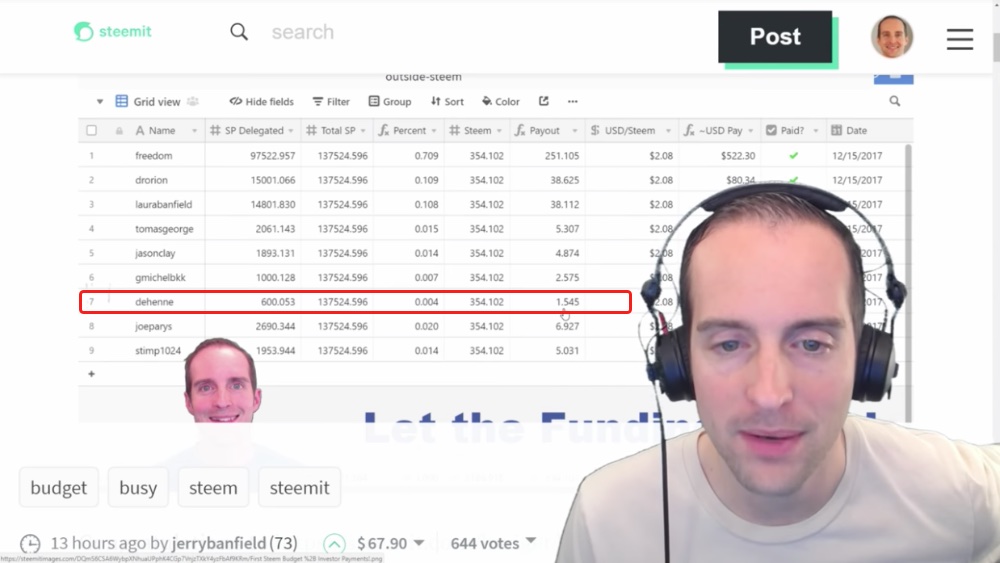 I've limited it to 500 Steem a day at a minimum because all these transactions, for now, have to be sent manually. If I accept 10,000 delegations of 10 Steem Power, that would take a long time to send them out. This is optimized for both small and larger investments.
Jake:
All right, that's awesome, and again everybody, we are, of course, visiting with @jerrybanfield here on the @ma1neEvent Interview Show and also this is airing on Jerry's channel as well.
Final words

Thank you for reading this blog post which is part 1 of the radio show and was originally filmed as the video below.
If you found this post helpful on Steem, would you please upvote it and follow me because you will then be able to see more posts like this in your home feed?
Love,
Jerry Banfield with edits by @gmichelbkk on the transcript from @deniskj
Shared on:

Our Most Important Votes on Steem are for Witness!
Would you please make a vote for jerrybanfield as a witness or set jerrybanfield as a proxy to handle all witness votes at https://steemit.com/~witnesses because we are funding projects to build Steem as explained here? Thank you to the 2500+ of us on Steem voting for me as a witness, the 2 million dollars worth of Steem power assigned by followers trusting me to make all witness votes through setting me as proxy, and @followbtcnews for making these .gif images!

Or

Let's stay together?