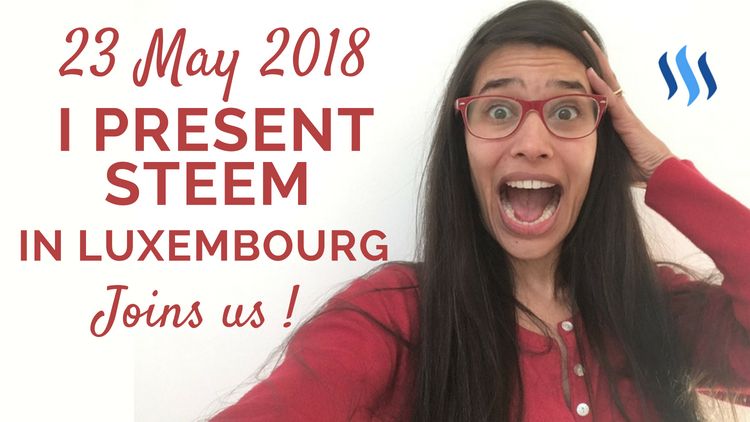 Oyé Oyé, Meetup Steem in the Grand Duchy of Luxembourg! Join us!
A Presentation of Steemit/Busy/Utopian (+other Dapps as Dtube/Dlive)
In a few days, I will have the chance to present Steem (and more precisely Steemit/Busy and of course Utopian) in Luxembourg. I will not be alone for that, Olivier will be present to answer more technical questions.
I will have to talk :
First, I'm in charge of the blogging part, personal feedback from a full time Steem user from scratch
Second, I will present of course, the Utopian Platform.
We are lucky to be invited by @sorin.cristescu who recently launched his witness.
Because of this new responsibility and involvement in the Steem blockchain, he has decided to organize the first Steem Meetup in order to make the Luxembourg population discover Steem.
I've met @sorin.cristescu few month back when he participated in my Steem's first official presentation in Brussels.
You can find the live on Dlive, unfortunately the sound is not played, except at the end of the conference!
If you live in Belgium, France, Germany or Luxembourg, join us!
If you're around, don't hesitate to stop by. The more the merrier. But above all, we show a warm community.
Meetup Content
Introduction to the Steem blockchain
Steemit/Busy presentation (back on my experience as a full time Steem blogger)
Presentation of Fundition
Presentation of Utopian (because the majority of the audience comes from the IT world)
Social time with drinks :)
Useful informations
When: May 23, 2018
Address: 10-12 rue Heinrich Heine, 1720 Luxembourg,
Starts at: 19h00 - Doors open 18h30.
See you in Luxembourg?
---

Join me on my profil @roxane to have more information about How to share quality content on Steem and others tips. If you speak french you can have a look at Comprendre-steem.fr!
You will find everything you need to start on Steem the FAQ, videos, tutos, tools etc.
👍 If you like my work and want to support me, this is my BTC adress : 1H4faCE3f37JDi8bQqADXn4V1nQutr13oj