Vaccination (immunization) Can Save Lifes
Child vaccination or immunization plays a crucial role in maintaining and ensuring child health at birth. It is designed to prevent the child from some of the most serious existing illnesses for which there is still no cure or which could be life threatening. Many parents are poorly informed about immunization and involuntarily and unconsciously threatening the lives of children!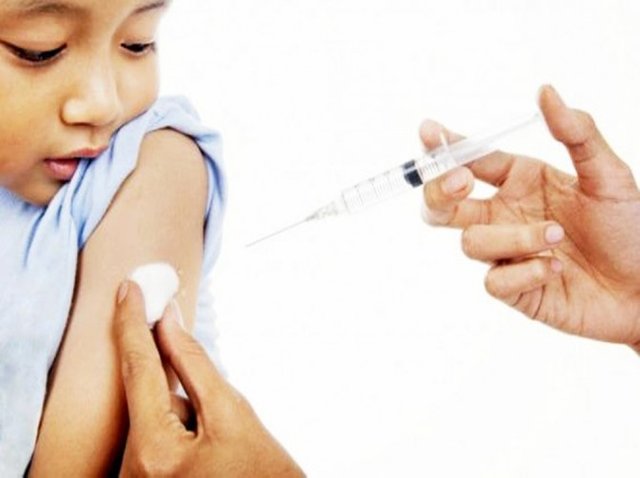 source:mehtahospital.com
Why do children need immunization?
The child is born with immunity to many diseases that he take protection of the mother. However, immunity passed from mother to fetus or baby through breastfeeding does not last long term, but only 1 year. After this age, the child is again prone to a lot of serious conditions:
diphtheria;
Hepatitis A, B;
Human papillomavirus;
Haemophilus influenzae;
Measles;
Poliomyelitis;
Rubella;
Chickenpox;
Tetanus;
flu etc.
I wrote few time ago a post about measles and what happens if the child is not vaccinated. 
[Visit!](https://steemit.com/science/@nelu.ceban/measles-outbreak-kills-kids-symptoms-treatment-complications)
The immune system responsible for producing antibodies that fight against this terrible disease needed has often need help to cope with them. This is where action vaccines.
Some vaccines are designed to protect life against deadly diseases (rubella, polio etc), others help reduce the frequency of disease or improvement of symptoms (eg influenza).
From what age to start immunizing children?
Children begin to be immunized at birth and even in adulthood can make various vaccines. Throughout childhood the kid will do for the first time or repeat various immunizations already made a date when they were babies.
Thus, in the first days of life, maternity child begins to be immunized against diseases that might potentially life-threatening at the time.
Immunizations are done according to a predetermined plan and doctor will give you a diagram of data and types of vaccine they will undertake little.
How to make vaccination?
In general, vaccines are in the form of injection, particularly in the upper arms. Some of them are in the foot;  others are taken orally.
How does the vaccine works?
By placing the child's body activated or not activated a fragment of germ challenging disease. It stimulates the immune system to produce antibodies that role was to recognize and destroy the germ of the disease, whether the child is contaminated with it and not letting it to activate and give birth to disease.
Some vaccines are not 100% effective, but even so, they obviously diminished the risks and reduce the severity of illness when the child makes.
Immunizing longer if the disease has already been done?
Some family members or even children who do the disease are not going to make  vaccine for immunization. Thus, they become carriers of the germ of a disease once contracted they can transmit forward. In this way endanger the unvaccinated children, and other mature people immunized. It is a responsible act to immunize you against serious disease and protect all people who come into contact with.
Even if little beyond the recommended age for making a vaccine, there is the possibility to make it. You just need to talk to a doctor about this.
How do you know that the vaccine is safe?
For this worrying researchers and clinicians to receive notice before the vaccine to be used. Vaccines are considered the safest treatments in the world. They pass through many stages of testing and are tested extensively before being approved and endorsed.
Regarding safety, the only risks that occur are a few minor side effects which do not endanger the child's health and passing quickly.
How will my child feel after vaccination?
Vaccines are generally tolerated well by the body. At most, they will feel a little discomfort at the injection site: redness and a slight swelling.
In some cases there may be some side effects ranging in severity from child to child, but do not put health problems. Some of them are:
pain (which can be cut by means of painkillers);
mild fever (usually up to 38 degrees Celsius);
irritability or restlessness (especially immediately after injection);
decreased appetite;
sleepiness;
mild rash etc.
How to treat a fever?
Generally fever is a reaction that can occur following the administration of a vaccine. Although in most cases it does not exceed 38 degrees Celsius, the possibility exists that this will grow to 40, although the situations are rare.
If you notice that the baby redden is drooping and burn, take his temperature with a thermometer. If it exceeds 38 degrees Celsius when necessary to take measures to lower the temperature.
Talk to your doctor recommends medication to reduce fever but never apply to aspirin. Aspirin endanger the health of children.    There is a post about this here : https://steemit.com/life/@doctor.mimaid/symptoms-and-first-aid-aspirin-poisoning
Rather appeals to slightly warm water compresses or baths with cool water (not cold). If the temperature does not drop then take him to the doctor.
No reason why my child should not be immunized?
There are some particular situations where children are not immunized, for a certain period of time:
if they have compromised immune systems (eg suffering from cancer);
suffering from diseases of the immune system;
allergic to eggs (severe allergies);
have a history about previous vaccination have responded aggressively (had an allergic reaction);
under the influence of their treatment;
shows seizures.
Invalid contraindications to vaccination
Some medical providers erroneously believe that certain conditions or circumstances precautions are contraindicated in vaccination. Such conditions or circumstances are known as invalid contraindications; This results opportunities cancellation dispense vaccines.
Some of the most common invalid contraindications are mild disease, disorders associated with pregnancy and breastfeeding, allergies that are not anaphylactic nature and certain aspects of the medical history of the patient's family
Source: "Immunity Types". Centers for Disease Control and Prevention.
Melinda Wharton. "National Vaccine Advisory committee U.S.A. national vaccine plan
If you like my work, please consider giving me a follow. Check others posts about medicine and health on my page!