It's been less than a week that Chelsea Manning has been free, and she is already being sent back to jail for her silence to authoritarian demands to answers questions.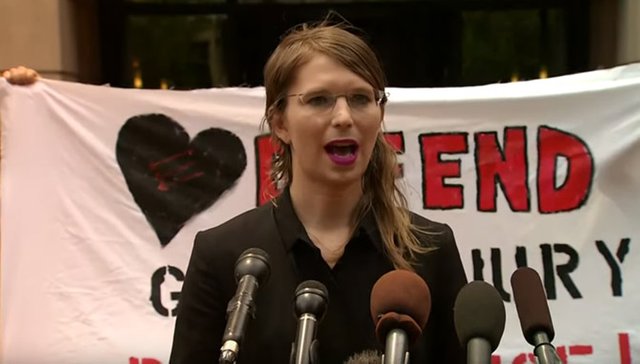 Source
Manning was released last week from a contempt of court charge for refusing to answer a secret grand jury's questions about WikiLeaks and Assange. The term for the grand jury's first attempt to gain testimony against WikiLeaks and Assange ended, forcing Chelsea Manning to be released after 62 days in jail on that technicality.
But the secret grand jury is back it again. Manning received a subpoena for a second hearing before being released last week, and knew she would likely be imprisoned gain for refusing to speak. And so, Manning has again refused to testify in what she calls a "banana case".
Manning could spend up to 18 months going back and forth like this, in and out of jail as the grand jury repeatedly "commands" Manning to speak at their hearings. This time Manning is facing a $500 daily fine after 30 days in jail. After 60 days in jail, the fine will increase to $1,000 per day.
That is how the "justice" system operates. It's a money racket. Coerce and steal from people. The rich can buy their way out of messes in most cases. But Manning is resilient in her principles, as she previously stated in a letter released a day before being released from jail last week.
"In an ideal world, agreeing to cooperate would avoid this situation, however, this government abuses the grand jury process, and forces me to choose between an unethical decision and suffering intimate and permanent consequences for doing the right thing. I am not willing to compromise for my own physical benefit.
This decision comes at an overwhelming cost, My physical and mental health deteriorate rapidly in conditions normally reserved for short term confinement. I am almost entirely without sunlight. My skin regularly breaks out from bacterial infections. I gain weight due to poor nutrition, currently at nearly twenty pounds since March.
Sleep and concentration remain difficult. Mental health access remains limited, without access to comprehensive treatment for complex post-traumatic stress — stemming in part from previous confinement conditions."
Manning is standing by her pledge, and told the court today:
"I would rather starve to death than to change my opinion in this regard. And when I say that, I mean that quite literally."
Prior to the hearing that saw her return to jail, Manning held a news conference outside the courthouse in Alexandria.
It starts at the 12 minute mark:
Judge Anthony Trenga said "Manning holds the keys to the jailhouse door", and told Manning "there's nothing dishonorable in fulfilling your obligation as a United States citizen". US Attorney Zachary Terwilliger, who also filed charges on Assange, refused to comment about not needing Manning anymore since Assange was already indicted, saying he was "not at liberty to discuss any investigations or matters before the grand jury".
Defending their decision to confine Manning and coerce her speech with fines for her silence, Terwilliger said they:
"... never once made this about anything other than obtaining immunized testimony in furtherance of an investigation," he said, adding that "all we want is her to truthfully answer questions as our constitutional republic requires of our citizens."
"We have a lawfully predicated reason for seeking her testimony and we'll continue to do so."
Manning was previously kept in her cell for 22 hours a day, much like Assange is the UK now. Both are being hounded by a corrupt world order that doesn't like it when they are disobeyed or are exposed for their crimes.
In her last public words before entering the courthouse, Manning spoke of the prison system to reporters:
"Prisons exist as a dark institution. Despite that. it doesn't frighten me or disturb me. I've already been to jail, I've already been to prison. Attempting to coerce me with a grand jury subpoena will not work."
"I will not cooperate with this, or any other grand jury... I am just not going to comply or cooperate."
That is one tough cookie who won't waver from principles to remain loyal to the forces of good that spread light on the darkness in our world, like WikiLeaks and Assange have done. Most people would have simply answered questions rather than go to jail and face mounting fines. As a whistleblower or not, Manning is a hero.
---
References:
---
Thank you for your time and attention. Peace.
---
If you appreciate and value the content, please consider: Upvoting, Sharing or Reblogging below.


me for more content to come!
---
Like what I do? Then consider giving me a vote on the Witness page :) Thanks!

My goal is to share knowledge, truth and moral understanding in order to help change the world for the better. If you appreciate and value what I do, please consider supporting me as a Steem Witness by voting for me at the bottom of the Witness page.
---
Posted from KURE