I think the Adelaide Mallsballers made a new record for Australian meetups! 18 if we count the lovely, potential new recruit @wildflowerjessi brought along; that's assuming we didn't scare her off; then I guess we're down to 17 officially...
I thought we were going to arrive late as it was a rush for @realtreebivvy to get ready after work and we made a minor detour to pick up @svitlaangel. The traffic was moving well, though (amazing for rush hour), and we even managed to get a parking spot right outside The Jade Monkey! Maybe it was karma balancing things out to make up for my run of terrible luck in @lordnigel's Interactive Battle Tournament.
It was officially the last day of autumn and getting a bit chilly to be outside like we normally are, so some clever being reserved the inside room for us. All that was needed was a bit of shifting around of tables and we had a formula for socialising and meeting as many people as possible. The lighting was ambient, which wasn't the best for photographs, but was calming.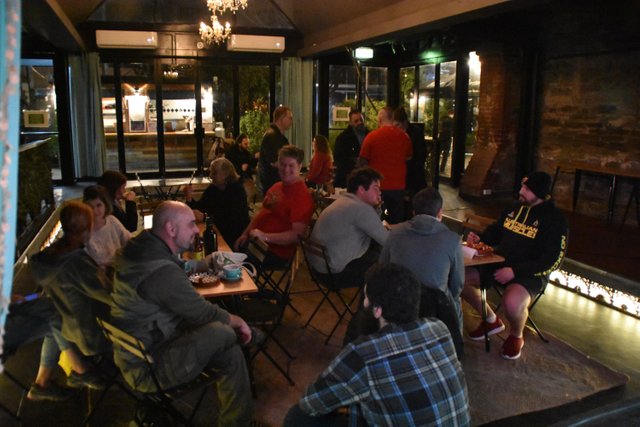 In attendance were some familiar faces @mattclarke, @thevillan, @realtreebivvy, @izzydawn, @svitlaangel, @minismallholding (me!), @lordnigel, @o07, @galenkp, @holoz0r, @nerdfury, @ursa and @shaidon. Then some new faces, for me at least, were @henrywilson, @wildflowerjessi, @isabeldorastorey, @stuffing and Jessi's friend and potential convert to Steemit.
@o07 was offering up a silver bullion coin as a door raffle prize again and would you believe it, my eldest, @svitlaangel won it! She obviously didn't inherit my usual luck. I'm just worried @o07 and @mattclarke will be broke by the end of the year with their generosity!
Something that struck me about these meetups last night was the feeling of complete inclusion and none judgement that I haven't experienced since school. I realise that probably seems like an odd comparison, but the school I went to was a Waldorf, or Rudolf Steiner, school and not a typical state school. I didn't fully experience the judgemental side of society until I left school. Yet here we had people from different walks of life, all different ages and situations, chatting and connecting without exclusion. Matt, as always, made sure to go around and touch base with everyone. Not every meetup affords the chance to fully connect with everyone, but this is what is so good about knowing there's another chance next month.
The Jade has been a great choice of venue. It's not overly noisy or busy on a Thursday and there is a food booth outside serving good food, which is useful if you're coming straight from work with no time to eat. The place seems clean, the drinks good and the straws aren't plastic, which is a thumbs up from me!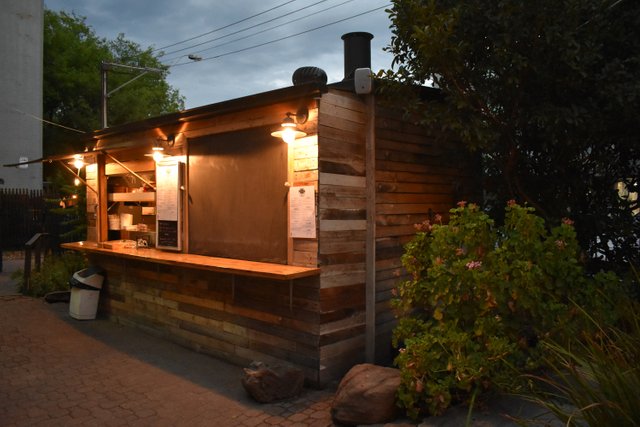 The outdoor food shack produces some tasty meals.
If you're from Adelaide and want to join in, we meet at 6pm on the last Thursday of the month. Don't worry if you can only make it later, not everyone can get there at 6pm. Don't worry if you're an introvert either, there are others who are extrovert enough to do the talking, while still being considerate enough to listen to what the quiet ones have to add.
Steemit is about communities and if this is anything to go by, it's working. I'd like to think that as Steemit grows and more people come on board, the online communities will start to have enough in one area to have physical meetups more often. Having regular meetup dates also means that as people travel there's the chance to hook up with others in that locale.
~○♤○~