(Day 2) 30 Day Throwback Makeup Challenge
I might skip around a bit, timeline wise, because as I go through photos and stuff, I'd rather share whatever stands out to me from that time. This one is a small thing, but it cracks me up because my dad thought it was real. Well, my mom did too, but just for a second. My dad was freaking OUT, though. Like he wanted to get me in the car and get to urgent care immediately. He was trying not to gag and trying to be the big protector at the same time.
It makes me smile, because once he found out it was fake, he was SO impressed. He bragged about it to everyone and shared the picture on facebook. He has always been so supportive of my artsy side and says I'm a "creative Genius" and I think that's pretty rare. I love how much he supports me, even when he's not the creative type at all. Although he has helped me more than once build things for cosplays, but that's another post altogether!
Anyway, here is the silly little thing I did. At the time I didn't think much of it, but now it has really good memories. My life is so weird. Other people are like "aww, my dad and I went fishing" or something and I'm over here like, "Yeah, one time I made my dad nearly puke"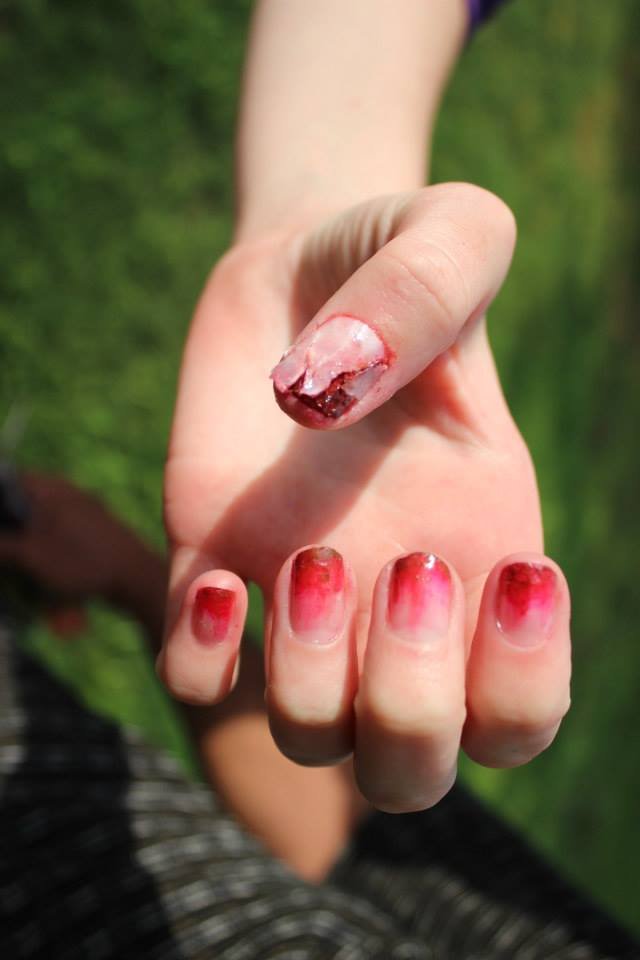 It was really simple, actually. One of the easiest things I've done. I just painted my nail red, then put a broken acrylic nail on. Then I used the blood 'goo' that I made with lipstick and hair gel around the edges.
My other Challenge Posts: