Have you ever met the new dice game from Steemit ?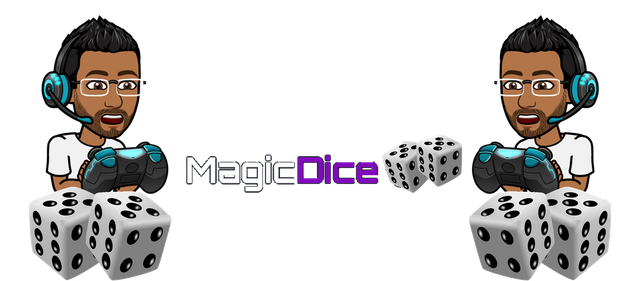 Recently a new dice game was released here on the Steemit Block Chain
Magic Dice

is the name of this new game
https://magic-dice.com/



Know a little more about
Magic Dice
What is it?
Magic Dice is a "transparent" dice game built on Steem. The chances of winning or losing are according to the patterns of the game. This game is new and is a novelty since it is one of the few betting games in Steemit and is promising.
Magic Dice wants to show the power of the Steem by means of this game of chance, offering a solid base capable of being renewed according to the demands of the users, in order to generate an excellent user experience, based on transparency, impartiality and security as primordial values for coexistence within the Steem ecosystem.


Magic Dice is integrated with SteemConnect and KeyChain, it is not necessary to enter any page or access any of your user passwords, nor do you need to log in to play. All you have to do is place your bet and then click on roll dice and it will be redirected to SteemConnect to formalize the transaction. They suggest playing with Keychain in Chrome as it allows a smoother, faster and safer gaming experience.
If you have any doubts about the moves you have made and you want to verify them, the game has a public system where you can see your moves in these pages https://magic-dice.com/verify or https://github.com/magic-dice/magic-dice-report all the data are directly associated to the chain of blocks.


To play Magic Dice you can use both the Steeem Dollar token (SBD) as well as STEEM as both currencies are compatible. You can bet with the minimum required which is 0.1 SBD or 0.1 STEEM, while the maximum payout for betting is 150 SBD or 150 STEEM.
It is suggested to be responsible and moderate with the bets since as it is a game of chance and the odds of winning or losing are 50% you could lose a lot of money but you have control of your bets. Play, have fun and relax playing Magic Dice for a while.
If you want to know a little more about the Magic Dice game, I invite you to visit their Introduceyourself , there you will find very important information that can help you when playing and clarify doubts.

If you want to find more information here I leave you his Discord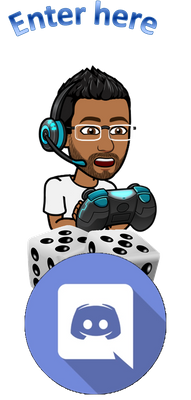 I recommend you enter this publication and learn about this contest

This is what the page looks like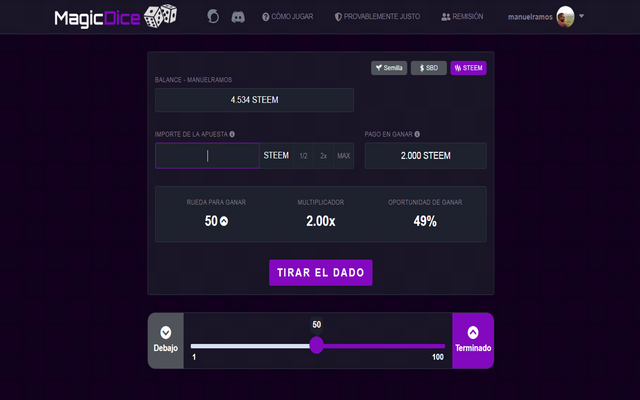 The page tells you how to play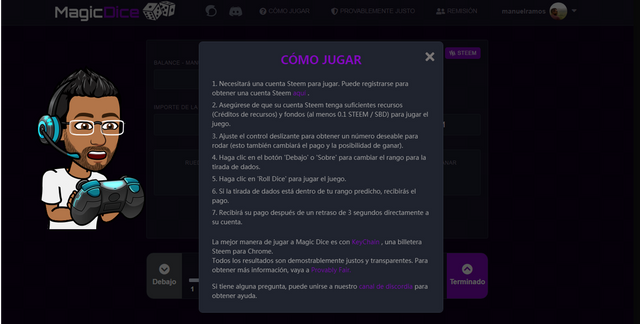 It also explains how the game is structured and how it works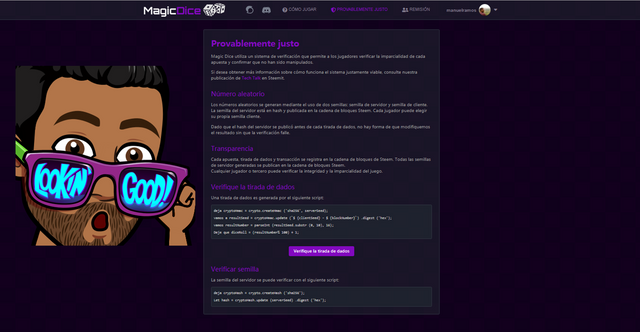 You can observe in real time the transactions (bets) made by other users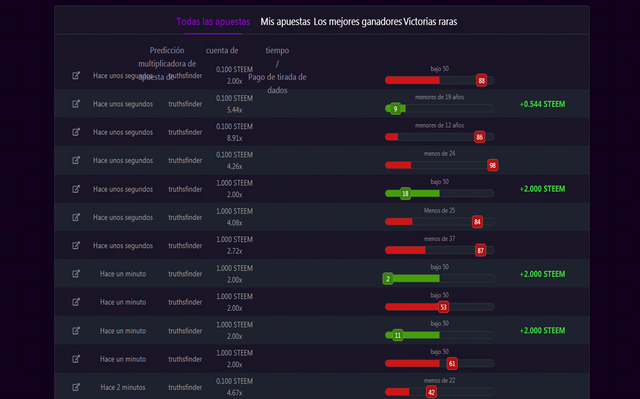 First experience in my first dice roll (bet)
I couldn't resist playing and trying this game, so I decided to take the risk and play my first die roll by betting the amount of 1 Steem. In my first bet I lost in front of the system, through images I will show you how to play:
Step 1
- Choose how much you want to use for your bet -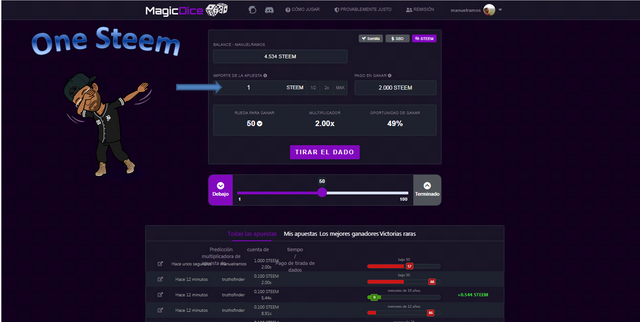 Step 2
- Roll the die and then the game takes you to SteemConnect -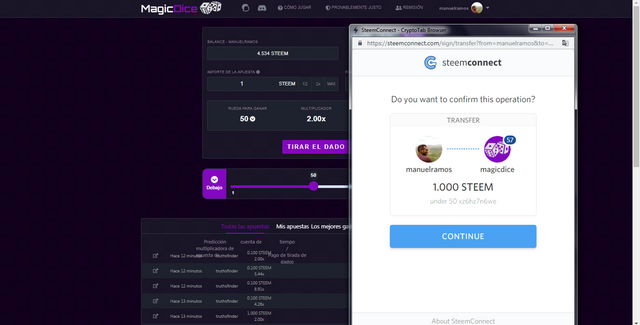 Step 3
- Wait just a few seconds to wait for the result of your bet -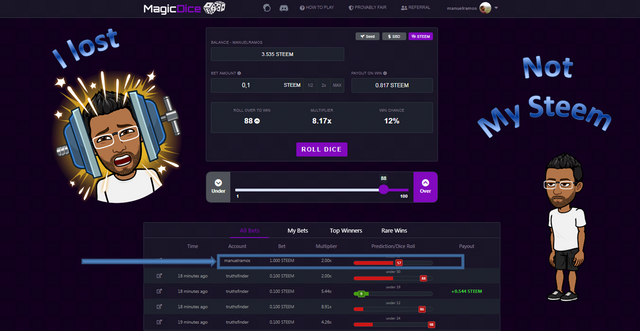 As you can see is a game of serte and strategy, in my first bet I lost the Steem that I bet, the suggestion is to make bets from 0.1 to 0.5 Steem until they understand the pattern of the game.
I hope it has been to your liking, encourage you to make your first bets...!!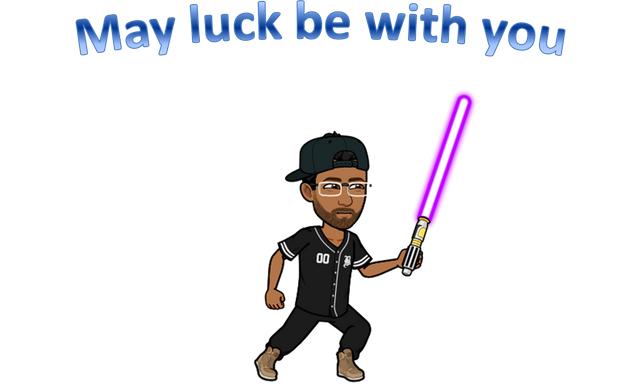 ---
---
---



Do you want to know more about me?





---
The Gifs, Banners, Stripes and the Maquetado are the product of my creativity
---

Thanks for reading, I'll see you in a next Publication !!!

I still have a lot to tell
✳ S̻͛̊̅i̤̫͇m͙̖̾͋̃͗͗ͭp͖̘̒̋l̰ͬ̒̋͐y ̮͙̞̺ͩͪ̍ͨM̻͛̄a͍̩͚̪̤ͮ̒r̜͇̠ŝ͖͔̩̋̉ ✳
---
---
Posted from my blog with SteemPress : http://mars.rockdio.org/2018/12/05/meet-the-new-game-magic-dice-developed-here-on-the-blocks-chain-of-steemit/
---