Introducing Magic Dice - Provably fair and transparent dice game on Steem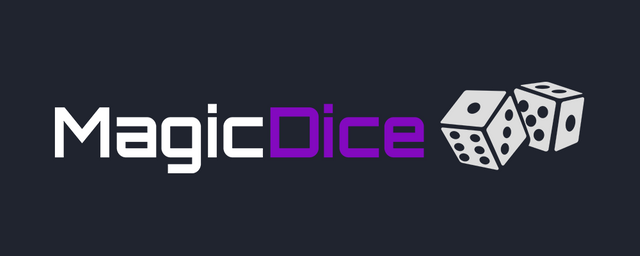 We present to you Magic Dice, a provably fair and transparent dice game built on Steem.
Lately a lot of new dice games and other gambling related games have launched on other blockchains like EOS or Tron. Those games have a high adoption rate and are quite successful.
Gambling apps on Steem haven't been successful so far. We think that was due to poor user experience and a lack of transparency.

SteemMonsters showed that you can build any kind of dapp on Steem and create a successful business on top of Steem. Steem isn't just limited to blogging dapps or voting bots.
With Magic Dice we want to show the power of Steem. Magic Dice provides a great user experience and is built around transparency, fairness and security.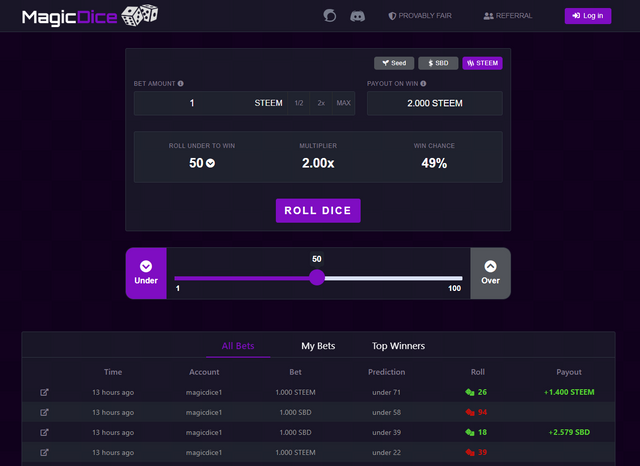 KeyChain and SteemConnect

Magic Dice integrates with KeyChain and SteemConnect. You don't have to enter any of your keys on Magic Dice. To play, you don't even have to login. Just place your bet and click roll dice. You will be redirected to SteemConnect to make your transaction.
The best way to play Magic Dice is with Keychain on Chrome. It enables a very smooth and safe playing experience.
If you prefer to use some other wallet, you can send a transaction directly to @magicdice. To place a bet, use following format in your memo:
[over/under] prediction client_seed
E.g:
over 60 myseed1
under 15 myseed2
The prediction can be any value between 5 - 95. The client seed can be any arbitrary string. The seed will be used for the random number of your dice roll.
On the website a client seed is generated in your browser by default. You can select your own seed as well when you click on the seed button.

Provably Fair
What does provably fair mean? On Wikipedia provably fair is defined as:
In online gambling provably fair describes an algorithm which can be analyzed and verified for fairness on the part of the service operator. 
A probably fair gambling site provides a verification method for every game. The user can verify after his playing session that he hasn't been cheated and the provider didn't manipulate the random numbers to make him lose.
Provably fair gambling sites are essential for crypto gambling sites. Otherwise the user could never be sure if he has been cheated by the provider in some way.
If you want more information about provably fair games, go to https://dicesites.com/provably-fair.
Magic Dice provides two ways to verify your dice rolls. You can directly verify your dice roll on
https://magic-dice.com/verify
when you enter your bet Id or click in the bet overview on a bet.
The second way is to run the report script that's available on Github ->
Magic Dice Report
. All data for the report comes directly from the blockchain. For more information how the provably fair algorithm and verification works check out our
tech talk post
.

Transparency and Security
There are dozens of dice gambling sites out there. What makes Magic Dice different? Why did we decide to create a dice game on Steem?
One of the great things about blockchains is that they are transparent. That means that every transaction is visible to everybody. All bets ever placed on Magic Dice are visible on the blockchain. Furthermore all information to verify that a dice roll is provably fair is published to the blockchain. Any player or third party can verify the integrity of the game. You can not only verify your own bets, but all bets ever played on Magic Dice.
That is something you can't do on your normal crypto gambling site.

Another big advantage is that you don't have to send your funds to the service provider. You never know if the service provider will let you withdraw your funds. Sometimes there are minimum withdraw limits or withdraw fees. The service provider could even run out of business or take your funds and exit scam.
On Magic Dice you will receive your payout on the next block after a 3 second delay. No transaction fees and zero risk. That's the power of Steem.

No Smart Contracts?
There are a lot of new gambling and dice games on other platforms like EOS or Tron. Steem doesn't provide smart contracts, but that doesn't mean you can't build a custom dapp on Steem.
Smart contracts provide a lot of benefits, but often they are not necessary. SteemMonsters showed that you can build a great dapp on Steem, without any smart contracts.
A smart contract doesn't make a gambling site provably fair. Without the source code, the smart contract acts as a black box and you don't know what the code actually does. A lot of dice games on EOS haven't open sourced their smart contracts yet. You can check on https://eospark.com/MainNet that most of the smart contracts aren't audited or verified.

So even with a smart contract you need a provably fair verification method. The other downside of running a dapp on a platform like EOS is that the provider has to invest a huge amount to run the dapp. The top dapps on EOS have to stake millions to operate them. Running dapps on Steem is a lot cheaper.

Playing Dice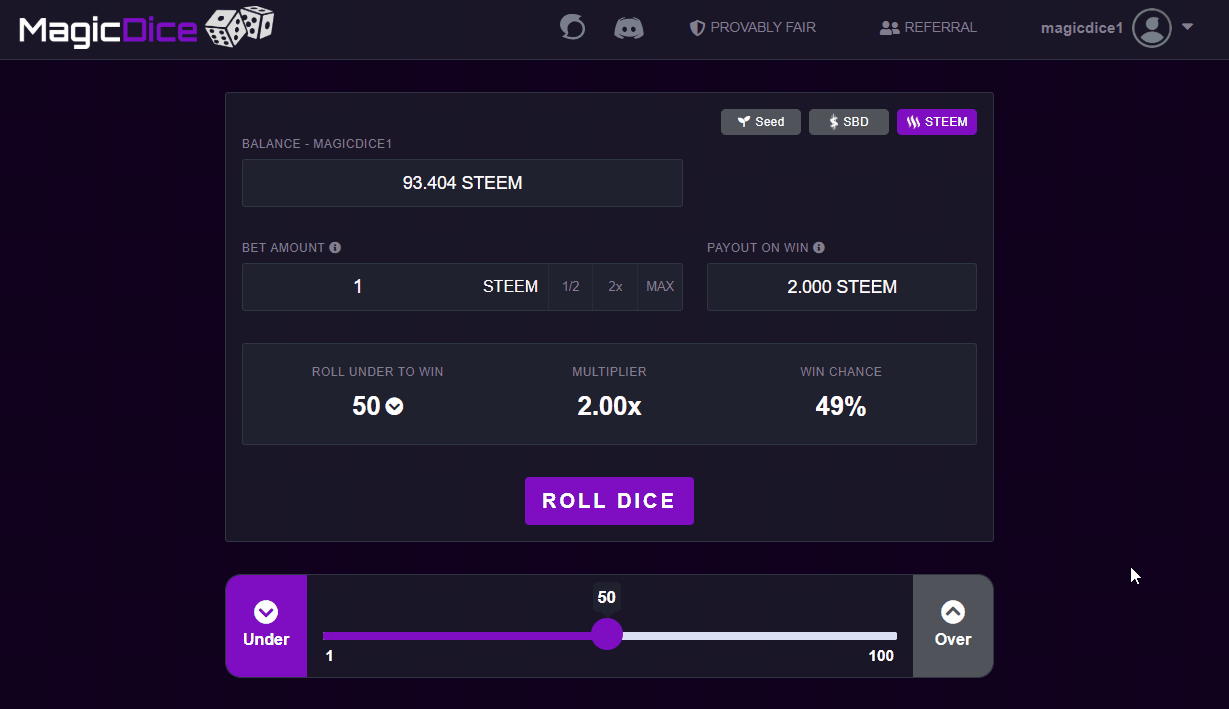 Magic Dice supports SBD as well as STEEM. The minimum bet is 0.1 SBD or 0.1 STEEM. The max payout for the launch is 150 SBD or 150 STEEM. We will increase those limits later on. The house edge is 2%. The house edge will be used to fund operations, development and promotions.
We advise everybody to play responsible and don't overindulge. Just like you shouldn't invest more in crypto than you can lose, you shouldn't gamble with more than you can lose. Enjoy the game and have fun playing it.

More Features
Magic Dice is still in active development. We are going to add more features to make Magic Dice a great dice game. Playing on Magic Dice should be comfortable, easy, relaxing, safe and fun.
We want to provide more games as well.
In the upcoming weeks we are going to add a referral feature and share a part of the profits with everyone who promotes Magic Dice.
If you have some questions, just contact us on Discord or leave a comment.



Resteem and WIN 50 SBD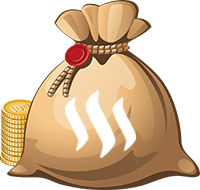 Everyone who resteems this post can win 50 SBD. In seven days we will select a winner (We extended the promotion to give more people the chance to win the reward). You need at least 300 followers to receive the reward .

If you reside in a location where gambling over the internet is illegal, please do not click on anything related to these activities. You must be at least 18 years of age to click on any betting or gambling related items even if it is legal to do so in your location. Recognizing that the laws and regulations involving online gaming are different everywhere, readers are advised to check with the laws that exist within their own jurisdiction to ascertain the legality of the activities which are covered. The games provided by Magic Dice are based on blockchain, fair and transparent. When you start playing these games, please note that online gambling is an entertainment vehicle and that it carries with it a certain degree of financial risk. Players should be aware of this risk, and govern themselves accordingly.