Mac Security for Crypto and Steem Holders - Firewall
Would you like to see the application I use to monitor Internet incoming and outgoing connections, and also protect data from being changed by applications, viruses or malware because if you are holding Steem or other cryptocurrency in a wallet, you need to have top protection?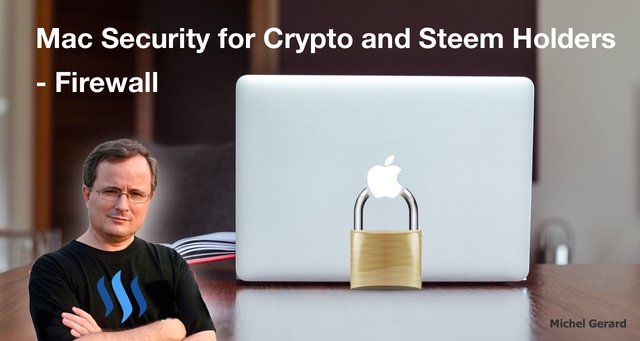 I am writing this post for cryptocurrency enthusiasts who use their Mac computer to hold and transact with cryptocurrencies, but the firewall application I suggest today is useful for anyone who wants a secure machine.
You may want to read my first post, which talks about how you can protect your Mac from malware: Mac Security for Crypto and Steem Holders
My second post talks about the basics, which is setting your Mac properly with a "Standard" username and using the built-in firewall: Mac Security for Crypto and Steem Holders - The Basics
Background image in thumbnail source pixabay.com.
Mac Security for Crypto and Steem Holders - Firewall
The application that I am using on my Mac is called "Hands Off."
It is an application that monitor and control the access of other applications to your network and disks.
Here is the page with all information: https://www.oneperiodic.com/products/handsoff/ (not affiliated)

You don't know what applications are doing in the background on your Mac. Are they writing on your disk, deleting your files or sending information out on the Internet?
Hands Off will show you all the hidden activities that applications have and you will be able to decide what you allow and what you block for each of them. This will prevent confidential information leakage.
This is all it can do.

Hands Off will protect your privacy preventing outgoing connections that are not legitimate.
Imagine that you have a malware or key-logger that can record all the passwords you type for each website you visit, like your Steemit password for example. When there is a connection out in the background to send this information back to the hacker, Hands Off will ask you to allow that transfer of information, and you will be then able to block it if you don't recognize it as legitimate.
You will also be aware that there is something that you should remove from your computer.

Other applications can also freely read, store or erase information in your files without you knowing it and Hands Off will help to control that. If a virus or a malware tries to change your files, you will be notified and able to block it.
Let's see now how Hands Off looks like.
This is the window with all the rules that I have set up for each application on my Mac. The first time you use an application, or after installing Hands Off, you will go through a series of windows to allow or block connections and disk writing.
This is the result of these settings that you can change.
A green dot will let go, a red dot will block and an orange dot will ask.
Notice that for the "ClipGrab" application, there are three outgoing connections to domains that I do not recognize, so I denied them.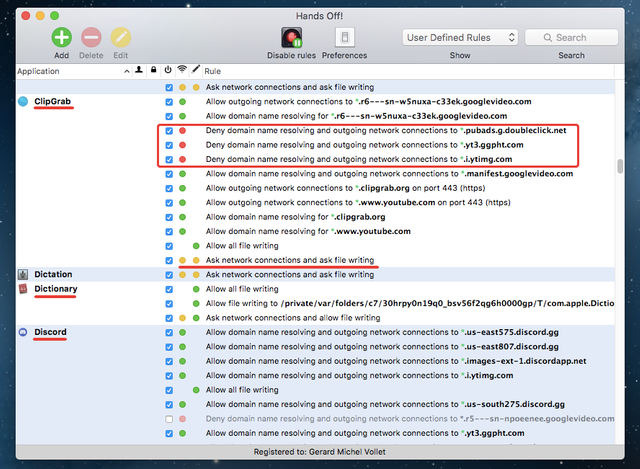 When using the "Discord" application, it is normal that outgoing connections are made to the discord domain.
Denying too much will sometime prevent the application to work properly and if that is the case, you can change a status from red to green and see if that solve the problem. You have to do that only once for each application, this might be a bit annoying at first, but then you are safe.
For example, I have just opened the "Stickies" application on my Mac and Hands Off immediately pops up.
It says that, "Stickies wants to write to a file" and as it is an application included with the operating system made by Apple, I can decide that it is safe to allow it.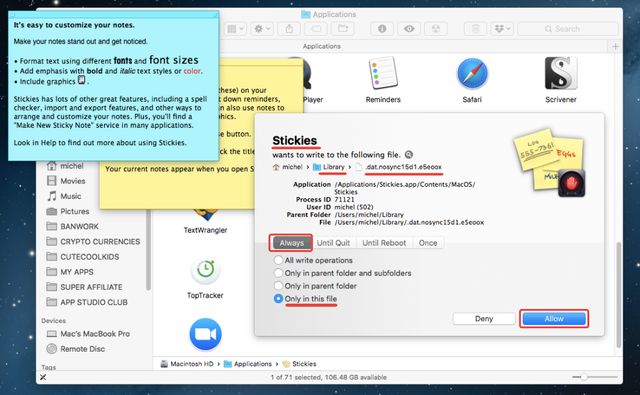 When you select "Always" and "Only in this file," the next time you open the application, Hands Off will keep quite. If you are not sure, you still can allow "Until Quit" or "Until reboot," or "Once."
Another warning and usually you will have ten or twenty like this, and if you are sure the application is safe like this one, you can just select "All write operations" and click "Allow."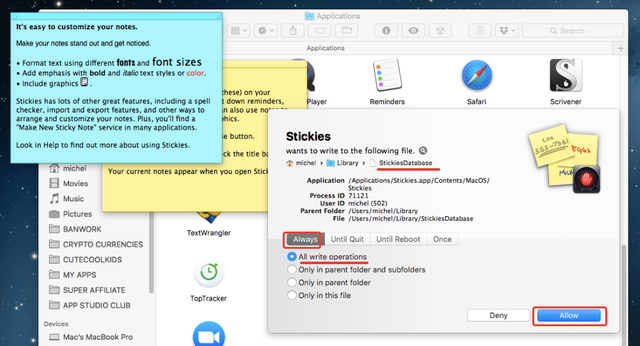 If you have a warning like that popping up and you don't recognize what it is, you can deny it and then you are safe.
This is an example of an outgoing connection.
I just opened "Game Center" for the first time and it tries to resolve to an Apple domain.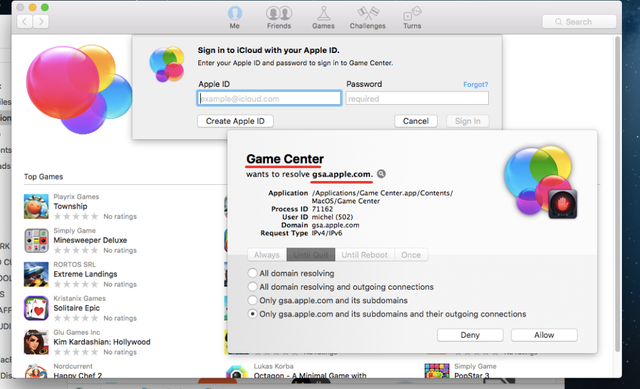 It's an Apple application and I decide that it is safe to allow all domain resolving.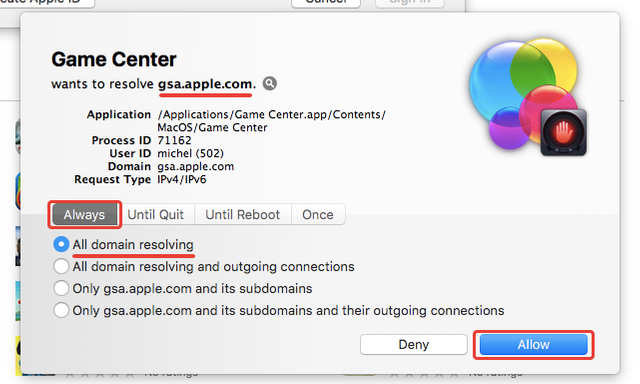 If that is an application downloaded from the Internet and you see an outgoing connection when there should not be any, or you don't recognize the domain as trusted, then it's time to deny.
In the Preferences, you can set up a default preset for new applications, "Ask" being the safest before you decide what to allow or deny.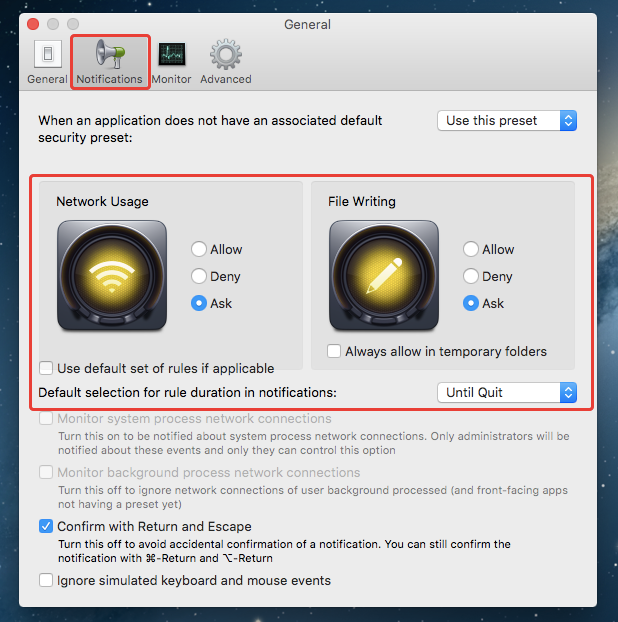 You can also enable "Network Monitor" if you really want to have an eye on it at all time.
You can show and hide it clicking in the icon at the top.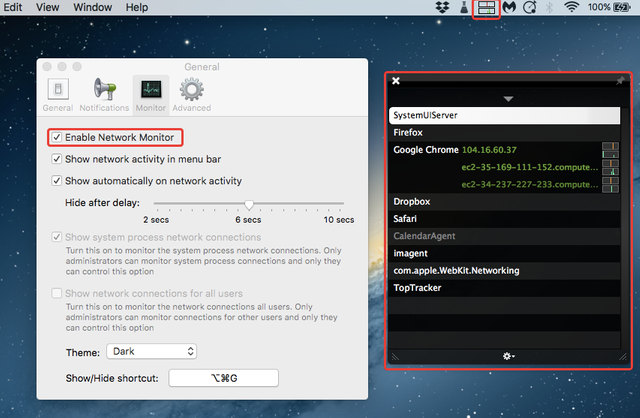 That's all I wanted to show you about Hands Off.
Before installing it, I researched other solutions, but Hands Off proved to be the easiest to use.
The cost is $49.99 and you can try it for free here: https://www.oneperiodic.com/products/handsoff/
There is no affiliate link, I recommend it because I use it and it is awesome. It might look a bit expensive, but it's money well spent.
You don't want a hacker to empty your crypto wallet, do you?
That certainly will cost you more than that.
I hope that this post is useful for you to secure your Mac.
Would you upvote this post and follow me for more because this will encourage me to write more posts about Mac security like this one?
Would you please help @jerrybanfield become a top 10 Witness because you can help funding projects to build Steem as explained here? Vote for jerrybanfield as a witness or set jerrybanfield as a proxy to handle all witness votes at https://steemit.com/~witnesses. Read the 5 reasons why I'm voting for Jerry Banfield as a witness and how to vote in my post. You may be interested to read: What is a Steem Witness, How to Vote and Why?
Michel Gerard