Mac Security for Crypto and Steem Holders
Would you like to see what I use to protect my Mac against malwares because if you are holding cryptocurrency in a wallet or have Steem, you'd better be protected as much as you can?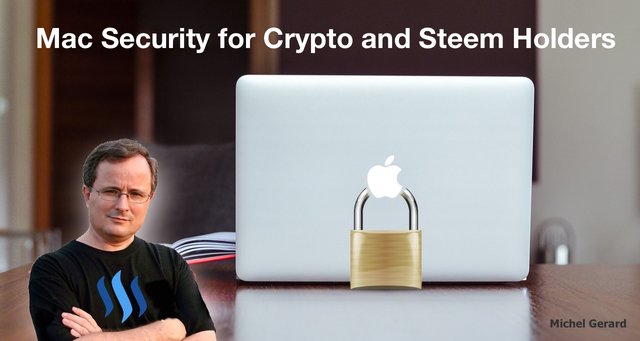 I wanted to write a post about Mac security for people who invest into cryptocurrency because unlike having money in a bank, we are responsible to secure our crypto assets on our own computers.
The application I am showing you today is just one element of what I am doing to protect my Mac against all threats, viruses, hackers, key loggers, etcetera.
Macs are very secure, much more than PCs using Windows, when they are set up properly and the user follow some rules before installing applications downloaded from the Internet.
Unfortunately problems can still arise on a Mac when the user himself makes mistakes and I will write another post about this.
I'm sorry for those using Windows, you may find similar software and follow the same basic advice to secure your PC, but it is much more difficult, in my opinion, and as I have quit using Windows for years, I will not write a post about it.
Background image in thumbnail source pixabay.com.
Mac Security for Crypto and Steem Holders
One of the applications I use to secure my Mac is Malwarebytes.
I have been very satisfied with it since I installed it a year ago, you may visit the website here: https://www.malwarebytes.com
That's a direct link, no affiliate link, I recommend it because I am using it and it's good.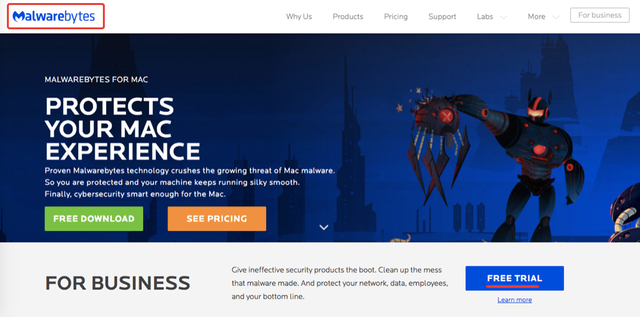 This is what they say about their technology.
Smarter technology

Traditional antivirus relies on outdated signature-based technology that addresses threats at the execution stage of the attack chain. It's reactive, one-dimensional, and apparently isn't effective. Malwarebytes employs several proprietary technologies that work together to break the attack chain, from pre-delivery to post-execution.
Read more on this page: https://www.malwarebytes.com/why-us/
As you can see in the graph below there are several layers of protection and the first one is "Web Protection."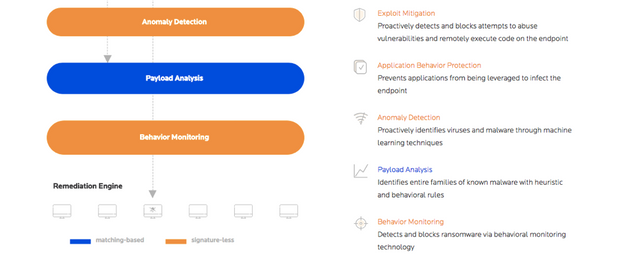 With all these layers of protection, you can be certain of protecting your computer against malwares effectively and if you want all details of what kinds of protections it offers, go here and scroll down the page: https://www.malwarebytes.com/why-us/
I know it is very effective because I once installed a Firefox extension, which is popular from a trusted site, and Malwarebytes alerted me immediately. The extension had a malware attached.
When it is installed, you have a little icon showing up at the top and when you click on it, you can Start Scan, Update Protection or Open Malwarebytes.

I didn't purchase the "Real-Time Protection" and I'm using the Free version, which is already excellent. I had it during the trial period and it is very effective, especially if you don't want to worry when installing new applications from downloads. I chose instead to keep the free version and run a scan when I download something new from the Internet and I am very careful about that.
I should buy the Premium version, the cost is nothing compared to the potential lost of coins.
That said, when you click on "Open Malwarebytes," you will go to the Dashboard. At the right you can see the date for your last scan and if your database is up-to-date.
You can run a scan there by just clicking "Scan Now."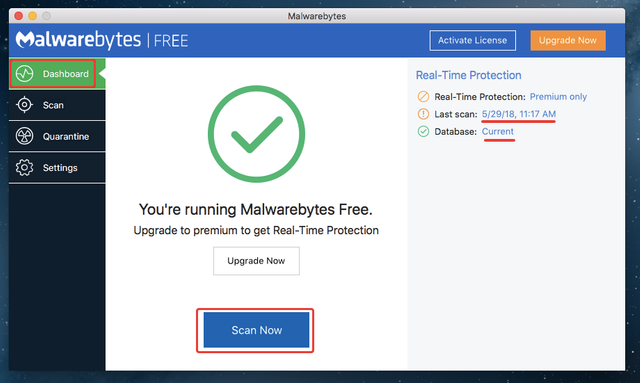 The "Scan" tab is where you will see your last scan results and the date, and you can start a scan from there too.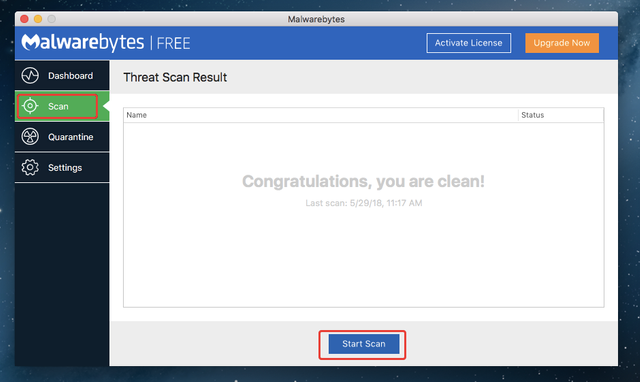 The "Quarantine" tab is where you can see the suspicious files when you click on "Show Quarantine" or delete the files when clicking on "Clear Quarantine."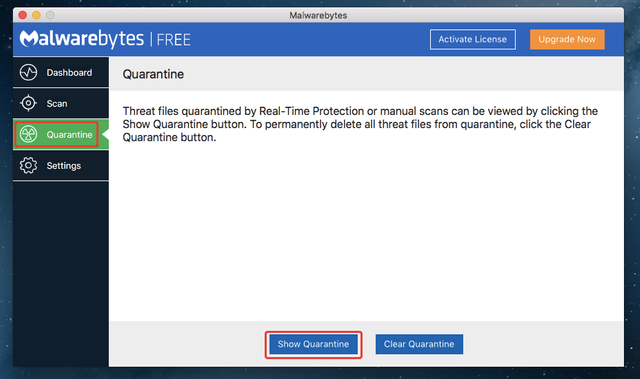 If you decide to click "Show Quarantine," the "Quarantine" folder will open.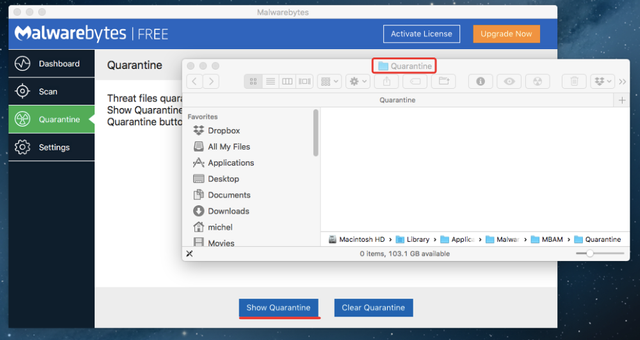 As you can see, nothing in there.
The "Settings" tab is opening the "Preferences" window and what you have to set up is minimal. Automatically checking for database updates is a must to have.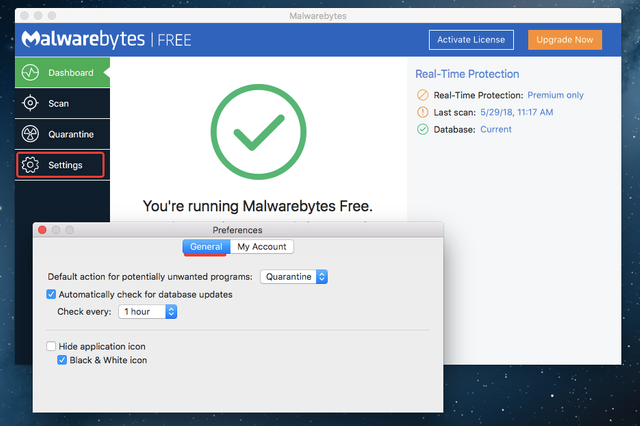 On the "My Account" tab, you can see your license and can upgrade from there if you wish to.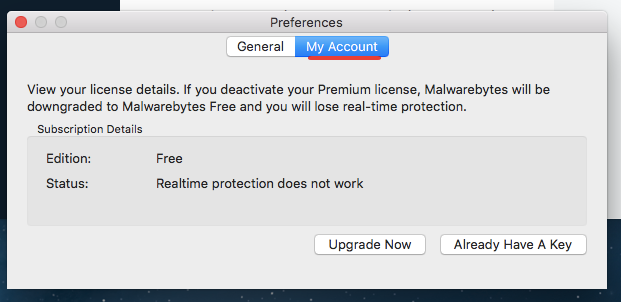 If you don't have "Malwarebytes" open, you can start a scan just by clicking "Start Scan" and it will scan in the background. If you want to see the scan in progress, then you should open "Malwarebytes," and then click the "Scan Now" button.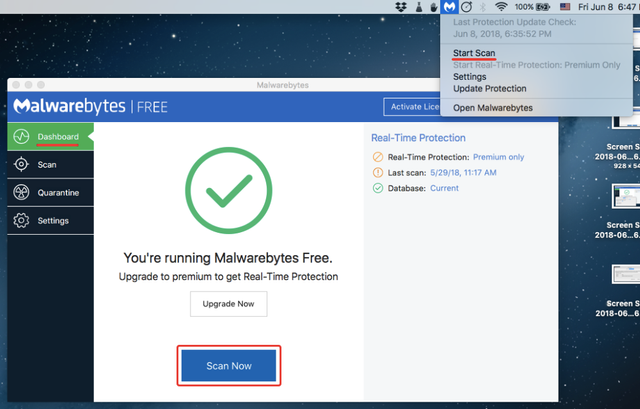 When the scan is started, you see the progress bar.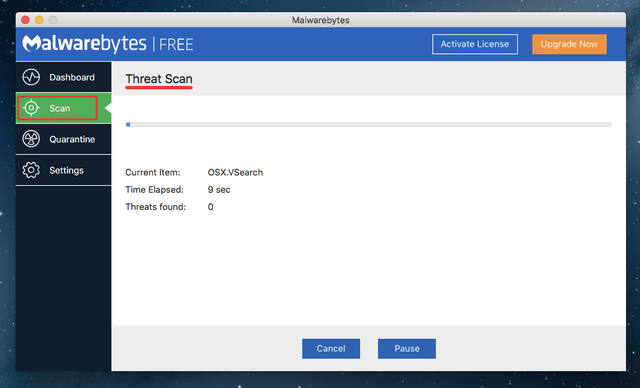 It's still going.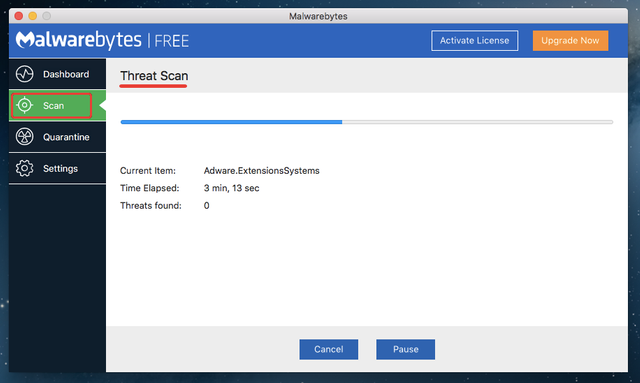 Then, you get the results and you can congratulate yourself for being clean.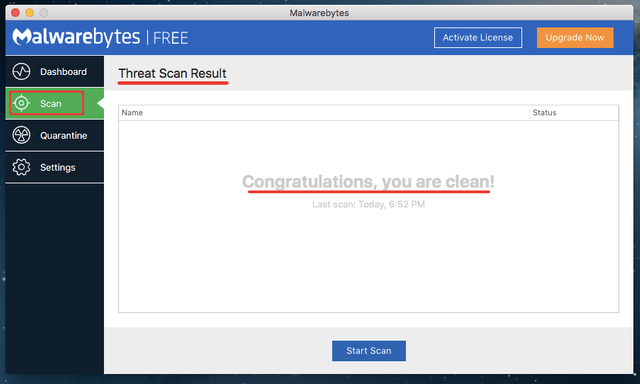 When your Mac is cleaned from malwares and you are careful when installing new applications, even new browser plugins, then you will have the impression that "Malwarebytes" is not working because there is nothing going in the "Quarantine" folder. It's just a false impression. It's necessary to run scans regularly and if you can afford going Premium, then do it.
"Malwarebytes" is easy to install and use, do it today!
Would you upvote this post and follow me for more because this will encourage me to write more posts about Mac security like this one?
Would you please help @jerrybanfield become a top 10 Witness because you can help funding projects to build Steem as explained here? Vote for jerrybanfield as a witness or set jerrybanfield as a proxy to handle all witness votes at https://steemit.com/~witnesses. Read the 5 reasons why I'm voting for Jerry Banfield as a witness and how to vote in my post. You may be interested to read: What is a Steem Witness, How to Vote and Why?
Michel Gerard