Just above the light switch in my daughter's room, my wife has meticulously painted one of her favorite quotes from the Harry Potter series: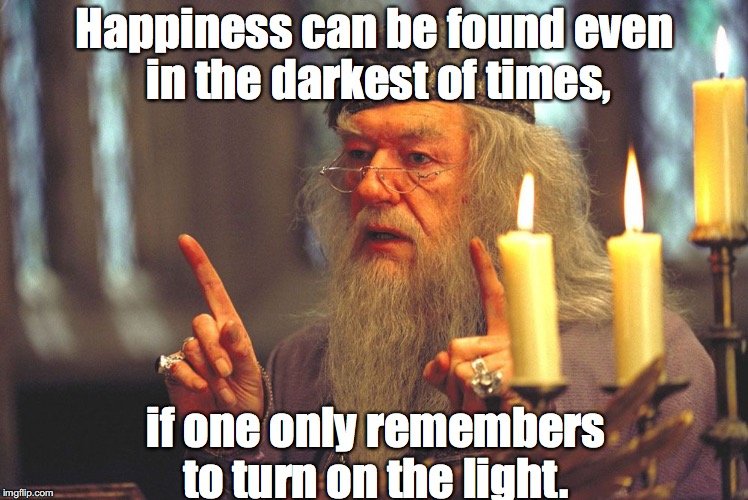 It is a message of joy. It is a message of strength. It is a message of hope.
My wife and I want my daughter's room and, more importantly, her life to be filled with joy, strength and hope. The people organizing the Light the World campaign want the world to be filled with those as well.
This is not the only connection between the Harry Potter series and #lighttheworld. Today's theme is...
"For where your treasure is, there will your heart be also." (Matthew 6:21)

or is it...
"For where your treasure is, there will your heart be also." (Rowling 325)?

The answer is, that it is both.
In Harry Potter and the Deathly Hallows, we learn about a terrible mistake that Albus Dumbledore made when he was a young man. In his frenzy to obtain power, he forgot what was truly important. This blunder cost his sister her life. When Harry sees Ariana Dumbledore's grave, he reads the inscription and realizes that Albus would never forget this terrible choice. That inscription: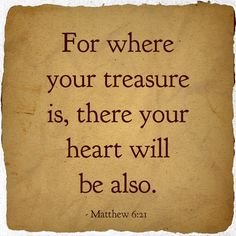 There are many interpretations of this Bible quote. Some believe that it means that people should only treasure heaven. Others think that it means that your heart will follow whatever you treasure. Many think it means that you cannot treasure money and love.
Being the good Harry Potter fan that I am, and keeping in mind that it is a children's story, I prefer to think of this in far more simpler terms...
Keep your priorities straight.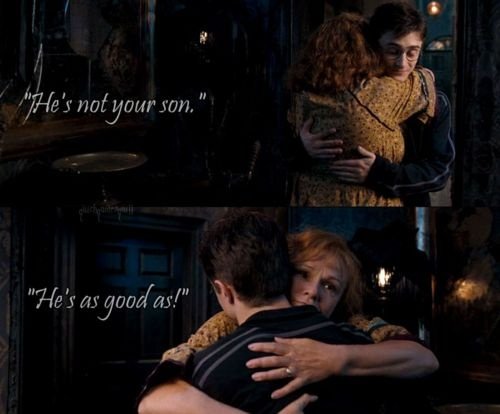 Nothing is more important than family... even those who don't share your blood.

The one time Dumbledore put power above all else, it cost him a family member. Nothing is more important than family love. Dumbledore knew that... and never forgot. For the rest of his life, Dumbledore only cared about one power: the power of love. He knew it was the source of strength for Harry. He knew it was Voldemort's weakness. He knew it would be the only weapon with the power to destroy pure evil.
After that one horrible mistake, Dumbledore kept his priorities straight.
To me, today's #lighttheworld theme is asking us to do what a fictional teacher did: learn from the teachings of Jesus Christ, one of the greatest educators who ever lived.
The Light the World website explains:
"There's nothing wrong with having possessions as long as we don't lose sight of more important things. When we focus on what really matters and on serving others, we can find real happiness."
Today, I am going to heed that lesson. I am going to spend time with my highest priorities: my wife and children. Tonight is family night. (It is also Star Wars night... and the whole family is going!) Before the movie, we are going to hang out and laugh. We are going to talk about what we hope to see later tonight. We are going to share stories of our days. Perhaps we will quiz each other about Harry Potter. I think I have my first question! "What is written on Ariana Dumbledore's tombstone?"
The Light the World site goes on to suggest several ways you can focus on what is truly important.
Are you spending time on the things you value most?
Clear some space on your calendar to invest in some one-on-one time with someone you love.

Do you have enough money for your needs?
Donate to a loved one's college fund or a charity that represents something you care about.

What's your favorite meal?
Sacrifice the cost of your favorite dish to help feed the hungry.
For more information on #lighttheworld, please visit https://www.mormon.org/christmas/25-ways-25-days/day-14
Several community members have already followed @gavvet's lead and have created #lighttheworld posts of their own. (Thank you all for participating!)
Now we need someone from the community to inspire others on day 15. Tomorrow's theme is: "Blessed are the merciful." You can find more information here.
If you decide to participate by creating your own post for day 15, please make sure to use the #lighttheworld tag and include the day's video, theme and link, as we have done.
or
or
or
Although we will be on the lookout for great #lighttheworld posts every day, we will definitely need contributions on days 15, 18, 21, and 24.