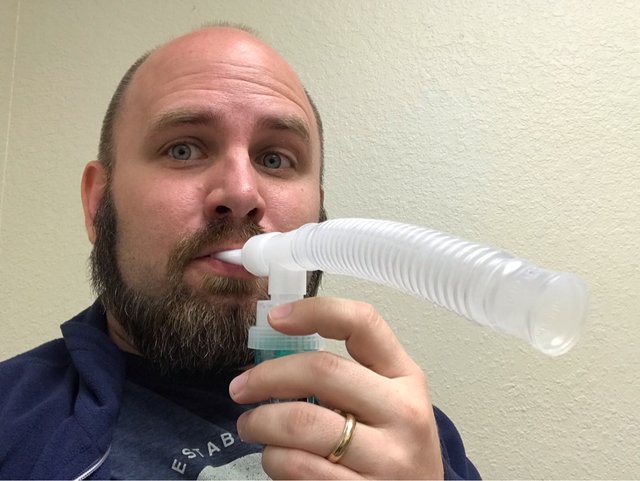 Health is one of those things if life that you don't fully appreciate until you have lost if.
Many people strive for money, power, and prestige but in the end they are not physically, emotionally, or spiritually able to steward or enjoy that which they have gained.
Learning to appreciate all things
About three weeks ago, I was diagnosed with pneumonia (which is a bit odd since it is summer time where I live). The headaches and body aches finally convinced me to go to a local walk-in client.
After some bloodwork and an X-ray, I was sent home with a 5-day dose of antibiotics.
Just yesterday I went back to get a check up. I heard a second round of pneumonia is no good, and since I was having difficulty breathing I wanted to attack the problem before it attacked me.
This time I was diagnosed with bronchitis.
The picture attached to this post was me taking a breathing treatment. I was sent home with a 3-day dose of steroids and a use-as-needed enhaler.
Final Thoughts
Living a good life means addressing all aspects of life. I am trying to focus on my health so that I can excel at other parts as well.
I look forward to sharing more life with you all (whether I am feeling sick or well).
Thanks for stopping by!
@SumatraNate
Posted using Partiko iOS