Celebrating my FIRST MONTH in STEEMIT ❤
Little achievements are better than having no achievemets at all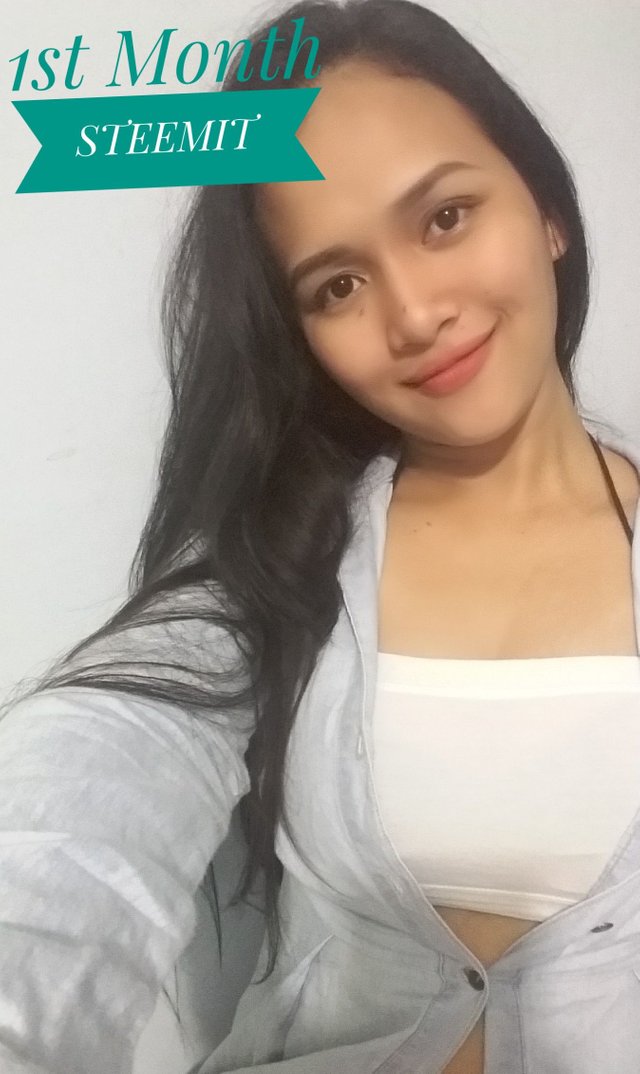 When I was accepted to be part of this community, I was so grateful! I am one of those practical people that want to earn money while interacting with others; sharing experiences and knowledge, and learning at the same time. I am not really good at blogging since this is my first time but I have these ideas, moments in life and wisdom that I want to share.
The very first thing I did was to post my Introduction. No one told me to do so. I just have this belief that "if you want to discover new personalities, you must allow them to know you". Since I am a newbie, a month ago, I do not have that much knowledge in dos and don'ts of this community so it took me time reading the "WELCOME" section (for those that are new here, it is a great help to read the entire thing before starting and posting any blog for you to be oriented). After posting my intoduction, I did not expect that anyone will take time to read it, I was just hoping but not really expecting. I was so blessed when @purepinay upvoted and she even appreciated my looks. It was so flattering. It is a big deal for me that a very beautiful person had time appreciating someone like me. Then sir @surpassinggoogle also upvoted me which overwhelmed me so much. Suddenly @renatoaying, my friend who introduced STEEMIT to me, told me that sir Terry really takes time to read and help Filipinos specially newbies so I just felt so lucky that my very first post caught their attention. Many steemians upvoted and commented which is a great thing for me. This encourages me to continue what I started.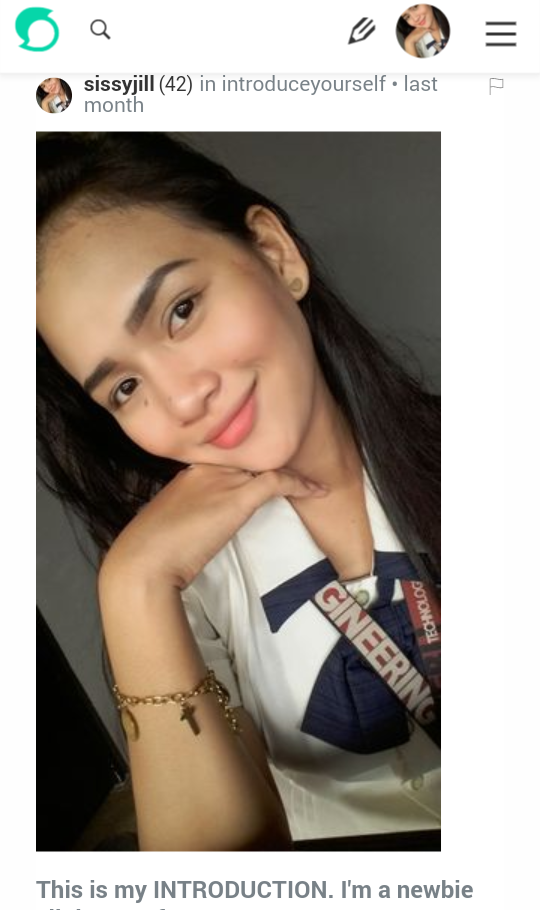 After my first post, I then posted my experience with samyang. It is a korean spicy ramen that has 3 levels of how spicy it can be. I decided to blog about it since it was so popular in Philippines. People making fuss about it. It took a blast during 2017. I also wanted to share my experience about it to those who have not heard it yet.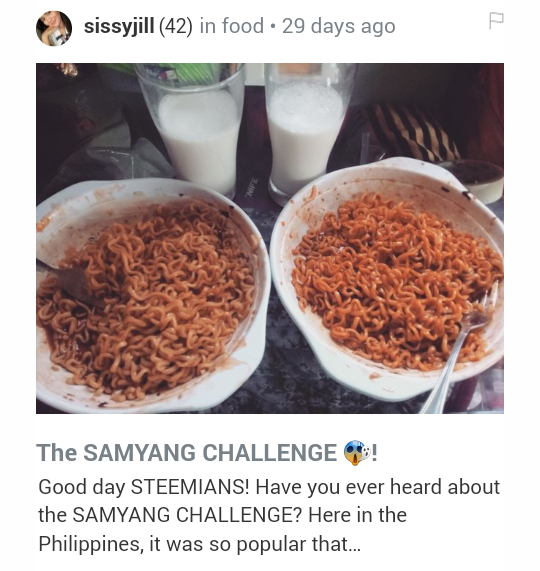 THE CONTESTS I PARTICIPATED WITH
Ate @namranna, an Electronics and Communication Engineer that graduated in the same school I am currently educating in, suggested that it is an ample start to join contests. So most of my time here are spent with participating in multifarious contests. Below are my entries to various contests I joined.
MY MOTIVATIONAL BLOGS
I am known as a motivator in my circle of friends so I opt to encourage people to love themselves more than what they used to. As of my one month here, I have blogged three common problems we encounter because of overthinking and having less self-esteem. Below are the list of my motivating blogs.
Laziness is a very huge and common problem with each one of us. We can not deny the fact that for once in our daily lives, being lazy overrules us.


Anxiety is a disorder for being madly unease over an outcome we are not certain about. If something worries you a lot then you should take actions. Worrying will not take you to a brighter tomorrow, it will only pin you down to your scariest uncertainties of yesterdays.


Depression is the awful feeling of a future-less-future. We all face different obstacles in life but as long as you stay positive in every aspect then you will feel better. You may stumble and fall but always remember that in every darkness there will always be light.

MY TRAVEL BLOGS
For atleast once in a year, try to have fun somewhere out of town; or atleast once in a month, unwind in cozy place. It is not wasting time, it is a simple price you give to yourself for keeping up with everything in life. I have been to plenty of places already but in the span of 1 month, I am only able to blog about two places.
The Monastery of the Holy Eucharist is a very famous church un Cebu that is found in Lindogon, Sibonga, Southern Cebu, Philippines. It is popular to devotees not just because of being miraculous but also because of its castle-like structure. Check out my blog if you want to go there for you to be oriented of the dos and don'ts in the church.


The Cafe TALK is a cozy place you can de-stress in. It is located in Pueblo Verde, Maximo V. Patalinghug Jr. Avenue, Basak, Lapu-Lapu City, Cebu, Philippines. This is my latest post. Check it out and you will be interested to come and unwind there.

I AM EMMENSELY THANKFUL TO:
@surpassinggoogle. Sir Terry you have been an inspiration for me. Since the very beginning, you were there to support me and my co-Filipinos. I hope you'll stay kind and amazing as you are. I have voted you as a witness for you deserve every vote from us. Thank you sir and always have a good day.
Click This and vote @steemgigs. Let us make sir Terry feel our deepest gratitude.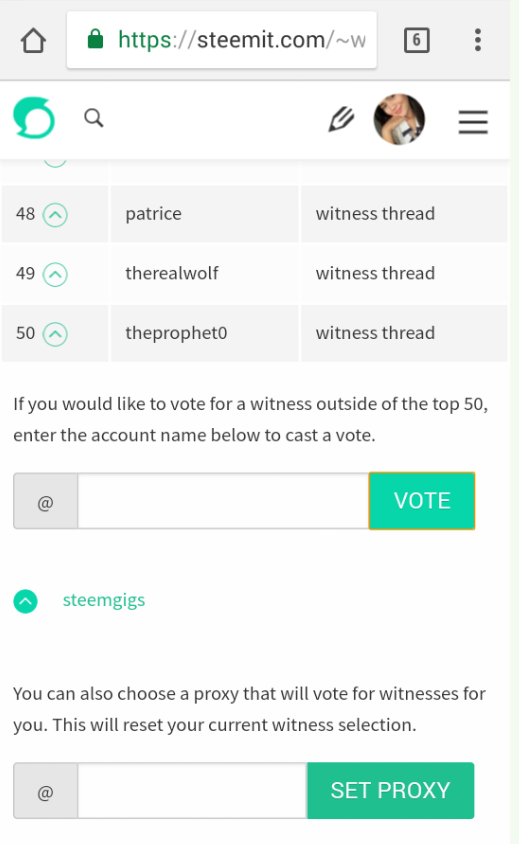 @purepinay. I have been searching for you in the internet just to figure out your true name but still can not find it though. I really admire not only your beauty but also your pure heart. I am a proud Filisteemian as well. I hope you continue making us inspire with your travel goals. Always have a great day.

@namranna. Thank you for being humble, helpful and approachable whenever we need you. You keep on motivating us to have better blogs. I am grateful though.

@ivancuyag and @renatoaying. You both are the ones that introduced me this wonderful community and for that I am grateful being a member. Thank you so much.

@steemph.cebu. Thank you for supporting us, Cebuanos, in every blog we share. I hope we will grow as family in the near future.

all STEEMIANS, I am thankful for your efforts taking time in reading my blogs. I swear to pour my heart out for everything I will share to you guys. Have a blessed day.
It was a wonderful month which I am able to share to you guys. Keep steeming. Have a nice day.
Yours Truly,
SISSY
I am a part of @steemitfamilyph. Join us! Follow - Upvote - Resteem - Comment