Beijing, a city that continues to amaze me. Great food, great activities, great subway system, aweful traffic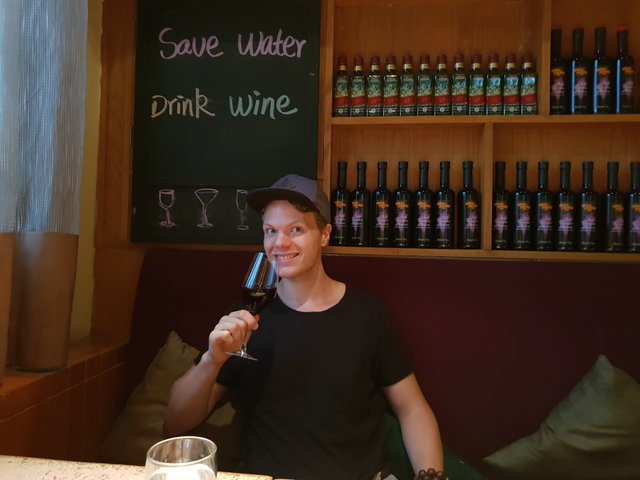 Picture from Annies which we ate 2 days after we left Hangzhou, which is few hours ago while writing this post, Save water, drink wine
Hangzhou was filled with experiences but at the same time, it did not live up to our expectations. We enjoyed being there but in hindsight, we could have gone somewhere else. Don't get me wrong, it was beautiful, cool to see a place very different to Shanghai and Beijing, but that's pretty much all that was amazing. Felt a bit like a pit stop before going back to Beijing, rather than an journey by itself. In Hangzhou we did have time to explore the famous lake, going on a boatride, doing a handstand walk and some pull-ups in a Crossfit box, eating some disgusting food and also eating some awesome food. We, being two people that really couldn't care less about Football, actually went to a bar and watched Sweden vs England. But the greatest part about Hangzhou was the last dinner, being tired and hungry, walking around in a place we did not feel connected to, not finding any great place to dine, we finally saw one. It was a Jaozi place, or dumplings as you may know them as. It was hard to order, but we managed it and got ourself 25 amazing dumplings... after I ate 19 of them and Kim had 6, I ordered another 10 for us. The total cost for our dinner, including drinks, was a total of 57 Yuan, or about 1 EOS at current market value.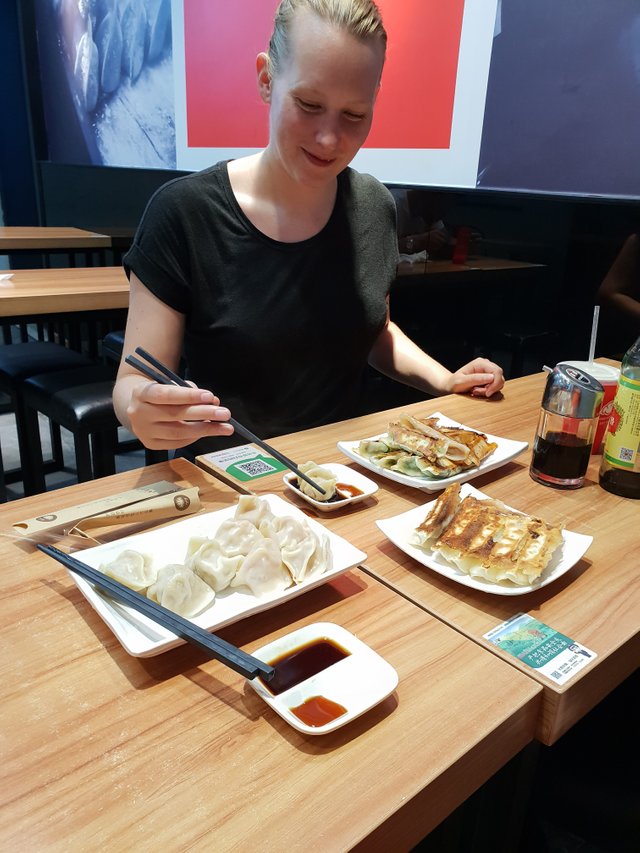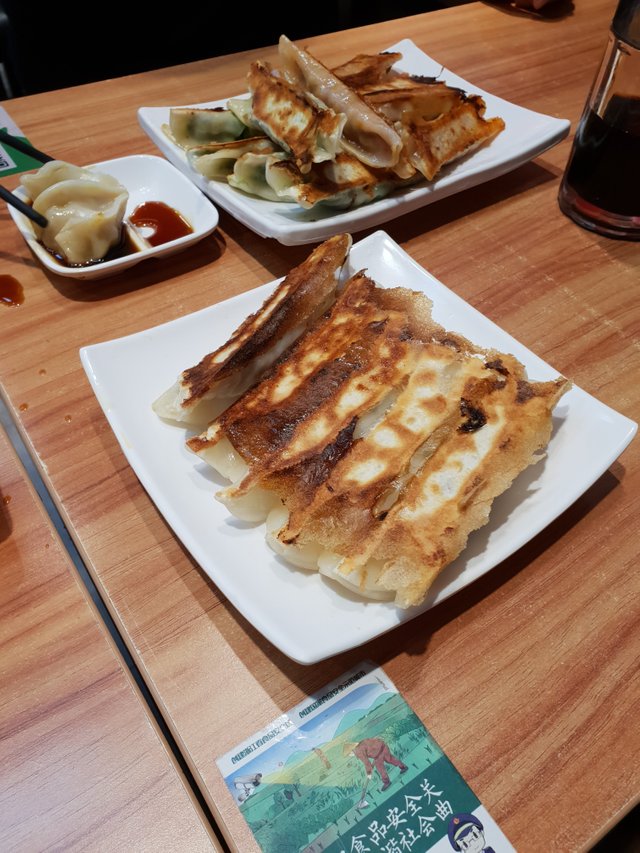 Bullet train to Beijing, about 1300km, to us about 6 hours.
The day started with an alarm at 6am, followed by packing, checking out and enjoying a big breakfast at the hotel. This was the only thing I ate before dinner at 6pm, and at dinner we had awesome Chinese food just a few minutes away from our current hotel.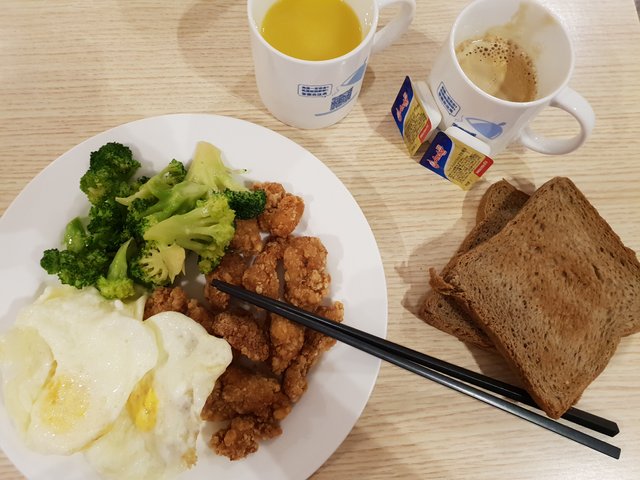 Before jumping onto the bullettrain we bought some coffee for the ride and I found an awesome book, however I did not buy it as It felt a bit to advance for me... I can currently read less than 100 signs in Chinese, so a book feels like a overkill.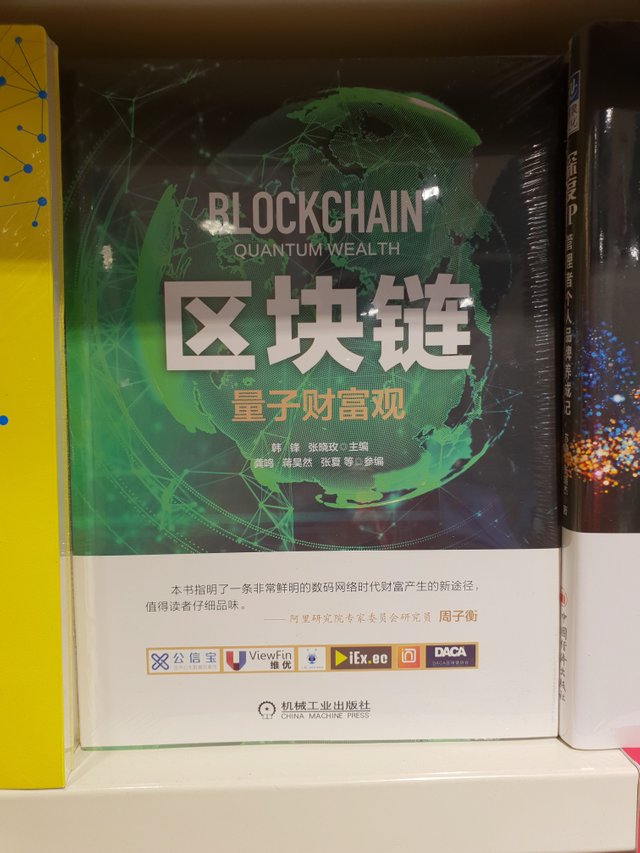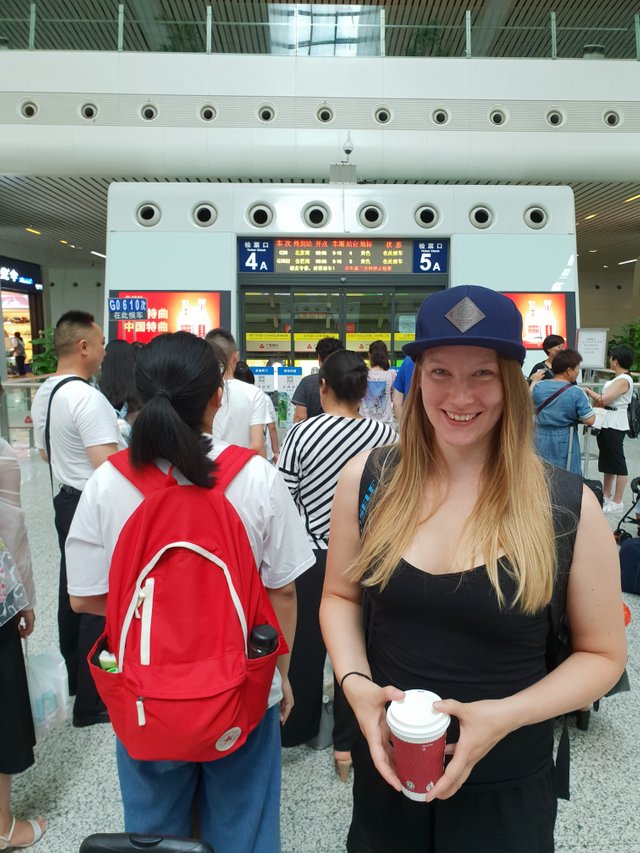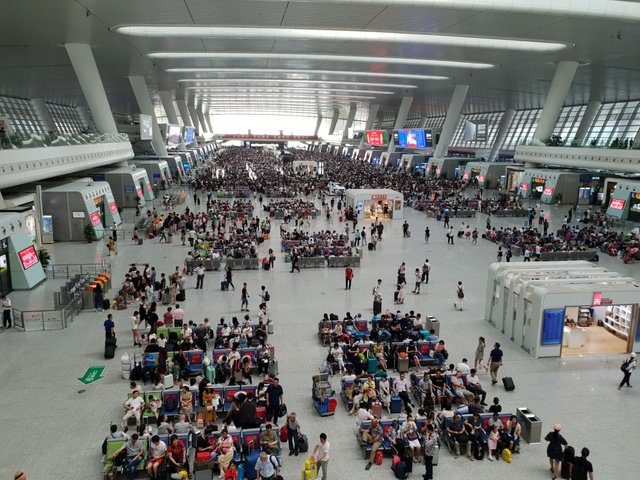 We were not alone at the trainstation
The trainride was long and I had the time to write two longer blog posts, one already posted, the latter I am not sure if I am going to post or not. Also had time to listen to a few hours of "the creature from jekyll island". We both felt pretty tired, but still, we manage to explore both Wangfujing and silkmarket for a second time. This time we had an awesome experience at both places, managing to get about 16000 steps even though most of the day was sedentary while travelling. On our way to the hotel we passed people dancing in the streets, which is one of the awesome parts about Beijing.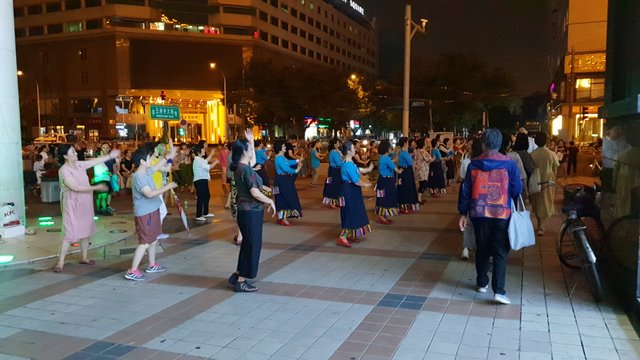 Getting high on coffee, well needed the day after travelling over 1300km
We woke up early to catch the day, at 7am going down to have breakfast in the hotel, which was not a great experience. The atmosphere felt stressed, people were in the way, loud and we did not fully enjoy it. Which is weird since it offered what we usually want. However, we got our calories and went up to the room, slow but at the same time looking forward for what the day had to offer we went out. First mission was finding some coffee for me, because every step I took, the more exhausted I felt. Kim had to lead me forward, and almost drag me along to the closest place that offered some "meishi kafei, bing de, da de, hen duo bing", which translates to big iced coffee americano. For you that are not familiar with americano, it's an espresso mixed with hot water. As close as you get to a brewed coffe in most places, and actually pretty nice. However, at this day, the female coffebrewer was a bit unlucky, or lucky, while remembering how to make it. So instead of mixing it out with water, she added espresso after espresso on ice. Instead of getting one espresso I ended up with 6-10, I lost count.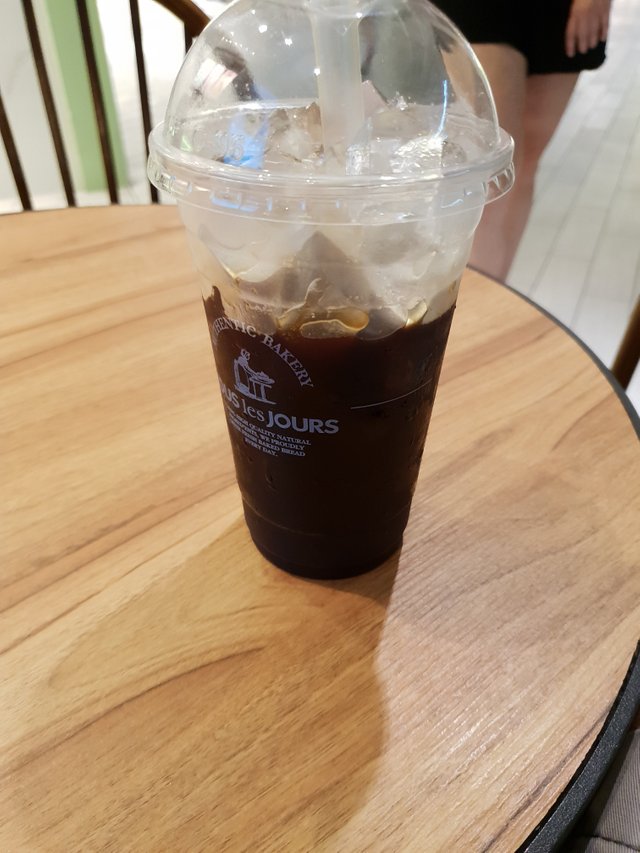 After that, I slowly started to sip to my cold, very strong beverage while Kim dragged me along to find her some cold tea, because for some reason it was "meiyou" on the coffeshop. Meiyou means "not have", or "there is no more", meiyou cha (out of tea).
We then started to walk to find a taxi, after about 30-60min (lost track of time) unable to find a taxi, we gave up. I was exhausted and most likely I was of no help for Kim. The traffic sucked, and the empty taxis refused to accept us.
We decided to walk to Qianmen, old town close to the forbidden city.
Our goal was to find small shops that could sell us some random crap we were unaware of that we needed. As most people going shopping or travelling to "ullared" in Sweden. "Ullared" is a big store that sells cheap crap that most of the times are worthless and people buy because it's cheap and they "save" money doing so. I enjoy going there to watch people, because you can spot some interesting people shopping there.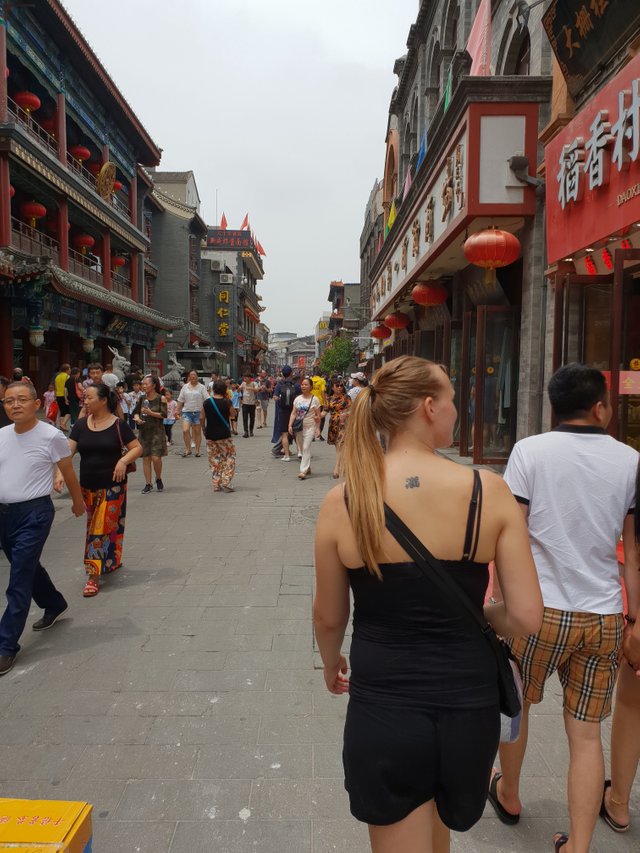 Back to the story, walking to Qianmen we had to pass a "security control", something that is pretty new to me, when I was here studying, there were only security checks in the subways, now they are everywhere. We needed to show our passports to pass the inspection and to walk through. I don't know why they have upped the security, but you see military and police officers everywhere, all the time. On Friday I am meeting an old friend for dinner, and I will ask more about it.
These photos are taking infront and behind us at the line for the security check in the streets: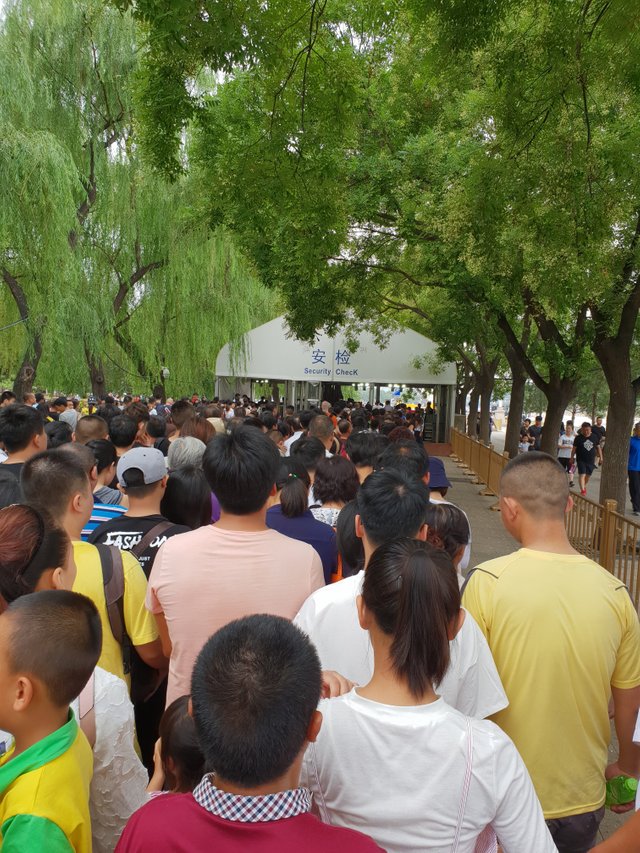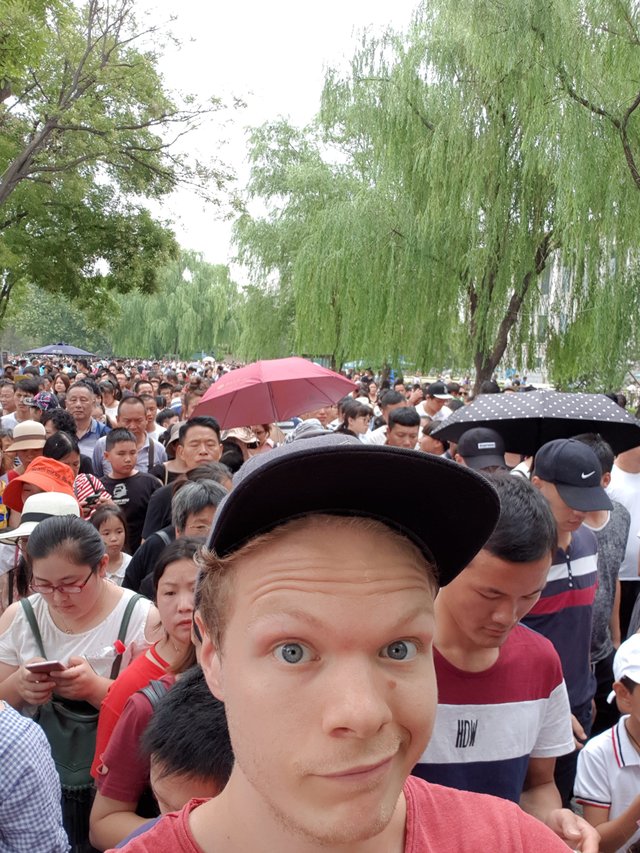 Once in Qianmen, we found some nice stores to go through, but shortly we felt it was time for lunch, we wanted a place with wifi and jumped into a nearby hostel. Since we know they have decent price, decent food and the most important, good and cold beer. After the lunch we were gonna look for more stores but gave up in 2 minutes and decided to take a cab to the Summer palace.
The hostel had a great menu, just look at the following item: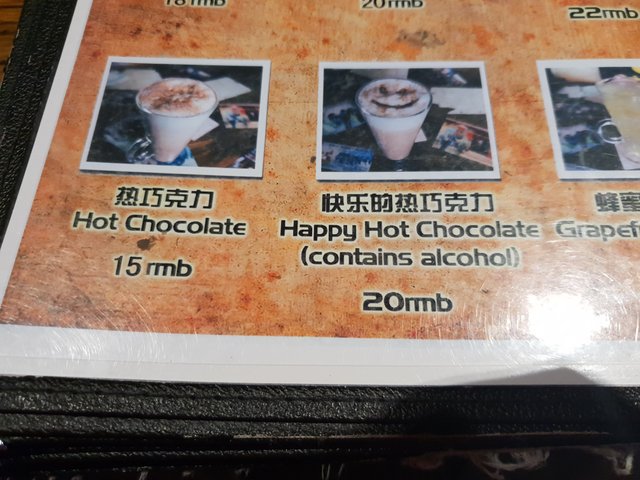 Either you get a hot chocolate, or you get a happy one with alcohol. Easy choice, right?
Going to the summer palace with a burping taxi, weirdest ride ever
We found a taxi in no time, which was awesome. The driver felt nice and had a really cool voice, felt like he could narrate some angry anime character. Soon after we entered the taxi he started to talk (yell) to the radioshow he was listening on, or muttering about other trafficants. That was alternated with burping, and after a while the talking vanished and the burping was alternated with more burping. The summer palace is pretty far away, so we was in that taxi for about 30min, and he was burping the entire way... Did not really mind it, just found it weird, and after a while, funny, then weird again, then funny again.
Summer palace is an beautiful place, however, today was a cloudy day so it did not fully express itself. None the less, Kim found the emperors summer cabin pretty big and amazing. Walking around that small area (read huge area), preggo Kim was starting to present herself.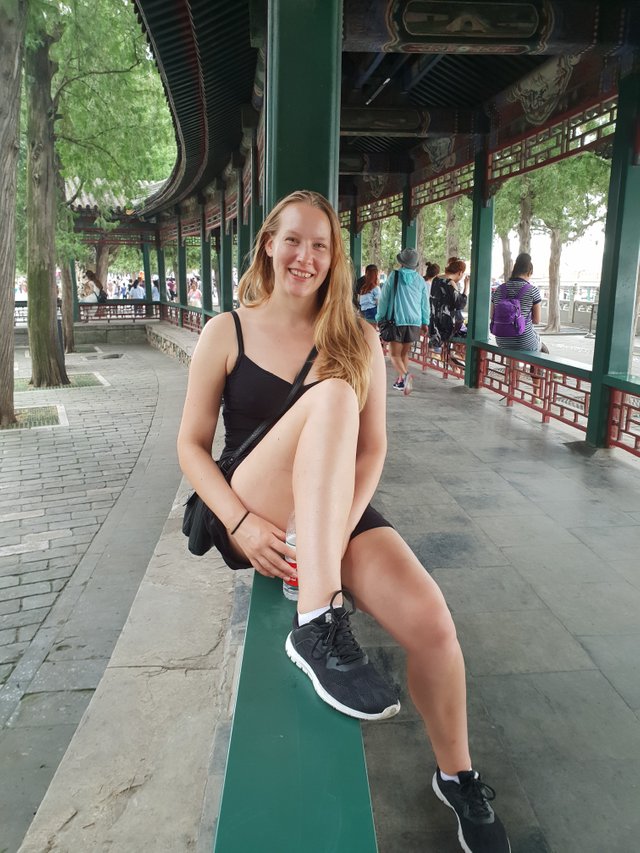 "walk slower"
"my feet hurts"
"I want to sit down"
"I need to pee"
"I am thirsty"

After summer palace we went to Guomao, thinking we were going to do more activities.
But we did not... Once we finally reached the place, after a 60 minute taxi ride, we were pretty tired. We bought ourself a cold tea from Coco, jumped into (more like crawled) the subway and went home. For some reason we found some energy in the subway and went for some shopping before we reached the hotel, Kim bought an expensive (20yuan) Fabergé (russian eggshaped glittery thingy) toothstick dispenser.
On the way home, I manage to persuade Kim into joining me for a workout in the hotell room. It went something like this:
Do you want to join me for a workout in the hotel room?
Okey, what should we do?
Every minute on the minute you do 15 squats and I do 10 burpees, we do that for 15 minutes or until we can no longer finish our reps within the minute.
Okey, sounds good.
The exercise felt good, at first, then I got destroyed. I managed to do all 15 rounds of 10 burpees, so thats 150 burpees in 15 minutes. This is the face you make after you realized how stupid your idea was.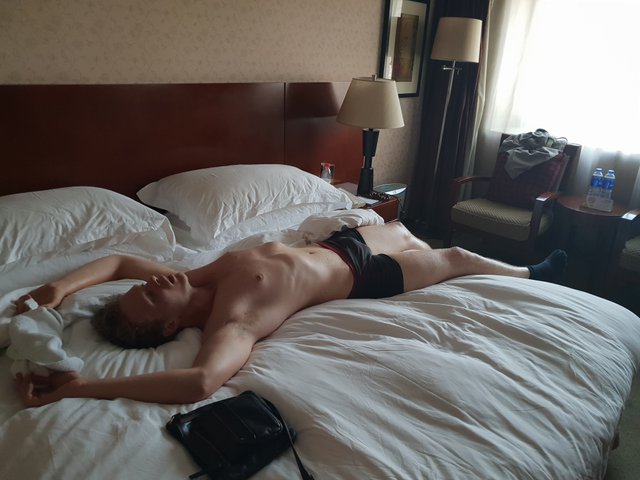 After the workout, we felt it was time for dinner
First we needed some downtime to recover, then we went out to enjoy the same restaurant we ate at the day before. Last night we had no waiting time, this time it tooks us 60 minutes to get a table. We were not the only one waiting so to speak.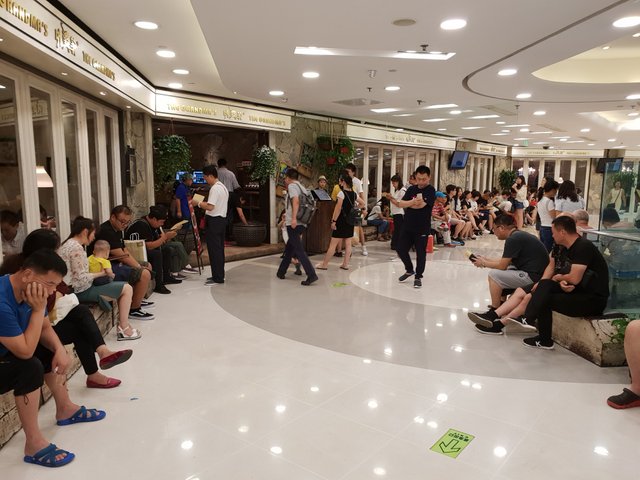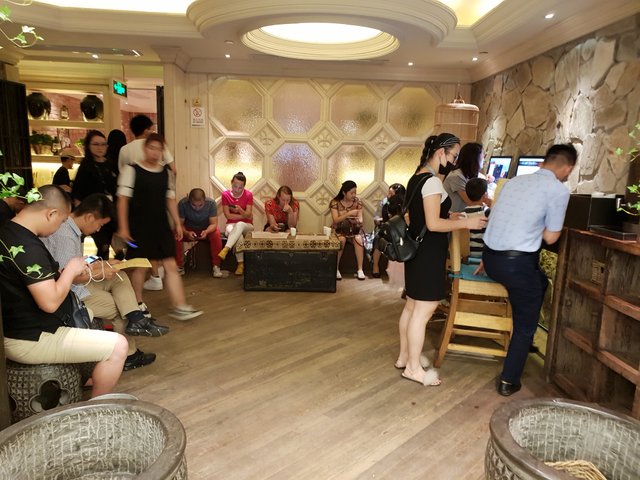 When we finally got a table, we ordered "some" food, it was now 9pm, we had walked almost 26k steps and "enjoyed" a workout. We ordered the following food, you can read by yourself: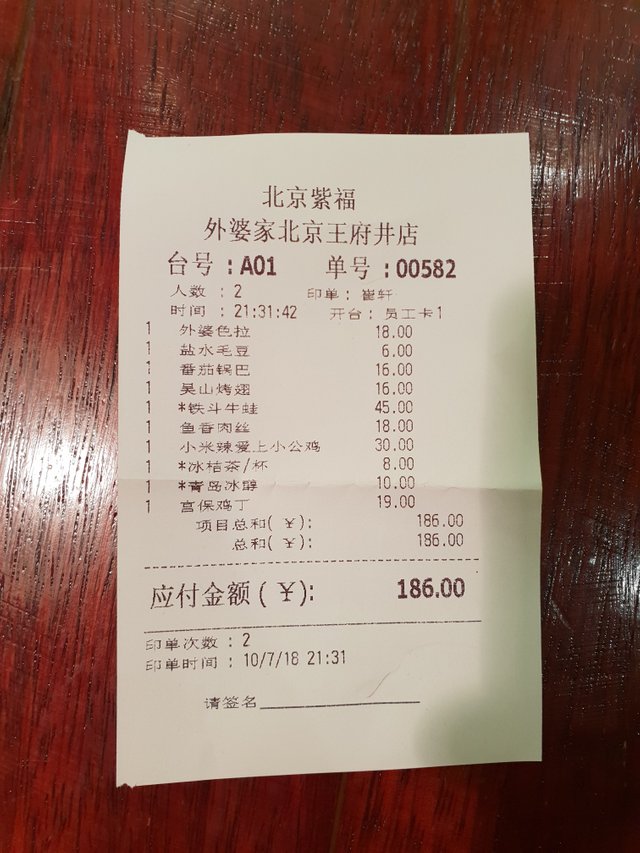 Each line on the reciept means one thing ordered, plus the rice we got. veggies, chicken, bullfrog amongst other items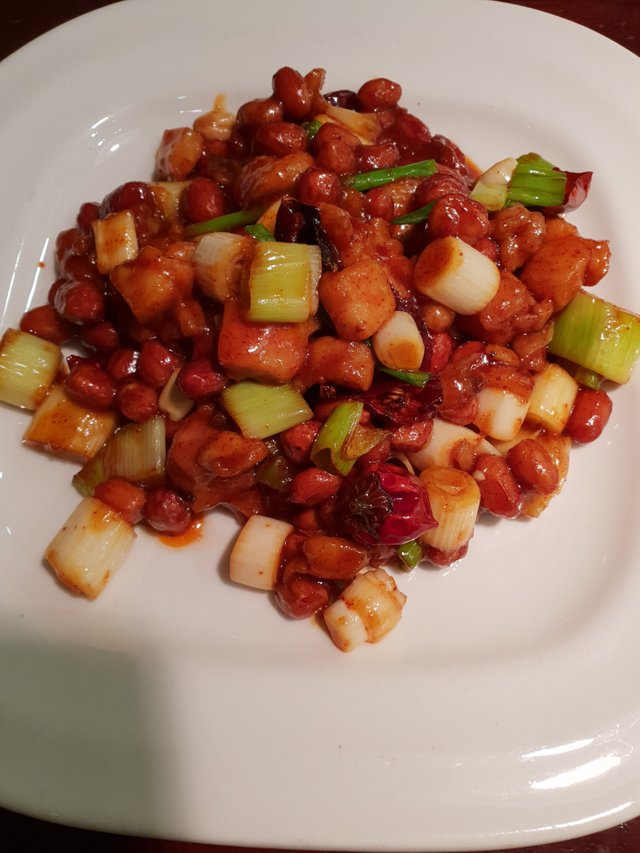 Kung pao chicken


Other chicken dish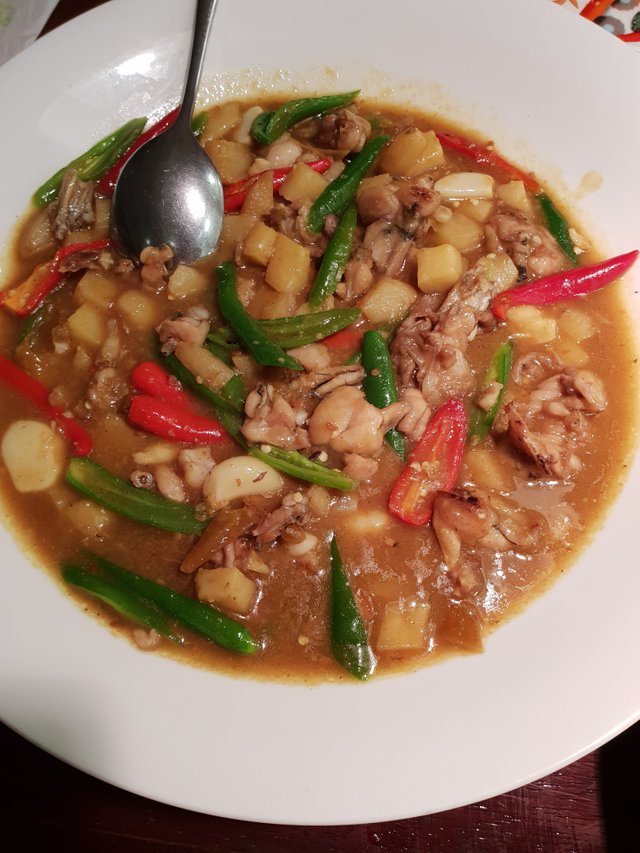 Frog, in a very spicy but tasty sauce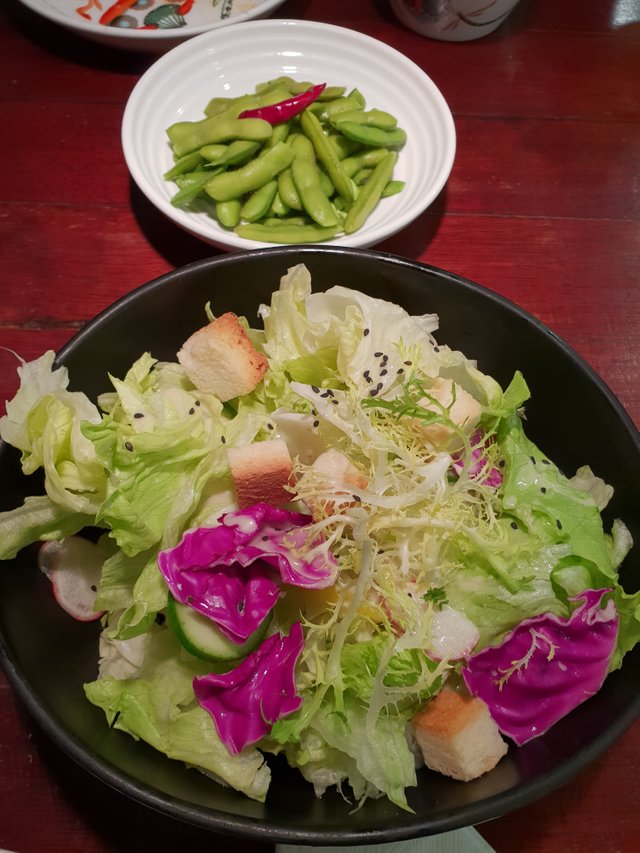 Veggies, the salad got an amaaaaazing dressing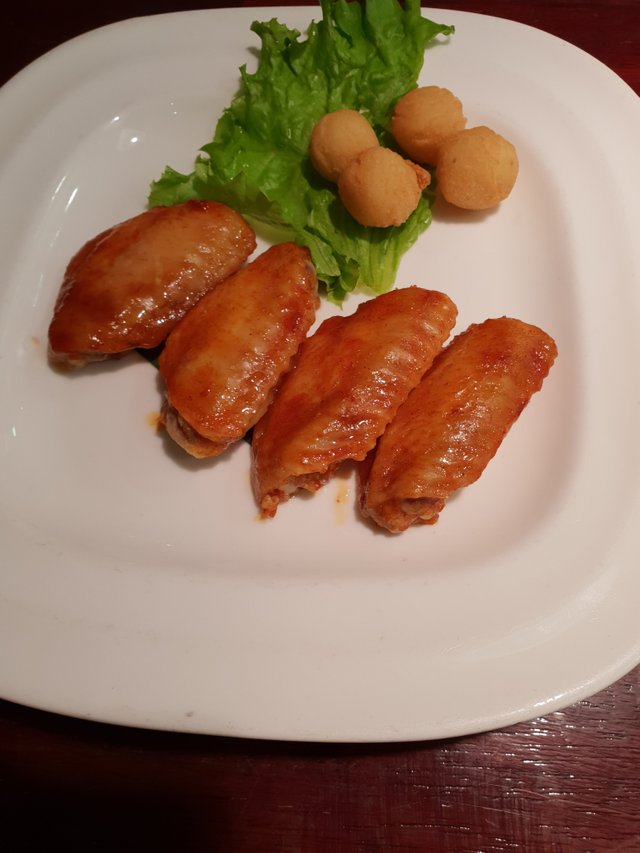 Chicken wings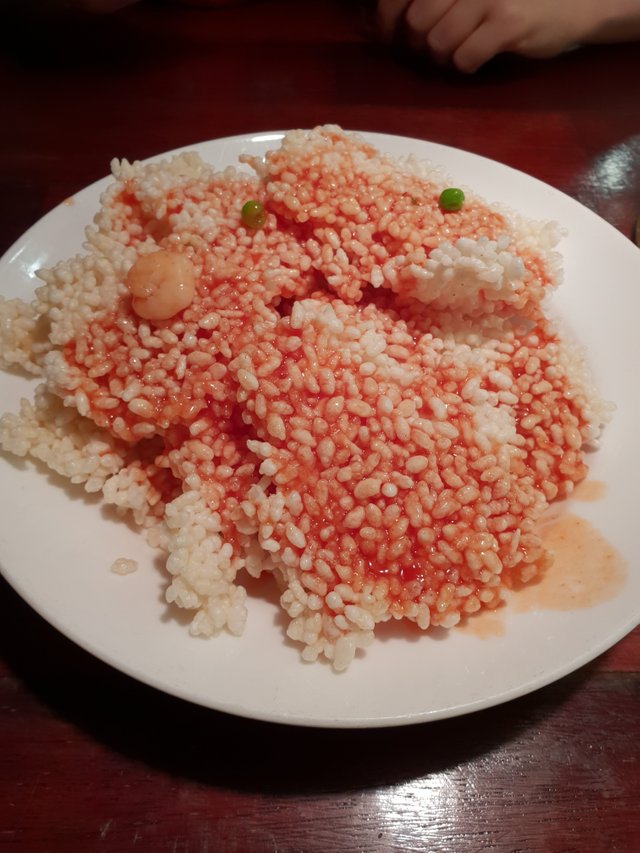 Popped rice with a sweet and sour shrimp sauce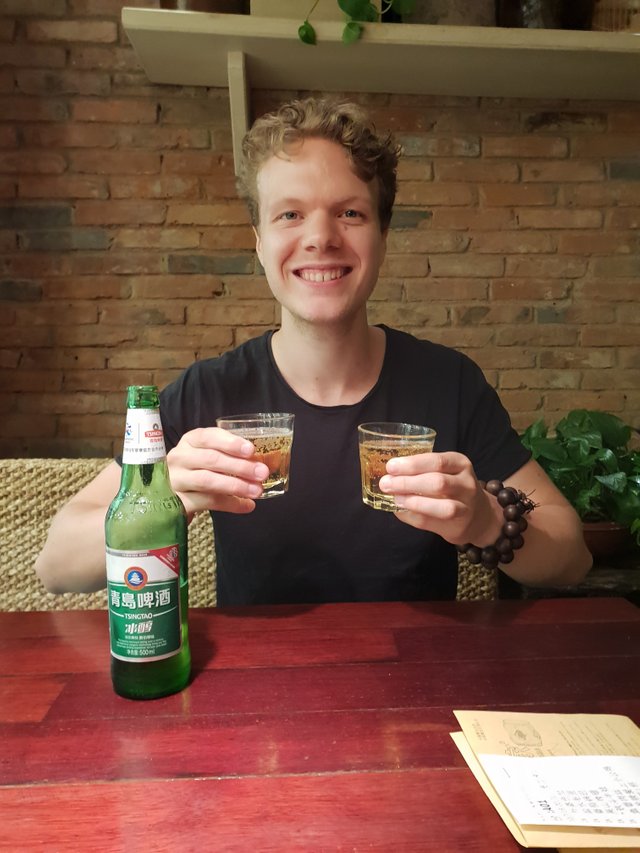 Me and Kim Sharing a beer, which means two glasses for me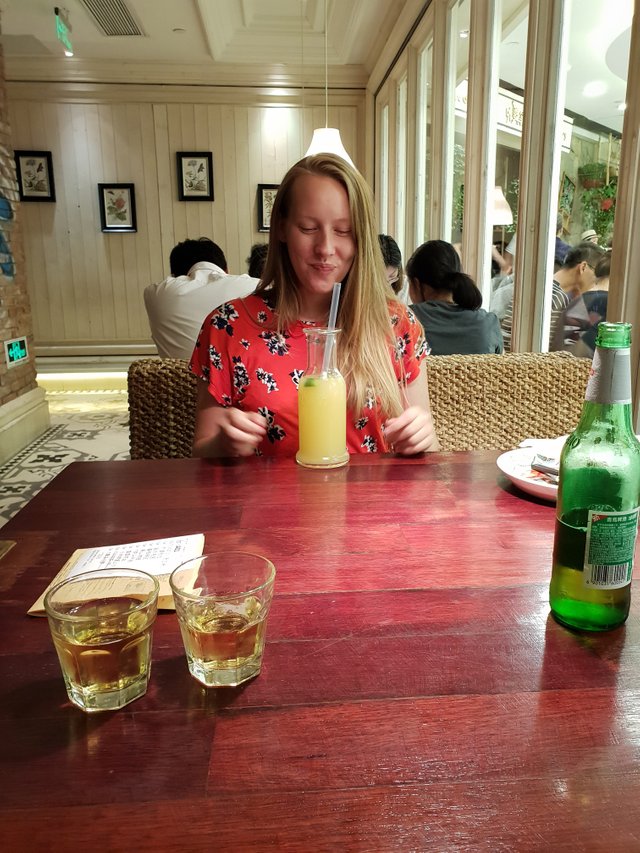 Kim got a small lemon tea with kumquats in, tasted great!
This dinner was so frikking amazeballs, Kim gave up after a while, but I finished the mission. No one likes a quitter.
After the dinner, we started to walk home, where we found more dancing people. We went up to them, took some photos and then we actually joined in for a few minutes. I can't say that we were doing good, but damn, it was funny!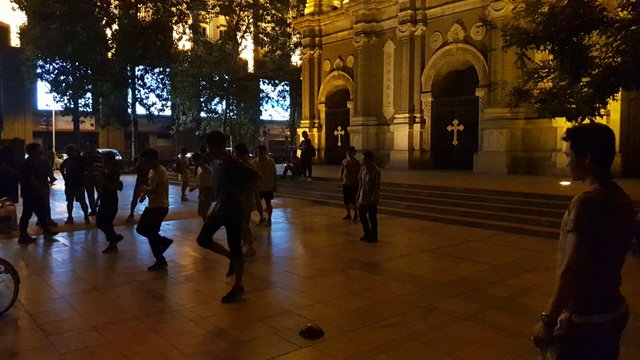 Today, the breakfast buffét was great
So, our view of the breakfast changed severly today, it was chill, a lot of people but no stress, there was a lot of noice but did not bother.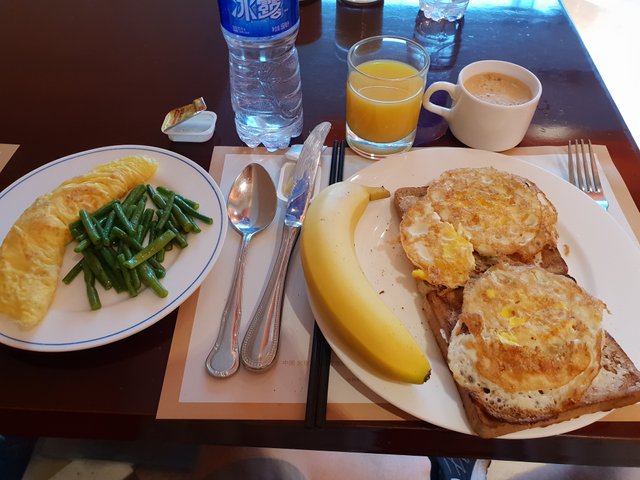 I found a nice breakfast, which also was complemented with a bowl of cereal with milk and bananbread.
This breakfast lasted us the entire day, which we spent at the Silk market shopping more than we have the entire trip.
We bought a lot of items for ourself and some as gifts. We bought something as cool as a blanket for our parasite that most likely will appear to the world mid october. By parasite, I mean the lifeform that is currently feeding on Kim inside her belly. They claim it is 26 weeks old by now, 14 weeks to go.
Italian for dinner/lunch at 4pm was an great idea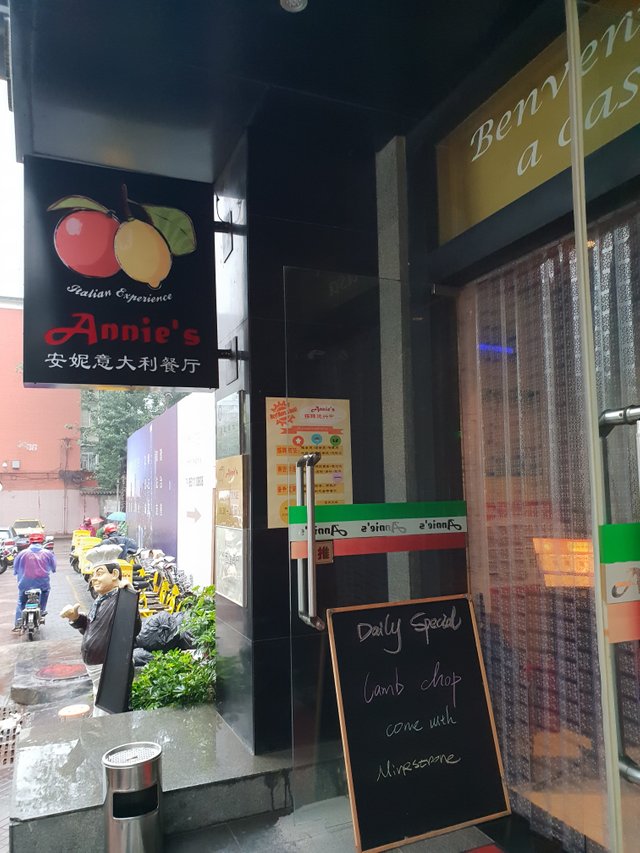 We started by sharing a glass of wine, which means we shared it equally amongst ourself, which means I got it all. I love this equallity way of thinking that is emurging in the world, hashtag feminism. We went to Annies, which is a place I visited and ordered from a lot while studying in Beijing. They have great service, great food and great prices, they only lack a bit of salt.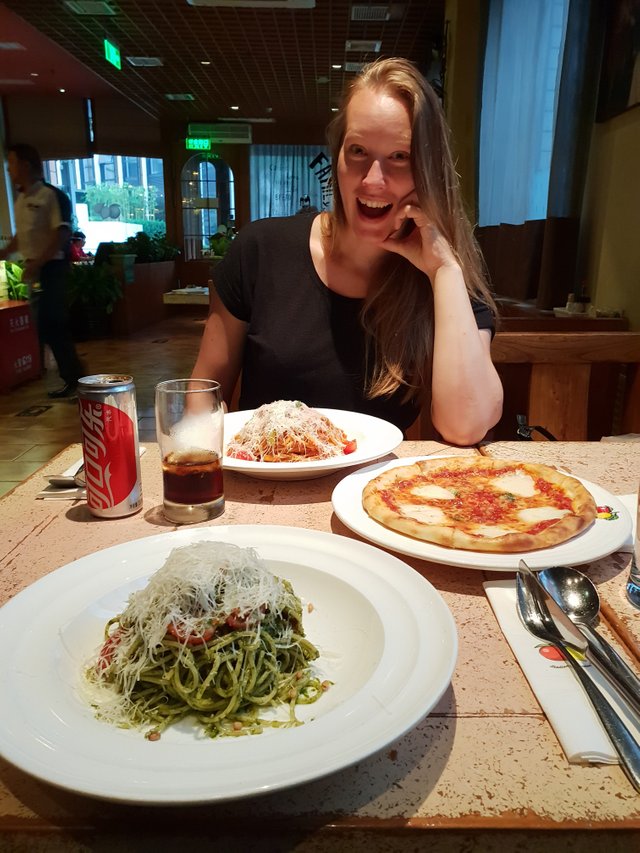 We had some pasta and shared a small pizza, after the meal we felt like sharing a dessert, obviously we ordered a Tiramisu as we were eating Italian. Love that sh*t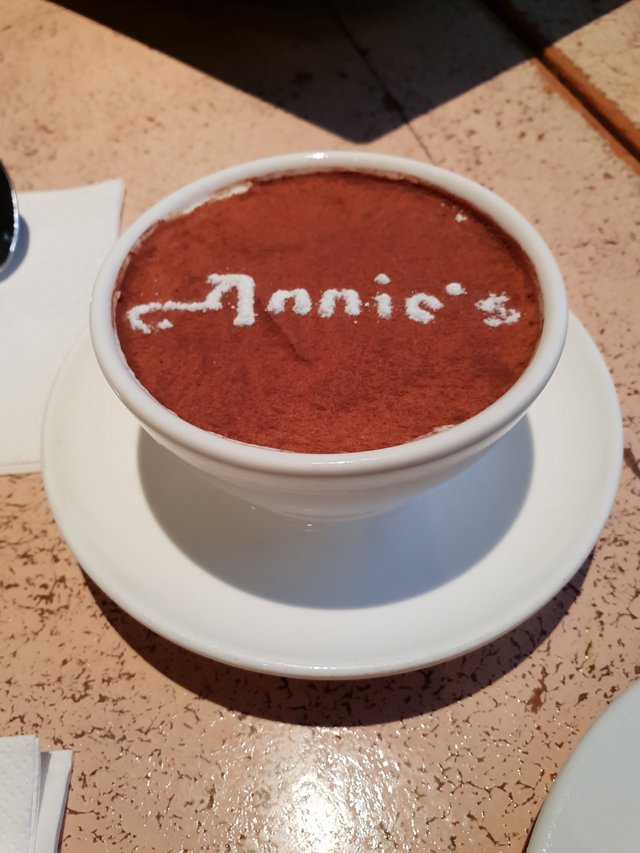 Best part about the Tiramisu was that we got a free cup of coffe along it!
We also found a great item on Annies menu that we have not tried... I know that I would love it, just look at it.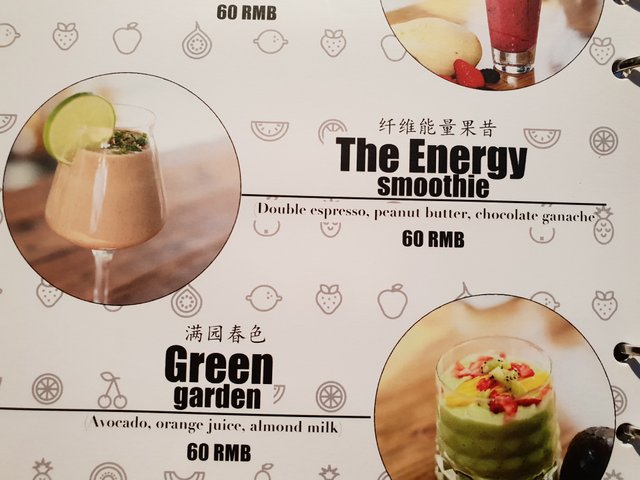 The energy smoothie, I mean, only filled with awesome stuff. Perhaps I should buy that energy and give it to Kim ones she transforms into preggo Kim. - "I'm tired", Here, have some energy.
Today It has been raining all day long, good thing Beijing has an underground city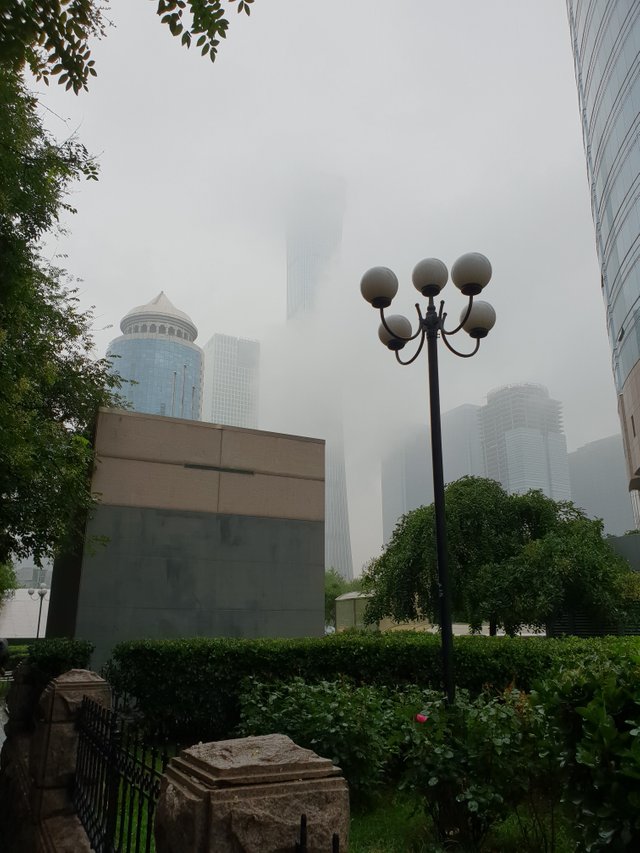 As you can see in this picture, even the buildings are hiding from the weather... or by the weather.
But in Beijing it is pretty easy to move around, and you can move around a lot without ever setting foot outside. The subway system is connected in an awesome way, and at most stops you will find malls connected to it, at several locations you will find a tunnelsystem that connects mall after mall after mall. Which means tons of activities and great food selection on rainy days. All you need to do is find your way to a subway. I mean, you can even find ice-skating down there.
Now it's about time to end this blogpost and this day, it's 9:45pm and time to get the real dinner, which means walk out into the rain, across the street and buy something tasty from seven11. Don't really want much, but I am a bit hungry so some fruit and snacks feels the way to go.
Tomorrow we plan to go explore the forbidden city as we failed last time (we did not have our passports and were not allowed inside). Hopefully there is no rain, or just a little rain.
---
You can always find time for daily activity, all you need is planning and creativity
Coach Bjork
https://coachbjork.com/
Online personal trainer