I had started this positivity lesson series with one aim. My aim was to reach out to the people and spread the power of positivity and positive thinking. I feel that it has huge impact on the behavior and attitude of a person.
Here is my second lesson for this series.
Talking about our problems is our greatest addiction.
BREAK THE HABBIT.
Talk about your joys.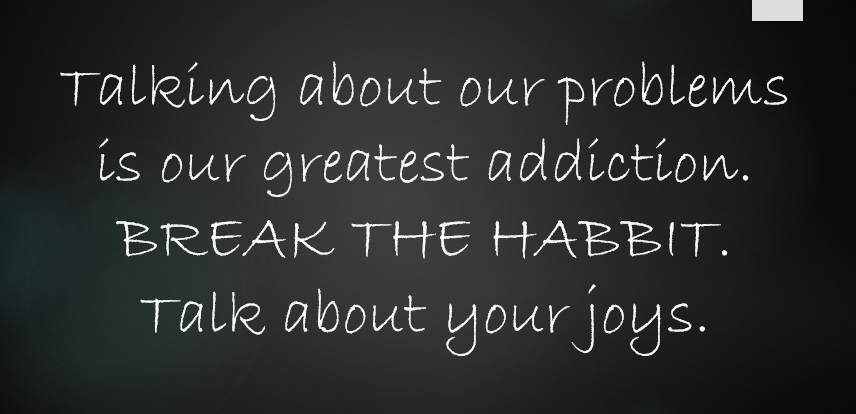 These days most of us keep complaining and talking about just our problems.ONLY PROBLEMS. No matter how good our day was, we just remember the bad part of our day and keep feeling bad about it. WE share only their problems with others and forget to share the joys and happy moments our day.
This has negative impact on our personality, behavior and life. It make us sad and pessimistic. People will not want to talk to people who keep complaining or crying over things ALWAYS!!!
Instead, if we ignore the problems of our life and just celebrate and share the joyful and happy moments, we will obviously be happy and also the people around us. There will be a positive aura around us. It will make us more happy and efficient in whatever we do.
So, try to forget your problems and look at the joyful parts of your life, which will make you feel good and happy.
Share what do you feel in the comments below :)
Have nice day and stay happy :)