Its that time of year again when those nasty fireworks go off and scare or furbabies. I try every year to keep her calm but nothing has worked as yet. This year i am trying Serene-um tablets and Calm drops in there water.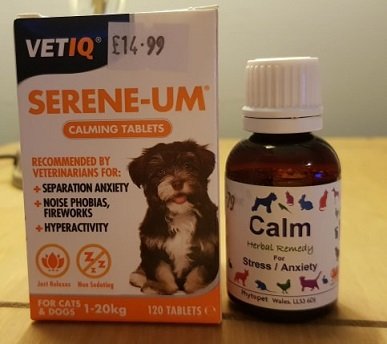 I have been giving them to Mika and Luna for around 5 days, They aren't working as yet, maybe i should have started earlier. I have tried everything Dogs Anxiety Coats, Sprays, Lots of other tablets even a spot on. Nothing seems to reassure them that everything is OK. I have tried to comfort her by cuddling her and keeping her occupied but have just read today that its best to ignore a dog that barks at the fireworks as they think the cuddling is a reward. I can't sit back and watch them panic, i have to do something to make it easier.
I have never been a big fan of fireworks, i am certainly not a fan of them being sold to anyone and being let off weeks before the night, its annoying listening to them and seeing your furbaby panic.
One of our Supermarkets Sainsbury's has decided not to sell Fireworks anymore, this is a big thing for a supermarket to do, there will be a lot of lost profits, its also a good thing as it shows they are listening to the people, its what we want but some stores put money ahead of people. I would like to see all shops banned from selling them or only selling to private displays where there is responsible people in charge.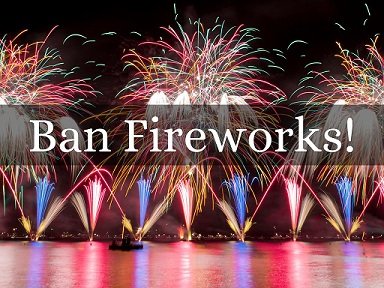 I will have to spend the next few days in the house to be there for them when they fireworks go off, they go on for days here so i will have to stay around and not leave them alone. I worry about all the dogs that are outside, the horses in fields and the wildlife, i can't look after them all but want to.
Other than the fireworks its been a relaxing day, now the carpets are down i can have a few days of doing nothing much until the new sofa's and curtains arrive. I haven't forgotten i have an appointment at the dentist's on the st November to get my tooth pulled out. I have nearly finished the penicillin tablets, the abscess has gone, my gums are feeling normal again, just hope pulling the tooth solves the problem.
I am now being barked at, the dogs are telling me its time for bed They do love there comforts and love to boss me around.


Thank you @son-of-satire