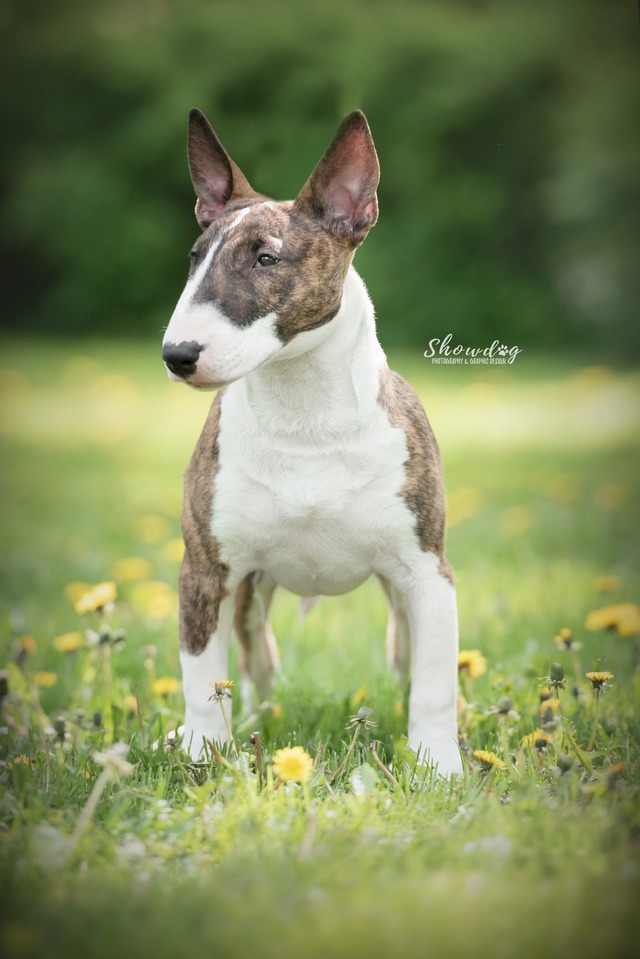 The Internet gives us the opportunity to learn everything about everything. There are a lot of pages and you can read a lot of more or less useful information on one or another dog breed. Of course, it is impossible to hide, that much information (speaking gently) deviates from the truth. Of course, there is a grain of truth everywhere, but as you know, every human = opinion. This is why in this post I will try to introduce a bit of the breed from the perspective of the dog's owner.
What do we know about the mini bull terier?
The characteristic shape of the head is known to everyone. The mini look resembles a smaller copy of a standard bull terrier. Very specific skull structure and small eyes cause that it is often compared to a pig ... Seriously ????? A pig???? But seriously ??? Bro, did you ever see a pig on your eyes? Probably not, so maybe a little bit of science.
The pig looks like this: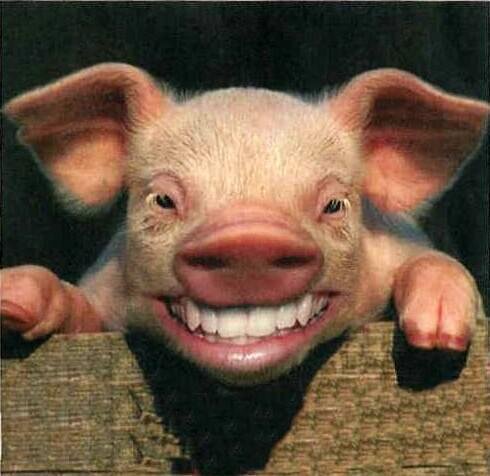 And the bull terrier looks like this: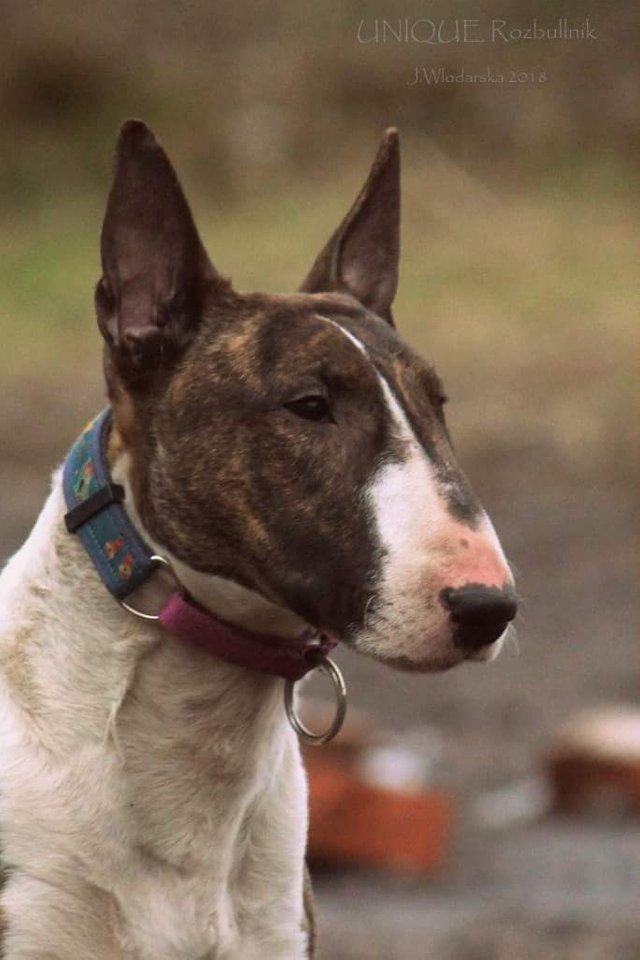 A striking resemblance, right? It's like comparing a cat to a donkey.
Okay. Let's move on.
It is the nineteenth century. England. It is known - fog non-stop, cold as hell so what can you do? You can go to the pub for a beer. Cool idea. Only what's next? There is no television so the match can not be viewed. F**k. Lets drink. Hmmmm. After the beer it's great, but what's next? One moment. After drink you think better so you have to drink more ...
Normally, after a few beers, a man would come up with a television or taxi to get home faster and not think about stupid things, but you know - England ... 19th century ... The entertainment was on a slightly different level ...
So after a beer some gantleman comes up with an idea: I KNOW! We should mix the bulldog with the terrier! We will have a great dog for fights!
And if not?
We will tell people that it is a prestigious and fashionable dog, so we can earn money anyway.
Was it like that? Probably not. But that's how I see it;) Anyway, that was the idea. What came out of it? Huge variety in the size and appearance of dogs. The weight range between 3.5 - 18kg speaks for itself.
The bull terriers for the first time appeared at the dog show in 1863. I do not want to bore you here with the whole story because you can search for it. I will just mention that due to the fact that there were still large differences in the size and appearance of dogs in 1918, they were removed from the Kennel Club register.
Of course, some breeders did not stop working on the breed and in 1938 they founded the Miniature Bull Terrier Club. After establishing a certain "breed standard", they asked the Kennel Club to register it. It was established that the growth limit would be 14 inches. In 1939, the breed was recognized and the first miniature bulterier received champion tittle in 1948.
Of course, like many other breeds also the miniature bull terrier did not keep its original form. In the pictures below you can see the difference between a dog from the thirties of the last century and the current model.
A miniature bulterier around 1938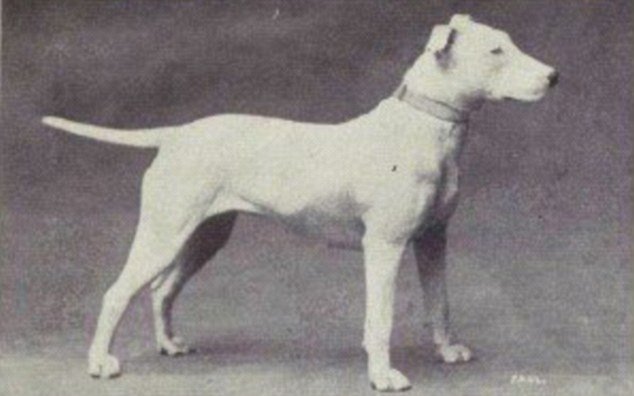 Source: https://healthypets.mercola.com/sites/healthypets/archive/2015/04/02/dog-breeds-1915-vs-2015.aspx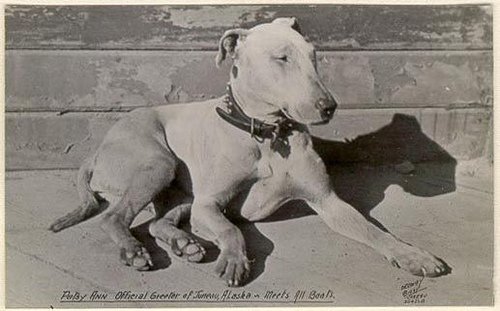 And now: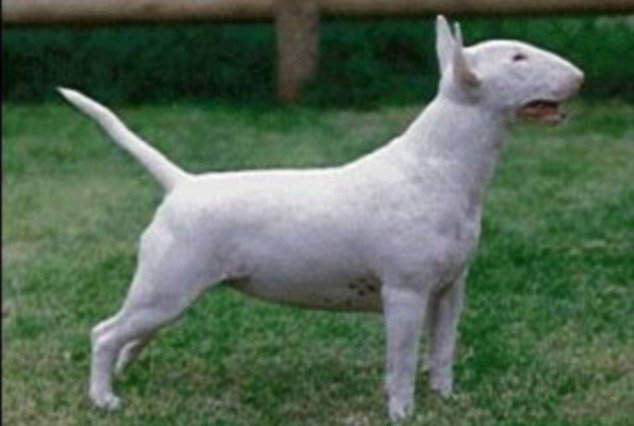 Source: https://healthypets.mercola.com/sites/healthypets/archive/2015/04/02/dog-breeds-1915-vs-2015.aspx
Which one do you like more? Let me know in the comments.
Now that we look at the pattern, what is it like now?
The miniature bull terrier belongs to group III FCI, section 3, model number 359. The permissible size is 35.5 cm. Weight in the pattern is not specified (usually ranges between 11-15kg. Short, hard and close-fitting coat (in winter, the undercoat may appear). The following color is allowed:
-pure white (pigmentation of the skin may appear in the form of spots and colorful markings on the head);
-colored (in this case the color must be prevailing). Ribbed ointment is preferred. A tricolor and tricolor with stripes and red ointment is acceptable.
The life span according to different sources is about 12 years.
Since we are on the subject of life expectancy, it is worth discussing health topics.
Is a miniature bulterier a healthy dog?
In many sources, the following are the main health problems:
General delicacy;
A disease unit called PLL (primary lens dislocation). Most often it appears between 3 and 8 years old when it comes to complete dislocation of the lens. No treatment can lead to blindness. The problem is that it can be hereditary (then it can be detected in a dog at the age of 20 months) as well as acquired.
Heart defects;
Allergies;
Deafness.
Allergies and deafness most often occur in individuals with a predominance of white color but also in the rest.
You should remember about other health issues that internet sources do not often talk about. The first of these is chronic kidney disease, which in case of occurrence requires the administration of appropriate drugs to the last days of yur pet's life and excludes him from breeding plans.
The second is the tendency to crooked bite. It most often appears when replacing teeth for permanent.
The third is LAD (Lethal Acrodermatitis). Akrodermal, fatal dermatitis is characterized by the following clinical symptoms: delayed growth, progressive acrodermatitis, chronic pyoderma and patella, diarrhea, pneumonia and abnormal behavior. More on this subject can be found in the following link:
http://www.bullterrier-lad.co.uk
Often you can also meet with a disease entity called OCD (Canine Compulsive Disorder) or with compulsive-obsessive behaviors. The topic is very extensive, so you'd better look for information on your own. Behaviors that should draw your attention can be mentioned: chasing one's own tail; pursuit of non-existent shadows or sunlight; catching imaginary flies; obsession with a ball or stick.
What are they every day?
Here you can read a lot but you can also say a lot. I will say from my own experience. Please remember that I am not a guru in dog matters even though I have a large number of them at home. I do not know if it's due to being with other breeds, but my miniature bull terrier fits into the standard framework when it comes to character only a little bit.
1)Of course she is obstinate and stubborn. How a terrier is in the habit;) Until recently, she defended toys, which she used to play in front of other dogs, however, she is the smallest in the herd, so it probably caused that she is not doing it anymore.
2)She is vigilant at home (she pays attention to outside noises) and she is barking when something disturbs her, but it is not an exaggerated vigilance.
3)It is difficult to teach her something through her temperament but she is rather punished. There is no situation that she escapes when I call her home or makes her leave something that she is currently playing.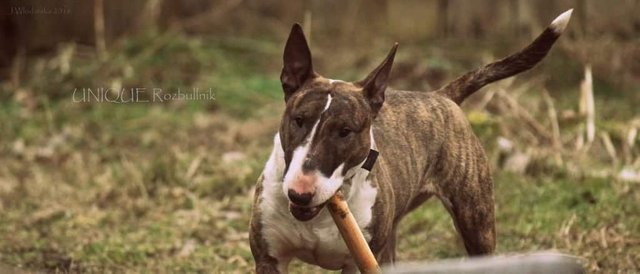 4)She is very smart when something is interesting for her. When I first told her to leave the ball she was playing at, she was confused at first because she did not know why. However, when I kicked the lefted ball so that she could run for it and the whole "procedure" I repeated three times, she started bringing me the ball to the feet to kick it again.
5)She is a volcano of energy. Many dogs in the house can not keep up with her because she can run aimlessly in five directions at the same time;) In the case of dogs not much larger than her like american staffordshire terrier (which we have at home), the fun still makes sense, but with molos (which we also have;) ) is not so colorful anymore. They don't care about her mostly. However, Zina (because that's her name) does not care. At the moment when the big bitches are busy checking their ability to pull the rope she plays well by running under them and jumping over their backs.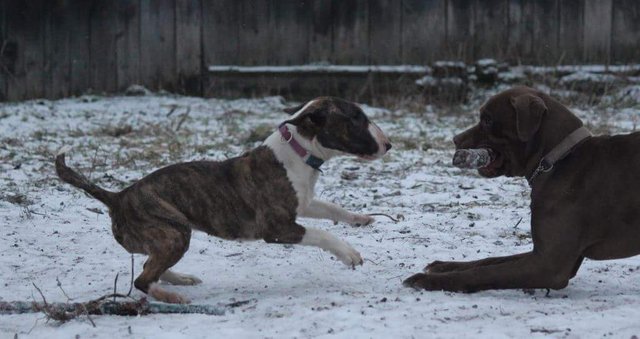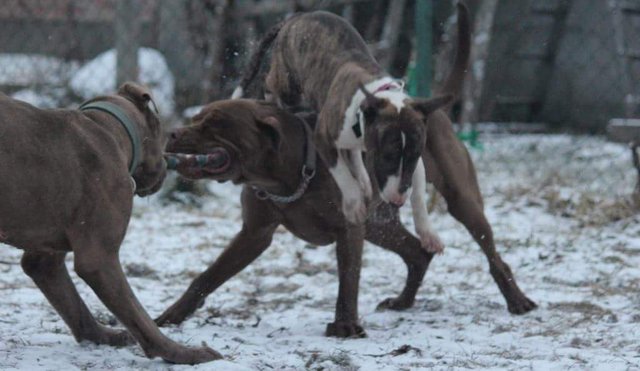 Is it normal? I do not know. Waiting for the reviews of the owners;)
6)She is not delicate for people. When she is very excited she likes to pinch. Mainly in the ears. She can jump on the back and grab a t-shirt with her teeth. She likes to be in the highest possible point (bed back, table, or head of the owner) and she does not think then that she have to go down or maintain it in any way so sometimes you have to catch her not to fall and do not hurt herself. Taking all this into consideration, I would rather not keep her close to little child because of her energy.
7)She gets along well with other dogs. No problem, neither bigger than herrself, neither younger nor older, regardless of sex. She does not show any aggression.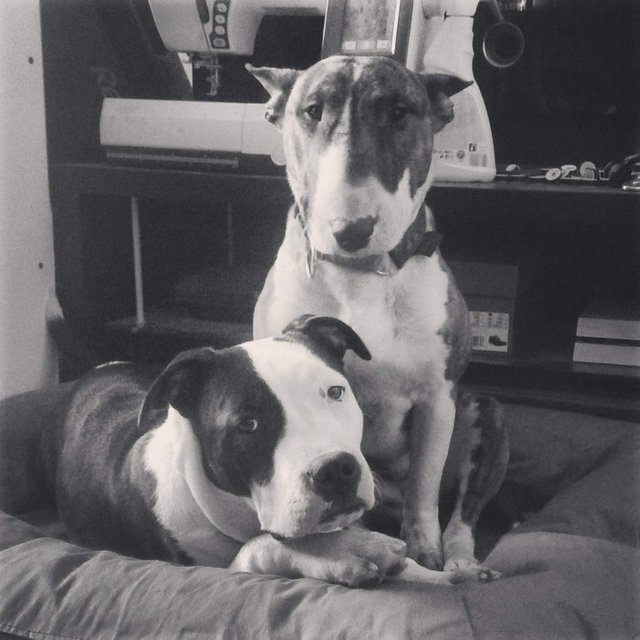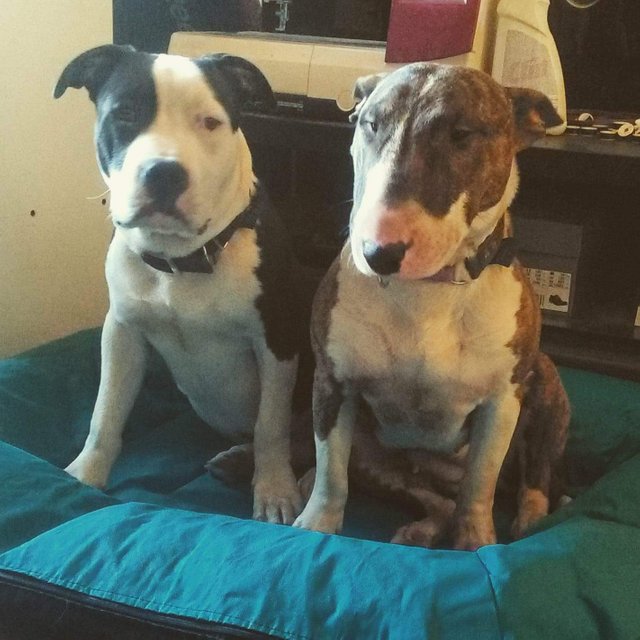 8)Due to the explosiveness of temperament, she gets tired quite quickly. Shee can not run slowly for a long time. Rather, she quickly consumes all of her energy by running like a madman and then lying down and resting.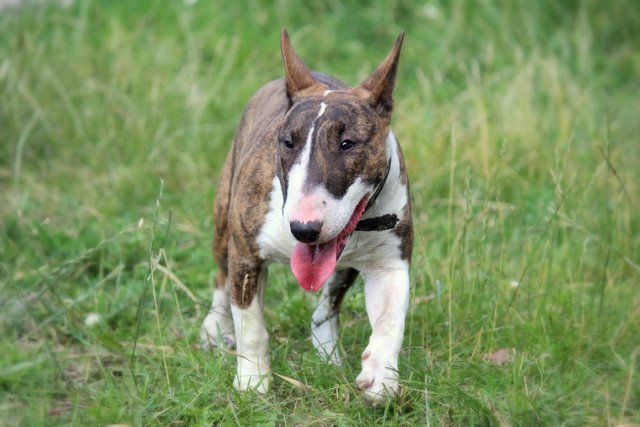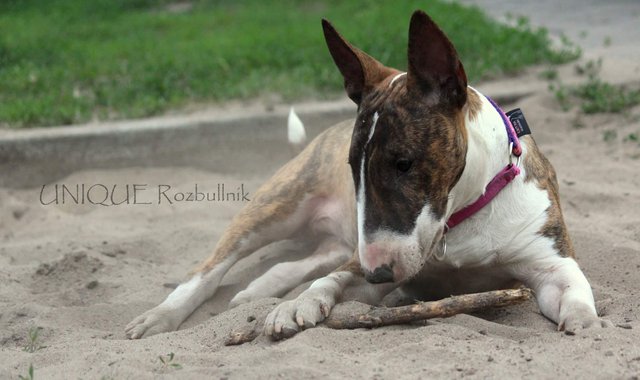 How did our adventure with the mini bulteriere begin?
We did not plan this. One time I got to a friend who was a breeder from whom I bought a male american staffordshire terrier and saw two mini bull terriers at her home. I liked the elemental nature very much. I found that maybe one day ... However, the mentioned breeder started to say something that she would like to give one for a breeding condition, and so from the word to the word Zina came to us.
Do I regret my decision? NO! I have never regretted it for a moment. It's hard to tell which dog I like best at home, but Zina is one of my favorites, and if I could have three or four of them, I would not think about it. Of course, a miniature bull terrier is not an ordinary dog. It's hard to say but Zina is not a dog - she's a state of mind;) She's very hypochondriac. If she is ill or stepping on a stick or something sharp, for a long time (even a few days) she is able to feel sorry for herself and expects a lot of attention and tenderness. She sleeps with her head hidden between the paws, she sits on her bed with an "aching" paw up and such an ostentatious behavior;) Generally, you have to cuddle her and stroke and cuddle and stroke until the rich lady herself decide that she has enough or will eventually forget that "something hurts her" and suddenly she starts to run normally: D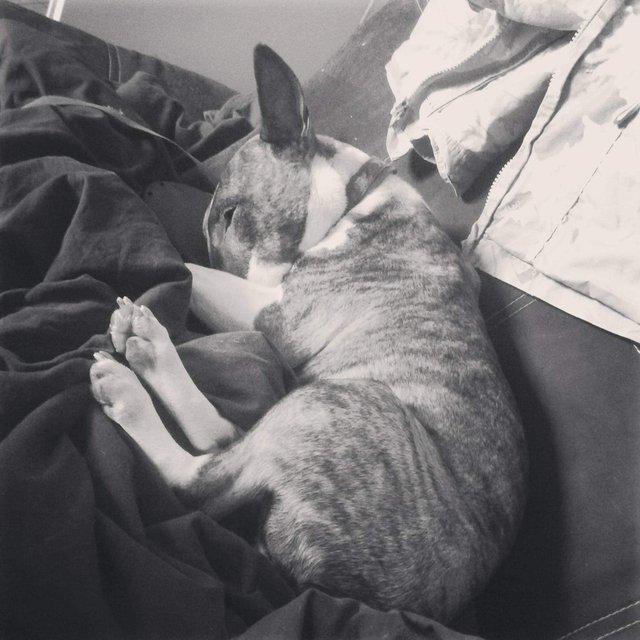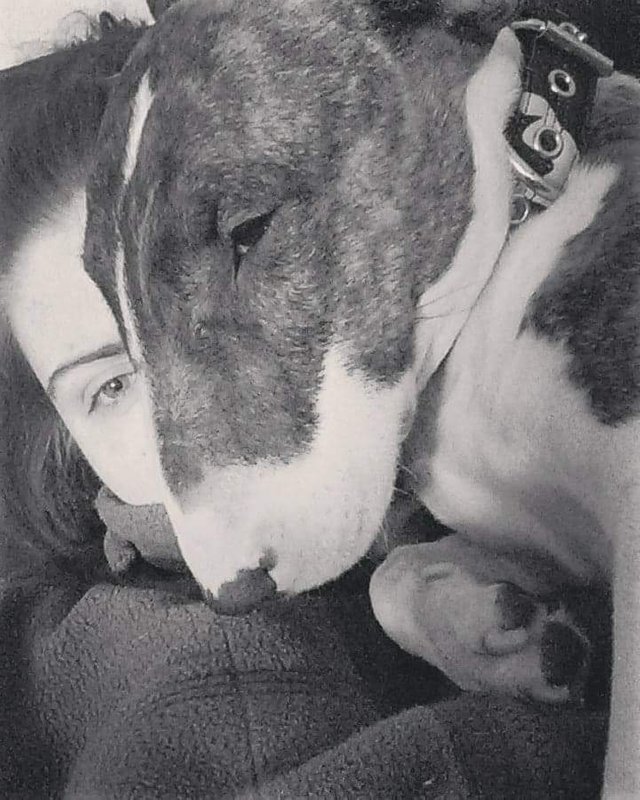 She also likes to get offended. If she wants to stroking and no one will do it, she will turn her back and not react to anything. Such a typical female "f**k off": P
At home, she does not destroy anything intentionally. What I mean? She does not bite furniture, slippers, clothes. However, by her innate madness, she will lose something from the table with her eardrum. Half poverty is like an empty glass. However, when it is filled with cold beer, you can get angry. However, it's hard to be angry with her. Well, it can not be done. The expression of her "face" when she breaks something causes that the man immediately lets go. Especially since she does not do anything out of anger like some dogs only by accident.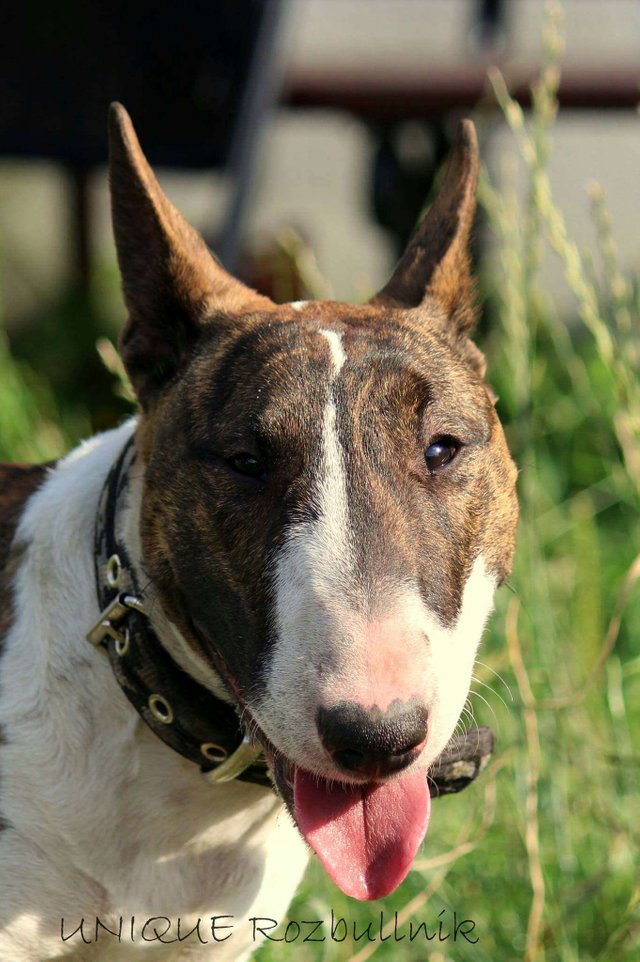 Zina is registered in FCI. You can find her pedigree in the following link if you are interested;)
http://ingrus.net/minibull/en/details.php?id=10852
Well I think it's all for now. I hope I brought you a bit closer to the breed. Whether it's affordable or not, I leave it to you. Zina will definitely appear on the blog and in movies more than once. In the next entries I will try to present the rest of our "herd" and bring closer the specific features of individual breeds from the point of view of the owner.
If you have any questions then write in the comments. I will try to answer any questions. You can also expect a video report from a breeder's house visit and there will be something to watch because there are 17 puppies right now !!!!! So if you give a sign that you like my work and want more I will give you a lot more ;)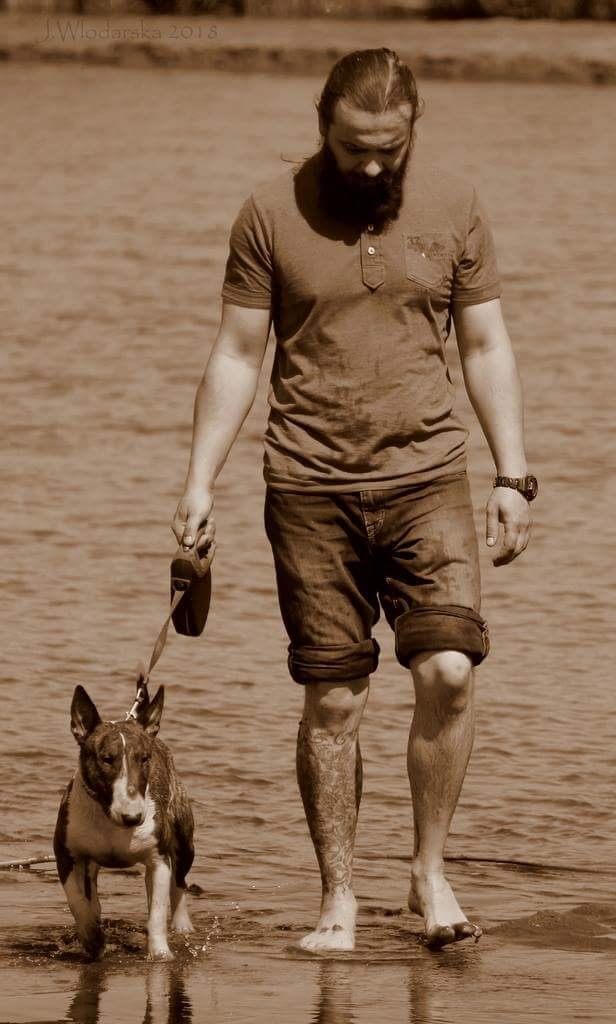 See you next time!!! And I apologize for my English;)
Colin